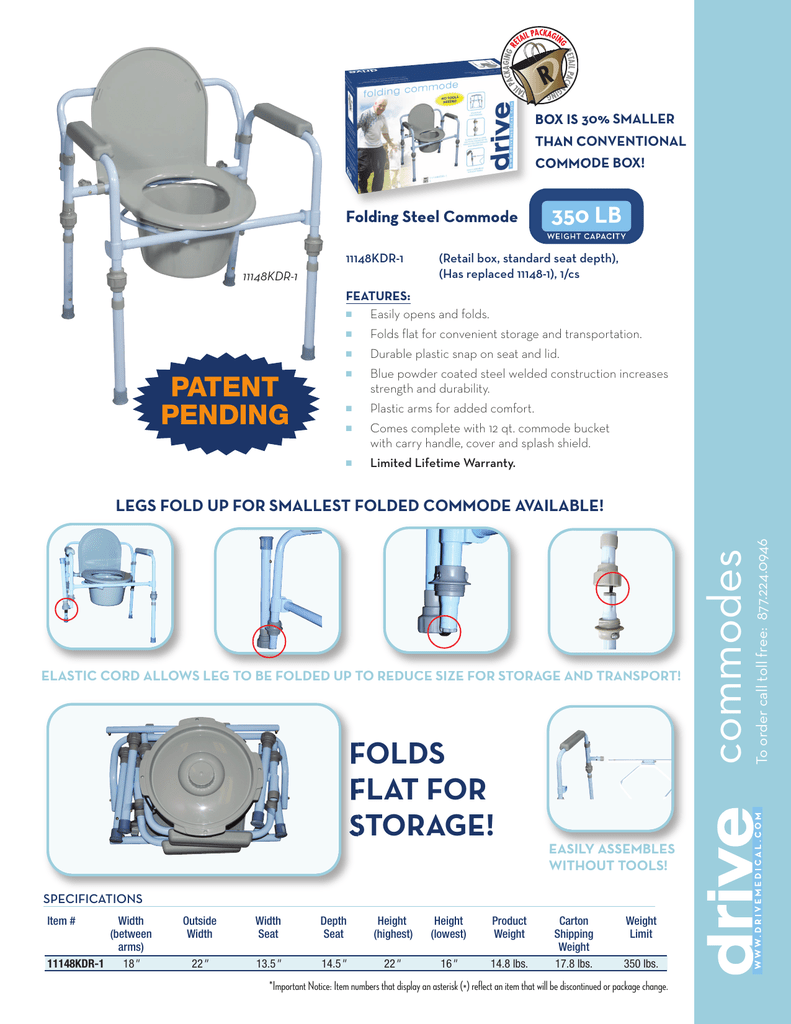 BOX IS 30% SMALLER
THAN CONVENTIONAL
COMMODE BOX!
Folding Steel Commode
11148KDR-1
11148KDR-1
350 LB
(Retail box, standard seat depth),
(Has replaced 11148-1), 1/cs
FEATURES:
■
Easily opens and folds.
PATENT
PENDING
■
Folds flat for convenient storage and transportation.
■
Durable plastic snap on seat and lid.
■
Blue powder coated steel welded construction increases
strength and durability.
■
Plastic arms for added comfort.
■
Comes complete with 12 qt. commode bucket
with carry handle, cover and splash shield.
■
Limited Lifetime Warranty.
FOLDS
FLAT FOR
STORAGE!
EASILY ASSEMBLES
WITHOUT TOOLS!
SPECIFICATIONS
Item #
Width
(between
arms)
11148KDR-1
18"
Outside
Width
Width
Seat
Depth
Seat
Height
(highest)
Height
(lowest)
Product
Weight
22"
13.5"
14.5"
22"
16"
14.8 lbs.
Carton
Shipping
Weight
17.8 lbs.
Weight
Limit
350 lbs.
*Important Notice: Item numbers that display an asterisk (*) reflect an item that will be discontinued or package change.
To order call toll free: 877.224.0946
ELASTIC CORD ALLOWS LEG TO BE FOLDED UP TO REDUCE SIZE FOR STORAGE AND TRANSPORT!
commodes
LEGS FOLD UP FOR SMALLEST FOLDED COMMODE AVAILABLE!

* Your assessment is very important for improving the work of artificial intelligence, which forms the content of this project