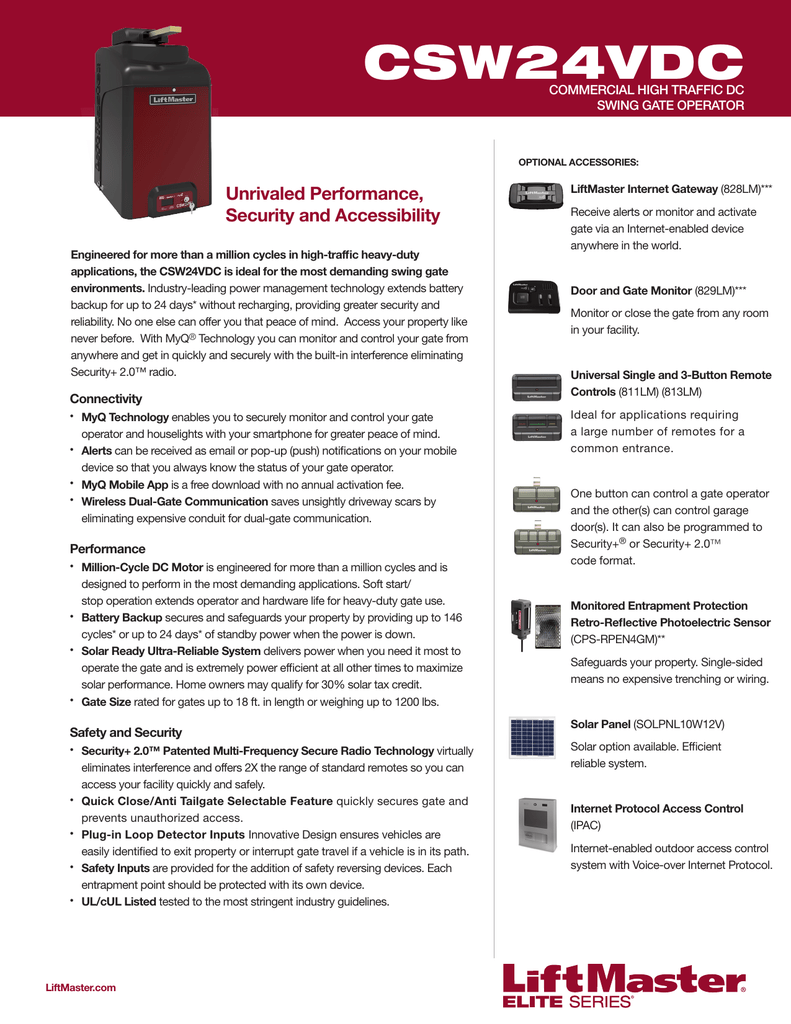 CSW24VDC
COMMERCIAL HIGH TRAFFIC DC
SWING GATE OPERATOR
OPTIONAL ACCESSORIES:
Unrivaled Performance,
Security and Accessibility
Engineered for more than a million cycles in high-traffic heavy-duty
applications, the CSW24VDC is ideal for the most demanding swing gate
environments. Industry-leading power management technology extends battery
backup for up to 24 days* without recharging, providing greater security and
reliability. No one else can offer you that peace of mind. Access your property like
never before. With MyQ® Technology you can monitor and control your gate from
anywhere and get in quickly and securely with the built-in interference eliminating
Security+ 2.0™ radio.
Connectivity
MyQ Technology enables you to securely monitor and control your gate
operator and houselights with your smartphone for greater peace of mind.
• Alerts can be received as email or pop-up (push) notifications on your mobile device so that you always know the status of your gate operator.
• MyQ Mobile App is a free download with no annual activation fee.
• Wireless Dual-Gate Communication saves unsightly driveway scars by eliminating expensive conduit for dual-gate communication.
•
Performance
Million-Cycle DC Motor is engineered for more than a million cycles and is designed to perform in the most demanding applications. Soft start/
stop operation extends operator and hardware life for heavy-duty gate use.
• Battery Backup secures and safeguards your property by providing up to 146 cycles* or up to 24 days* of standby power when the power is down.
• Solar Ready Ultra-Reliable System delivers power when you need it most to operate the gate and is extremely power efficient at all other times to maximize solar performance. Home owners may qualify for 30% solar tax credit.
• Gate Size rated for gates up to 18 ft. in length or weighing up to 1200 lbs.
•
Safety and Security
•
•
•
•
•
Security+ 2.0™ Patented Multi-Frequency Secure Radio Technology virtually eliminates interference and offers 2X the range of standard remotes so you can access your facility quickly and safely.
Quick Close/Anti Tailgate Selectable Feature quickly secures gate and prevents unauthorized access.
Plug-in Loop Detector Inputs Innovative Design ensures vehicles are easily identified to exit property or interrupt gate travel if a vehicle is in its path.
Safety Inputs are provided for the addition of safety reversing devices. Each entrapment point should be protected with its own device.
UL/cUL Listed tested to the most stringent industry guidelines.
LiftMaster.com
LiftMaster Internet Gateway (828LM)***
Receive alerts or monitor and activate
gate via an Internet-enabled device
anywhere in the world.
Door and Gate Monitor (829LM)***
Monitor or close the gate from any room
in your facility.
Universal Single and 3-Button Remote
Controls (811LM) (813LM)
Ideal for applications requiring
a large number of remotes for a
common entrance.
One button can control a gate operator
and the other(s) can control garage
door(s). It can also be programmed to
Security+® or Security+ 2.0™
code format.
Monitored Entrapment Protection
Retro-Reflective Photoelectric Sensor
(CPS-RPEN4GM)**
Safeguards your property. Single-sided
means no expensive trenching or wiring.
Solar Panel (SOLPNL10W12V)
Solar option available. Efficient
reliable system.
Internet Protocol Access Control
(IPAC)
Internet-enabled outdoor access control
system with Voice-over Internet Protocol.
CSW24VDC
COMMERCIAL HIGH TRAFFIC DC
SWING GATE OPERATOR
FEATURES
FIRE DEPARTMENT COMPLIANT
Selectable settings allow gate to auto
open or push to open upon loss of AC
power or battery depletion.
PRE-MOTION WARNING ALARM
Selectable feature activates on board alarm
three seconds prior to gate motion.
WIRELESS DUAL-GATE
COMMUNICATION
Saves unsightly driveway scars by
eliminating expensive conduit for dual-gate
communication.
BI-PART DELAY
Monitors the speed and position of each
wing and adjusts the speed as necessary
to ensure primary gate closes last, avoiding
potential damage to the gate
SYNCHRONIZED CLOSE
Simultaneously closes gates.
PROGRAMMABLE AUXILIARY RELAYS
Two programmable relays with six settings
each simplify adding additional features.
Switch on/off devices at open or close
limits.
ADVANCED TRAFFIC MANAGEMENT
CONTROL
Secures your property.
ANTI TAILGATE
Prevents unauthorized access. Gate will pause when closing as vehicle pulls onto interrupt loop or breaks photo beam. Once vehicle backs up, gate will continue to close.
QUICK CLOSE
Closes the gate immediately after a vehicle pulls off the interrupt loop.
ONE TOUCH PUSH BUTTON
PROGRAMMABLE ELECTRONIC
LIMIT SYSTEM
Maintains accurate gate position throughout
gate travel. Maintains open and close limit
position at all times, even after using manual
disconnect.
HOMELINK® COMPATIBLE
Version 4 and higher.
SECURITY+2.0™ ON-BOARD RADIO
RECEIVER
Up to 50 remotes.
WARRANTY
Five years commercial.
Seven years residential.
© 2014 LiftMaster All Rights Reserved
845 Larch Ave., Elmhurst, IL 60126
LiftMaster.com
LMGTCACSWD 6/14
BATTERY BACKUP OPERATION
LED DIAGNOSTIC DISPLAY
Easy-to-read, simplifies installation and
troubleshooting.
SPECIFICATIONS
POWER
110V/220V Single Phase.
BATTERY
CYCLES
STANDBY TIME
2-7 AH
146
24 Days
2-33 AH
876
105 Days
DIMENSIONS
ACCESSORY POWER
24VDC 500mA output.
Switched and unswitched power.
SURGE
Industrial strength suppression on high and
low voltage inputs.
TEMPERATURE SPECIFICATIONS
-40°F (-40C) to 140°F (60C).
GATE TRAVEL SPEED
90-degree opening in 13 - 15 seconds.
CONSTRUCTION
MOTOR
24VDC continuous-duty motor.
20"
14.82"
OPERATOR DUTY RATING
Continuous duty.
CHASSIS
Constructed with 1/4" gold zinc plated steel
for rust prevention.
WORM GEAR REDUCTION
Two commercial oil bath gear boxes
providing 900:1 worm gear reduction.
COVER
High-density, UV-resistant polycarbonate
2-piece cover for excellent heat and
corrosion resistance.
OPERATOR WEIGHT
206 lbs.
* Basic set up with remotes programmed. Does not include
added accessory power draw. LiftMaster low power draw
accessories recommended to extend cycles and standby
time on battery backup.
RECOMMENDED CAPACITIES
**Power efficient LiftMaster design saves power when
running on battery or solar mode.
***LiftMaster® Internet Gateway Accessory functionality is
dependent on communication with a MyQ Enabled gate
operator. MyQ Technology communication can be limited
by distance and type of exterior buildingmaterials. A general
range estimate is 300 ft.
.
.
.
.
.
.
.
CGI IS AN ISO9001 REGISTERED COMPANY
CGI reserves the right to make design or specification changes without notice.
.
LiftMaster gate operators comply with UL 325
standards. External entrapment devices must be added
to meet UL 325 standards. Your installer will recommend
suitable entrapment devices such as photoelectric
sensors or edge sensors.

* Your assessment is very important for improving the work of artificial intelligence, which forms the content of this project