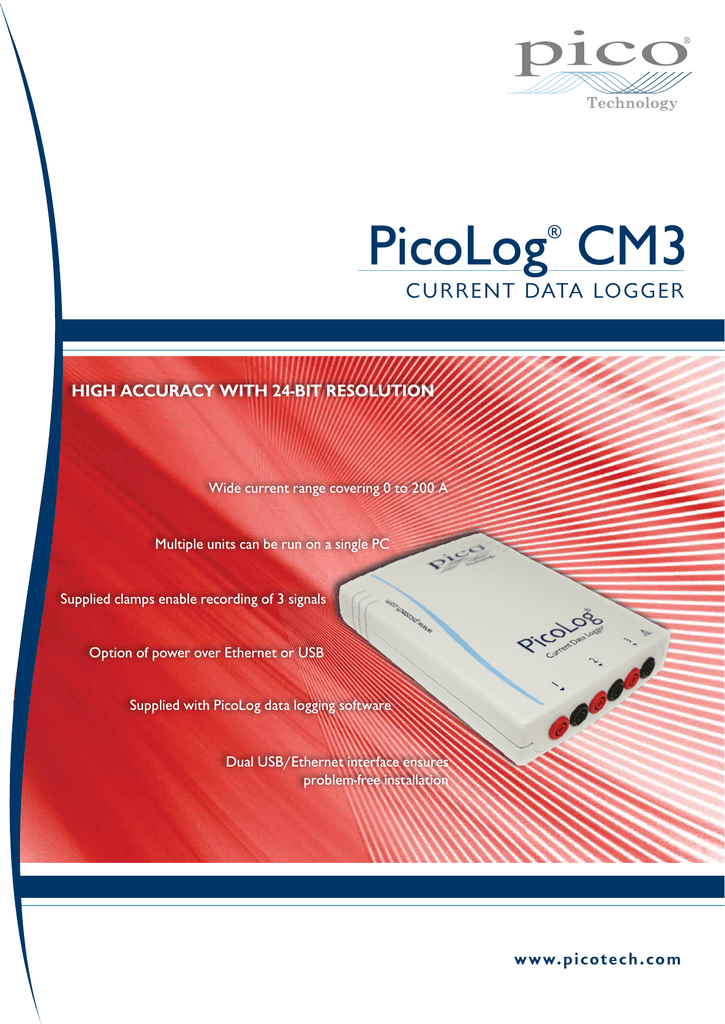 PicoLog CM3
®
C U R R EN T DATA LO G G E R
HIGH ACCURACY WITH 24-BIT RESOLUTION
Wide current range covering 0 to 200 A
Multiple units can be run on a single PC
Supplied clamps enable recording of 3 signals
Option of power over Ethernet or USB
Supplied with PicoLog data logging software
Dual USB/Ethernet interface ensures
problem-free installation
www.p i cot ec h . co m
PicoLog CM3 CURRENT MONITORING DATA LOGGER
The new PicoLog CM3 USB/Ethernet Current Data Logger is a compact, easy-to-use instrument for measuring the power
consumption of buildings and machinery. With three channels, high accuracy and low noise, it is ideal for recording data from both
single-phase and three-phase AC supplies. The logger is supplied complete with three AC current clamps and all necessary software.
The USB and Ethernet interfaces allow the logger to be used as a USB-only device, as a USB-powered device with Ethernet interface,
or as a Power-over-Ethernet (PoE) device. Using the Ethernet interface, the PicoLog CM3 can be located anywhere on a LAN or on
the internet.
PicoLog
DATA COLLECTION
PicoLog is a powerful but flexible data acquisition program designed for
collecting, analyzing and displaying data over long or short periods of time.
Data can be viewed both during and after data collection in spreadsheet or
graphical format. If required, the data can also be easily exported to other
applications.
SOFT WARE DRIVERS
In addition to the monitor view, PicoLog can also display a
graph, a spreadsheet and user notes. It can display them all
at once, as shown here, or individually in any combination.
For users who wish to write their own software or use our products with
third-party software we provide, free of charge, a range of software drivers
and examples. Drivers are included for Windows XP, Vista and Windows 7
(32 and 64 bit). Programming examples are supplied for C/C++, LabVIEW,
and Excel.
SPECIFICATIONS
PicoLog CM3
Current Clamps
Not being powered by batteries these unpowered
current clamps are ideally suited to applications where
current consumption is being monitored over long
periods of time.
The table below gives technical details for the PicoLog
CM3 data logger.
Range (1 mV/A)
0.1 to 200 A AC RMS
Number of channels
3
Accuracy
±2 %, ±0.5 A
Range (voltage input)
0 to 1 V AC RMS
Output voltage
1 mV/A
±1 % (to 200 mV) ±2.5 % (to 1 V)
Maximum output impedance
1 kΩ
Accuracy
(voltage input)
Maximum conductor size
16 mm
Overload protection
±30 V DC
Output connectors
4 mm banana plugs
Voltage input
1V RMS 20 Hz to 1 kHz
Operating environment
0 °C to 50 °C
Resolution
24 bit ADC
Storage environment
-30 °C to 60 °C
Reading rate
<1 second per conversion
Size in mm (W x L x D)
111 x 50 x 33 mm
Input connectors
4 mm socket
Weight
129 g
PC connection
USB or Ethernet
Standards
IEC1010-1 (1995);
EN61010-1 (2001) Category II 600 V
Category III 300 V
Dimensions
184 x 135 x 36 mm
ORDER CODE and PRICE
ORDER CODE
PP803
DESCRIPTION
PicoLog CM3
(Includes 3 Current Clamps)
£
349
$*
579
€*
424
*US dollar and euro prices are subject to exchange rate variations.
For latest prices see our website or contact us at the address below.
www.picotec h.com
Pico Technology James House
T: +44 (0) 1480 396 395
Colmworth Business Park Eaton Socon St Neots PE19 8YP
E: sales@picotech.com
F: +44 (0) 1480 396 296
MM028.en-1
Copyright © 2011 Pico Technology Ltd.

* Your assessment is very important for improving the work of artificial intelligence, which forms the content of this project