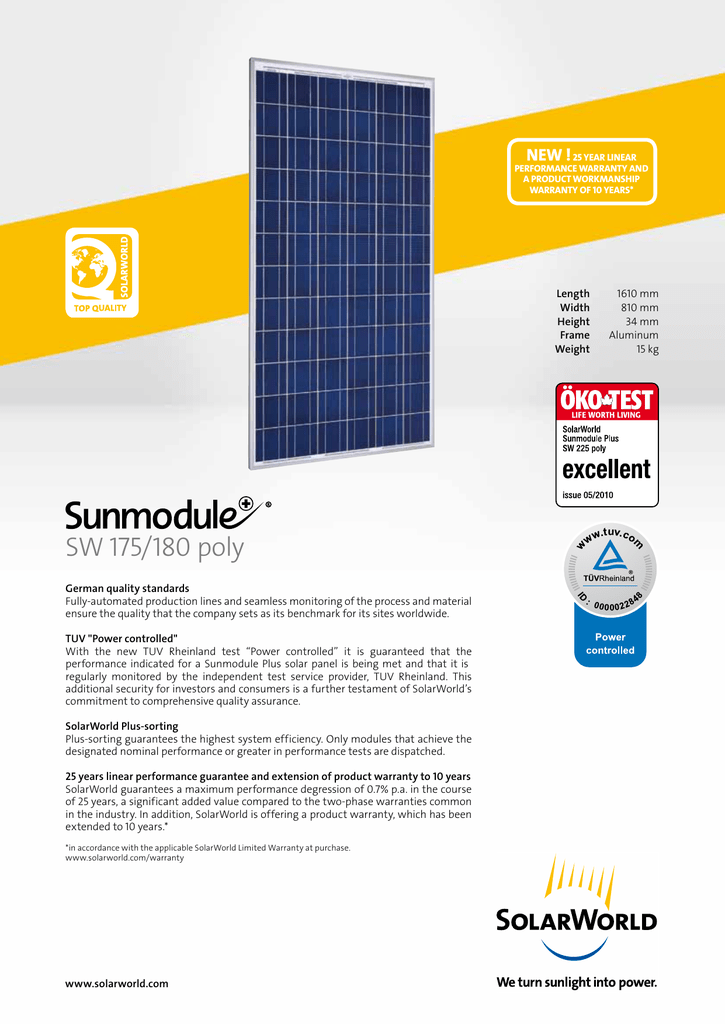 NEW !
25 YEAR LINEAR
PERFORMANCE WARRANTY AND
A PRODUCT WORKMANSHIP
WARRANTY OF 10 YEARS*
Length
Width
Height
Frame
Weight
SW 175/180 poly
German quality standards
Fully‑automated production lines and seamless monitoring of the process and material
ensure the quality that the company sets as its benchmark for its sites worldwide.
TUV "Power controlled"
With the new TUV Rheinland test "Power controlled" it is guaranteed that the
performance indicated for a Sunmodule Plus solar panel is being met and that it is
regularly monitored by the independent test service provider, TUV Rheinland. This
additional security for investors and consumers is a further testament of SolarWorld's
commitment to comprehensive quality assurance.
SolarWorld Plus‑sorting
Plus‑sorting guarantees the highest system efficiency. Only modules that achieve the
designated nominal performance or greater in performance tests are dispatched.
25 years linear performance guarantee and extension of product warranty to 10 years
SolarWorld guarantees a maximum performance degression of 0.7% p.a. in the course
of 25 years, a significant added value compared to the two‑phase warranties common
in the industry. In addition, SolarWorld is offering a product warranty, which has been
extended to 10 years.*
*in accordance with the applicable SolarWorld Limited Warranty at purchase.
www.solarworld.com/warranty
www.solarworld.com
1610 mm
810 mm
34 mm
Aluminum
15 kg
SW 175/180 poly
PERFORMANCE UNDER STANDARD TEST CONDITIONS (STC)*
SW 175
SW 180
Maximum power
Pmax
175 Wp
180 Wp
Open circuit voltage
Uoc
44,2 V
44,4 V
Maximum power point voltage
Umpp
36,0 V
36,3 V
Short circuit current
Isc
5,30 A
5,40 A
Maximum power point current
Impp
4,87 A
4,97 A
*STC: 1000W/m², 25°C, AM 1.5
PERFORMANCE AT 800 W/m², NOCT, AM 1.5
SW 175
SW 180
124,6 Wp
128,2 Wp
Uoc
39,3 V
39,4 V
Umpp
32,0 V
32,2 V
Short circuit current
Isc
4,27 A
4,35 A
Maximum power point current
Impp
3,90 A
3,98 A
Maximum power
Pmax
Open circuit voltage
Maximum power point voltage
Minor reduction in efficiency under partial load conditions at 25°C: at 200W/m², 95% (+/‑3%) of the STC efficiency (1000 W/m²) is achieved.
COMPONENT MATERIALS
SYSTEM INTEGRATION PARAMETERS
Cells per module
72
Cell type
Poly crystalline
Cell dimensions
125 mm x 125 mm
Front
tempered glass (EN 12150)
THERMAL CHARACTERISTICS
Maximum system voltage SC II
Maximum reverse current
Increased snowload acc. to IEC 61215
Number of bypass diodes
1000 V
16 A
5,4 kN/m²
3
ADDITIONAL DATA
NOCT
47 °C
Measuring tolerance
+/- 3 %
TC Isc
0,034 %/K
J-Box
IP65
TC Uoc
-0,34 %/K
Connector
MC4
TC Pmpp
-0,48 %/K
SolarWorld Plus-Sorting1)
PFlash ≥ Pmax
255
Ø9
Ø9
950
Ø4
Ø4
11.08.2011 EN
550
1610
550
Ø9
255
810
34
1) The output identified by SolarWorld (PFlash) is always higher than the nominal output (Pmax) of the module.

* Your assessment is very important for improving the work of artificial intelligence, which forms the content of this project