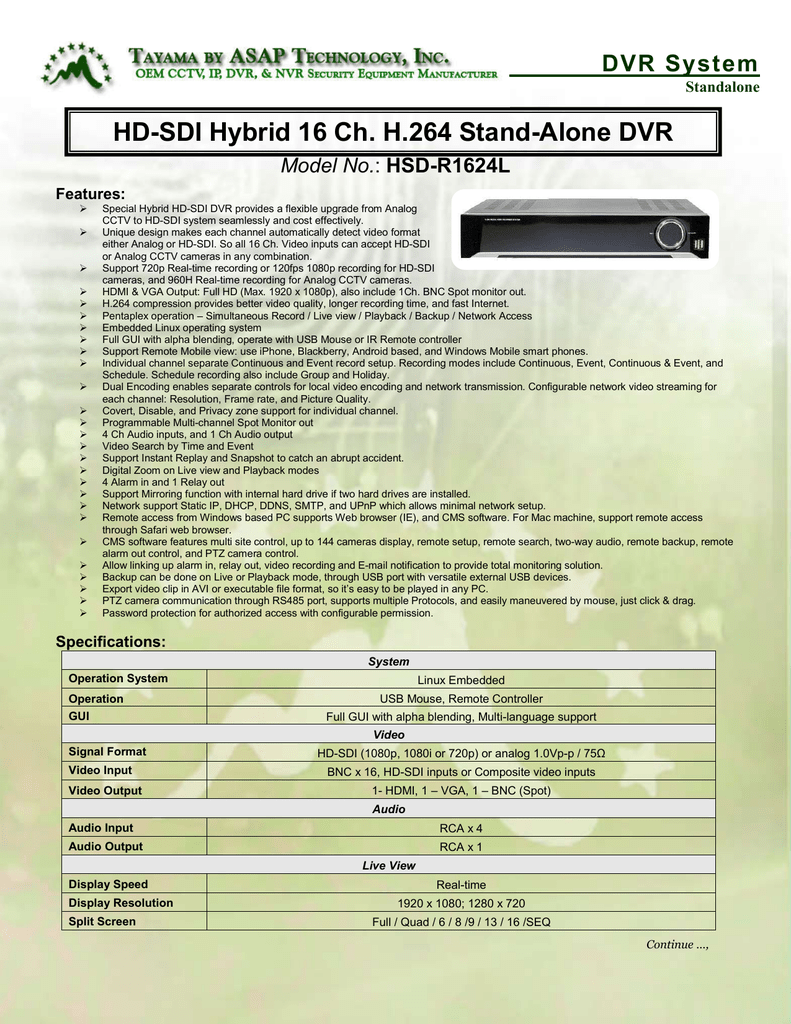 DVR System
Standalone
HD-SDI Hybrid 16 Ch. H.264 Stand-Alone DVR
Model No.: HSD-R1624L
Features:



























Special Hybrid HD-SDI DVR provides a flexible upgrade from Analog
CCTV to HD-SDI system seamlessly and cost effectively.
Unique design makes each channel automatically detect video format
either Analog or HD-SDI. So all 16 Ch. Video inputs can accept HD-SDI
or Analog CCTV cameras in any combination.
Support 720p Real-time recording or 120fps 1080p recording for HD-SDI
cameras, and 960H Real-time recording for Analog CCTV cameras.
HDMI & VGA Output: Full HD (Max. 1920 x 1080p), also include 1Ch. BNC Spot monitor out.
H.264 compression provides better video quality, longer recording time, and fast Internet.
Pentaplex operation – Simultaneous Record / Live view / Playback / Backup / Network Access
Embedded Linux operating system
Full GUI with alpha blending, operate with USB Mouse or IR Remote controller
Support Remote Mobile view: use iPhone, Blackberry, Android based, and Windows Mobile smart phones.
Individual channel separate Continuous and Event record setup. Recording modes include Continuous, Event, Continuous & Event, and
Schedule. Schedule recording also include Group and Holiday.
Dual Encoding enables separate controls for local video encoding and network transmission. Configurable network video streaming for
each channel: Resolution, Frame rate, and Picture Quality.
Covert, Disable, and Privacy zone support for individual channel.
Programmable Multi-channel Spot Monitor out
4 Ch Audio inputs, and 1 Ch Audio output
Video Search by Time and Event
Support Instant Replay and Snapshot to catch an abrupt accident.
Digital Zoom on Live view and Playback modes
4 Alarm in and 1 Relay out
Support Mirroring function with internal hard drive if two hard drives are installed.
Network support Static IP, DHCP, DDNS, SMTP, and UPnP which allows minimal network setup.
Remote access from Windows based PC supports Web browser (IE), and CMS software. For Mac machine, support remote access
through Safari web browser.
CMS software features multi site control, up to 144 cameras display, remote setup, remote search, two-way audio, remote backup, remote
alarm out control, and PTZ camera control.
Allow linking up alarm in, relay out, video recording and E-mail notification to provide total monitoring solution.
Backup can be done on Live or Playback mode, through USB port with versatile external USB devices.
Export video clip in AVI or executable file format, so it's easy to be played in any PC.
PTZ camera communication through RS485 port, supports multiple Protocols, and easily maneuvered by mouse, just click & drag.
Password protection for authorized access with configurable permission.
Specifications:
System
Operation System
Operation
GUI
Linux Embedded
USB Mouse, Remote Controller
Full GUI with alpha blending, Multi-language support
Video
Signal Format
Video Input
Video Output
HD-SDI (1080p, 1080i or 720p) or analog 1.0Vp-p / 75Ω
BNC x 16, HD-SDI inputs or Composite video inputs
1- HDMI, 1 – VGA, 1 – BNC (Spot)
Audio
Audio Input
RCA x 4
Audio Output
RCA x 1
Live View
Display Speed
Display Resolution
Split Screen
Real-time
1920 x 1080; 1280 x 720
Full / Quad / 6 / 8 /9 / 13 / 16 /SEQ
Continue …,
DVR Specifications …
Spot
Full Screen or Quad View, channel selectable
Digital Zoom
2X, selectable zoom area by mouse control
Recording
CODEC
Recordin
g Rate
H.264 / JPEG for 3G, Dual CODEC
HD-SDI
Analog
480fps @ 720p / 240fps @ 1080p
480fps @ 960H (960x480)
Recording Mode
Continuous, Schedule, Event (Alarm & Motion), Continuous & Event
Recording Quality
4 selections: Super, High, Medium and Low
Pre-Event
1 ~ 4sec
Event Record Duration
1 ~ 60sec
Playback
Display
Full / Quad / 6 / 8 /9 / 13 / 16
Frame Rate
240fps @ 720p / 120fps @ 1080p
Retrieve
Time (Calendar assisted) and Event
Instant Replay
Playback Control
Playback Speed
Zoom
Support
Play, Stop, Pause, Forward, Reverse, Slow Forward and Reverse
1x, 2x, …, 64x, and in slow speed 1/2x, 1/4x
2x Digital, selectable zoom area by mouse control
Alarm
Alarm Input
X4, NO or NC
Alarm Output
X1 Dry contact
Motion
Detection
Area
Sensitivity
Individual channel programmable, 32 x 18 Grid Array
3 Steps for each channel
Storage
Internal Storage
SATA HDD x 2
USB
Backup Devices
2 x USB 2.0 Type A
USB Flash Drive, Ext. DVD±RW / HDD, and Network
Network
Network Interface
Protocol
Remote Access
Account
Mobile Remote Access
RJ45, Gigabit Ethernet
UPnP, TCP/IP, HTTP, SMTP, NTP, DHCP, DDNS
Web browser (Internet Explore, Safari, Chrome & Firefox), and CMS (Windows or Mac)
Password protection, configurable authorization
iPhone, iPad, Android, & Windows
Communication
Password
PTZ Camera
Firmware Update
Role-based user control with configurable
system access
RS485 port, support multiple protocols, controlled by mouse with drag & click
USB Flash Drive and Remote Software
General
Power
DC 12V 4.16A
Operation Environment
5oC ~ 40oC (41oF ~ 110oF); 20% ~ 80% Relative Humidity, Non-condensing
Dimension (W x H x D)
340 x 60 x 250mm (13.4 x 2.4 x 9.84in)
Weight
3Kg / 6.6lb (No hard drive)
Design and specifications are subject to change without prior notice.