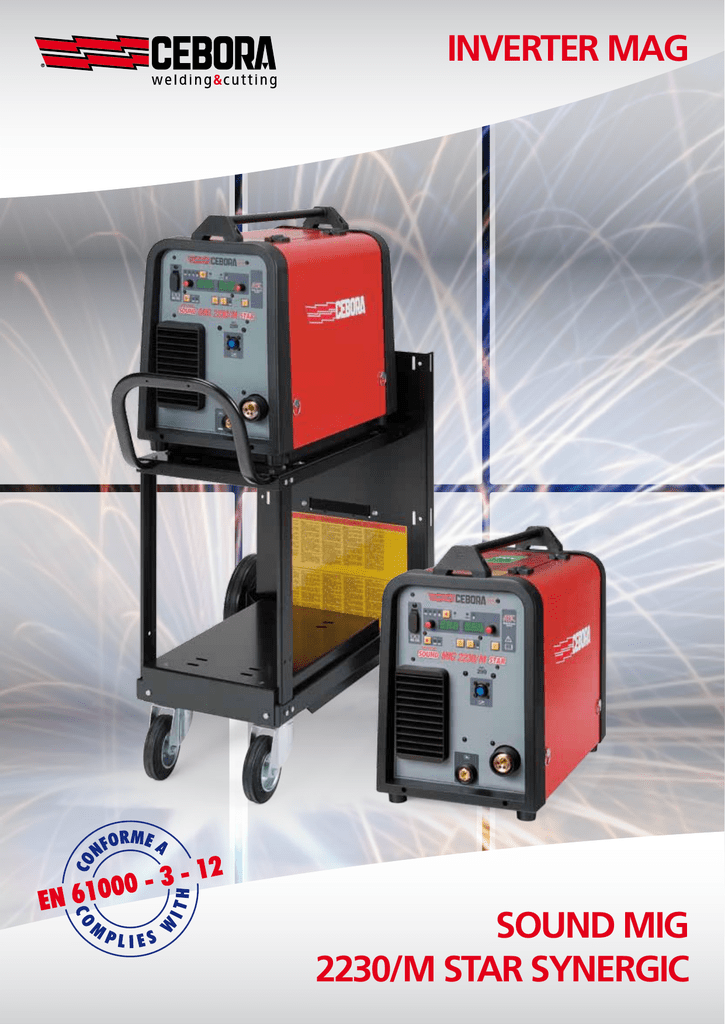 INVERTER MAG
sound mig
2230/M STAR SYNERGIC
sound mig
2230/M STAR SYNERGIC
299
230V 50/60 Hz
+ 15% / -20%
20 A
6,8 KVA 30%
4,9 KVA 60%
3,5 KVA 100%
15A ÷ 220A
220A 30%
175A 60%
145A 100%
Electronic
S
Dati tecnici
Specifications
Alimentazione monofase
Single phase input
Fusibile ritardato
Fuse rating (slow blow)
Potenza assorbita
Input power
Campo di regolazione della corrente
Current adjustment range
Fattore di servizio (10 min. 40° C)
Secondo norme IEC 60974.1
Duty Cycle (10 min.40°C)
According to IEC 60974.1
Regolazione continua
Stepless regulation
0,6/0,8/0,9/1,0/1,2 Fe-inox
0,8/0,9/1,0/1,2 Al Filo utilizzabile
0,8/0,9/1,0 Cu-Si 3%
0,8/1,0 Cu-Al8 (AlBz8) Wire size that can be used
0,9 Flux cored
Bobina filo trainabile max.
Ø 300 mm /15 Kg
Max. wire spool size
Grado di protezione
IP 23 S
Protection class
Peso
27 Kg
Weight
Dimensioni mm
320x585x500H
Dimensions mm
Generatore inverter monofase sinergico per saldatura MIG/MAG
con gruppo trainafilo Cebora 2 rulli in alluminio. Destinato all'utilizzo
sia nell'automotive (particolarmente raccomandato per la saldobrasatura della lamiera zincata, degli acciai ad alta resistenza e dell'alluminio) e nella media carpenteria. Il generatore è fornito di una
ampia gamma di curve sinergiche memorizzate che rappresentano
le condizioni operative di saldatura più comuni. E' inoltre possibile
utilizzare fili animati con e senza protezione gassosa, con la semplice
inversione di polarità.
E' un generatore particolarmente versatile ed adatto a molteplici
utilizzi, caratterizzato da assorbimenti contenuti (PFC).
E' possibile utilizzare alternativamente due tipi di torce: torcia Cebora Push Pull Up/Down 2003 da m. 4 – art. 2003 – e torcia Cebora
280A raffreddata ad aria m. 3,5 – art. 1242-.
Il pannello di controllo è semplice ed intuitivo e permette di selezionare il programma desiderato in base al tipo di filo, al diametro ed
al gas di protezione utilizzato.
Optional: carrello trasporto generatore – art. 1656.
Conforme alla norma EN 61000-3-12.
Il generatore può essere alimentato anche da motogeneratori di
potenza adeguata
(min. 8KVA).
Art. 2003
Art. 1242
Inverter single-phase synergic power source for MIG-MAG
welding, with 2-roller Cebora wire feed unit in aluminium.
Designed for use either in the automotive (particularly recommended for the MIG brazing of the galvanized sheet, of the
high resistance steels and of the aluminium) or in the medium
steel fabrication. The power source features a broad range of
synergic curves relating to the most common operating conditions in welding. It is also possible to use flux cored wires either
with or without shielding gas, by simply reversing the polarity.
It is a specially versatile power source, suitable for various applications, marked out by a low electrical input (PFC).
It is possible to use alternately two types of torch: 4 m Cebora Push Pull Up/Down 2003 torch (art. 2003) and 3.5 m air
cooled Cebora 280A torch (art. 1242).
The control panel is simple and user friendly and allows to select the right welding program according to the wire type and
diameter as well as to the used shielding gas.
Optional: trolley for transportation of the power source (art.
1656)
Complies with EN 61000-3-12.
The power source can also be powered by motor-driven generators of adequate power (min. 8KVA).
CEBORA S.p.A - Via A. Costa, 24 - 40057 Cadriano (BO) - Italy / Tel. +39.051.765.000 - Fax +39.051.765.222 / www.cebora.it - e-mail: cebora@cebora.it
CEBORA STAMPA TECNICA / stampato C 329/ 01-2011 / 100
Art.

* Your assessment is very important for improving the work of artificial intelligence, which forms the content of this project