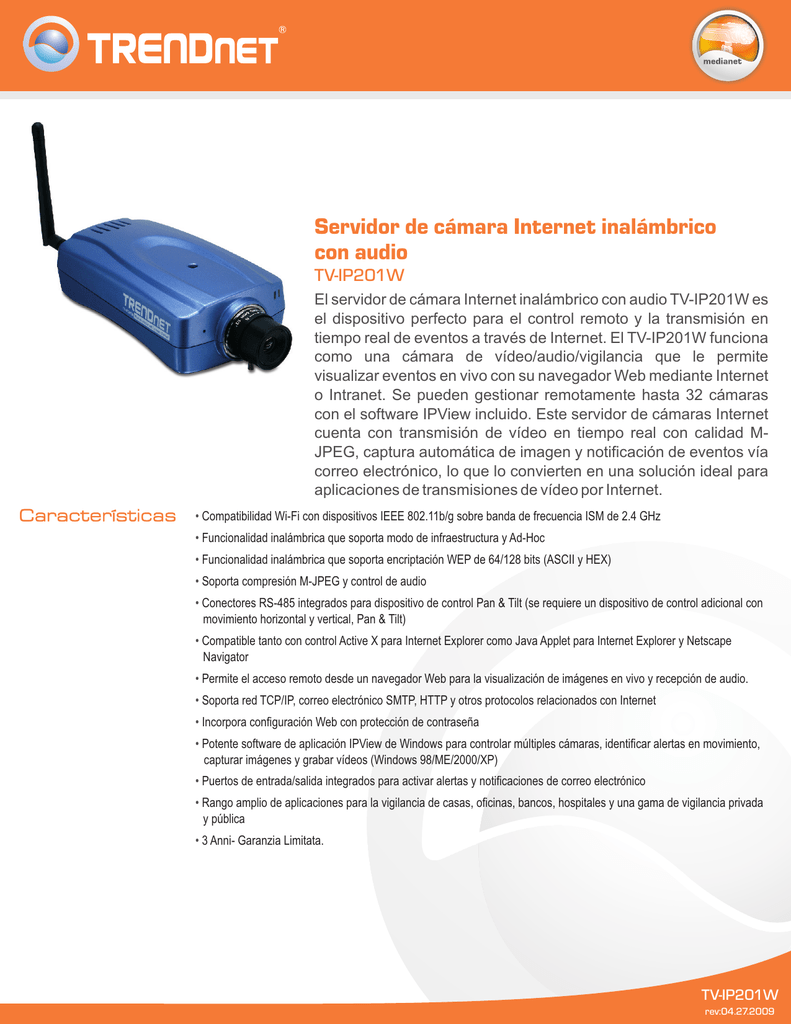 medianet
Servidor de cámara Internet inalámbrico
con audio
TV-IP201W
El servidor de cámara Internet inalámbrico con audio TV-IP201W es
el dispositivo perfecto para el control remoto y la transmisión en
tiempo real de eventos a través de Internet. El TV-IP201W funciona
como una cámara de vídeo/audio/vigilancia que le permite
visualizar eventos en vivo con su navegador Web mediante Internet
o Intranet. Se pueden gestionar remotamente hasta 32 cámaras
con el software IPView incluido. Este servidor de cámaras Internet
cuenta con transmisión de vídeo en tiempo real con calidad MJPEG, captura automática de imagen y notificación de eventos vía
correo electrónico, lo que lo convierten en una solución ideal para
aplicaciones de transmisiones de vídeo por Internet.
Características
• Compatibilidad Wi-Fi con dispositivos IEEE 802.11b/g sobre banda de frecuencia ISM de 2.4 GHz
• Funcionalidad inalámbrica que soporta modo de infraestructura y Ad-Hoc
• Funcionalidad inalámbrica que soporta encriptación WEP de 64/128 bits (ASCII y HEX)
• Soporta compresión M-JPEG y control de audio
• Conectores RS-485 integrados para dispositivo de control Pan & Tilt (se requiere un dispositivo de control adicional con
movimiento horizontal y vertical, Pan & Tilt)
• Compatible tanto con control Active X para Internet Explorer como Java Applet para Internet Explorer y Netscape
Navigator
• Permite el acceso remoto desde un navegador Web para la visualización de imágenes en vivo y recepción de audio.
• Soporta red TCP/IP, correo electrónico SMTP, HTTP y otros protocolos relacionados con Internet
• Incorpora configuración Web con protección de contraseña
• Potente software de aplicación IPView de Windows para controlar múltiples cámaras, identificar alertas en movimiento,
capturar imágenes y grabar vídeos (Windows 98/ME/2000/XP)
• Puertos de entrada/salida integrados para activar alertas y notificaciones de correo electrónico
• Rango amplio de aplicaciones para la vigilancia de casas, oficinas, bancos, hospitales y una gama de vigilancia privada
y pública
• 3 Anni- Garanzia Limitata.
TV-IP201W
rev:04.27.2009
Servidor de cámara Internet inalámbrico con audio
TV-IP201W
Especificaciones
Sensor de imagen
Sensor
• Sensor CMOS a color de 1/4 pulgadas
Resolución
• 640 x 480 píxeles
Lente
• Lente f:6.0mm F1.8 (montura-CS estándar reemplazable)
Iluminación mínima
• On (encendido): 2.5 lux; Off (Apagado): 2.5 lux
Audio
Volumen de entrada
• MIC Micrófono interno (monoaural)
Control
• Adjustable
Compresión
• ADPCM/PCM
Vídeo/Imagen
Tasa de fotogramas
• 30fps@CIF, QVGA, VGA
Compresión
• M-JPEG
Resolución y frecuencia de luz
• 176 x 144, 320 x 240, 640 x 480 • exterior/interior/50Hz/60Hz
Configuración de la tasa de fotogramas
• 1, 3, 7, 12, 15, 25, 30 (según el formato de vídeo)
Función Mirror
• Vertical / Horizontal
Control
• Sí (brillo / contraste / saturación / claridad)
Comunicación
LAN
• Auto-Sense y Auto-MDIX a 10/100Mbps
Protocolo
• HTTP, FTP< TCP/IP, UDP, ARP, ICMP, DHCP, PPPoE, DDNS, SMTP, UPnP
Software
Navegador
• Internet Explorer 5.0 o superior y Netscape 6.0 o superior
Aplicación
• IP View y Active X
Compatible con OS
• Windows 98SE, ME,2000,XP, Vista
Sistema
CPU
• RDC1610
SDRAM/Flash
Sistema operativo
• 16MB/4MB
• Linux
E/S y control
Entrada
• 1 set, 2 pin (photo relay; Active High: 9~40V DC; Dropout: 0 VDC)
Salida
• 1 set, 2 pin (photo relay. Corriente de circuito cerrado: 70mA~100mA; 30ohmios. Voltaje de circuito abierto: 240VAC ó
350VDC)
RS-485
• Half Duplex (para controlar dispositivos con movimiento horizontal y vertical -- pan/tilt -- externos)
Requisitos
• 512MB o superior
Tamaño de la memoria
• Intel Celeron 1.1GHz o superior (se recomienda Pentium 4)Tarjeta de resolución VGA: 800 x 600 o superior
Nota: De acuerdo con el ingeniero, para que 8 cámaras puedan grabar a la vez, se necesitará al menos un procesador
P4 a 3.0GHz de 1GB RAM
TV-IP201W
rev:04.27.2009
Servidor de cámara Internet inalámbrico con audio
TV-IP201W
Especificaciones
Físico / Ambiental
• xxxxxxxxxxxxxxxxxxxxxxxxxxxxxxxx
Dimensión
• 180 x 83 x 47mm (7,1 x 3,3 x 1,9 pulgadas)
Peso Cámara
• Camera: (8.7 onzas) Base: 116g (4.1 onzas) ; Base: 116g (4.1 onzas)
Altura de la base
• 128 mm (4.7 pulgadas)
Alimentación
• Adaptador de alimentación eléctrica externo de 2,5A y 5V DC
Consumo
• 4,5 vatios máx.
Temperatura
• Operación: 5°C ~ 40°C (41°F ~ 104°F)
LED
Humedad
• Power (Encendido): Azul
• 5% ~ 95% sin condensación
Emisiones de seguridad
• CE, FCC
• Almacenamiento: -25°C ~ 50°C (-13°F ~ 122°F)
• Enlace/Actividad: Naranja
Inalámbrico
Estándar
• IEEE 802.11b/g
Frecuencia
• 2.4 ~ 2.4835Ghz
Técnica de modulación
• 82.11b: DSSS
• 802.11g: OFDM
Encriptación
• ncriptación WEP de 64/128-bits
Velocidad de transmisión de datos
• 802,11g: 54, 48, 36, 24,12, 9 y 6Mbps
Solución en redes
• 802.11b: 11, 5.5, 2 y 1Mbps
Contenidos del paquete
• TV-IP201W
Parking
Monitoring
• CD-ROM de la herramienta
(TV-IP201W)
Workstation with
PCI Adapter
(TE100-PCIWN)
Office Monitoring
(TV-IP201)
• Guía de instalación rápida multilingüe
• Cable Ethernet RJ-45
• Adaptador eléctrico (5V, 2,5A)
Productos Relacionados
Wireless Access Point
(TEW-430APB)
Warehouse
Monitoring
(TV-IP201W)
Firewall Router
(TW100-BRF114)
Front Gate
Monitoring
(TV-IP201)
Internet
Cable/DSL
Modem
TV-IP100
Servidor de Cámara de Internet
TV-IP100W
Servidor de Cámara Internet Wireless
TV-IP201
Servidor de cámara Internet con audio
TV-IP300
Servidor avanzado de cámaras de Internet para día/noche
TV-IP300W
Servidor avanzado de cámaras inalámbricas de Internet
para día/noche
Informacion de la orden
20675 Manhattan Place,Torrance, CA 90501 USA
Tel: 1-310-961-5500
Fax: 1-310-961-5511
Web: www.trendnet.com
Email: sales@trendnet.com
Para ordenar por favor llame:
1-888-326-6061
TRENDnet is a registered trademark. Other Brands and product names are trademarks of their respective holders. Information provided in this document pertain to TRENDnet
products and is subject to change at any time, without notice. For the most recent product information please visit http://www.trendnet.com.
Copyright © TRENDnet. All Rights Reserved.