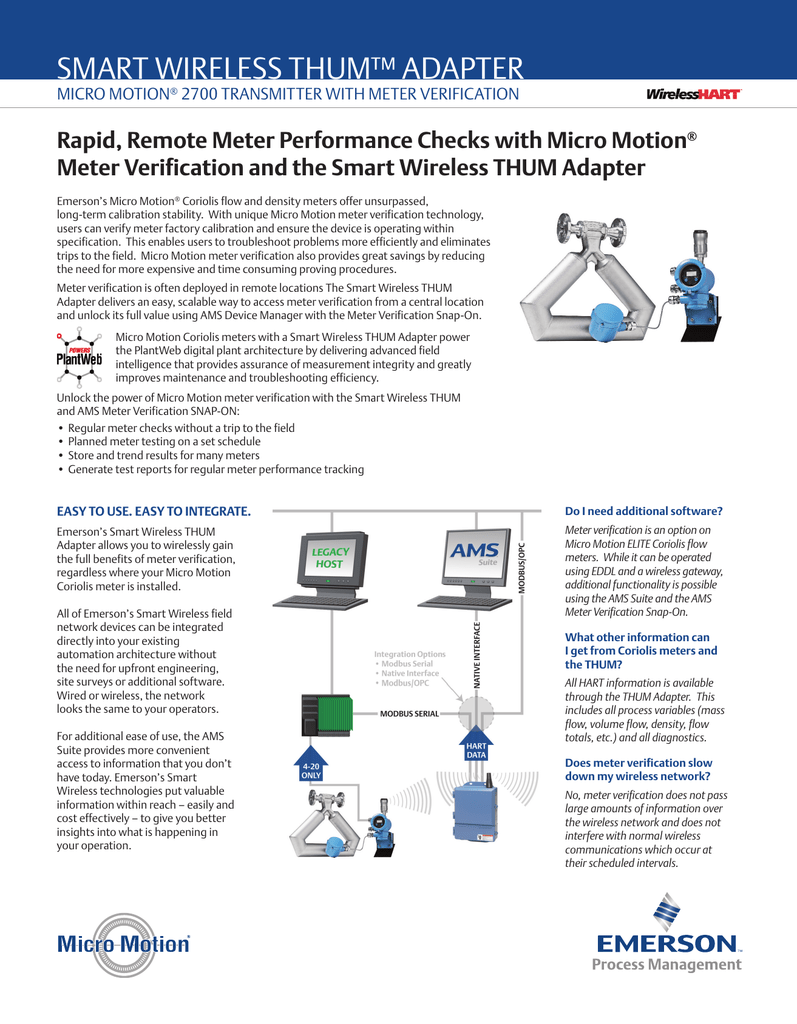 SMART WIRELESS THUM™ ADAPTER
MICRO MOTION® 2700 TRANSMITTER WITH METER VERIFICATION
Rapid, Remote Meter Performance Checks with Micro Motion®
Meter Verification and the Smart Wireless THUM Adapter
Emerson's Micro Motion® Coriolis flow and density meters offer unsurpassed,
long-term calibration stability. With unique Micro Motion meter verification technology,
users can verify meter factory calibration and ensure the device is operating within
specification. This enables users to troubleshoot problems more efficiently and eliminates
trips to the field. Micro Motion meter verification also provides great savings by reducing
the need for more expensive and time consuming proving procedures.
Meter verification is often deployed in remote locations The Smart Wireless THUM
Adapter delivers an easy, scalable way to access meter verification from a central location
and unlock its full value using AMS Device Manager with the Meter Verification Snap-On.
Micro Motion Coriolis meters with a Smart Wireless THUM Adapter power
the PlantWeb digital plant architecture by delivering advanced field
intelligence that provides assurance of measurement integrity and greatly
improves maintenance and troubleshooting efficiency.
Unlock the power of Micro Motion meter verification with the Smart Wireless THUM
and AMS Meter Verification SNAP-ON:
• Regular meter checks without a trip to the field
• Planned meter testing on a set schedule
• Store and trend results for many meters
• Generate test reports for regular meter performance tracking
EASY TO USE. EASY TO INTEGRATE.
Do I need additional software?
Emerson's Smart Wireless THUM
Adapter allows you to wirelessly gain
the full benefits of meter verification,
regardless where your Micro Motion
Coriolis meter is installed.
Meter verification is an option on
Micro Motion ELITE Coriolis flow
meters. While it can be operated
using EDDL and a wireless gateway,
additional functionality is possible
using the AMS Suite and the AMS
Meter Verification Snap-On.
All of Emerson's Smart Wireless field
network devices can be integrated
directly into your existing
automation architecture without
the need for upfront engineering,
site surveys or additional software.
Wired or wireless, the network
looks the same to your operators.
For additional ease of use, the AMS
Suite provides more convenient
access to information that you don't
have today. Emerson's Smart
Wireless technologies put valuable
information within reach – easily and
cost effectively – to give you better
insights into what is happening in
your operation.
What other information can
I get from Coriolis meters and
the THUM?
All HART information is available
through the THUM Adapter. This
includes all process variables (mass
flow, volume flow, density, flow
totals, etc.) and all diagnostics.
Does meter verification slow
down my wireless network?
No, meter verification does not pass
large amounts of information over
the wireless network and does not
interfere with normal wireless
communications which occur at
their scheduled intervals.
SMART WIRELESS THUM ADAPTER
MICRO MOTION 2700 TRANSMITTER WITH METER VERIFICATION
VERIFY PERFORMANCE WITH METER VERIFICATION
Micro Motion meter verification analyzes the entire Coriolis meter tubes, sensor and electronics - against original factory setting in minutes
while the sensor is in line and the process is flowing.
• Reduce verification effort and expense
• Increase operational safety and quality
• Eliminate "catch & weight" methods and the need for calibration carts
• Quicker, lower-cost troubleshooting on demand
• Identify problems before they occur to avoid costly downtime
and process issues
• Store, track, trend and generate verification results over time
Smart Wireless THUM adapter with Micro Motion meter
verificationallows cost efficient and scalable remote
monitoring ofmeter performance in the field.
BETTER INFORMATION FOR IMPROVED PERFORMANCE
The Smart Wireless THUM Adapter can transmit up to four variables and
additional HART status information at the user configurable update rate.
Access to this new information enables you to more fully optimize your
operations for improved performance.
Selectable Process Variable (max 4)
Mass Flow
Density
Volume Flow
Temperature
Drive Gain
Flow Direction
Totalized Flow
Important Status Information
Electronics or Sensor Failures
Slug Flow Alert
Process Alerts
Meter Health
Calibration Changes
TECHNICAL REQUIREMENTS
Voltage drop across THUM: 2.25 Volts at 3.5 mA; 1 Volt at 25 mA
Loop resistance required:
250 Ohms
THUM update rate:
8 seconds to 60 minutes
Convenient operation enables regular tracking of meter
performance for quick troubleshooting and establishment
of standard work practices to extend proving cycles.
©2009 Emerson Process Management. All rights reserved.
Emerson Process Management
Micro Motion, Inc.
7070 Winchester Circle
Boulder, Colorado USA 80301
T: 800 522 6277
T: +1 (303) 527 5200
F: +1 (303) 530 8459
www.micromotion.com
MC-001166
The Emerson logo is a trademark and service mark of Emerson Electric Co. Rosemount is a mark of one of the
Emerson Process Management family of companies. All other marks are property of their respective owners.
The contents of this publication are presented for information purposes only, and while effort has been made to
ensure their accuracy, they are not to be construed as warranties or guarantees, express or implied, regarding the
products or service described wherein or their use or applicability. All sales are governed by our terms and
conditions, which are available on request. We reserve the right to modify or improve the designs or specifications
of our products at any time without notice.

* Your assessment is very important for improving the work of artificial intelligence, which forms the content of this project