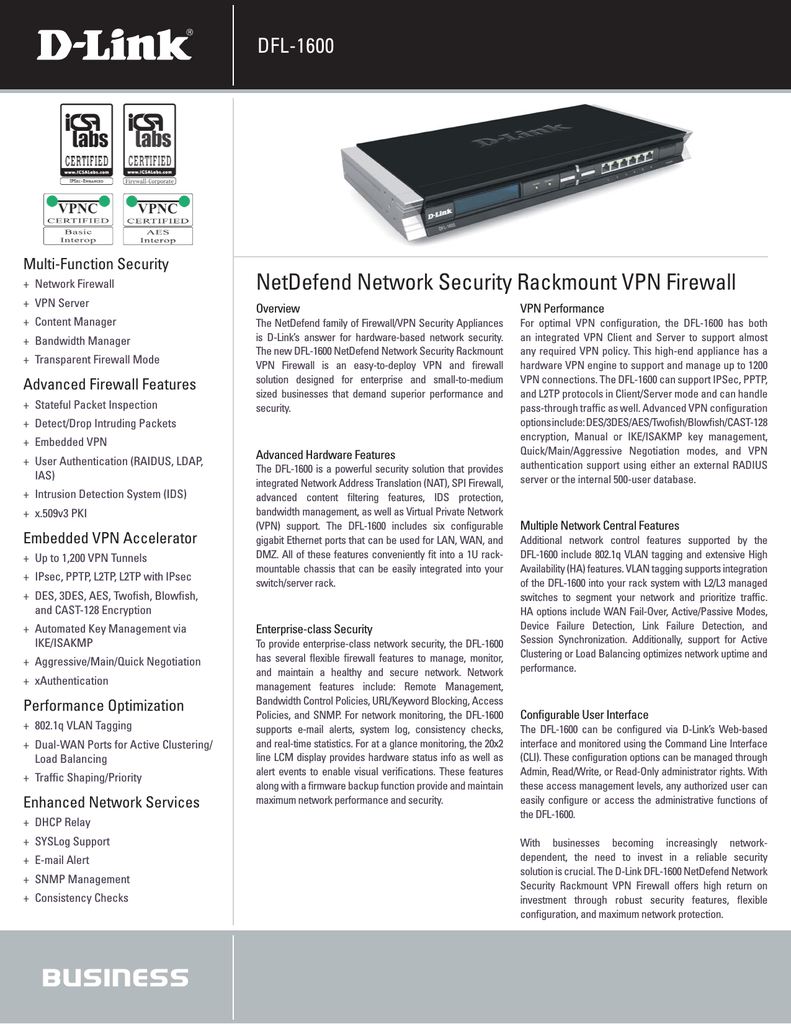 DFL-1600
Multi-Function Security
+ Network Firewall
NetDefend Network Security Rackmount VPN Firewall
+ VPN Server
Overview
VPN Performance
The NetDefend family of Firewall/VPN Security Appliances
is D-Link's answer for hardware-based network security.
The new DFL-1600 NetDefend Network Security Rackmount
VPN Firewall is an easy-to-deploy VPN and firewall
solution designed for enterprise and small-to-medium
sized businesses that demand superior performance and
security.
For optimal VPN configuration, the DFL-1600 has both
an integrated VPN Client and Server to support almost
any required VPN policy. This high-end appliance has a
hardware VPN engine to support and manage up to 1200
VPN connections. The DFL-1600 can support IPSec, PPTP,
and L2TP protocols in Client/Server mode and can handle
pass-through traffic as well. Advanced VPN configuration
options include: DES/3DES/AES/Twofish/Blowfish/CAST-128
encryption, Manual or IKE/ISAKMP key management,
Quick/Main/Aggressive Negotiation modes, and VPN
authentication support using either an external RADIUS
server or the internal 500-user database.
+ Content Manager
+ Bandwidth Manager
+ Transparent Firewall Mode
Advanced Firewall Features
+ Stateful Packet Inspection
+ Detect/Drop Intruding Packets
+ Embedded VPN
+ User Authentication (RAIDUS, LDAP,
IAS)
+ Intrusion Detection System (IDS)
+ x.509v3 PKI
Embedded VPN Accelerator
+ Up to 1,200 VPN Tunnels
+ IPsec, PPTP, L2TP, L2TP with IPsec
+ DES, 3DES, AES, Twofish, Blowfish,
and CAST-128 Encryption
+ Automated Key Management via
IKE/ISAKMP
+ Aggressive/Main/Quick Negotiation
+ xAuthentication
Performance Optimization
+ 802.1q VLAN Tagging
+ Dual-WAN Ports for Active Clustering/
Load Balancing
+ Traffic Shaping/Priority
Enhanced Network Services
+ DHCP Relay
+ SYSLog Support
+ E-mail Alert
+ SNMP Management
+ Consistency Checks
Advanced Hardware Features
The DFL-1600 is a powerful security solution that provides
integrated Network Address Translation (NAT), SPI Firewall,
advanced content filtering features, IDS protection,
bandwidth management, as well as Virtual Private Network
(VPN) support. The DFL-1600 includes six configurable
gigabit Ethernet ports that can be used for LAN, WAN, and
DMZ. All of these features conveniently fit into a 1U rackmountable chassis that can be easily integrated into your
switch/server rack.
Enterprise-class Security
To provide enterprise-class network security, the DFL-1600
has several flexible firewall features to manage, monitor,
and maintain a healthy and secure network. Network
management features include: Remote Management,
Bandwidth Control Policies, URL/Keyword Blocking, Access
Policies, and SNMP. For network monitoring, the DFL-1600
supports e-mail alerts, system log, consistency checks,
and real-time statistics. For at a glance monitoring, the 20x2
line LCM display provides hardware status info as well as
alert events to enable visual verifications. These features
along with a firmware backup function provide and maintain
maximum network performance and security.
Multiple Network Central Features
Additional network control features supported by the
DFL-1600 include 802.1q VLAN tagging and extensive High
Availability (HA) features. VLAN tagging supports integration
of the DFL-1600 into your rack system with L2/L3 managed
switches to segment your network and prioritize traffic.
HA options include WAN Fail-Over, Active/Passive Modes,
Device Failure Detection, Link Failure Detection, and
Session Synchronization. Additionally, support for Active
Clustering or Load Balancing optimizes network uptime and
performance.
Configurable User Interface
The DFL-1600 can be configured via D-Link's Web-based
interface and monitored using the Command Line Interface
(CLI). These configuration options can be managed through
Admin, Read/Write, or Read-Only administrator rights. With
these access management levels, any authorized user can
easily configure or access the administrative functions of
the DFL-1600.
With businesses becoming increasingly networkdependent, the need to invest in a reliable security
solution is crucial. The D-Link DFL-1600 NetDefend Network
Security Rackmount VPN Firewall offers high return on
investment through robust security features, flexible
configuration, and maximum network protection.
DFL-1600
NetDefend Network Security Rackmount VPN Firewall
Technical Specifications
Software
Firewall Mode of Operation
+ Layer 3 Mode: Route Mode, NAT Mode
+ Layer 2 Mode: Transparent Mode
+ Network Address Translation (NAT))
+ Port Address Translation (PAT)
+ Static Address Translation (SAT)
+ Policy-Based NAT
+ Port Forwarding
+ Server Load Balancing
+ Time Scheduled Policies
VPN Security
Firewall Security
Network Service
+ VPN Tunnels: 300 (IPsec, PPTP, L2TP, L2TP with IPsec)
+ IPsec LAN-to-LAN / Roaming User
+ PPTP/L2TP Server/Client
+ IPsec Hub and Spoke
+ IPsec NAT-Traversal
+ DHCP over IPsec
+ Encryption Transform: DES, 3DES, AES, Twofish, Blowfish,
CAST-128
+ XAUTH (Extended Authentication) for IPsec
Authentication
+ Stateful Packet Inspection (SPI)
+ Policy-Based User Authentication
+ DoS/DDoS Attack Protection
+ RADIUS, LDAP, IAS
+ HTTP Traffic Filter: Keyword, URL, Exempt List
+ Script Filter: Java Applet, Java Scripts, VB Scripts,
Cookies, ActiveX
+ Static IP Address
+ PPPoE for xDSL
+ PPTP/L2TP Client for xDSL
+ DHCP Client for WAN Interface
+ BigPond Cable, Telia Compliance
+ Internal DHCP Server
+ DHCP Relay
+ WAN Failover/Load Sharing
+ IP Alias
+ Static Routes
+ OSPF Dynamic Routing
+ Policy-Based Routing
+ DNS Resolving of Remote Gateway
+ Dynamic DNS Poster
+ Custom Application Layer Gateway
+ Support for IEEE 802.1q VLAN Tag (128)
+ Firewall Policies per VLAN Tag
+ DHCP Server per VLAN Tag
+ WAN Failover/Load Sharing
Bandwidth Management
System
+ Guaranteed Bandwidth
+ Maximum Bandwidth
+ Priority-Bandwidth Utilization
+ Policy-Based Traffic Shaping
+ Time-Scheduled Traffic Shaping
+ Bandwidth Management in VPN Tunnel
+ SYSLog Support
+ Firmware Configuration Backup
+ E-mail Alerts
+ Management – HTTP/HTTPS, SSH
+ Simple Network Time Protocol (SNTP)
+ Simple Network Management Protocol (SNMP)
+ Configuration Consistency Checks
DFL-1600
NetDefend Network Security Rackmount VPN Firewall
Intrusion and Detection System
+ NIDS Pattern Auto Update
+ Attack Alarm via E-mail Notification
High Availability
+ Active-Passive HA mode
+ Network Notification on Failover
+ Device Failure Detection
+ Configuration Synchronization
+ Firewall/VPN Session Synchronization
+ Average Failover Time: < 800ms
+ Power
+ System
Physical & Environmental
Diagnostic LEDs
+ Gigabit Ethernet (Link/Activity per Port)
Device Ports
+ Gigabit Ethernet: 6 10/100/1000BASE-T Ports
+ Console Port: Serial COM port
LCM Module
+ 20 x 2 Line Liquid Crystal Module
+ Display HW Status and Events
Power Input
AC Input 100 ~ 240VAC 50 ~ 60Hz
Power Consumption
200 Watts Maximum
Dimensions (W x D x H)
+ 17.3in x 10.0in x 1.73in
Weight
8.8 lbs (Device Only)
Temperature
+ Operating: 32˚ to 140˚F (0˚ to 60˚C)
Humidity
5% ~ 95% (Non-condensing)
Emission (EMI)
+ FCC Class A
+ 19in 1U Rack Mountable
+ Storage: -4˚ to 158˚F (-20˚ to 70˚C)
+ C-Tick
+ CE
Safety
+ UL
Warranty
1-Year Limited
+ LVD (EN60950)
1
1-Year Limited Warranty available only in the USA and Canada.
1
D-Link Systems, Inc. 17595 Mt. Herrmann Street, Fountain Valley, CA 92708
©2005-2008 D-Link Corporation/D-Link Systems, Inc. All rights reserved. D-Link and
the D-Link logo are registered trademarks of D-Link Corporation or its subsidiaries in
the United States and other countries. Other trademarks or registered trademarks
are the property of their respective owners. Visit www.dlink.com for more details.