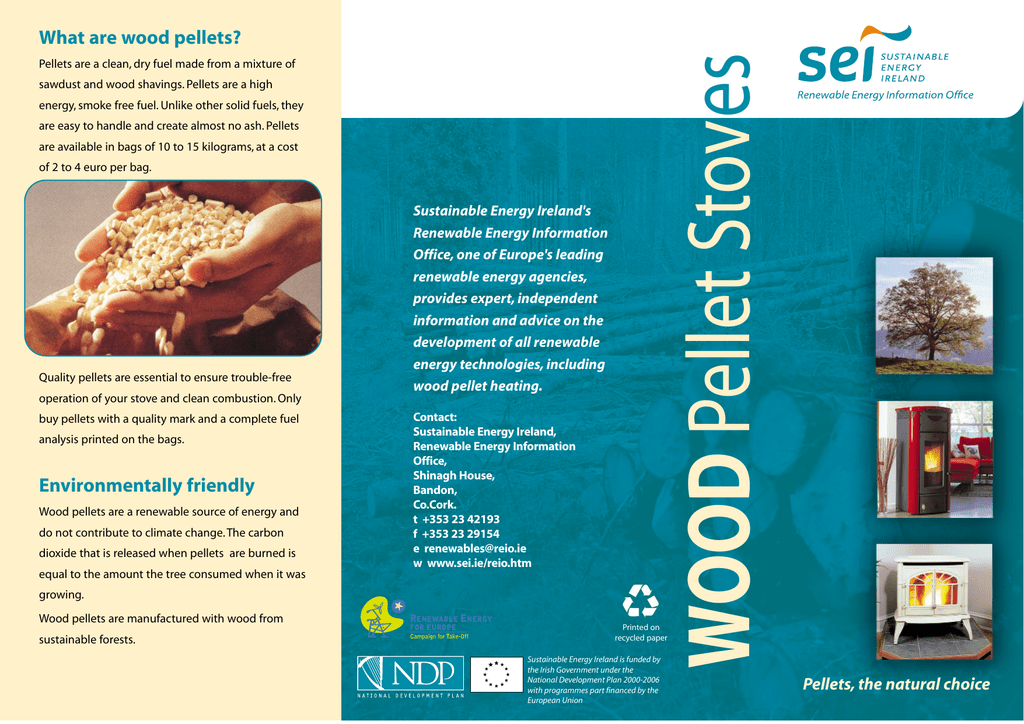 Pellets are a clean, dry fuel made from a mixture of
sawdust and wood shavings. Pellets are a high
energy, smoke free fuel. Unlike other solid fuels, they
are easy to handle and create almost no ash. Pellets
are available in bags of 10 to 15 kilograms, at a cost
of 2 to 4 euro per bag.
Quality pellets are essential to ensure trouble-free
operation of your stove and clean combustion. Only
buy pellets with a quality mark and a complete fuel
analysis printed on the bags.
Environmentally friendly
Wood pellets are a renewable source of energy and
do not contribute to climate change. The carbon
dioxide that is released when pellets are burned is
equal to the amount the tree consumed when it was
Sustainable Energy Ireland's
Renewable Energy Information
Office, one of Europe's leading
renewable energy agencies,
provides expert, independent
information and advice on the
development of all renewable
energy technologies, including
wood pellet heating.
Contact:
Sustainable Energy Ireland,
Renewable Energy Information
Office,
Shinagh House,
Bandon,
Co.Cork.
t +353 23 42193
f +353 23 29154
e [email protected]
w www.sei.ie/reio.htm
growing.
Wood pellets are manufactured with wood from
sustainable forests.
Printed on
recycled paper
Sustainable Energy Ireland is funded by
the Irish Government under the
National Development Plan 2000-2006
with programmes part financed by the
European Union
WOOD Pellet Stoves
What are wood pellets?
Pellets, the natural choice
Everyone loves a wood fire, it really
Safety
Buying and installing a pellet stove
turns a house into a home. But open fires
Pellet stoves are far safer than traditional stoves.While
the traditional stove's body radiates the heat to the
room, the pellet stove ventilates only the warm air into
the room and does not heat up itself. Good stoves are
equipped with a number of safety features against
power failure and overheating problems.
Quality is of paramount importance when choosing
a pellet stove and sourcing pellets.
and old-fashioned stoves can be
polluting, inefficient and inconvenient.
Modern wood pellet stoves offer the
warmth and comfort of wood heating
but are highly efficient, clean burning
and totally automatic, saving you time
and money.
Easy and clean to use
To light the pellet stove, all you need to do is fill the
integrated pellet container and the stove does the
rest for up to 30 hours continuously.
Automatic fuel supply and a thermostat means you
can relax and enjoy the comfort of pellet heating at
the switch of a button.
Automatic ignition
means that lighting the
fire is hassle free.
Modern pellet stoves are
self cleaning so you can
forget the daily cleaning
chore of traditional solid
fuel stoves.The ash pan
needs to be emptied no
more than once a month.
Wide range of designs
Wood pellet stoves combine
great functionality with the
latest designs.They fit in easily
with modern and traditional
interiors in your home,
apartment or office.
Pellet stoves can either be free
standing or fireplace inserts.
Wood pellet stoves are also available with a back boiler
to feed into your central heating
Phone home for remote control heating
A simple control panel on the appliance or on an
adjacent wall allows you to set the temperature
required in the room.The latest innovation allows
remote control by mobile phone. By simply making a
short call on
your way home,
you can return
to a warm living
room.
The Renewable Energy Information Office maintains
a list of suppliers using pellets and stoves of
certified quality.This list is available from our
website: www.sei.ie/reio.htm or can be ordered with
a sample of pellets from our call centre: 023 42193.
When installing your pellet stove, make sure to
follow the manufacturer's instructions with regard
to connecting it to an adequate chimney and
making provision for fresh air supply to the stove.

* Your assessment is very important for improving the work of artificial intelligence, which forms the content of this project