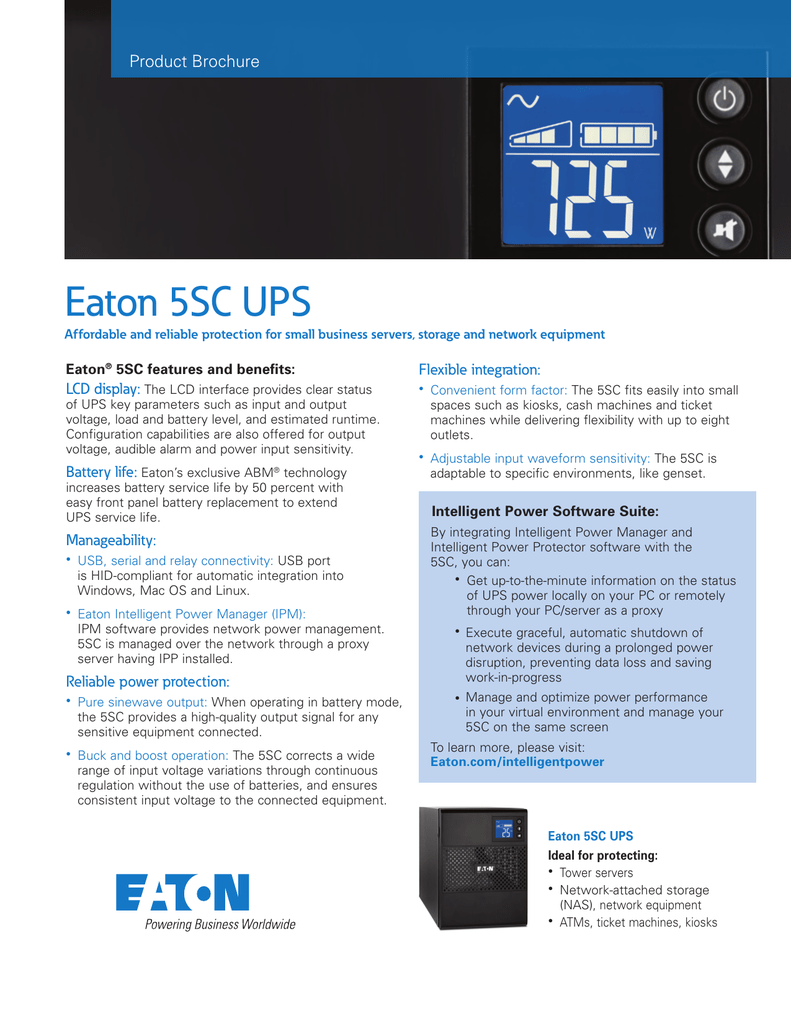 Product Brochure
Eaton 5SC UPS
Affordable and reliable protection for small business servers, storage and network equipment
Eaton® 5SC features and benefits:
Flexible integration:
LCD display: The LCD interface provides clear status
•
Convenient form factor: The 5SC fits easily into small
spaces such as kiosks, cash machines and ticket
machines while delivering flexibility with up to eight
outlets.
•
A
djustable input waveform sensitivity: The 5SC is
adaptable to specific environments, like genset.
of UPS key parameters such as input and output
voltage, load and battery level, and estimated runtime.
Configuration capabilities are also offered for output
voltage, audible alarm and power input sensitivity.
Battery life: Eaton's exclusive ABM® technology
increases battery service life by 50 percent with
easy front panel battery replacement to extend
UPS service life.
Manageability:
•
USB, serial and relay connectivity: USB port
is HID-compliant for automatic integration into
Windows, Mac OS and Linux.
•
Eaton Intelligent Power Manager (IPM):
IPM software provides network power management.
5SC is managed over the network through a proxy
server having IPP installed.
Intelligent Power Software Suite:
B
y integrating Intelligent Power Manager and
Intelligent Power Protector software with the
5SC, you can:
• Get up-to-the-minute information on the status
of UPS power locally on your PC or remotely
through your PC/server as a proxy
• Execute
• M
anage
Reliable power protection:
•
Pure
sinewave output: When operating in battery mode,
the 5SC provides a high-quality output signal for any
sensitive equipment connected.
•
Buck
and boost operation: The 5SC corrects a wide
range of input voltage variations through continuous
regulation without the use of batteries, and ensures
consistent input voltage to the connected equipment.
graceful, automatic shutdown of
network devices during a prolonged power
disruption, preventing data loss and saving
work-in-progress
and optimize power performance
in your virtual environment and manage your
5SC on the same screen
To
learn more, please visit:
Eaton.com/intelligentpower
Eaton 5SC UPS
Ideal for protecting:
• T
ower servers
• Network-attached storage
(NAS), network equipment
• A
TMs, ticket machines, kiosks
5SC UPS MODEL SELECTION GUIDE1
Rating
Catalog number
(VA/watts)
Input
connection
Output
receptacles
Dimensions
(H x W x D), in
Net weight, lb
5SC Tower 120V, 50/60 Hz models
5SC500
500/350
5-15P (6 ft)
(4) 5-15R
8.2 x 5.9 x 9.4
15.2
5SC750
750/525
5-15P (6 ft)
(6) 5-15R
8.2 x 5.9 x 13.4
23.1
5SC1000
1000/700
5-15P (6 ft)
(8) 5-15R
8.2 x 5.9 x 13.4
25.6
5SC1500
1440/1080
5-15P (6 ft)
(8) 5-15R
8.2 x 5.9 x 16.1
34.0
5SC500G
500/350
C14
(4) C13
8.2 x 5.9 x 9.4
15.0
5SC750G
750/525
C14
(6) C13
8.2 x 5.9 x 13.4
23.1
5SC1500G
1500/1050
C14
(8) C13
8.2 x 5.9 x 16.1
33.5
5SC Tower 230V 50/60 Hz models
Services and support
Eaton provides product support 24 hours a day, 7 days a week. From battery
replacement to full UPS service plans, Eaton has one of the top service models
in the industry.
Three-year warranty
The 5SC warranty covers both UPS and the batteries for three years. No other
manufacturer in the industry offers a warranty as comprehensive.
5SC UPS front panel
• 5SC UPS
• USB, serial cable and software
• Warranty for connected equipment
• User manual and safety instructions
G models only
• 2 IEC output power cords
5SC750 UPS rear panel
2
Power
LCD scroll
Alarm silence
LCD
interface
Userreplaceable
battery with
ABM®
technology
2
What's in the box
USB port
RS-232 port
(6) 5-15R
output
receptacles
6-foot input line
cord with 5-15P
(plugs into standard
wall socket)
Model 5SC750
For more information, please contact:
Power Pros, Inc. at 888-330-2538, or
visit our website at www.powerprosinc.com
©2013 Eaton
All Rights Reserved
Printed in USA
BR153027EN
August 2013
Eaton is a registered trademark of Eaton
Corporation.
All other trademarks are property of their
respective owners.

* Your assessment is very important for improving the work of artificial intelligence, which forms the content of this project