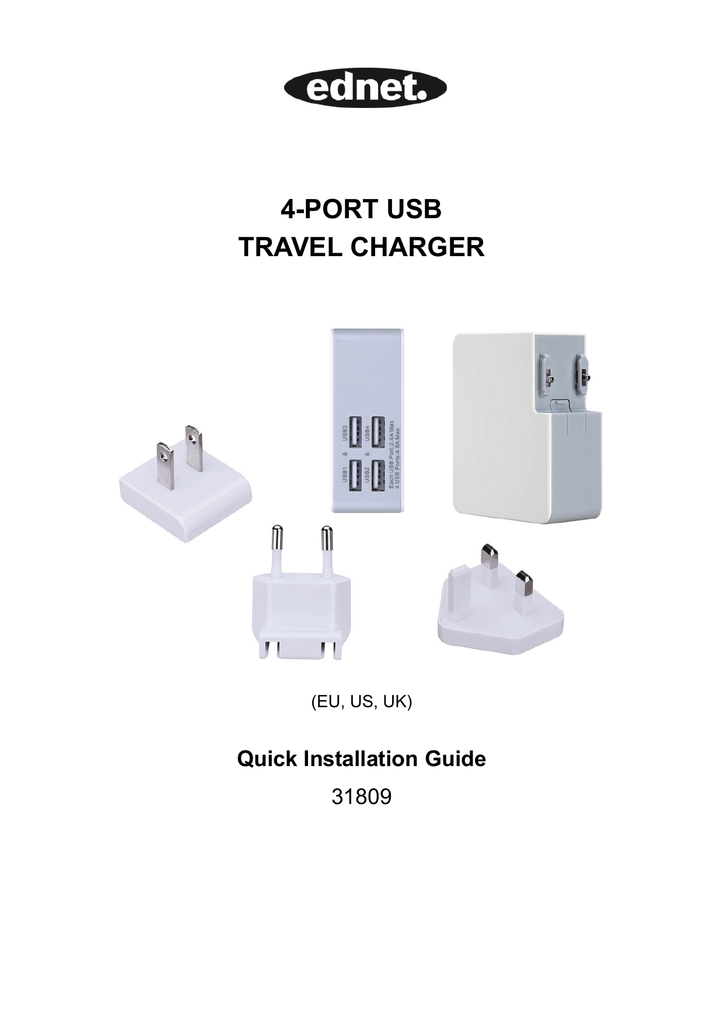 4-PORT USB
TRAVEL CHARGER
(EU, US, UK)
Quick Installation Guide
31809
Basic Parameter
Weight
Dimension
185g
72x57x28(mm)
Input
Output
110-240VAC 50/60Hz
5V4.8A(each USB is 2.4A max)
Available plugs
Certification
EU,UK,US interchangeable plugs
CE、CB、FCC、UL、PSE
Charging method
Select the plug what you need according the different market.
1) Use your USB charging cables to connect to the USB output of the charger,
while connecting the other sides with your devices.
2) Plug into the socket among 110-240V, the charger is ready when the
devices indicate in charging status
3) There are 4 ports USB, the total current is 4.8A, each port is 2.4A max.
The charging speed will be affected by devices total required current.
You can charge 4 devices at the same time in general.
2.1A output is ideal for a tablet PC, 1.0A output is ideal for a smartphone.
Suitable for
It is suitable for iPad®/iPhone®/iPod®, Samsung and other Android
smartphones, tablet PC´s, portable speakers, power banks, cameras, GPS,
etc.
Maintain: Your product possess of perfect quality.
To extend the product life, please do as followings.
1.
2.
3.
4.
Keep dry and keep away from damp and erosive goods
Don't disassemble the product
Don't store it under over-hot or over-cold environment
Don't knock or crash the product
All of the products have been tested and verified. If it occurs over-hot, out of
shape, breakage or other abnormal cases, please stop to use and contact your
vendor.

* Your assessment is very important for improving the work of artificial intelligence, which forms the content of this project