No category
12-0062 Amendment 1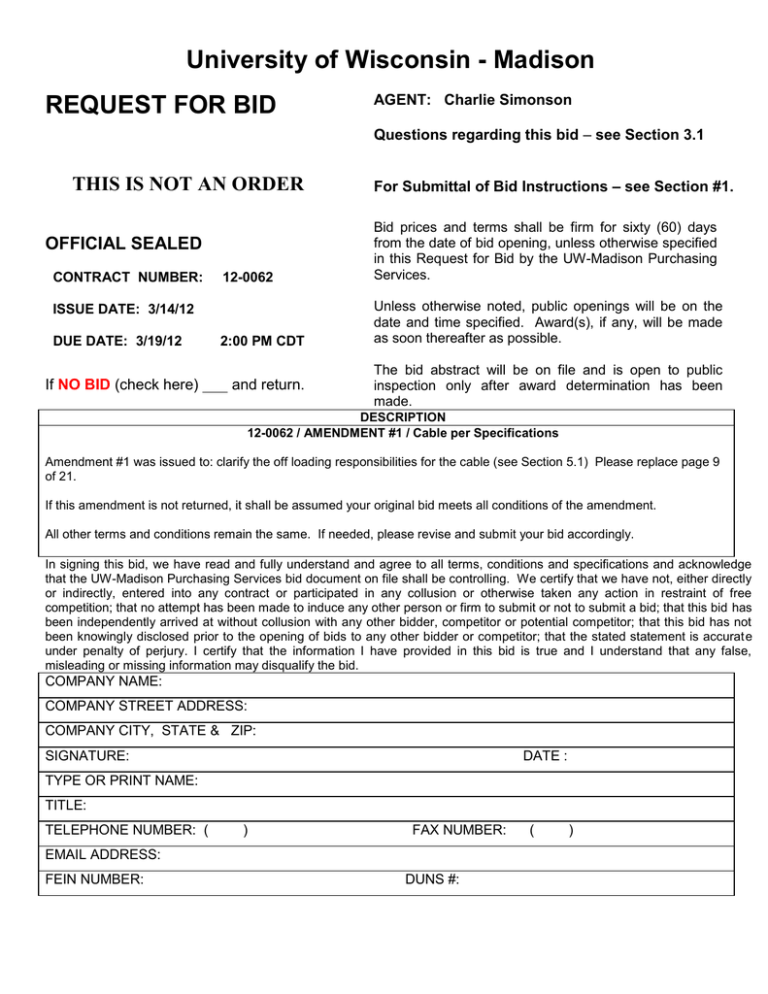 University of Wisconsin - Madison
REQUEST FOR BID
AGENT: Charlie Simonson
Questions regarding this bid – see Section 3.1
THIS IS NOT AN ORDER
12-0062
Bid prices and terms shall be firm for sixty (60) days
from the date of bid opening, unless otherwise specified
in this Request for Bid by the UW-Madison Purchasing
Services.
2:00 PM CDT
Unless otherwise noted, public openings will be on the
date and time specified. Award(s), if any, will be made
as soon thereafter as possible.
OFFICIAL SEALED
CONTRACT NUMBER:
ISSUE DATE: 3/14/12
DUE DATE: 3/19/12
If NO BID (check here)
For Submittal of Bid Instructions – see Section #1.
and return.
The bid abstract will be on file and is open to public
inspection only after award determination has been
made.
DESCRIPTION
12-0062 / AMENDMENT #1 / Cable per Specifications
Amendment #1 was issued to: clarify the off loading responsibilities for the cable (see Section 5.1) Please replace page 9
of 21.
If this amendment is not returned, it shall be assumed your original bid meets all conditions of the amendment.
All other terms and conditions remain the same. If needed, please revise and submit your bid accordingly.
In signing this bid, we have read and fully understand and agree to all terms, conditions and specifications and acknowledge
that the UW-Madison Purchasing Services bid document on file shall be controlling. We certify that we have not, either directly
or indirectly, entered into any contract or participated in any collusion or otherwise taken any action in restraint of free
competition; that no attempt has been made to induce any other person or firm to submit or not to submit a bid; that this bid has
been independently arrived at without collusion with any other bidder, competitor or potential competitor; that this bid has not
been knowingly disclosed prior to the opening of bids to any other bidder or competitor; that the stated statement is accurate
under penalty of perjury. I certify that the information I have provided in this bid is true and I understand that any false,
misleading or missing information may disqualify the bid.
COMPANY NAME:
COMPANY STREET ADDRESS:
COMPANY CITY, STATE & ZIP:
SIGNATURE:
DATE :
TYPE OR PRINT NAME:
TITLE:
TELEPHONE NUMBER: (
)
FAX NUMBER:
EMAIL ADDRESS:
FEIN NUMBER:
DUNS #:
(
)
UNIVERSITY OF WISCONSIN
MADISON, WISCONSIN 53715-1218
Amendment #1
BID NO.: 12-0062
PAGE 9 OF 21
SECTION #5: PERFORMANCE AND CONTRACT REQUIREMENTS
5.1
F.O.B. Destination, Freight Prepaid and Allowed: (vendor responsible for freight costs with ownership
changing at UW delivery location).
Delivery will be made by common carrier or Contractor's truck, with unloading to be performed by
Reynold's Storage personal at Reynolds Transfer & Storage 725 E. Mifflin St. Madison, WI 53703 Bid
prices must include all packing, freight, insurance charges and installation/operation manuals if
applicable.
Delivered Duty Unpaid (DDU). Bidders must include costs from bidders door to port of destination and local
delivery charges. The University will be responsible for all United States duty fees, port of entry documentation
fees, custom clearance, tax, etc., if applicable.
Please indicate on the Bidder Response Sheet the Country of Origin and Shipping Point.
NOTE: As necessary, awarded Contractor must use the University's contracted customs broker, to be
identified on the purchase order.
Custom duty costs and forms (if applicable) will be handled by the University through the University's contracted
customs broker.
Failure to bid FOB DESTINATION, FREIGHT PREPAID AND ALLOWED in bid price or discount may disqualify
your bid.
5.2
Timeliness of Delivery:
Delivery is desired as soon as possible after receipt of an order. Please state on the Bidder Response Sheet
when delivery can be made. Timeliness of delivery may be used in evaluation for bid award.
5.3
Shipments, Duplicates and Overshipments:
Upon notification by the University of a duplicated order or overshipment, the items identified must be removed at
the Contractor's expense. If the duplicated or overshipment items are not removed within 30 days of written
notification, the University reserves the right to dispose of them as its own property and shall not be held liable for
any cost for the items.
5.4
Subcontracting:
No Subcontracting is allowed on this contract.
5.5
Executed Contract to Constitute Entire Contract
The University's Request for Bid the bid responses, written communications and this Contract constitute the entire
Contract between the parties. The hierarchy of documents in descending order for resolution is as follows:
A.
B.
C.
D.
5.6
Contract Award Letter
Original Request for Bid Number 12-0062, dated March 6, 2012 including amendments/attachments
Bidder response to RFB
Official Purchase Order (when applicable)
Insurance:
The Contractor shall maintain insurance levels as required in Standard Terms and Conditions, Section 22.0. A
certificate of insurance must be provided upon request.

* Your assessment is very important for improving the work of artificial intelligence, which forms the content of this project