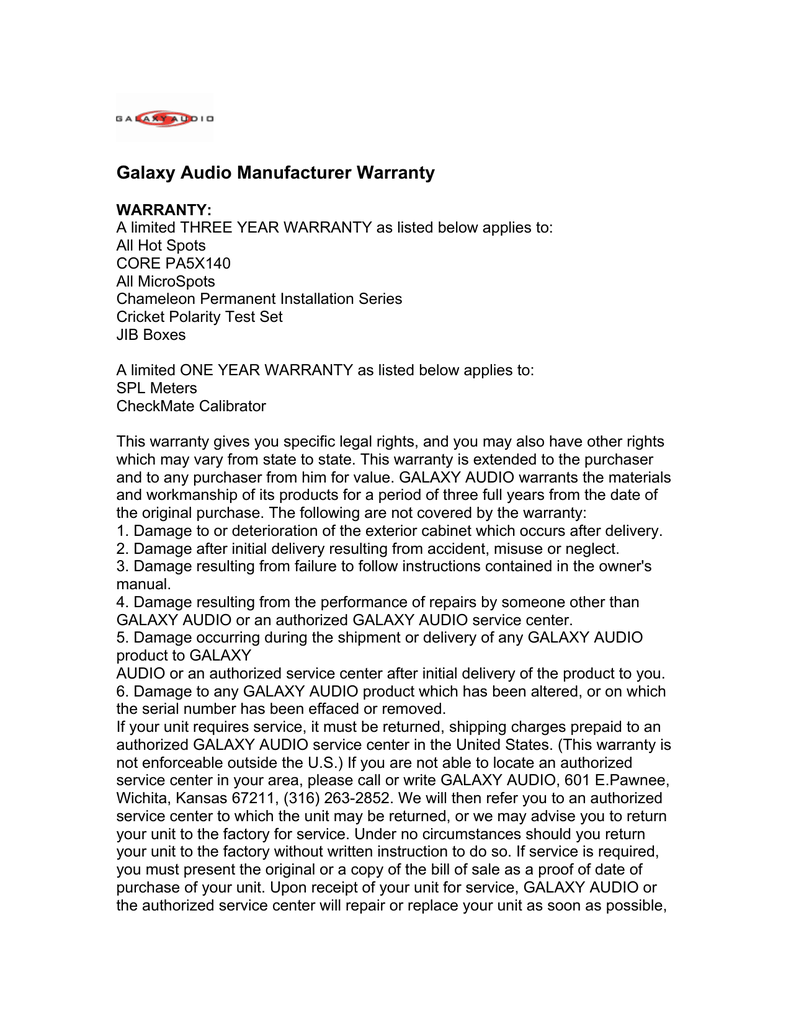 Galaxy Audio Manufacturer Warranty
WARRANTY:
A limited THREE YEAR WARRANTY as listed below applies to:
All Hot Spots
CORE PA5X140
All MicroSpots
Chameleon Permanent Installation Series
Cricket Polarity Test Set
JIB Boxes
A limited ONE YEAR WARRANTY as listed below applies to:
SPL Meters
CheckMate Calibrator
This warranty gives you specific legal rights, and you may also have other rights
which may vary from state to state. This warranty is extended to the purchaser
and to any purchaser from him for value. GALAXY AUDIO warrants the materials
and workmanship of its products for a period of three full years from the date of
the original purchase. The following are not covered by the warranty:
1. Damage to or deterioration of the exterior cabinet which occurs after delivery.
2. Damage after initial delivery resulting from accident, misuse or neglect.
3. Damage resulting from failure to follow instructions contained in the owner's
manual.
4. Damage resulting from the performance of repairs by someone other than
GALAXY AUDIO or an authorized GALAXY AUDIO service center.
5. Damage occurring during the shipment or delivery of any GALAXY AUDIO
product to GALAXY
AUDIO or an authorized service center after initial delivery of the product to you.
6. Damage to any GALAXY AUDIO product which has been altered, or on which
the serial number has been effaced or removed.
If your unit requires service, it must be returned, shipping charges prepaid to an
authorized GALAXY AUDIO service center in the United States. (This warranty is
not enforceable outside the U.S.) If you are not able to locate an authorized
service center in your area, please call or write GALAXY AUDIO, 601 E.Pawnee,
Wichita, Kansas 67211, (316) 263-2852. We will then refer you to an authorized
service center to which the unit may be returned, or we may advise you to return
your unit to the factory for service. Under no circumstances should you return
your unit to the factory without written instruction to do so. If service is required,
you must present the original or a copy of the bill of sale as a proof of date of
purchase of your unit. Upon receipt of your unit for service, GALAXY AUDIO or
the authorized service center will repair or replace your unit as soon as possible,
but in no event later than 30 days after the receipt of the unit. We will return the
unit to you, shipping charges prepaid, provided the necessary repairs are
covered by this warranty. IMPLIED WARRANTIES OF MERCHANT ABILITY
AND FITNESS FOR PARTICULAR PURPOSE ARE LIMITED IN DURATION TO
THE LENGTH OF THIS WARRANTY, UNLESS OTHERWISE PROVIDED FOR
BY STATE LAW. GALAXY AUDIO'S LIABILITY IS LIMITED TO THE REPAIR
OR REPLACEMENT, AT OUR OPTION, OF ANY DEFECTIVE PRODUCT, AND
SHALL IN NO EVENT INCLUDE INCIDENTAL OR CONSEQUENTIAL
DAMAGES OF ANY KIND.SOME STATES DO NOT ALLOW LIMITATIONS ON
HOW LONG AN IMPLIED WARRANTY LASTS AND/OR DO NOT ALLOW THE
EXCLUSION OR LIMITATION OFINCIDENTAL OR CONSEQUENTIAL
DAMAGES, SO THE ABOVE LIMITATIONS AND EXCLUSIONS MAY NOT
APPLY TO YOU.
GALAXY AUDIO does not authorize any third party, including any dealer or
Authorized Service Center, to assume any liability on behalf of GALAXY AUDIO
or to make any warranty for GALAXY AUDIO.
CONTACT:
Galaxy Audio
Attn: Anna Perkins
Ph: 800-369-7768
E-Mail: [email protected]
RETURN PROCESS:
Call manufacturer contact for RA number. Pack merchandise carefully to avoid
further damage, and include a copy of the original invoice or receipt. Ship
merchandise back to the manufacturer prepaid.

* Your assessment is very important for improving the work of artificial intelligence, which forms the content of this project