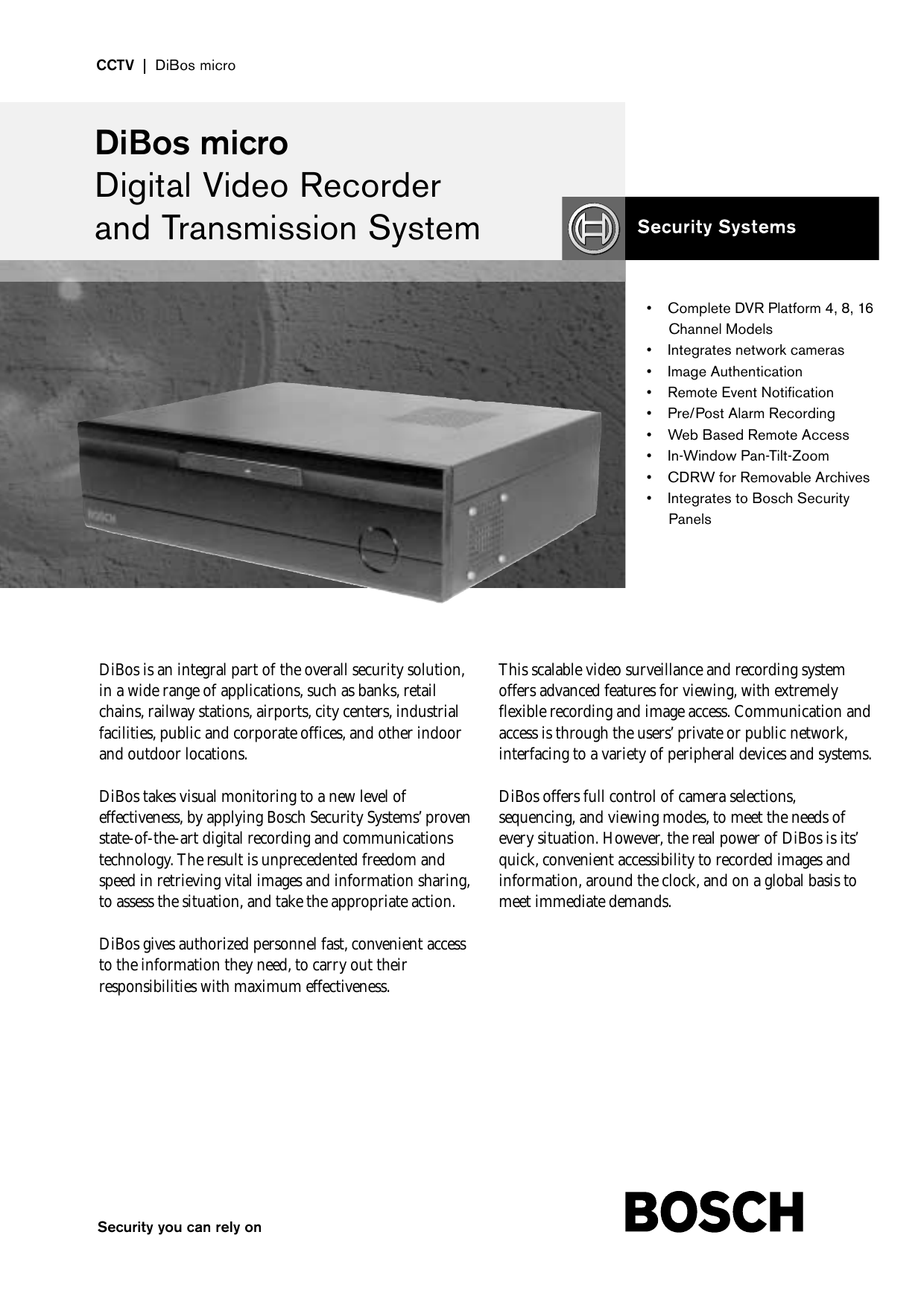 CCTV | DiBos micro
DiBos micro
Digital Video Recorder
and Transmission System
•
•
•
•
•
•
•
•
•
Complete DVR Platform 4, 8, 16
Channel Models
Integrates network cameras
Image Authentication
Remote Event Notification
Pre/Post Alarm Recording
Web Based Remote Access
In-Window Pan-Tilt-Zoom
CDRW for Removable Archives
Integrates to Bosch Security
Panels
DiBos is an integral part of the overall security solution,
in a wide range of applications, such as banks, retail
chains, railway stations, airports, city centers, industrial
facilities, public and corporate offices, and other indoor
and outdoor locations.
This scalable video surveillance and recording system
offers advanced features for viewing, with extremely
flexible recording and image access. Communication and
access is through the users' private or public network,
interfacing to a variety of peripheral devices and systems.
DiBos takes visual monitoring to a new level of
effectiveness, by applying Bosch Security Systems' proven
state-of-the-art digital recording and communications
technology. The result is unprecedented freedom and
speed in retrieving vital images and information sharing,
to assess the situation, and take the appropriate action.
DiBos offers full control of camera selections,
sequencing, and viewing modes, to meet the needs of
every situation. However, the real power of DiBos is its'
quick, convenient accessibility to recorded images and
information, around the clock, and on a global basis to
meet immediate demands.
DiBos gives authorized personnel fast, convenient access
to the information they need, to carry out their
responsibilities with maximum effectiveness.
Security you can rely on
2 | CCTV | DiBos micro
Menu bar for clear display of
commands
Common tree selection,
up to 32 cameras
Display of live images
Status display of system activities
DiBos allows automated response to specific situations
and event, so required actions can be initiated without
human intervention. Programmed actions may include
transmission of images to predefined recipients in case of
an alarm, with transmission of messages to security
personnel, or alarm monitoring centers, in any predefined
situation.
Cameras and viewing modes can be programmed or
selected manually, together with the exceptional
In-Window pan, tilt, and zoom functionality for each
camera at local or remote facilities. Images are displayed
with date/time, location, zone, and camera indications, as
well as the status of connected devices, such as detectors
and sensors.
Playback of recorded images is easy with the familiar tree
structure search and navigation functions. Accessing
images is possible locally or remotely, via a company
network, or the Internet. Local and Remote viewing has
the capability to select multiple views from any or all of
up to 16 cameras plus 16 network cameras.
The DiBos has the ability to receive JPEG images from a
variety of manufactures' network cameras. These cameras
may be easily added to a fully populated system, in a
network environment. Recording configurations may be
set up to archive images just like a standard camera.
Various user levels are configurable, to allow or restrict
access to IP cameras or other functions.
3 | CCTV | DiBos micro
Icon Bar for Selection of:
Image Archive Access
Setup Configuration
Alarm Simulation Activation
Remote Connect/Disconnect
Live Image Display
Full Screen
Record on Demand
Camera Sequences
Context-sensitive Help
Configurable Simulation Icons
Navigation of recorded video is made simple by easy-touse VCR-like buttons for playback functions.
Fast, powerful image search functions eliminate
timeconsuming manual searches of physical media.
These functions include Smart Search on image changes,
as well as searches on criteria such as camera number,
recording date/time and optional ATM transaction data,
(credit card, bank code, account number, or amount
withdrawn).
The system's PC architecture allows standard network
devices to be connected and used transparently. A variety
of network storage devices such as external disk arrays,
RAID and NAS devices, and external disk drives may be
used for exporting, backup, or sharing images.
The unique scalable viewing capability of the Graphical
User Interface allows both live and archived images, from
multiple remote systems, to be viewed from the same
remote PC, or even from other DiBos systems.
This powerful tool allows security managers to monitor
and supervise different locations simultaneously, with
total flexibility in the selection and viewing of live and
recorded images. To ensure high security, all access is
subject to appropriate user authorization, with profiles
assigned by the system administrator, and database
tracking of events (i.e., log-in, log-off, status changes,
image transmission, and system shutdown).
DiBos DVR
Video Inputs
16
08
04
4 ch 25/30 ips
8-16 ch 50/60 ips
025
012
250 GB
120 GB
Revision
A1 = 120-250 GB
B1 = 120-250 GB
4 | CCTV | DiBos micro
Hardware Specifications
Product Regulatory Compliance
Micro (A1)
Micro (B1)
4*
8* or 16*
0
4 or 8
Camera Inputs
Electromagnetic Compatibility (EMC):
Complies with FCC Part 15, ICES-003
1 V p-p 75 Ω
and CE regulations
Y/C Camera Inputs
PAL (pixels)
720 x 288
704 x 288
NTSC (pixels)
640 x 240
704 x 240
Compression Method
Product Safety:
Complies with CE regulations, UL, CSA,
EN and IEC Standards
DiBos Software
JPEG
JPEG
Y:U:V, 4:2:2
Y:U:V, 4:2:2
*25/30
50/60
9000 Series (Radionics),
Contact Inputs NO/NC
5
8 or 16
UGM 2020, UEZ 2000,
Configurable Relay Outputs
0
4 or 8
UEZ 1000, BZ 500, NZ 500,
V-DOG Relay Output
1
1
Image Digitization
Stored IPS (PAL/NTSC)
Operating System
Microsoft Windows XP (embedded)
Bosch Security Panels RS-232 Serial Interface (Optional)
BZ 1060, NZ 1060, BZ 1012, and
Internal Hard Disk Drive Capacity
NZ 1012, NZ 1008
120 GB/
120 GB/
ATM Interface (optional)
250GB
250 GB
Up to 4 devices
Image Printers
With Windows XP drivers
Note: 5 GB HDD space required for OS and DiBos software.
Image Size
Configurable from 10 kB to 30 kB
External Hard Disk Drive Array Supports Various Bosch Disk Arrays
IPS Range
From 1 - 50 PAL or 1- 60 NTSC per camera
Desktop housing (H x W x D)
11 cm x 38 cm x 29.5 cm
Web Browser Access
(4.3 in. x 14.2 in. x 11.6 in.)
Internet Explorer 5.0 or higher on Windows 98, ME, NT, 2000 or XP
Video Output
1 x SVGA
PTZ Control
Ethernet
10/100 Base T
Via RS-232 output. The Bosch LTC 8786 Series Data Converter is
COM-Port
1
required for RS-232 conversion to biphase.
USB-Port
4
CPU Processor
Celeron (2 GHz)
Hardware/Software Options
RAM
256 MB
DB SR 00 1
SW DiBos receiver
Mouse/Keyboard PS2
Optional
DB SE 01 1
SW and HW Extension Kit
CD-RW
Included, not DB 04 A1 012 DL1
Power Supply Autoswitch
100/240 VAC, 50/60 Hz
DB SE 01 2
SW and HW Extension Kit
Weight Approx.
7 kg (15 lb)
DB SE 02 1
SW Extension for POS / barcord
Environmental
Operating Temperature
5° C to 45° C, (41° F to 113° F)
Storage Temperature
-40° C to 70° C, (-40° F to 158° F)
for Bank projects 4 ATM's
for Bank projects, 2 ATM's
reader projects
Note: Consult a Bosch Security Systems Sales Represntative for details.
Relative Humidity in Operation 15% to 80%
DB SE 03 1
SW Extension for serial Bosch security panels
Relative Humidity in Storage
DB EK 03 1
HW Extension Kit, modem card
DB EK 04 1
SW and HW Extension, 8 to 16 channel
*Note: A fully loaded Micro (A1) version allows storage of 3 ips per camera,
DB EK 06 1
HW Extension SCSI adapter and SCSI cable
simultaneously.
DB EK 08 1
HW Extension TV-Out-Card
Warranty
8% to 80%
3 Years
Remote PC Requirements
Windows XP operating system
* plus 16 network cameras
750 MHz CPU
128 MB RAM
VGA Card:1024 x 768, 32-bit color
Parallel Port (for dongle key)
Bosch Security Systems.
5600 JB Eindhoven
The Netherlands
Tel: +31 (40) 27 80000
Fax: +31 (40) 27 80001
www.boschsecuritysystems.com
VS-EH-en-51_4998144459_01 | Printed in The Netherlands | Updated March 2004 • Data subject to change without notice.