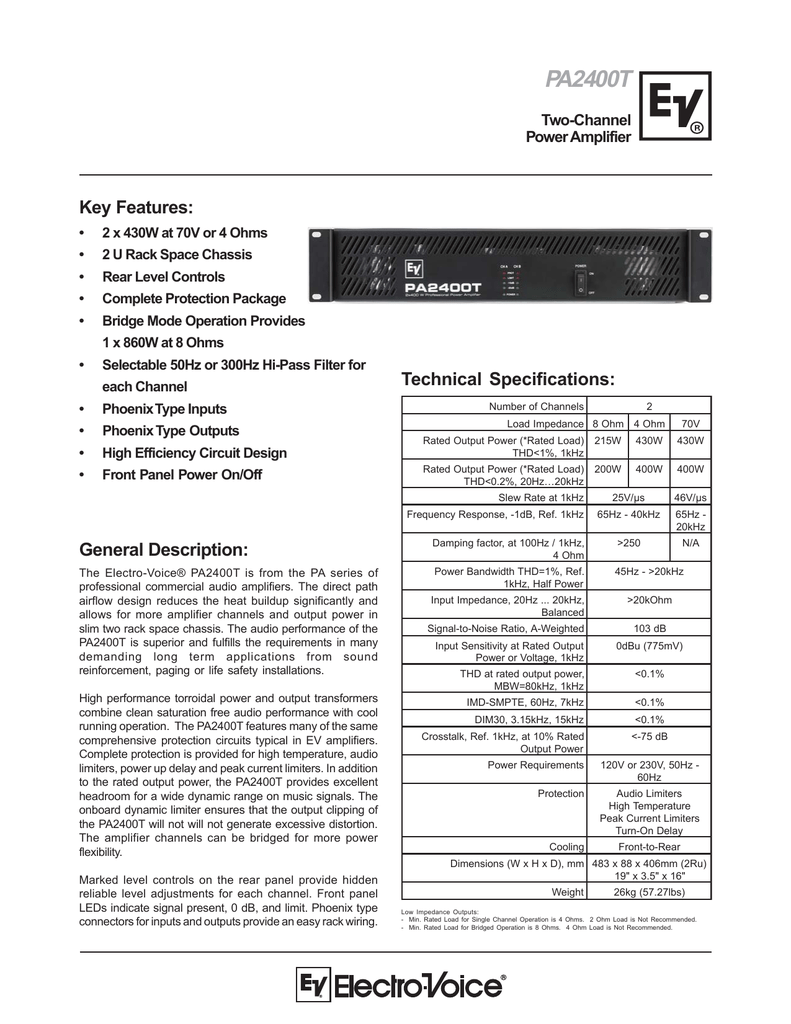 PA2400T
Two-Channel
Power Amplifier
Key Features:
•
2 x 430W at 70V or 4 Ohms
•
2 U Rack Space Chassis
•
Rear Level Controls
•
Complete Protection Package
•
Bridge Mode Operation Provides
1 x 860W at 8 Ohms
•
Selectable 50Hz or 300Hz Hi-Pass Filter for
each Channel
•
Phoenix Type Inputs
•
Phoenix Type Outputs
•
•
Technical Specifications:
Number of Channels
2
Load Impedance 8 Ohm 4 Ohm
70V
215W
430W
430W
High Efficiency Circuit Design
Rated Output Power (*Rated Load)
THD<1%, 1kHz
Front Panel Power On/Off
Rated Output Power (*Rated Load)
THD<0.2%, 20Hz…20kHz
200W
400W
400W
Slew Rate at 1kHz
Frequency Response, -1dB, Ref. 1kHz
25V/µs
46V/µs
65Hz - 40kHz
65Hz 20kHz
N/A
General Description:
Damping factor, at 100Hz / 1kHz,
4 Ohm
>250
The Electro-Voice® PA2400T is from the PA series of
professional commercial audio amplifiers. The direct path
airflow design reduces the heat buildup significantly and
allows for more amplifier channels and output power in
slim two rack space chassis. The audio performance of the
PA2400T is superior and fulfills the requirements in many
demanding long term applications from sound
reinforcement, paging or life safety installations.
Power Bandwidth THD=1%, Ref.
1kHz, Half Power
45Hz - >20kHz
Input Impedance, 20Hz ... 20kHz,
Balanced
>20kOhm
High performance torroidal power and output transformers
combine clean saturation free audio performance with cool
running operation. The PA2400T features many of the same
comprehensive protection circuits typical in EV amplifiers.
Complete protection is provided for high temperature, audio
limiters, power up delay and peak current limiters. In addition
to the rated output power, the PA2400T provides excellent
headroom for a wide dynamic range on music signals. The
onboard dynamic limiter ensures that the output clipping of
the PA2400T will not will not generate excessive distortion.
The amplifier channels can be bridged for more power
flexibility.
Marked level controls on the rear panel provide hidden
reliable level adjustments for each channel. Front panel
LEDs indicate signal present, 0 dB, and limit. Phoenix type
connectors for inputs and outputs provide an easy rack wiring.
Signal-to-Noise Ratio, A-Weighted
Input Sensitivity at Rated Output
Power or Voltage, 1kHz
103 dB
0dBu (775mV)
THD at rated output power,
MBW=80kHz, 1kHz
<0.1%
IMD-SMPTE, 60Hz, 7kHz
<0.1%
DIM30, 3.15kHz, 15kHz
<0.1%
Crosstalk, Ref. 1kHz, at 10% Rated
Output Power
<-75 dB
Power Requirements
120V or 230V, 50Hz 60Hz
Protection
Audio Limiters
High Temperature
Peak Current Limiters
Turn-On Delay
Cooling
Front-to-Rear
Dimensions (W x H x D), mm 483 x 88 x 406mm (2Ru)
19" x 3.5" x 16"
Weight
26kg (57.27lbs)
Low Impedance Outputs:
- Min. Rated Load for Single Channel Operation is 4 Ohms. 2 Ohm Load is Not Recommended.
- Min. Rated Load for Bridged Operation is 8 Ohms. 4 Ohm Load is Not Recommended.
Block Diagram:
Dimension Drawings:
Top View
All Dimensions
in Millimeters
PA2400T Part Number:
Front View
PA2400T, 120V -- D170406
Rear View:
12000 Portland Avenue South, Burnsville, MN 55337
Phone:952/884-4051, Fax:952/884-0043
www.electrovoice.com
© Telex Communications, Inc. 1/2006
Part Number LIT-0000XX Rev 1
U.S.A. and Canada only. For customer orders, contact Customer Service at:
800/392-3497 Fax: 800/955-6831
Europe, Africa, and Middle East only. For customer orders, contact Customer Service at:
+ 49 9421-706 0 Fax: + 49 9421-706 265
Other International locations. For customer orders, contact Customer Service at:
+ 1 952 884-4051 Fax: + 1 952 736-4212
For warranty repair or service information, contact the Service Repair department at:
800/685-2606
For technical assistance, contact Technical Support at: 866/78AUDIO
Specifications subject to change without notice.

* Your assessment is very important for improving the work of artificial intelligence, which forms the content of this project