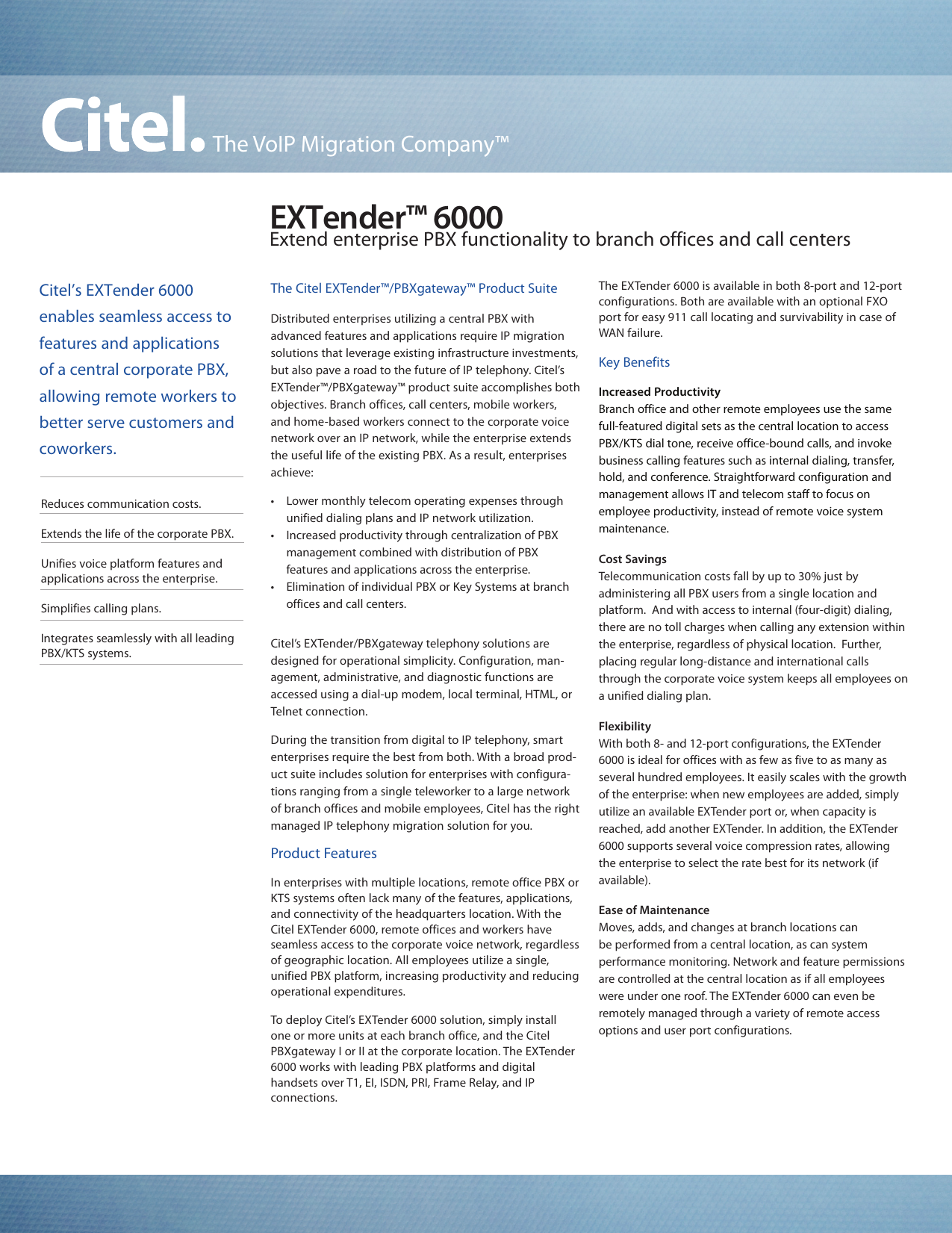 The VoIP Migration Company™
EXTender™
6000
Extend enterprise PBX functionality to branch offices and call centers
Citel's EXTender 6000
The Citel EXTender™/PBXgateway™ Product Suite
enables seamless access to
Distributed enterprises utilizing a central PBX with
advanced features and applications require IP migration
solutions that leverage existing infrastructure investments,
but also pave a road to the future of IP telephony. Citel's
EXTender™/PBXgateway™ product suite accomplishes both
objectives. Branch offices, call centers, mobile workers,
and home-based workers connect to the corporate voice
network over an IP network, while the enterprise extends
the useful life of the existing PBX. As a result, enterprises
achieve:
features and applications
of a central corporate PBX,
allowing remote workers to
better serve customers and
coworkers.
Reduces communication costs.
Extends the life of the corporate PBX.
Unifies voice platform features and
applications across the enterprise.
Simplifies calling plans.
Integrates seamlessly with all leading
PBX/KTS systems.
• Lower monthly telecom operating expenses through
unified dialing plans and IP network utilization.
• Increased productivity through centralization of PBX
management combined with distribution of PBX
features and applications across the enterprise.
• Elimination of individual PBX or Key Systems at branch
offices and call centers.
Citel's EXTender/PBXgateway telephony solutions are
designed for operational simplicity. Configuration, management, administrative, and diagnostic functions are
accessed using a dial-up modem, local terminal, HTML, or
Telnet connection.
During the transition from digital to IP telephony, smart
enterprises require the best from both. With a broad product suite includes solution for enterprises with configurations ranging from a single teleworker to a large network
of branch offices and mobile employees, Citel has the right
managed IP telephony migration solution for you.
Product Features
In enterprises with multiple locations, remote office PBX or
KTS systems often lack many of the features, applications,
and connectivity of the headquarters location. With the
Citel EXTender 6000, remote offices and workers have
seamless access to the corporate voice network, regardless
of geographic location. All employees utilize a single,
unified PBX platform, increasing productivity and reducing
operational expenditures.
To deploy Citel's EXTender 6000 solution, simply install
one or more units at each branch office, and the Citel
PBXgateway I or II at the corporate location. The EXTender
6000 works with leading PBX platforms and digital
handsets over T1, EI, ISDN, PRI, Frame Relay, and IP
connections.
The EXTender 6000 is available in both 8-port and 12-port
configurations. Both are available with an optional FXO
port for easy 911 call locating and survivability in case of
WAN failure.
Key Benefits
Increased Productivity
Branch office and other remote employees use the same
full-featured digital sets as the central location to access
PBX/KTS dial tone, receive office-bound calls, and invoke
business calling features such as internal dialing, transfer,
hold, and conference. Straightforward configuration and
management allows IT and telecom staff to focus on
employee productivity, instead of remote voice system
maintenance.
Cost Savings
Telecommunication costs fall by up to 30% just by
administering all PBX users from a single location and
platform. And with access to internal (four-digit) dialing,
there are no toll charges when calling any extension within
the enterprise, regardless of physical location. Further,
placing regular long-distance and international calls
through the corporate voice system keeps all employees on
a unified dialing plan.
Flexibility
With both 8- and 12-port configurations, the EXTender
6000 is ideal for offices with as few as five to as many as
several hundred employees. It easily scales with the growth
of the enterprise: when new employees are added, simply
utilize an available EXTender port or, when capacity is
reached, add another EXTender. In addition, the EXTender
6000 supports several voice compression rates, allowing
the enterprise to select the rate best for its network (if
available).
Ease of Maintenance
Moves, adds, and changes at branch locations can
be performed from a central location, as can system
performance monitoring. Network and feature permissions
are controlled at the central location as if all employees
were under one roof. The EXTender 6000 can even be
remotely managed through a variety of remote access
options and user port configurations.
Technical Specifications - EXTender™ 6000
Description
One RJ-45 10 Base-T Ethernet for RVPoIP and system
management
Power supply
Branch office remote client device
Capacity
Voice Protocols
8 or 12 port
Supported Handset Models
The Citel EXTender™ 6000 supports leading handsets,
including popular models from all manufacturers
with compatible PBX protocols (see list below)
PBX Interoperability
The Citel EXTender 6000 supports leading PBX protocols, including:
• Alcatel: 4400 &4200
• Avaya: Definity® CS (all G3 releases) and Merlin
Magix®
• Ericsson MD110
• Iwatsu ADIX APS
• Nortel: Meridian®, and Norstar®
• Panasonic: DBS 576 and DBS 576HD
• Toshiba: Strata DK & CTX (digital phones only)
Citel Equipment Interoperability
PBXgateway™ I
PBXgateway II
Interfaces
One Amphenol connector for 50-pin RJ-21 cable for
interface with digital telephone sets
Two DB-25 WAN ports for serial RVP connection.
Redundant interfaces include V.35, RS-232, or RS-530
Choice of voice compression algorithms:
• G.729A (8 kbps ADPCM)
• G.726 (24 o 32 kbps ADPCM)
• G.711 (64 kbps PCM)
G.165 compliant double-talk detection echo cancellation
RVP™ (uses HDLC encapsulation for voice transmission)
RVPoIP™ (uses UDP/IP protocol for voice transmission)
Configuration & Management
The EXTender 6000 must be terminated by a compatible PBXgateway at the corporate office.
Up to two EXTender 6000s may be terminated into
one PBXgateway I or II over serial RVP connections.
Supported Utilities:
• SNMP support (Citel MIBs and traps)
• Inband RVP™
• Telnet
• HTML
• Phone display (limited features)
• PC and modem connection
• RS-232 serial connection to PC
• TCP/IP
Physical
Form factor: low profile, 1U rack mountable unit
Size: 17" x 8" x 1.75" (432mm x 203mm x 44mm)
Weight: 6.5 lbs (3 kg)
Power
Universal auto ranging
Line voltage: 100 - 240 V
Frequency: 47 - 63 Hz
Maximum power consumption: 75 watts
Environmental
Temperature: 32 - 130 F (0 – 55 C)
Relative humidity: 5 – 95% (non-condensing)
Regulatory
FCC
47 CFR Part 15, Subpart B, Class A and B
Part 68, Dubpart D
CSA NRTL/C
CAN/CA-C22.2 No. 950-93
CAN/CSA-C22.2 No. 225-M90
UL Std. No. 1459
UL Std. No. 1950-95
Industry Canada
CS-03 Part 1, Issue 8
CE Mark
EN50081-1, EN50081-2, EN50082-1
EN55024: 1998
EN6100-3-2: 1995
EN6100-3-3: 1995
EN55022, Class A
EN60950, LVD
Warranty
One-year limited warranty for parts & labor.
Extended warranty options available.
Sample Network Configuration
Public or Private Network
DSL, ISDN, T1, E1,
DDS, Frame Relay
DSL, ISDN, T1, E1,
DDS, Frame Relay
LAN
Network Access Device
Network Access Device
Citel PBXgateway I or II
Citel EXTender 6000
Citel EXTender 6000
PBX
Digital Handsets (up to 12 per Citel EXTender 6000)
BRANCH OFFICE OR CALL CENTER
CORPORATE OFFICE
EXT6000-0807
The VoIP Migration Company™
Corporate Headquarters
3131 Elliott Avenue
Suite 250
Seattle, Washington
98121 USA
Phone: +1 206 957 6270
Fax: +1 206 957 6275
European Headquarters
Wheatcroft Business Park
Unit 4, Landmere Lane
Edwalton Nottingham
NG12 4DG United Kingdom
Phone: +44 (0)115 940 5444
Fax: +44 (0)115 940 5664
Canadian Headquarters
4040 Bowness Road N.W.
Calgary, Alberta
T3B 3R7 Canada
Phone: +1 403 247 9777
Fax: +1 403 247 9078
For More Information
Contact Citel Directly
sales@citel.com
Phone: +1 206 957 6270
Toll Free: +1 877 248 3587
citel.com
Regional Offices
Atlanta, GA • Boston, MA • Chicago, IL • Dallas/Ft. Worth, TX • Denver, CO • Hartford, CT • Jacksonville, FL • Nashville, TN • Washington, DC • Wilmington, NC
©2007 Citel plc and Citel Technologies, Inc. All Rights Reserved. Citel, The VoIP Migration Company, Portico, TVA, EXTender, and PBXgateway are trademarks of Citel plc. Other products and trademarks
mentioned herein are property of their respective owners. Citel plc is traded on the London Stock Exchange AIM under the ticker symbol CITE.L. The information and products contained in this document
are subject to change without notice.