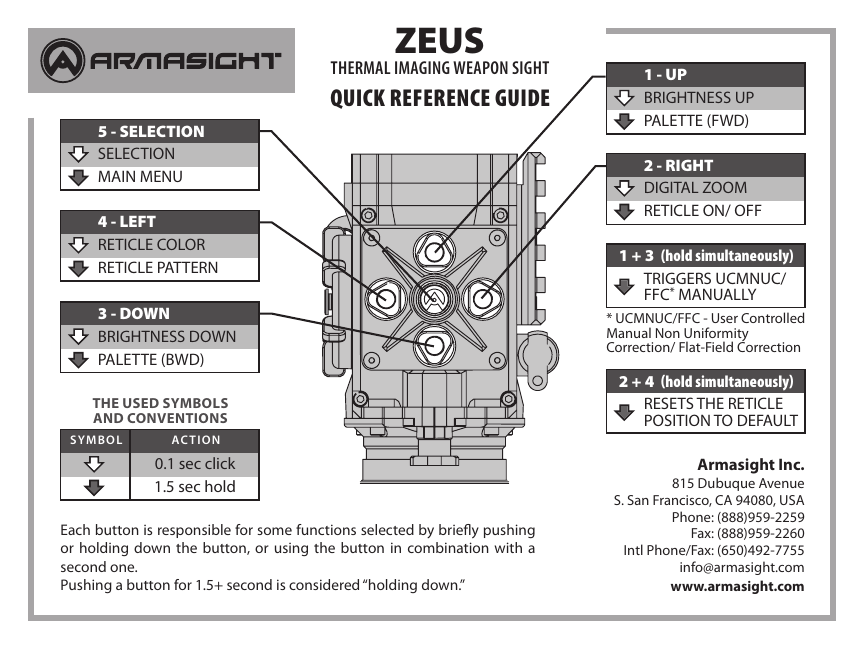 ZEUS
THERMAL IMAGING WEAPON SIGHT
QUICK REFERENCE GUIDE
5 - SELECTION
SELECTION
MAIN MENU
4 - LEFT
RETICLE COLOR
RETICLE PATTERN
3 - DOWN
BRIGHTNESS DOWN
PALETTE (BWD)
THE USED SYMBOLS
AND CONVENTIONS
S YM BO L
1 - UP
BRIGHTNESS UP
PALETTE (FWD)
2 - RIGHT
DIGITAL ZOOM
RETICLE ON/ OFF
1 + 3 (hold simultaneously)
TRIGGERS UCMNUC/
FFC* MANUALLY
* UCMNUC/FFC - User Controlled
Manual Non Uniformity
Correction/ Flat-Field Correction
2 + 4 (hold simultaneously)
RESETS THE RETICLE
POSITION TO DEFAULT
AC TION
0.1 sec click
1.5 sec hold
Each button is responsible for some functions selected by briefly pushing
or holding down the button, or using the button in combination with a
second one.
Pushing a button for 1.5+ second is considered "holding down."
Armasight Inc.
815 Dubuque Avenue
S. San Francisco, CA 94080, USA
Phone: (888)959-2259
Fax: (888)959-2260
Intl Phone/Fax: (650)492-7755
info@armasight.com
www.armasight.com
3
4
5
9
CONTROLS AND INDICATION
6
BATTERY STATUS INDICATION
(a battery icon in the top right hand part of the display)
7
The color fill (green/yellow/red) bar in the battery icon
indicates the current power level of the internal battery, or
remaining battery life.
The totally shaded battery icon indicates the fully charged
battery.
1
#
2
The flashing transparent battery icon indicates a low battery.
8
CONTROL
FUNCTION
1
BATTERY CAP
Protects the battery compartment.
2
BATTERY CASSETTE
Intended for the installation of two CR123 batteries in the battery compartment.
3
OBJECTIVE FOCUS RING
Focuses the objective lens. Adjusts for sharpest view of the scene.
4
CONTROL PANEL BUTTONS
Configures operational settings.
∙ Activates the Zeus when turned to ON.
∙ Activates standby mode when turned to STB.
∙ Deactivates the Zeus when turned to OFF.
5
TURN-PULL SWITCH
6
CONNECTOR
An external video display (monitor, TV) or video recorder, a digital video recorder, an external
battery pack or power source can be connected to the Zeus.
7
EYEPIECE FOCUS RING
Adjusts the eyepiece diopter.
8
QUICK-RELEASE MOUNT
Fits any Picatinny, MIL-STD-1913, or Weaver weapon rail. The mount's lever-cam clamping
device ensures easy, quick and reliable mounting and removal.
9
REMOTE CONTROL
Activates/deactivates the Zeus in standby mode. To turn the unit on, press button once, to
turn it off – press button again.
NOTE: You must pull the knob before turning in order to use either the ON or STB.

* Your assessment is very important for improving the work of artificial intelligence, which forms the content of this project