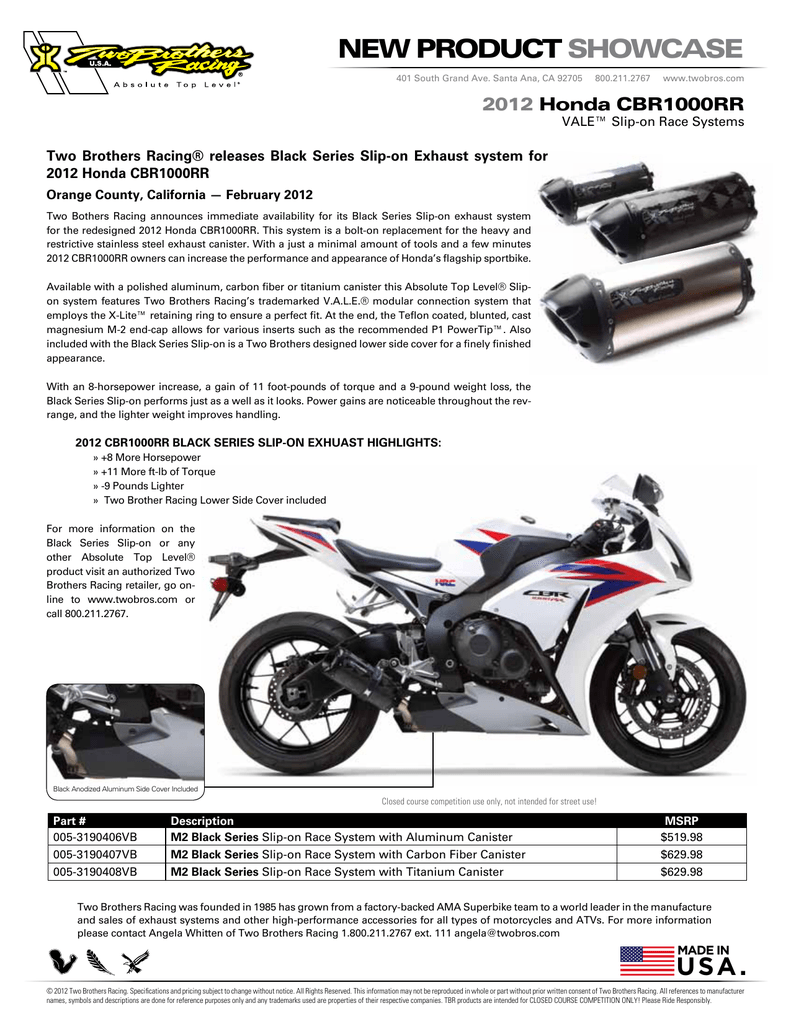 New Product Showcase
401 South Grand Ave. Santa Ana, CA 92705
800.211.2767
www.twobros.com
2012 Honda CBR1000RR
VALE™ Slip-on Race Systems
Two Brothers Racing® releases Black Series Slip-on Exhaust system for
2012 Honda CBR1000RR
Orange County, California — February 2012
Two Bothers Racing announces immediate availability for its Black Series Slip-on exhaust system
for the redesigned 2012 Honda CBR1000RR. This system is a bolt-on replacement for the heavy and
restrictive stainless steel exhaust canister. With a just a minimal amount of tools and a few minutes
2012 CBR1000RR owners can increase the performance and appearance of Honda's flagship sportbike.
Available with a polished aluminum, carbon fiber or titanium canister this Absolute Top Level® Slipon system features Two Brothers Racing's trademarked V.A.L.E.® modular connection system that
employs the X-Lite™ retaining ring to ensure a perfect fit. At the end, the Teflon coated, blunted, cast
magnesium M-2 end-cap allows for various inserts such as the recommended P1 PowerTip™. Also
included with the Black Series Slip-on is a Two Brothers designed lower side cover for a finely finished
appearance.
With an 8-horsepower increase, a gain of 11 foot-pounds of torque and a 9-pound weight loss, the
Black Series Slip-on performs just as a well as it looks. Power gains are noticeable throughout the revrange, and the lighter weight improves handling.
2012 CBR1000RR BLACK SERIES SLIP-ON EXHUAST HIGHLIGHTS:
» +8 More Horsepower
» +11 More ft-lb of Torque
» -9 Pounds Lighter
» Two Brother Racing Lower Side Cover included
For more information on the
Black Series Slip-on or any
other Absolute Top Level®
product visit an authorized Two
Brothers Racing retailer, go online to www.twobros.com or
call 800.211.2767.
Black Anodized Aluminum Side Cover Included
Closed course competition use only, not intended for street use!
Part #
005-3190406VB
005-3190407VB
005-3190408VB
Description
M2 Black Series Slip-on Race System with Aluminum Canister
M2 Black Series Slip-on Race System with Carbon Fiber Canister
M2 Black Series Slip-on Race System with Titanium Canister
MSRP
$519.98
$629.98
$629.98
Two Brothers Racing was founded in 1985 has grown from a factory-backed AMA Superbike team to a world leader in the manufacture
and sales of exhaust systems and other high-performance accessories for all types of motorcycles and ATVs. For more information
please contact Angela Whitten of Two Brothers Racing 1.800.211.2767 ext. 111 [email protected]
MADE IN
U SA .
© 2012 Two Brothers Racing. Specifications and pricing subject to change without notice. All Rights Reserved. This information may not be reproduced in whole or part without prior written consent of Two Brothers Racing. All references to manufacturer
names, symbols and descriptions are done for reference purposes only and any trademarks used are properties of their respective companies. TBR products are intended for CLOSED COURSE COMPETITION ONLY! Please Ride Responsibly.

* Your assessment is very important for improving the work of artificial intelligence, which forms the content of this project