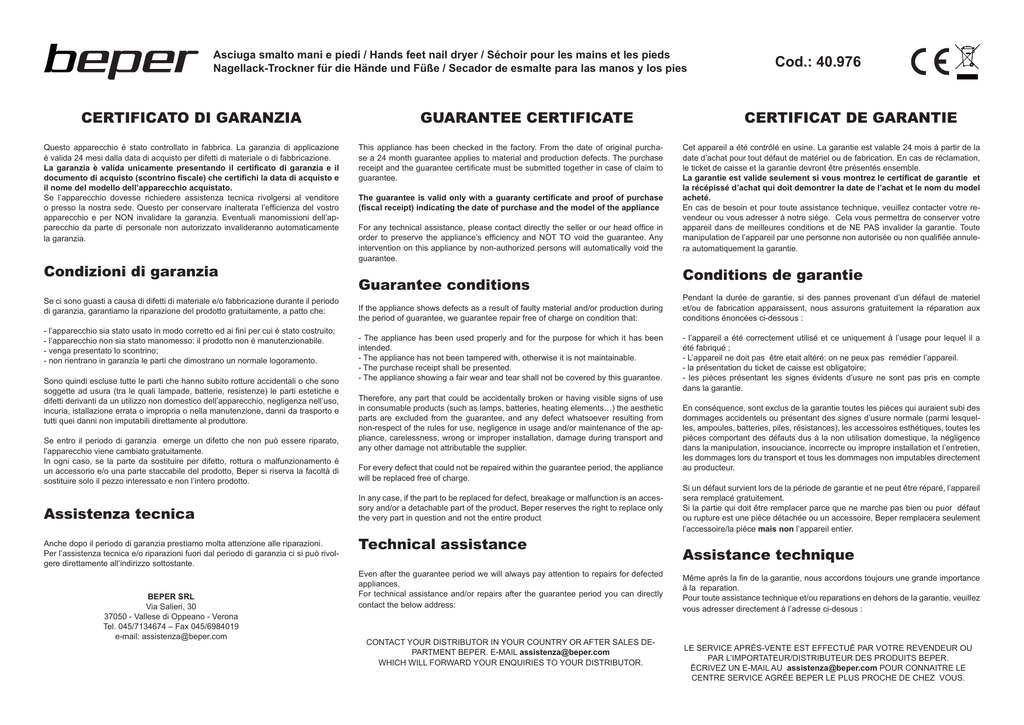 Asciuga smalto mani e piedi / Hands feet nail dryer / Séchoir pour les mains et les pieds
Nagellack-Trockner für die Hände und Füße / Secador de esmalte para las manos y los pies
CERTIFICATO DI GARANZIA
Questo apparecchio è stato controllato in fabbrica. La garanzia di applicazione
è valida 24 mesi dalla data di acquisto per difetti di materiale o di fabbricazione.
La garanzia è valida unicamente presentando il certificato di garanzia e il
documento di acquisto (scontrino fiscale) che certifichi la data di acquisto e
il nome del modello dell'apparecchio acquistato.
Se l'apparecchio dovesse richiedere assistenza tecnica rivolgersi al venditore
o presso la nostra sede. Questo per conservare inalterata l'efficienza del vostro
apparecchio e per NON invalidare la garanzia. Eventuali manomissioni dell'apparecchio da parte di personale non autorizzato invalideranno automaticamente
la garanzia.
Condizioni di garanzia
Se ci sono guasti a causa di difetti di materiale e/o fabbricazione durante il periodo
di garanzia, garantiamo la riparazione del prodotto gratuitamente, a patto che:
- l'apparecchio sia stato usato in modo corretto ed ai fini per cui è stato costruito;
- l'apparecchio non sia stato manomesso: il prodotto non è manutenzionabile.
- venga presentato lo scontrino;
- non rientrano in garanzia le parti che dimostrano un normale logoramento.
Sono quindi escluse tutte le parti che hanno subito rotture accidentali o che sono
soggette ad usura (tra le quali lampade, batterie, resistenze) le parti estetiche e
difetti derivanti da un utilizzo non domestico dell'apparecchio, negligenza nell'uso,
incuria, istallazione errata o impropria o nella manutenzione, danni da trasporto e
tutti quei danni non imputabili direttamente al produttore.
Se entro il periodo di garanzia emerge un difetto che non può essere riparato,
l'apparecchio viene cambiato gratuitamente.
In ogni caso, se la parte da sostituire per difetto, rottura o malfunzionamento è
un accessorio e/o una parte staccabile del prodotto, Beper si riserva la facoltà di
sostituire solo il pezzo interessato e non l'intero prodotto.
Assistenza tecnica
Anche dopo il periodo di garanzia prestiamo molta attenzione alle riparazioni.
Per l'assistenza tecnica e/o riparazioni fuori dal periodo di garanzia ci si può rivolgere direttamente all'indirizzo sottostante.
BEPER SRL
Via Salieri, 30
37050 - Vallese di Oppeano - Verona
Tel. 045/7134674 – Fax 045/6984019
e-mail: [email protected]
GUARANTEE CERTIFICATE
This appliance has been checked in the factory. From the date of original purchase a 24 month guarantee applies to material and production defects. The purchase
receipt and the guarantee certificate must be submitted together in case of claim to
guarantee.
The guarantee is valid only with a guaranty certificate and proof of purchase
(fiscal receipt) indicating the date of purchase and the model of the appliance
For any technical assistance, please contact directly the seller or our head office in
order to preserve the appliance's efficiency and NOT TO void the guarantee. Any
intervention on this appliance by non-authorized persons will automatically void the
guarantee.
Guarantee conditions
If the appliance shows defects as a result of faulty material and/or production during
the period of guarantee, we guarantee repair free of charge on condition that:
- The appliance has been used properly and for the purpose for which it has been
intended.
- The appliance has not been tampered with, otherwise it is not maintainable.
- The purchase receipt shall be presented.
- The appliance showing a fair wear and tear shall not be covered by this guarantee.
Therefore, any part that could be accidentally broken or having visible signs of use
in consumable products (such as lamps, batteries, heating elements…) the aesthetic
parts are excluded from the guarantee, and any defect whatsoever resulting from
non-respect of the rules for use, negligence in usage and/or maintenance of the appliance, carelessness, wrong or improper installation, damage during transport and
any other damage not attributable the supplier.
For every defect that could not be repaired within the guarantee period, the appliance
will be replaced free of charge.
In any case, if the part to be replaced for defect, breakage or malfunction is an accessory and/or a detachable part of the product, Beper reserves the right to replace only
the very part in question and not the entire product
Technical assistance
Even after the guarantee period we will always pay attention to repairs for defected
appliances.
For technical assistance and/or repairs after the guarantee period you can directly
contact the below address:
CONTACT YOUR DISTRIBUTOR IN YOUR COUNTRY OR AFTER SALES DEPARTMENT BEPER. E-MAIL [email protected]
WHICH WILL FORWARD YOUR ENQUIRIES TO YOUR DISTRIBUTOR.
Cod.: 40.976
CERTIFICAT DE GARANTIE
Cet appareil a été contrôlé en usine. La garantie est valable 24 mois à partir de la
date d'achat pour tout défaut de matériel ou de fabrication. En cas de réclamation,
le ticket de caisse et la garantie devront être présentés ensemble.
La garantie est valide seulement si vous montrez le certificat de garantie et
la récépissé d'achat qui doit demontrer la date de l'achat et le nom du model
acheté.
En cas de besoin et pour toute assistance technique, veuillez contacter votre revendeur ou vous adresser à notre siège. Cela vous permettra de conserver votre
appareil dans de meilleures conditions et de NE PAS invalider la garantie. Toute
manipulation de l'appareil par une personne non autorisée ou non qualifiée annulera automatiquement la garantie.
Conditions de garantie
Pendant la durée de garantie, si des pannes provenant d'un défaut de materiel
et/ou de fabrication apparaissent, nous assurons gratuitement la réparation aux
conditions énoncées ci-dessous :
- l'appareil a été correctement utilisé et ce uniquement à l'usage pour lequel il a
été fabriqué ;
- L'appareil ne doit pas être etait altéré: on ne peux pas remédier l'appareil.
- la présentation du ticket de caisse est obligatoire;
- les pièces présentant les signes évidents d'usure ne sont pas pris en compte
dans la garantie.
En conséquence, sont exclus de la garantie toutes les pièces qui auraient subi des
dommages accidentels ou présentant des signes d'usure normale (parmi lesquelles, ampoules, batteries, piles, résistances), les accessoires esthétiques, toutes les
pièces comportant des défauts dus à la non utilisation domestique, la négligence
dans la manipulation, insouciance, incorrecte ou impropre installation et l'entretien,
les dommages lors du transport et tous les dommages non imputables directement
au producteur.
Si un défaut survient lors de la période de garantie et ne peut être réparé, l'appareil
sera remplacé gratuitement.
Si la partie qui doit être remplacer parce que ne marche pas bien ou puor défaut
ou rupture est une pièce détachée ou un accessoire, Beper remplacera seulement
l'accessoire/la pièce mais non l'appareil entier.
Assistance technique
Même après la fin de la garantie, nous accordons toujours une grande importance
à la reparation.
Pour toute assistance technique et/ou reparations en dehors de la garantie, veuillez
vous adresser directement à l'adresse ci-desous :
LE SERVICE APRÈS-VENTE EST EFFECTUÉ PAR VOTRE REVENDEUR OU
PAR L'IMPORTATEUR/DISTRIBUTEUR DES PRODUITS BEPER.
ÉCRIVEZ UN E-MAIL AU [email protected] POUR CONNAITRE LE
CENTRE SERVICE AGRÉE BEPER LE PLUS PROCHE DE CHEZ VOUS.
GARANTIE
Garantie-Anwendung gilt für 24 Monate ab Kaufdatum gegen Material- und Herstellungsfehler
Kaufbeleg und Garantieschein sind wesentlich für die Gültigkeit der Garantie.
Die Garantie ist gültig nur bei Darstellung des Garantieschein und
Kaufbeleg (Rechnung), die das Kaufdatum und den Modellnamen des
gekauften Gerätes beweist.
Ohne diesen Nachweis kann ein kostenloser Austausch oder eine kostenlose Reparatur nicht erfolgen.
Im Garantiefall geben Sie bitte das komplette Gerät in der Originalverpackung zusammen mit dem Kassenbon an Ihren Händler.
Die Garantie erlischt bei Fremdeingriff.
Garantiebedingungen
Wenn es Mängel während der Garantiezeit aufgrund von Material- und / oder Herstellung, garantieren wir die Reparatur des Produkts kostenlos, sofern:
- das Gerät ist richtig für die Zwecke, für die sie gebaut wurde, verwendet ist
- das Gerät wurde nicht manipuliert/verändert
Garantieleistungen bewirken weder eine Verlängerung der Garantiefrist, noch beginnt
dadurch ein Anspruch auf eine neue Garantie!
Kaufbeleg und Garantieschein sind wesentlich für die Gültigkeit der Garantie. Ohne
diesen Nachweis kann ein kostenloser Austausch oder eine kostenlose Reparatur
nicht erfolgen, sowie auch bei einer normalen Verschlechterung des Gerät.
Alle Teile sind daher ausgeschlossen wenn die versehentliche Beschädigungen
unterzogen wurden oder die einem Verschleiß unterliegen (einschließlich Lampen,
Batterien, Widerstände), als auch ästhetischen Teile, und Mängel, die durch unsachgemäßen Gebrauch von Haushaltsgeräten, Fahrlässigkeit, Unachtsamkeit, Nachlässigkeit oder unsachgemäße Installation und Wartung, Transportschäden und alle
Schäden, für den der Hersteller nicht schuldig ist, fallen nicht unter die Garantie und
sind deshalb kostenpflichtig!
Wenn innerhalb der Garantiezeit eine Mängel aufweist, die nicht repariert werden
kann, wird das Gerät kostenlos gewechselt.
In jedem Fall, wenn der Ersatzteil, ein Zubehör ist, der wegen Brechen, Mängel oder
Fehlfunktion umgetauscht werden soll, behält Beper sich das Recht vor, nur das Stück
in Frage und nicht das gesamte Produkt zu ersetzten.
Nach der Garantie
Auch nach Ablauf der Garantiezeitraums zahlen wir viel Aufmerksamkeit auf Reparaturen.
Für technische Unterstützung und / oder Reparaturen außerhalb der Garantiezeit,
wenden Sie bitte direkt an der folgenden E-Mail Anschrift:
TRETEN SIE BITTE IN VERBINDUNG MIT IHREN HÄNDLER IN IHREM LAND
ODER POST SALES ABTEILUNG
VON FA. BEPER. E-MAIL [email protected] DIE IHREN HÄNDLER NENNEN WIRD
CERTIFICADO DE GARANTĺA
Este aparato ha sido controlado en fábrica. La garantía es valida 24 meses a partir de
la fecha de compra para todos los defectos de material o de fabricación. En caso de
reclamación, tiene que presentar juntos el recibo fiscal y la garantía.
La garantía es válida sólo se presenta la tarjeta de garantía y el documento de
compra (recibo) que demuestra la fecha de compra y el nombre del modelo de
la unidad adquirida.
Para la asistencia técnica, es necesario contactar su revendedor o nuestra empresa.
Eso le permitirá conservar su aparato en mejores condiciones y no invalidar la garantía. Toda manipulación del aparato por una persona no autorizada o no cualificada
cancelará automáticamente la garantía.
Condiciones de garantía
Durante la garantía, si algunas averías aparecen a causa de un defecto de material
y/o fabricación, garantizamos gratuitamente la reparación a las condiciones siguientes :
- El aparato ha sido utilizado correctamente y esto solamente al uso para el cual ha
sido fabricado ;
- El dispositivo no ha sido manipulado: el producto no es mantenible.
- Es obligatorio de presentar el recibo fiscal;
- Las partes que presentan señales evidentes de desgaste no se tienen en cuenta
en la garantía.
En consecuencia, todas las partes que habrían sufrido daños accidentales o que presentaban señales de uso normal se excluyen de la garantía (entre las cuales, bombillas, baterías, pilas, resistencias), las partes estéticas, todas las partes implicando
defectos debidos a la no utilización doméstica, negligencia, instalación incorrecta o
inadecuada, la negligencia en la manipulación y el mantenimiento, los daños en el
transporte y todos los daños no imputables directamente al fabricante.
Si un defecto aparece durante la garantía y no puede estar reparado, el aparato se
sustituirá gratuitamente.
En cualquier caso, si la parte que necesita ser sustituida por defecto, rotura o mal
funcionamiento es un accesorio y / o una parte desmontable del producto, beper se
reserva el derecho de reemplazar sólo la pieza en cuestión y no todo el producto.
Asistencia técnica
Después del final de la garantía, concedemos siempre una gran importancia a la
reparación.
Para la asistencia técnica y/o reparaciones fuera de la garantía, es necesario contactar directamente la dirección siguiente :
CONTACTE CON EL DISTRIBUIDOR DE SU PAIS O EL DEPARTAMENTO
DE POST VENTA DE BEPER .
ENVIE UN E-MAIL [email protected] Y LE ENVIAREMOS
DATOS DE SU SERVICIO TECNICO EN SU PAIS.