No category
How to Assign Software License to A Licensed User?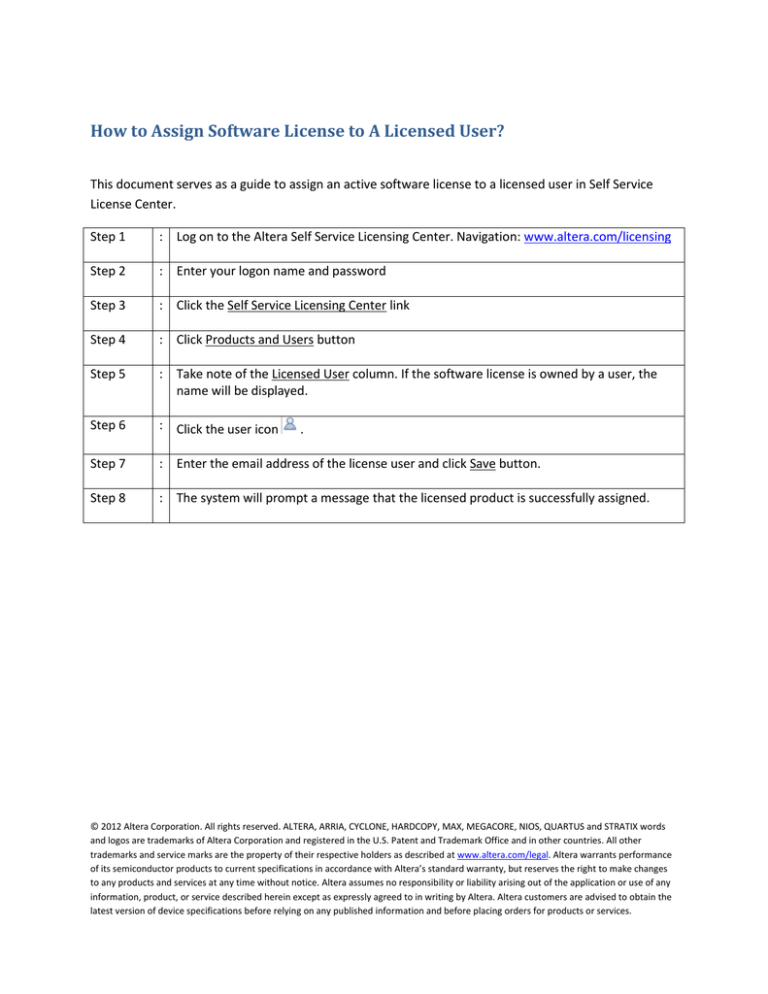 How to Assign Software License to A Licensed User?
This document serves as a guide to assign an active software license to a licensed user in Self Service
License Center.
Step 1
: Log on to the Altera Self Service Licensing Center. Navigation: www.altera.com/licensing
Step 2
: Enter your logon name and password
Step 3
: Click the Self Service Licensing Center link
Step 4
: Click Products and Users button
Step 5
: Take note of the Licensed User column. If the software license is owned by a user, the
name will be displayed.
Step 6
: Click the user icon
Step 7
: Enter the email address of the license user and click Save button.
Step 8
: The system will prompt a message that the licensed product is successfully assigned.
.
© 2012 Altera Corporation. All rights reserved. ALTERA, ARRIA, CYCLONE, HARDCOPY, MAX, MEGACORE, NIOS, QUARTUS and STRATIX words
and logos are trademarks of Altera Corporation and registered in the U.S. Patent and Trademark Office and in other countries. All other
trademarks and service marks are the property of their respective holders as described at www.altera.com/legal. Altera warrants performance
of its semiconductor products to current specifications in accordance with Altera's standard warranty, but reserves the right to make changes
to any products and services at any time without notice. Altera assumes no responsibility or liability arising out of the application or use of any
information, product, or service described herein except as expressly agreed to in writing by Altera. Altera customers are advised to obtain the
latest version of device specifications before relying on any published information and before placing orders for products or services.

* Your assessment is very important for improving the work of artificial intelligence, which forms the content of this project