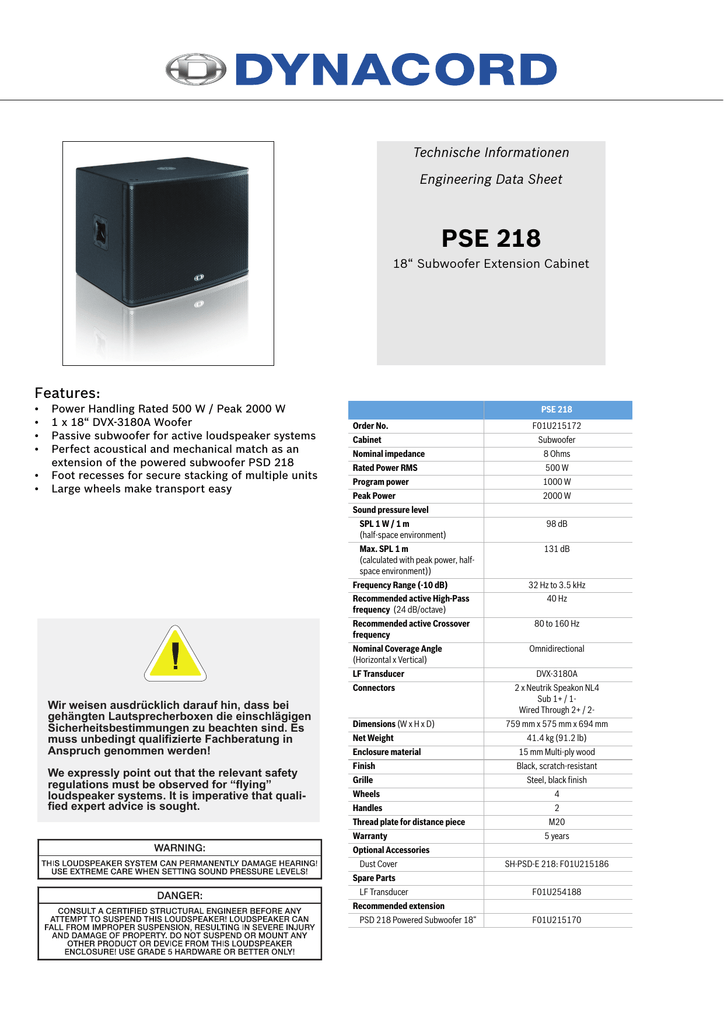 Technische Informationen
Engineering Data Sheet
PSE 218
18" Subwoofer Extension Cabinet
Features:
•
•
•
•
•
•
Power Handling Rated 500 W / Peak 2000 W
1 x 18" DVX-3180A Woofer
Passive subwoofer for active loudspeaker systems
Perfect acoustical and mechanical match as an
extension of the powered subwoofer PSD 218
Foot recesses for secure stacking of multiple units
Large wheels make transport easy
PSE 218
Order No.
Cabinet
Nominal impedance
F01U215172
Subwoofer
8 Ohms
Rated Power RMS
500 W
Program power
1000 W
Peak Power
2000 W
Sound pressure level
SPL 1 W / 1 m
(half-space environment)
98 dB
Max. SPL 1 m
(calculated with peak power, halfspace environment))
131 dB
Frequency Range (-10 dB)
40 Hz
Recommended active Crossover
frequency
80 to 160 Hz
Nominal Coverage Angle
(Horizontal x Vertical)
LF Transducer
Connectors
Wir weisen ausdrücklich darauf hin, dass bei
gehängten Lautsprecherboxen die einschlägigen
Sicherheitsbestimmungen zu beachten sind. Es
muss unbedingt qualifizierte Fachberatung in
Anspruch genommen werden!
We expressly point out that the relevant safety
regulations must be observed for "flying"
loudspeaker systems. It is imperative that qualified expert advice is sought.
32 Hz to 3.5 kHz
Recommended active High-Pass
frequency (24 dB/octave)
Dimensions (W x H x D)
Net Weight
Omnidirectional
DVX-3180A
2 x Neutrik Speakon NL4
Sub 1+ / 1Wired Through 2+ / 2759 mm x 575 mm x 694 mm
41.4 kg (91.2 lb)
Enclosure material
15 mm Multi-ply wood
Finish
Black, scratch-resistant
Grille
Steel, black finish
Wheels
Handles
Thread plate for distance piece
Warranty
4
2
M20
5 years
Optional Accessories
Dust Cover
SH-PSD-E 218: F01U215186
Spare Parts
LF Transducer
F01U254188
Recommended extension
PSD 218 Powered Subwoofer 18"
F01U215170
Description
Beschreibung
The PSE 218 is the non-powered version of the PSD 218 powered subwoofer, lacking the
power amplifier module and DSP controller of its active counterpart. It shares the same
dimensions, the same transducer configuration, and the same acoustic characteristics,
however, making it the ideal companion for the PSD 218.
The PSE 218 may also be used as a subwoofer in any other active system combination.
Der PSE 218 ist die Variante des PSD 218-Subs ohne Verstärker-Modul und ohne DSPController. Er hat die gleichen Abmessungen, akustischen Eigenschaften und die gleiche
Bestückung, was ihn zur idealen Erweiterung eines PSD 218 macht.
Der PSE 218 kann natürlich auch in anderen aktiven System-Kombinationen problemlos
als Subwoofer eingesetzt werden.
Illustration 1: Dimensions
110
316
100
100
Impedance (Ohms)
Sensitivity (dB)
Illustration 2: Frequency Response
90
80
10
Frequency, Half Space
Impedance
70
20
50
100
1000
10000
3,16
20000
Frequency (Hz)
12000 Portland Avenue South, Burnsville, MN 55337, USA
Phone: +1 952/844-4051, Fax: +1 952/884-0043
www.dynacord.com
© Bosch Communications Systems
Part Number F01U254203 Vs 02
Europe, Africa, and Middle East only. For customer orders, contact Customer Service at:
+49 9421-706 0 Fax: +49 9421-706 265
Asia & Pacific only. For customer orders, contact Customer Service at:
+65 6571 2534 Fax: +65 6571 2699
For technical assistance, contact Technical Support at: +49 9421-706 0
06/2012
Specifications subject to change without notice.

* Your assessment is very important for improving the work of artificial intelligence, which forms the content of this project