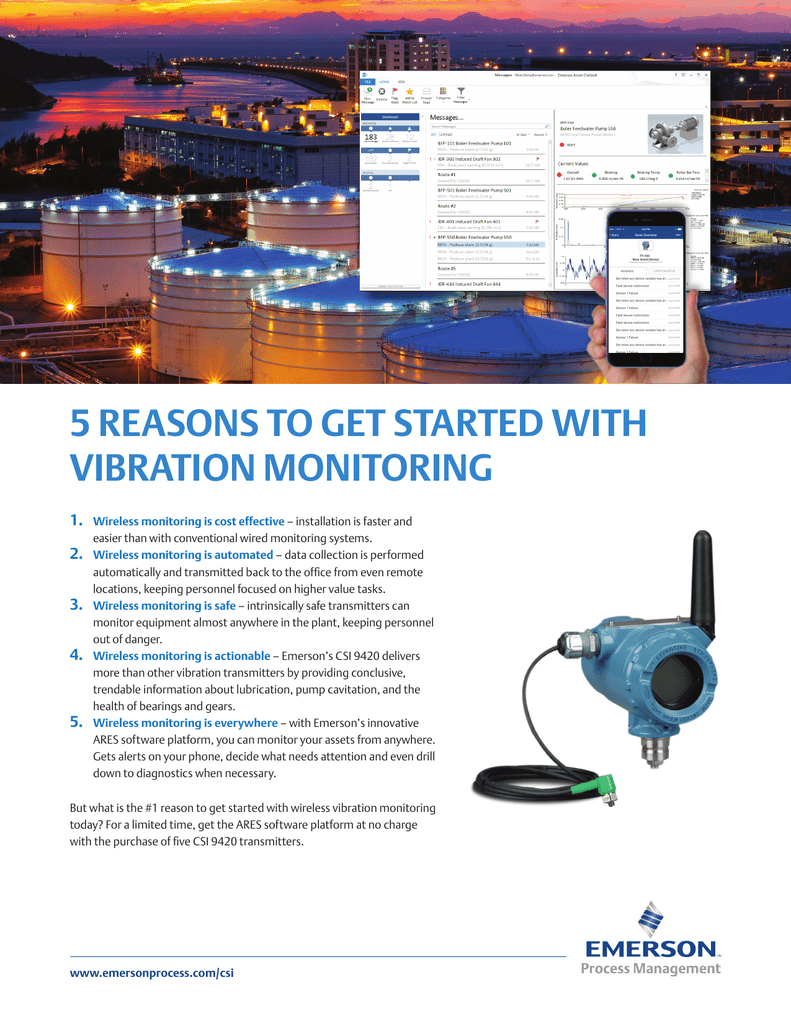 5 REASONS TO GET STARTED WITH
VIBRATION MONITORING
1.
2.
3.
4.
5.
Wireless monitoring is cost effective – installation is faster and
easier than with conventional wired monitoring systems.
Wireless monitoring is automated – data collection is performed
automatically and transmitted back to the office from even remote
locations, keeping personnel focused on higher value tasks.
Wireless monitoring is safe – intrinsically safe transmitters can
monitor equipment almost anywhere in the plant, keeping personnel
out of danger.
Wireless monitoring is actionable – Emerson's CSI 9420 delivers
more than other vibration transmitters by providing conclusive,
trendable information about lubrication, pump cavitation, and the
health of bearings and gears.
Wireless monitoring is everywhere – with Emerson's innovative
ARES software platform, you can monitor your assets from anywhere.
Gets alerts on your phone, decide what needs attention and even drill
down to diagnostics when necessary.
But what is the #1 reason to get started with wireless vibration monitoring
today? For a limited time, get the ARES software platform at no charge
with the purchase of five CSI 9420 transmitters.
www.emersonprocess.com/csi
CSI 9420 Wireless Vibration Transmitter
The CSI 9420, like all of Emerson's vibration monitoring products, goes beyond traditional monitoring for problems like imbalance,
misalignment or looseness to report on key health parameters such as under-lubrication, pump cavitation, bearing faults and gear
defects. It accomplishes this using Emerson's unique PeakVue™ signal processing technique to listen for impacting inside the
machine. PeakVue is field-proven to provide actionable information to drive maintenance activities.
ARES Software Platform
The new ARES software platform, together with the CSI 9420, generates and publishes alerts on vibration, temperature and
PeakVue data. Using the Asset View phone app, alerts can be seen on the plant floor or almost anywhere. Go beyond the alert,
as required, to drill down to the diagnostic data. Back at the office, the ARES software platform offers special tools to get the job
done fast:
""Asset Explorer – Device configuration, diagnostics and maintenance
""Asset View – Management and display of device alerts
""Vibration Extension – Display and analysis of vibration readings with a full set of advanced diagnostic functions
Special Offer
For a limited time, when you purchase any five CSI 9420 wireless vibration transmitters, you can receive Emerson's ARES software
for alert management, diagnostics and reporting at no extra charge.
How To Order
Contact your local Emerson representative and reference P/N A48ARES-9420 to take advantage of this special offer.
©2016, Emerson Process Management. All rights reserved.
The Emerson logo is a trademark and service mark of Emerson Electric Co. Machinery Health and
PeakVue are marks of one of the Emerson Process Management family of companies. All other
marks are the property of their respective owners.
Emerson Process Management
Reliability Solutions
835 Innovation Drive
Knoxville, TN 37932
T (865) 675-2400
www.emersonprocess.com/csi
The contents of this publication are presented for informational purposes only, and while every
effort has been made to ensure their accuracy, they are not to be construed as warranties or
guarantees, express or implied, regarding the products or services described herein or their
use or applicability. All sales are governed by our terms and conditions, which are available on
request. We reserve the right to modify or improve the designs or specifications of our products
at any time without notice.

* Your assessment is very important for improving the work of artificial intelligence, which forms the content of this project