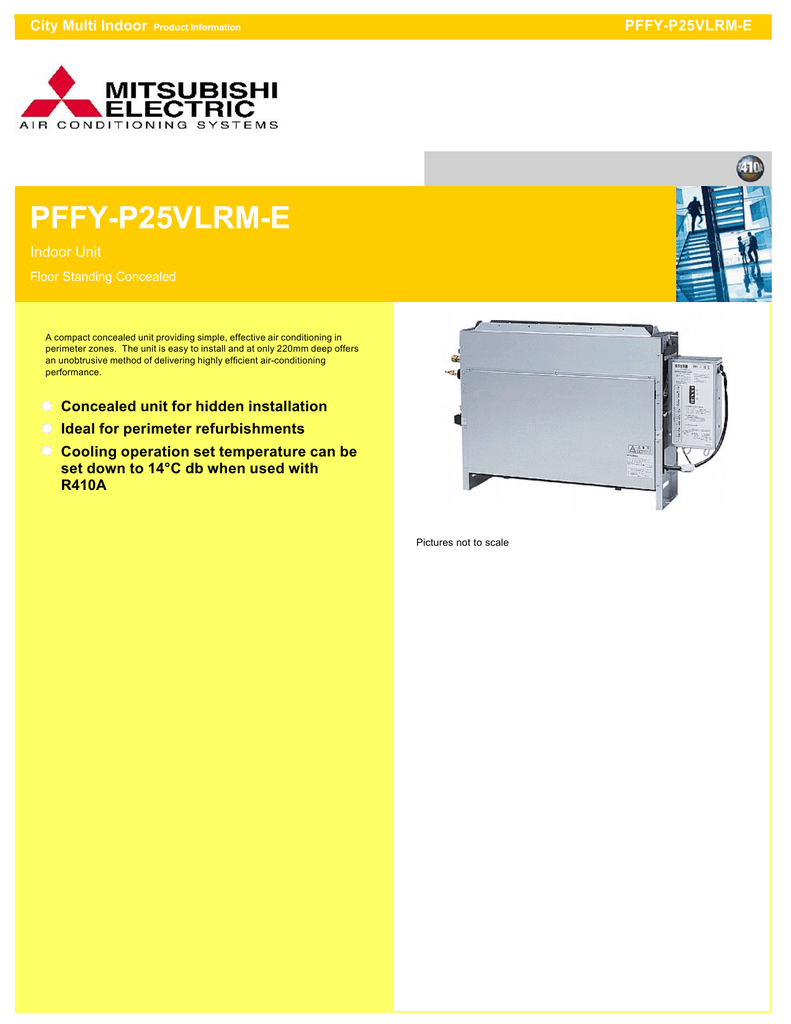 City Multi Indoor
PFFY-P25VLRM-E
Product Information
PFFY-P25VLRM-E
Indoor Unit
Floor Standing Concealed
A compact concealed unit providing simple, effective air conditioning in
perimeter zones. The unit is easy to install and at only 220mm deep offers
an unobtrusive method of delivering highly efficient air-conditioning
performance.
Concealed unit for hidden installation
Ideal for perimeter refurbishments
Cooling operation set temperature can be
set down to 14°C db when used with
R410A
Pictures not to scale
Product Details
Dimensions
PFFY-P25VLRM-E
Capacity (kW):
PFFY-P25VLRM-E
Heating (Nominal)
3.2
Cooling (Nominal)
2.8
Heating (UK)
3.2
Cooling (UK)
2.7
R410A High Sensible Cooling (UK)
2.0
SHF R410A (UK)
0.7
SHF High Sensible R410A (UK)
Power Input (kW) Heating (Nominal)
Power Input (kW) Cooling (Nominal)
Airflow(m3/min) - Lo-Hi
Noise (dBA) - Lo-Hi
0.8
0.04
0.04
5.5-6.5
34-40
Width - mm
886
Depth - mm
220
Height - mm
639
Weight - kg
18.5
Electrical Supply
Phase
Mains Cable No. Cores
220-240v, 50Hz
Single
3
Running Current (A) - Heating
0.19
Running Current (A) - Cooling
0.19
Fuse Rating (BS88) - HRC (A)
6
Telephone: 01707 282880
Email: [email protected] Website: http://www.mitsubishielectric.co.uk/aircon
Tel:
Fax:
Mitsubishi Electric reserves the right to make any variation in technical specification to the
equipment described, or to withdraw or replace products without prior notification or public
announcement.

* Your assessment is very important for improving the work of artificial intelligence, which forms the content of this project