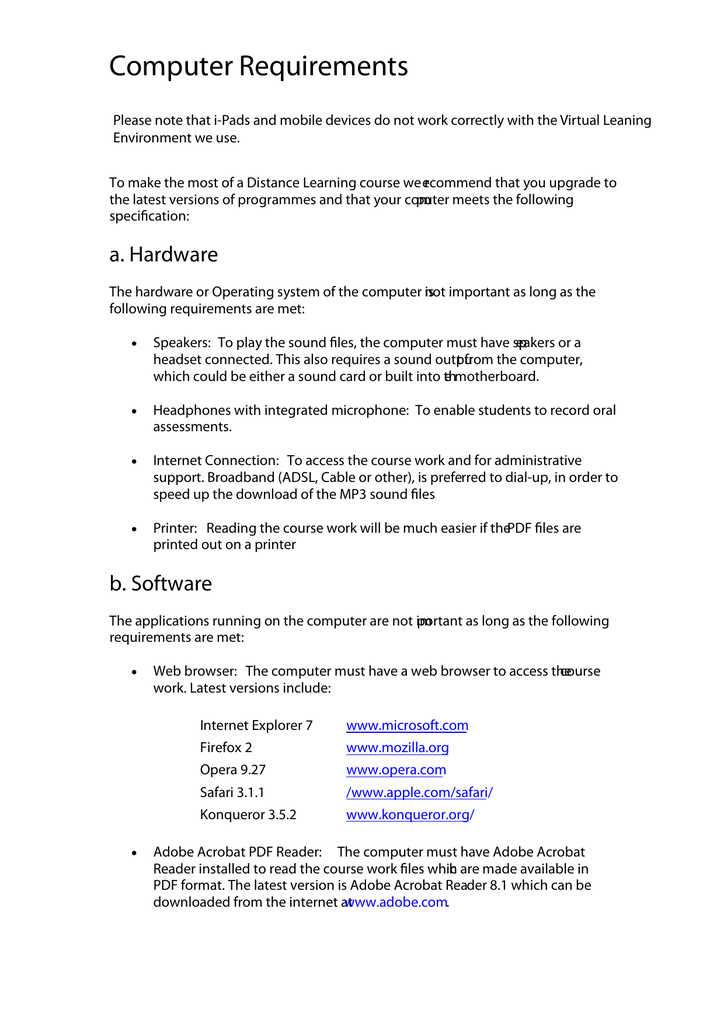 Computer Requirements
Please note that i-Pads and mobile devices do not work correctly with the Virtual Leaning
Environment we use.
To make the most of a Distance Learning course we ecommend
r
that you upgrade to
the latest versions of programmes and that your com
puter meets the following
specification:
a. Hardware
The hardware or Operating system of the computer not
is important as long as the
following requirements are met:
•
Speakers: To play the sound files, the computer must have sp
eakers or a
headset connected. This also requires a sound outpu
t from the computer,
which could be either a sound card or built into th
e motherboard.
•
Headphones with integrated microphone: To enable students to record oral
assessments.
•
Internet Connection: To access the course work and for administrative
support. Broadband (ADSL, Cable or other), is preferred to dial-up, in order to
speed up the download of the MP3 sound files
•
Printer: Reading the course work will be much easier if thePDF files are
printed out on a printer
b. Software
The applications running on the computer are not im
portant as long as the following
requirements are met:
•
•
Web browser: The computer must have a web browser to access the
course
work. Latest versions include:
Internet Explorer 7
www.microsoft.com
Firefox 2
www.mozilla.org
Opera 9.27
www.opera.com
Safari 3.1.1
/www.apple.com/safari/
Konqueror 3.5.2
www.konqueror.org/
Adobe Acrobat PDF Reader: The computer must have Adobe Acrobat
Reader installed to read the course work files whic
h are made available in
PDF format. The latest version is Adobe Acrobat Reader 8.1 which can be
downloaded from the internet at
www.adobe.com.
•
MP3 Player: The computer must be capable of playing MP3 sound files.
These contain the audio portion of the Course Work. Latest versions include:
Windows Media Player 10.0; Winamp 5.53; Realplayer 10.5; QuickTime
(Windows) 7.1.5; QuickTime (Mac) 7.0; & xmms 1.2.
•
Sound Recording Software: To record assessments on your computer, sound
software is required. We would recommend that you use Audacity. If you
don't already have it you can download it free of charge at
http://audacity.sourceforge.net/
•
E-mail account: The computer must have an e-mail account to enable the
Course Team to communicate with the student via email.
It is the responsibility of the student to ensure that their computer is capable of
running the latest versions of programs.

* Your assessment is very important for improving the work of artificial intelligence, which forms the content of this project