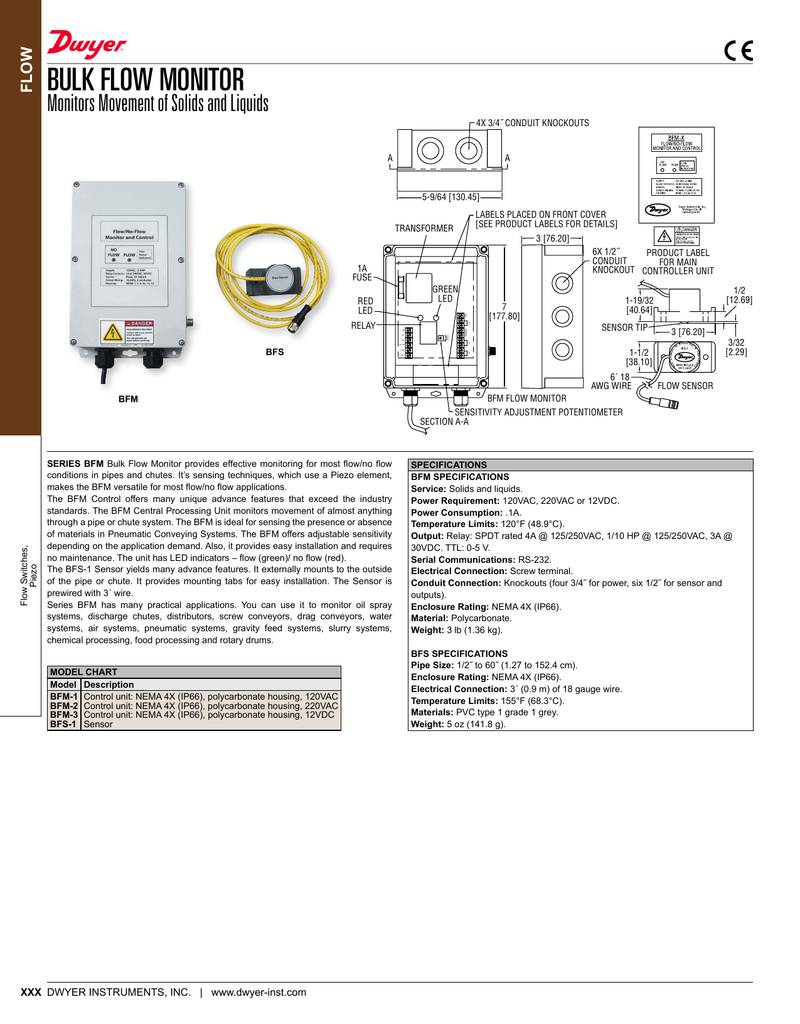 FLOW
®
BULK FLOW MONITOR
Monitors Movement of Solids and Liquids
4X 3/4˝ CONDUIT KNOCKOUTS
A
A
5-9/64 [130.45]
LABELS PLACED ON FRONT COVER
[SEE PRODUCT LABELS FOR DETAILS]
TRANSFORMER
3 [76.20]
6X 1/2˝
PRODUCT LABEL
CONDUIT
FOR MAIN
KNOCKOUT CONTROLLER UNIT
1A
FUSE
GREEN
LED
J3
1/2
[12.69]
1-19/32
[40.64]
SENSOR TIP
3 [76.20]
J1
N/C
+SENSOR-
COM
N/O
INCREASE
RELAY
7
[177.80]
OUT
RED
LED
AC COM
117 VAC
1-1/2
[38.10]
J2
BFS
E GND
6´ 18
AWG WIRE
BFM
3/32
[2.29]
FLOW SENSOR
BFM FLOW MONITOR
Flow Switches,
Piezo
SENSITIVITY ADJUSTMENT POTENTIOMETER
SECTION A-A
SERIES BFM Bulk Flow Monitor provides effective monitoring for most flow/no flow
conditions in pipes and chutes. It's sensing techniques, which use a Piezo element,
makes the BFM versatile for most flow/no flow applications.
The BFM Control offers many unique advance features that exceed the industry
standards. The BFM Central Processing Unit monitors movement of almost anything
through a pipe or chute system. The BFM is ideal for sensing the presence or absence
of materials in Pneumatic Conveying Systems. The BFM offers adjustable sensitivity
depending on the application demand. Also, it provides easy installation and requires
no maintenance. The unit has LED indicators – flow (green)/ no flow (red).
The BFS-1 Sensor yields many advance features. It externally mounts to the outside
of the pipe or chute. It provides mounting tabs for easy installation. The Sensor is
prewired with 3´ wire.
Series BFM has many practical applications. You can use it to monitor oil spray
systems, discharge chutes, distributors, screw conveyors, drag conveyors, water
systems, air systems, pneumatic systems, gravity feed systems, slurry systems,
chemical processing, food processing and rotary drums.
MODEL CHART
Model Description
BFM-1 Control unit: NEMA 4X (IP66), polycarbonate housing, 120VAC
BFM-2 Control unit: NEMA 4X (IP66), polycarbonate housing, 220VAC
BFM-3 Control unit: NEMA 4X (IP66), polycarbonate housing, 12VDC
BFS-1 Sensor
XXX DWYER INSTRUMENTS, INC. | www.dwyer-inst.com
SPECIFICATIONS
BFM SPECIFICATIONS
Service: Solids and liquids.
Power Requirement: 120VAC, 220VAC or 12VDC.
Power Consumption: .1A.
Temperature Limits: 120°F (48.9°C).
Output: Relay: SPDT rated 4A @ 125/250VAC, 1/10 HP @ 125/250VAC, 3A @
30VDC. TTL: 0-5 V.
Serial Communications: RS-232.
Electrical Connection: Screw terminal.
Conduit Connection: Knockouts (four 3/4˝ for power, six 1/2˝ for sensor and
outputs).
Enclosure Rating: NEMA 4X (IP66).
Material: Polycarbonate.
Weight: 3 lb (1.36 kg).
BFS SPECIFICATIONS
Pipe Size: 1/2˝ to 60˝ (1.27 to 152.4 cm).
Enclosure Rating: NEMA 4X (IP66).
Electrical Connection: 3´ (0.9 m) of 18 gauge wire.
Temperature Limits: 155°F (68.3°C).
Materials: PVC type 1 grade 1 grey.
Weight: 5 oz (141.8 g).

* Your assessment is very important for improving the work of artificial intelligence, which forms the content of this project