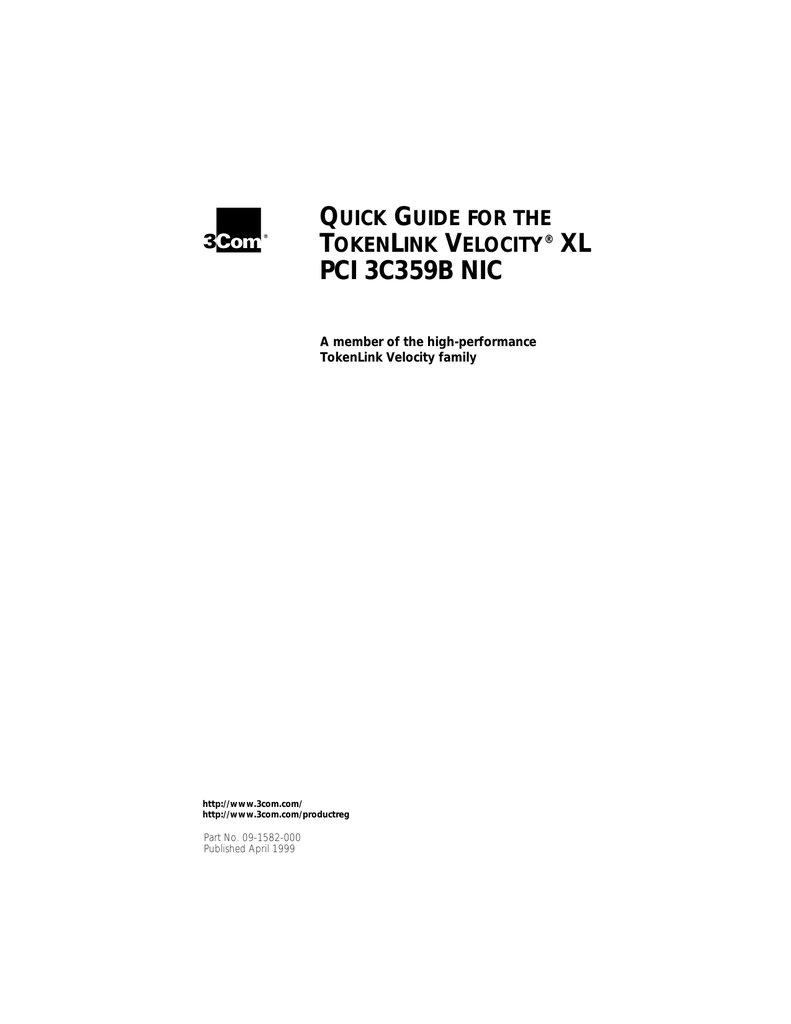 QUICK GUIDE FOR THE
TOKENLINK VELOCITY® XL
PCI 3C359B NIC
A member of the high-performance
TokenLink Velocity family
http://www.3com.com/
http://www.3com.com/productreg
Part No. 09-1582-000
Published April 1999
3Com Corporation
■
5400 Bayfront Plaza
■
Santa Clara, California
■
95052-8145
Copyright © 1999, 3Com Corporation. All rights reserved. No part of this documentation may be
reproduced in any form or by any means or used to make any derivative work (such as translation,
transformation, or adaptation) without written permission from 3Com Corporation.
3Com Corporation reserves the right to revise this documentation and to make changes in content
from time to time without obligation on the part of 3Com Corporation to provide notification of such
revision or change.
3Com Corporation provides this documentation without warranty, term, or condition of any kind, either
implied or expressed, including, but not limited to, the implied warranties, terms or conditions of
merchantability, satisfactory quality, and fitness for a particular purpose. 3Com may make improvements
or changes in the product(s) and/or the program(s) described in this documentation at any time.
If there is any software on removable media described in this documentation, it is furnished under a
license agreement included with the product as a separate document, in the hard copy documentation,
or on the removable media in a directory file named LICENSE.TXT or !LICENSE.TXT. If you are unable to
locate a copy, please contact 3Com and a copy will be provided to you.
UNITED STATES GOVERNMENT LEGEND
If you are a United States government agency, then this documentation and the software described
herein are provided to you subject to the following:
All technical data and computer software are commercial in nature and developed solely at private
expense. Software is delivered as "Commercial Computer Software" as defined in DFARS 252.227-7014
(June 1995) or as a "commercial item" as defined in FAR 2.101(a) and as such is provided with only such
rights as are provided in 3Com's standard commercial license for the Software. Technical data is provided
with limited rights only as provided in DFAR 252.227-7015 (Nov 1995) or FAR 52.227-14 (June 1987),
whichever is applicable. You agree not to remove or deface any portion of any legend provided on any
licensed program or documentation contained in, or delivered to you in conjunction with, this
User Guide.
Unless otherwise indicated, 3Com registered trademarks are registered in the United States and may or
may not be registered in other countries.
3Com, the 3Com logo, DynamicAccess, Managed PC Boot Agent, MBA, TokenDisk, and TokenLink
Velocity are registered trademarks of 3Com Corporation.
Adobe and Acrobat are registered trademarks of Adobe Systems Incorporated. IBM and OS/2 are
registered trademarks and Warp is a trademark of International Business Machines Corporation.
Microsoft, Windows, and Windows NT are registered trademarks of Microsoft Corporation. NetWare is
a registered trademark of Novell, Inc.
All other company and product names may be trademarks of the respective companies with which they
are associated.
Guide written by Phillip Schlueter. Produced by Mary Estrella.
Getting Started
3
Getting Started
The 3Com® TokenLink Velocity® XL PCI 3C359B network
interface card (NIC) package includes the following items:
■
■
■
■
■
■
TokenLink Velocity XL PCI 3C359B NIC
Remote Wake-Up cable
TokenDisk® 3.5-inch diskettes 1 and 2
TokenLink Velocity XL CD
TokenLink Velocity XL PCI Network Interface Card
User Guide
Quick Guide for the TokenLink Velocity XL PCI 3C359B NIC
For installation instructions, you can use the printed or
online versions of the quick start guide and user guide. The
TokenLink Velocity XL CD contains Adobe Acrobat Portable
Document Format (PDF) versions of both guides. You can
use Adobe Acrobat Reader to display, navigate, or print
the guides.
The TokenLink Velocity XL CD also provides the same
3C359B NIC installation software contained on TokenDisk
diskettes 1 and 2. Use the media that suits your
environment.
Installing Adobe Acrobat Reader
To view the 3C359B NIC quick start guide or user guide
PDF file, the appropriate Adobe Acrobat Reader version
must be installed in your computer. You can obtain and
install Adobe Acrobat Reader by downloading it from
Adobe Systems Incorporated.
Downloading Acrobat Reader Free from Adobe
The Adobe Acrobat Reader is available for downloading at
no cost from the Adobe World Wide Web site at:
http://www.adobe.com/
You can also download Acrobat Reader from the Adobe
File Transfer Protocol (FTP) site at:
ftp.adobe.com
Follow the Acrobat Reader online installation instructions.
4
Viewing a TokenLink Velocity CD PDF File
To view the user guide or quick start PDF file on the
TokenLink Velocity XL CD, Adobe Acrobat Reader must be
installed on your computer. Follow these steps to use
Acrobat Reader to display a PDF file:
1 Display the contents of the \GUIDES directory.
For example, if you are running Windows 95/98, use
Windows Explorer or AutoPlay Extender to display the
contents of the \GUIDES folder.
The \GUIDES folder contains the following PDF files:
■
USER.PDF
user guide
QUICK.PDF
quick start guide
■
2 Launch the PDF file that you want to view.
For example, if you are running Windows 95/98,
double-click the PDF filename of the guide you want to
display. Acrobat Reader displays the guide.
3 Use the Acrobat Reader facilities to view, search,
navigate, or print the displayed PDF file.
For help in using Acrobat Reader, consult the Acrobat
Reader online Help resource.
Installing the 3C359B NIC
Perform the following steps to install the 3C359B NIC. If
you need additional help, see the user guide, which is
available in printed form or online form, as described in the
preceding section.
1 If you have purchased the separate Managed PC Boot
Agent® (MBA®) accessory, install it in the 3C359B
NIC's boot ROM socket according to instructions
supplied with the MBA.
2 Insert the 3C359B NIC in a PCI bus master slot.
You can install the 3C359B NIC in either a standard bus
master 32-bit slot or a 64-bit bus master slot. If both slot
types are available in your PC, place the NIC in the 32-bit
slot. See Chapter 2 in the user guide for details.
Installing the 3C359B NIC
5
3 If your PC's motherboard has a Remote Wake-Up
cable connector and you want to use this feature,
perform the following steps:
a Insert the Remote Wake-Up cable included in your
package into the 3-pin connector on the NIC.
Your PC may conform to new PCI standards that eliminate
the need for a Remote Wake-Up cable to deliver power to
the 3C359B NIC. If your PC is capable of delivering power
to the 3C359B NIC through a single pin in the PCI bus, then
there is no need to install the cable. See your PC's hardware
specification and documentation for complete information.
WARNING: Install the NIC in the PC before inserting
the Remote Wake-Up cable into the 3-pin connector
on the NIC.
b Attach the cable to the connector on the PC motherboard.
For Remote Wake-Up installation details, see instructions in
Chapter 2 of the user guide.
For more information on Remote Wake-Up, see the
WAKEFAQ.TXT file located in the root directory on
TokenDisk diskette 1 or in the \DISK_1 directory on the
TokenLink Velocity XL CD.
4 Connect a token ring cable to the NIC.
For cabling details, see installation instructions in Chapter 2
and connector and cabling specifications in Appendix A of
the user guide.
5 Connect the other end of the cable to a network dual
access unit (DAU), a multistation access unit (MAU),
controlled access unit (CAU), or a token ring switch.
The 3C359B NIC can operate in full-duplex (simultaneous
send and receive) mode when attached to a Dedicated
Token Ring (DTR)-enabled switch. Operating in full-duplex
mode can optimize performance in switched environments
by doubling the available bandwidth for high-powered PC's
and servers running mission-critical applications.
6 Turn the PC power on.
The PCI system automatically configures the 3C359B NIC.
7 Choose the appropriate network device driver for
your operating system environment.
6
8 Install the network driver from the appropriate
directory on the TokenDisk diskettes or on the
TokenLink Velocity XL CD, as shown in Table 1.
Table 1 Driver Directory Locations on 3C359B NIC TokenDisk Diskettes
TokenDisk
Diskette No.
Driver Directory
Microsoft NDIS 5.0
miniport
1
\W98W2000
Microsoft NDIS 3.0/4.0
miniport
2
\W95NT40
Microsoft NDIS 3.0
miniport
2
\NT351
NDIS 2.01 OS/2
2
\NDIS2\OS2
NDIS 2.01 DOS
2
\NDIS2\DOS
NetWare DOS ODI
16-bit client
2
\NETWARE\NWCLIENT
Driver
NetWare ODI OS/2 client 2
\
NetWare ODI 32-bit
client (ODI 3.3 spec.)
2
\NETWARE\CLIENT32
NetWare ODI 32-bit
server (ODI 3.3 spec.)
2
\NETWARE\NWSERVER\3.12
\NETWARE\NWSERVER\4.1x_5.0
The TokenLink Velocity XL CD uses the same directory
structure and file locations as the TokenDisk diskettes;
however, when using the TokenLink Velocity XL CD you
must use a \DISK_1 or \DISK_2 directory prefix in the driver
path according to the locations shown in Table 1 for the
TokenDisk diskettes. For example, the NDIS 3.0/4.0 drivers
for Windows 95 and Windows NT 4.0 are located in
\W95NT40 on TokenDisk diskette 2. On the TokenLink
Velocity XL CD, the same drivers are located in
\DISK_2\W95NT40.
9 Verify your configuration options.
Table 2 lists the default configuration option settings of the
3C359B NIC at shipment.
Installing the 3C359B NIC
7
Table 2 Initial Settings of 3C359B NIC Configuration Options
Configuration Option
Default Setting
Ring Speed
Auto Detection
(16 Mbps or 4 Mbps)
Boot ROM
Disabled
Memory Limit of 1 MB
No Limit
DynamicAccess®
Class of Service*
(Traffic Prioritization)
Disabled
Universal (UAA) or Locally Administered
Address (LAA) network address selection
UAA
* Available only with the NDIS 4 and NDIS 5 miniport drivers.
For details on changing configuration settings for a
particular option, see Appendix B in the user guide.