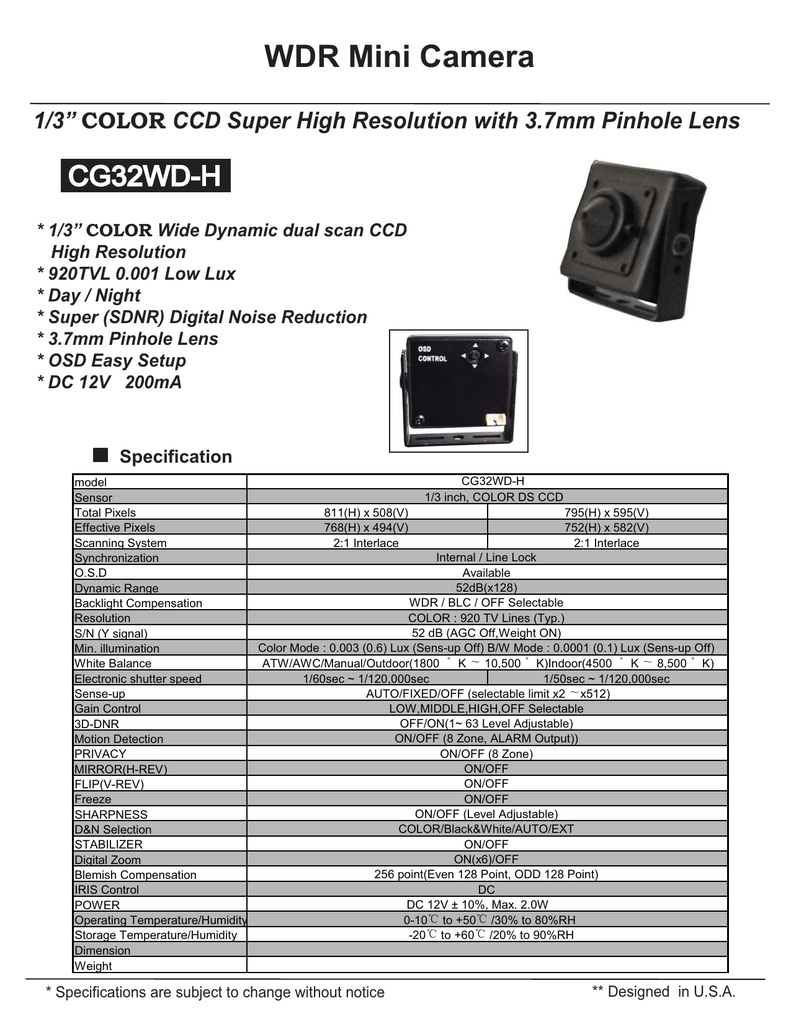 WDR Mini Camera
1/3" COLOR CCD Super High Resolution with 3.7mm Pinhole Lens
CG32WD-H
* 1/3" COLOR Wide Dynamic dual scan CCD
High Resolution
* 920TVL 0.001 Low Lux
* Day / Night
* Super (SDNR) Digital Noise Reduction
* 3.7mm Pinhole Lens
* OSD Easy Setup
* DC 12V 200mA
Entet
Specification
CG32WD-H
model
1/3 inch, COLOR DS CCD
Sensor
Total Pixels
811(H) x 508(V)
795(H) x 595(V)
Effective Pixels
768(H) x 494(V)
752(H) x 582(V)
Scanning System
2:1 Interlace
2:1 Interlace
Internal / Line Lock
Synchronization
Available
O.S.D
52dB(x128)
Dynamic Range
WDR / BLC / OFF Selectable
Backlight Compensation
COLOR : TV Lines (Typ.)
Resolution
52 dB (AGC Off,Weight ON)
S/N (Y signal)
Color Mode : 0.003 (0.6) Lux (Sens-up Off) B/W Mode : 0.0001 (0.1) Lux (Sens-up Off)
Min. illumination
White Balance
ATW/AWC/Manual/Outdoor(1800 ೶ K ૫ 10,500೶ K)Indoor(4500 ೶ K ૫ 8,500೶ K)
Electronic shutter speed
1/60sec ~ 1/120,000sec
1/50sec ~ 1/120,000sec
Sense-up
AUTO/FIXED/OFF (selectable limit x2 ૫x512)
LOW,MIDDLE,HIGH,OFF Selectable
Gain Control
OFF/ON(1~ 63 Level Adjustable)
3D-DNR
ON/OFF (8 Zone, ALARM Output))
Motion Detection
ON/OFF (8 Zone)
PRIVACY
ON/OFF
MIRROR(H-REV)
ON/OFF
FLIP(V-REV)
ON/OFF
Freeze
ON/OFF (Level Adjustable)
SHARPNESS
COLOR/Black&White/AUTO/EXT
D&N Selection
ON/OFF
STABILIZER
ON(x6)/OFF
Digital Zoom
256 point(Even 128 Point, ODD 128 Point)
Blemish Compensation
DC
IRIS Control
DC 12V ± 10%, Max. 2.0W
POWER
Operating Temperature/Humidity
0-10ć to +50ć /30% to 80%RH
Storage Temperature/Humidity
0-20ć to +60ć /20% to 90%RH
Dimension
Weight
* Specifications are subject to change without notice
** Designed in U.S.A.

* Your assessment is very important for improving the work of artificial intelligence, which forms the content of this project