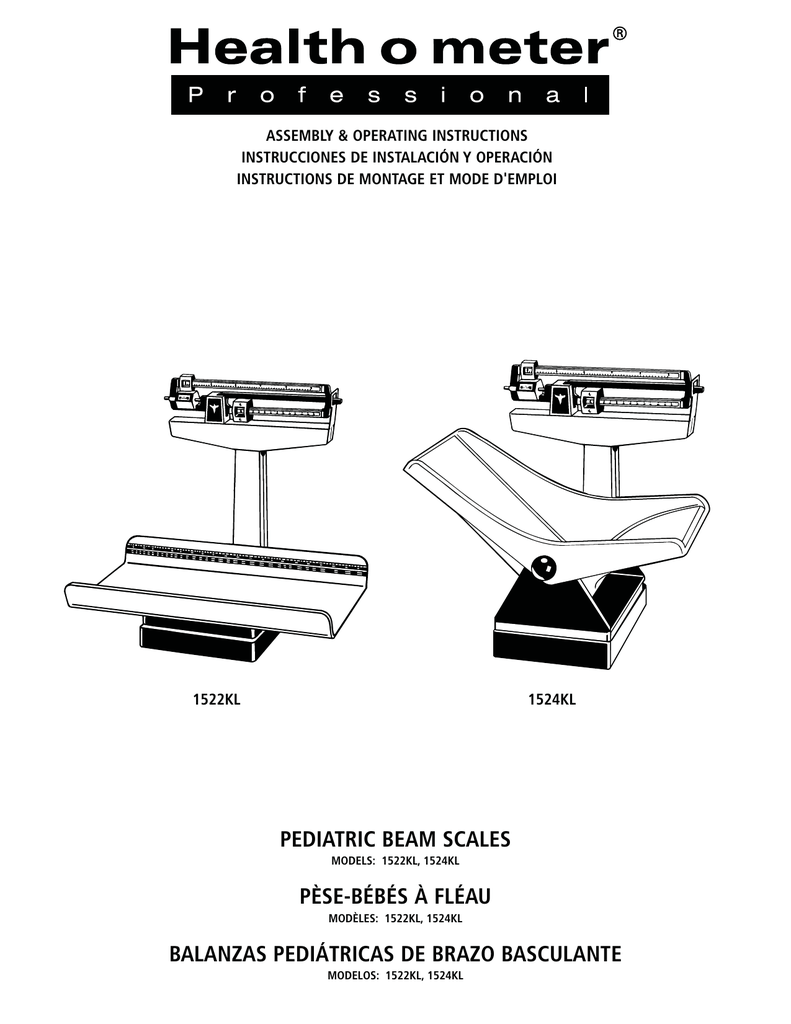 ASSEMBLY & OPERATING INSTRUCTIONS
INSTRUCCIONES DE INSTALACIÓN Y OPERACIÓN
INSTRUCTIONS DE MONTAGE ET MODE D'EMPLOI
1522KL
1524KL
PEDIATRIC BEAM SCALES
MODELS: 1522KL, 1524KL
PÈSE-BÉBÉS À FLÉAU
MODÈLES: 1522KL, 1524KL
BALANZAS PEDIÁTRICAS DE BRAZO BASCULANTE
MODELOS: 1522KL, 1524KL
Assembly & Operating Instructions
Instructions de montage et mode d'emploi
Instrucciones de Instalación y Operación
Your scale is a precision instrument and should be handled
accordingly. Remove all parts carefully to prevent scratching
the enamel finish. In assembling the parts, do not use force
since the scale has been assembled at our plant and all
parts will fit properly if instructions are followed.
La balance Healthometer est un instrument de précision et
doit être maniée en conséquence. Sortir toutes les pièces
avec soin pour éviter de rayer le fini émaillé. Monter les
pièces sans exercer de pression excessive. La balance a été
montée à notre usine et le bon ajustage de pièces est
assuré si l'on respecte les instructions.
Su báscula es un instrumento de precisión y debe ser
tratada come tal. Separe todas las piezas con mucho
cuidado para evitar rayar el terminado esmaltado. Al
ensamblar les piezas, no lo haga con fuerza, y a que la
báscula fui ensamblada previamente en nuestra fábrica y
todas la piezas se ajustan a la perfección si se siguen la
instrucciones.
Contenido de la caja: 1 poste/brazo basculante, 1 base,
Tornillos Phillips (2 para 1522KL, 4 para 1524KL), 4 Tuercas
para el Poste y 1 Llave. También incluido en la caja para el
modelo 1524KL: 1 Soporte del Asiento del Niño , de 1 Asiento de
Niño y de 2 Perillas de Retención. Para el 1522KL, 2 Enchufes se
incluyen en la caja y 1 Bandeja se incluye en una caja separada.
Carton Contents – 1 Pillar/Beam, 1 Base, Phillips head
screws (2 for 1522KL, 4 for 1524KL), 4 Pillar Nuts & 1
Wrench. Also included in the 1524KL carton: 1 Child Seat
Bracket, 1 Child Seat and 2 Retaining Knobs. For the
1522KL, 2 screw plugs are included in the carton and 1 Tray
is included in a separate carton.
Contenu : 1 support/fléau, 1 socle. Vis de type Phillips
(2 pour 1522KL, 4 pour 1524KL), 4 Écrous pour le Support
et 1 Clé. En outre inclus dans la boîte du modèle 1524KL :
1 Support de Siège d'Enfant, 1 Siège d'Enfant et 2 Boutons
de Retenue. Pour le 1522KL, 2 Tampons sont inclus dans le
carton et 1 Plateau est inclus dans un carton séparé.
Assembly Instructions
1
Insert studs situated at lower end of pillar into the
four holes provided in the base (See Figure 1)
scale at angle (See Figure 2) resting top of pillar
2 onTip any
convenient support and, using the wrench
provided, secure pillar to base with the four pillar
nuts (included).
3
Pull the Steel Rod toward the Base by grasping the
Finger Pull Loop on the end.
Hook the Steel Rod into the Lever Extension by
4 pushing
the Lever Extension toward the beam with
your other hand. While holding in this position the
hook on the Steel Rod is easily attached to the hole
at end of lever extension. Release the Finger Pull
Loop and the scale is ready to use.
NOTE: The proper position of the multi-lever assembly
in order to attach the steel rod to the base is show in
Figure 3. This assembly must be free floating in the
pillar head. This can be observed through the opening
between the Pillar Head and the Pillar.
5 Stand the scale upright.
1522KL: Attaching the Tray to the Scale Base
6a Model
(Figure 4a)
1. Set the Tray on top of the Base and fasten securely
in place with two (2) screws (enclosed).
2. Place Screw Plugs over the Screws and press firmly
to secure.
1524KL: Attaching the Child Seat to the Scale
6b Model
Base (Figure 4b)
1. Place the Child Seat Bracket on the Base, aligning
the four (4) mounting holes. Secure the Bracket to
the Base with four (4) Phillips head screws (enclosed).
Instructions de montage
Insérer les goujons situés à l'extrémité inférieure du
1 support
dans les quatre trous percés dans le socle
(voir Figure 1).
Incliner la balance (voir Figure 2) pour que l'extrémité
2 supérieure
du support soit convenablement soutenue.
A l'aide de la clé et des quatre écrous fournis, fixer le
support au socle.
Tirer la tige en acier vers la Socle en saisissant
3 l'Anneau
du Doigt sur l'extrémité.
Accrocher la tige en acier à la rallonge de levier avec une
4 pression
du doigt exercée sur la rallonge en direction du
fléau. Tout en maintenant la rallonge dans cette position,
on introduit le crochet de la tige en acier dans le trou se
situant à l'extrémité de la rallonge du levier. Relâcher le
doigt et la balance est prête au service.
REMARQUE: La figure 3 indique la position correcte
du levier multiplicateur pour permettre la fixation de
la tige en acier au socle. Le levier multiplicateur doit
flotter librement dans la tête du support. La
vérification de cette action s'effectue par l'ouverture
se situant entre la tête du support et le support.
5 Mettre la balance debout.
1522KL : Fixation du Plateau au Socle de la
6a Modèle
Balance (Figure 4a).
1. Placer le Plateau sur le Socle. Attacher-le
solidement en place avec deux Vis (incluses).
2. Placer les Tampons au-dessus des Vis et appuyer
fermement pour fixer.
1524KL : Fixation du Siège d'Enfant au Socle
6b Modèle
de la Balance (Figure 4b).
2. Lower the Child Seat onto the Seat Bracket, so that
the notches on both sides of the Seat slide over the
protrusions on the Seat Bracket.
1. Placer le Support de Siège d'Enfant sur le Socle,
alignant les quatre trous. Fixer le Support de Siège
d'Enfant au Socle avec quatre vis Phillips (incluses).
3. Adjust the Child Seat in order to align the holes in the
Seat with the holes on both sides of the Seat Bracket.
2. Abaisser le Siège d'Enfant sur le Support de Siège,
de sorte que les entailles des deux côtés du Siège
glissent au-dessus des saillies sur le Support.
4. Lock the Child Seat in place by screwing the two (2)
black Retaining Knobs into the holes in the Child
Seat and through the Seat Bracket.
3. Ajuster le Siège d'Enfant afin d'aligner les trous dans le
Siège avec les trous des deux côtés du Support de Siège.
4. Fixer le Siège d'Enfant en place en vissant les deux
(2) Boutons de Retenue noirs dans les trous dans
le Siège d'Enfant et par le Support de Siège.
Instrucciones de instalación
Inserte los pernos que se encuentran en el extremo
1 inferior
del poste dentro de los cuatro orificios de la
base (Figure 1).
la báscula (Figura 2) dejándola descansar sobre
2 laIncline
parte superior del poste en algún soporte adecuado
y, con la llave de tuercas que incluimos, asegure la
base al poste con la cuatro tuercas (que se incluyen).
del Cable de acero hacia la base agarrando el
3 Tire
lazo del dedo en el extremo.
Enganche el cable de acero en la extensión de la palanca,
4 empujando
con su otra mano la extensión de la palanca
hacia el brazo basculante. Mientras sostiene la extensión
de la palanca en esta posición, puede unir fácilmente el
gancho del cable de acero en el orificio de la placa que
está en el extremo de la extensión de la palanca. Quite
el lazo del dedo, y la báscula estará lista para usarse.
NOTA: en Figura 3 se muestra la posición correcta del
ensamblaje de palanca multiplicadora para que se
pueda enganchar el cable de acero e la base. Este
ensamblaje debe moverse libremente en el cabezal
des poste. Esto se pueda observar a través de la
abertura entre el cabezal des poste y es poste.
5 Coloque la bascule en posición vertical.
1522KL: Atadura de la Bandeja a la Base de
6a Modelo
la Balanza (Figura 4a)
1. Coloque la Bandeja encima de la Base y sujete con
seguridad en lugar con dos Tornillos (incluidos). 2.
Coloque los Enchufes sobre los Tornillos y
presiónelos firmemente para asegurar.
1524KL: Atadura del Asiento del Niño a la
6b Modelo
Base de la Balanza (Figura 4b)
1. Coloque el Soporte del Asiento del Niño en la Base,
alineando los cuatro agujeros. Asegure el Soporte a
la Base con cuatro Tornillos Phillips (incluidos).
2. Baje el Asiento del Niño sobre el Soporte del Asiento,
de modo que las muescas en ambos lados del Asiento
resbalen sobre las salientes en el Soporte del Asiento.
3. Ajuste el Asiento del Niño para alinear los agujeros
en el Asiento con los agujeros en ambos lados del
Soporte del Asiento.
4. Asegure el Asiento del Niño en lugar atornillando las
dos (2) Perillas de Retención negras en los agujeros en
el Asiento del Niño y a través del Soporte del Asiento.
1
Figure 2
Figure 1
Figure 3
Figure 4b
Figure 4a
Child Seat
Siège d'Enfant
Asiento del Niño
Fig. 4b
Child Seat Bracket
Support de Siège d'Enfant
Soporte del Asiento
Retaining Knob
Bouton de Retenue
Perilla de Retención
Retaining Knob
Bouton de Retenue
Perilla de Retención
Phillips Head Screw (4)
Vis Phillips (4)
Tornillos Phillips (4)
Base
Socle
Base
2
Operating Instructions
Mode d'Emploi
Instrucciones de Operación
Zero Balance Adjustment
Réglage de Remise à Zéro
Ajuste de Balance en Ceros
The scale should be checked periodically, particularly when
moved, by following the instructions below :
Une vérification périodique de la balance s'impose, surtout
après un déplacement de l'appareil. Suivre les instructions
ci-dessous:
Debe revisar esta báscula periódicamente, especialmente si
la cambia de lugar, de acuerdo a las siguientes
instrucciones:
1
S'assurer que la balance repose sur une surface solide
et horizontale. Monter sur la balance et en descendre
à plusieurs reprises pour effectuer l'alignement de
toutes les pièces internes.
1
Asegúrese de que la bascule esté colocada sobre un
superficie firme y nivelada. Súbase y bájese de la
báscula varias veces para que las piezas internas
queden alineadas.
2
Faire glisser les deux curseurs sur zéro (voir Fig. 3).
L'aiguille doit flotter verticalement et doucement sans
entrer en contact avec la partie supérieure ou
inférieure de l'œil limiteur.
2
Coloque ambos contrapesos en ceros (Figura 3). La
punta indicadora del brazo basculante debe moverse
libremente hacia arriba y hacia abajo y no llegar a
tocar la parte superior o inferior del rectángulo
limitante.
certain scale is on a hard, level surface. Step on
1 Make
and off scale a few times in order to align all internal
parts.
both poise weights on zero (see Fig 3). The beam
2 Place
pointer should float gently up and down and not touch
the top or bottom of the trig-loop.
NOTE: If the beam pointer is not moving equally
centered in the trig-loop opening, turn balance ball
screw (See figure 3) to correct.
REMARQUE: Si le flottement du fléau n'est pas centre
dans l'ouverture de l'œil limiteur, tourner la vis de
réglage (voir Fig. 3)
Conversion (lb to kg/ kg to lb)
NOTA: Si la punta del brazo basculante no se mueve la
misma distancia hacia arriba y hacia abajo del centro
del rectángulo limitante, gire el tornillo de ajuste del
brazo basculante (Figura 3) para corregir.
(Figure 5)
1
2
Rotate both the upper and lower poise bars with a
gentle twist of the wrist (Figure 5) to the selected unit
of measure.
Check poise bars to make sure both match in color. For
easy identification, pound poise bars have chrome
graduations on a black background; kilogram
graduations have black graduations on a chrome
background.
Conversion (livres / kg - kg / livres)
(Figure 5)
1
2
Weighing Instructions
1
2
Set the large and small poises to indicate the
approximate weight of the baby.
Place the baby on the Tray (in the Child Seat for model
1524KL). Continue to adjust the small poise until the
pointer is centered.
NOTE: It is not necessary for you to wait for the pointer
to stop moving in order to read the correct weight. As
long as the pointer is moving equally in the trig-loop
opening, the pointer would eventually come to rest in
the center of the opening. Even when the pointer is not
perfectly centered, as long as it is moving, you are
within one quarter pound of the correct weight.
Faire tourner les barres supérieure et inférieure de
contrepoids d'un léger mouvement du poignet
(Figure 5) vers l'unité de mesure sélectionnée.
Vérifier les contrepoids pour s'assurer que les couleurs
correspondent. Pour en faciliter l'identification. Les
contrepoids en livres portent des graduations
chromées sur fond noir. Les contrepoids en kilos
portent des graduations noires sur fond chromé.
Conversión (libras a kg - kg a libras)
(Figura 5)
1
Giré las barras superiora y inferior de contrapeso con
un movimiento gentil de muñeca (Figura 5) para
seleccionar la unidad de medida.
2
Cheque las barras de contrapeso par asegurarse de
que el color es similar. Para une fácil identificación, la
barra de contrapeso en libras tiene graduaciones en
color metal en un fondo negro; la barra de contrapeso
en kilos tiene graduaciones en negro en un fondo de
color metal.
Pesée
1
Régler les curseurs (petit et gros) selon le poids
approximatif du bébé.
2
Placer le bébé sur le Plateau (dans le Siège d'enfant
pour modèle 1524KL). Régler le petit curseur jusqu'à
ce que l'aiguille soit centrée.
REMARQUE: Il n'est pas nécessaire d'attendre que
l'aiguille cesse de bouger avant de lire le poids. Pourvu
qu'elle se déplace uniformément dans l'ouverture de
l'oeil limiteur, elle s'arrêtera en définitive dans la zone
centrale de l'ouverture. Même lorsque l'aiguille n'est
pas parfaitement centrée, si elle est en mouvement,
cela veut dire que le poids indiqué est à 113g (0,25
livre) près du poids correct.
the indicated reading of small poise to the
3 Add
indicated reading of the large poise. The total is the
child's weight.
3
Instrucciones para Pesar
1
Coloque el contrapeso grande y el contrapeso
pequeño en las muescas que indiquen el peso
aproximado del bebé.
2
Coloque a bebé en la Bandeja (en el Asiento del niño
para el modelo 1524KL). Ajuste el contrapeso pequeño
hasta que la punta del brazo basculante quede
centrada en el rectángulo limitante.
NOTA: No es necesario que espere a que la punta del
brazo basculante se detenga completamente para
determinar el peso correcto. Siempre y cuando la punta
se mueva la misma distancia hacia arriba y hacia abajo
dentro del rectángulo, la punta del brazo basculante se
detendrá eventualmente en el centro del rectángulo.
Aun que la punta no quede perfectamente centrada, si
se mueve, significa que tiene usted una aproximación
de 115 gramos (1/4 de libra) del peso exacto.
Pour déterminer le poids total du bébé, ajouter la valeur
indiquée par le petit curseur à celle du gros curseur.
3
3
Sume la lectura del contrapeso pequeño a la lectura
del contrapeso grande. El total es el peso del bebé..
Figure 5
4
Troubleshooting Guide
Recherche des Causes de Panne
Models 1522KL and 1524KL
Modèles Série 400/402
INCORRECT WEIGHT
MESURE INCORRECTE DU POIDS
The accuracy of these scales when calibrated at the factory
is within plus or minus 1/2 pound. This means that two
properly calibrated scales can vary 1/4 pound from each
other and still be calibrated correctly. For the most accurate
weight, use the scale on a hard level surface and place
infant in the center of the platform with the weight
distributed as evenly as possible. If the error seems
excessive, check the following:
La précision de ces balances qui subissent un étalonnage à
l'usine est de plus ou moins 113g (0,25 livre). Cela veut
dire que deux balances convenablement étalonnées
peuvent varier de 225 g (0,50 livre) l'une de l'autre sans
s'écarter de la tolérance acceptable. Pour assurer la pesée la
plus précise, mettre la balance sur une surface horizontale
dure, placer l'enfant sur la balance au centre de la
plateforme, assurant la répartition du poids la plus
uniforme possible. Si l'écart semble être excessif, effectuer
les contrôles suivants :
Balance of Beam
1 Zero
The beam must be balanced so the pointer comes to
au centre de l'œil limiteur lorsque les deux curseurs
sont réglés à zéro. S'assurer que le gros curseur repos
solidement dans le cran et que le petit curseur bute
contre l'arrêtoir du fléau. Corriger tout mauvais
équilibrage en tournant la vis à l'extrémité gauche du
fléau,
e fléau ne se déplace pas librement
2 LVérifier
si l'aiguille entre en contact avec le côté de
trig-loop in its range of travel. Contact Technical
Support at (800) 638-3722 for instructions on
realigning the beam.
Rocks Excessively
3 Platform
or Touches Base at Any Corner
When you push down at any corner of the platform,
you should not feel any significant rocking. If you do,
please contact Technical Support at (800) 638-3722 for
instructions on leveling the platform.
Does Not Move at All during
4 Beam
Weighing Process
This may be caused by the poises being set to a higher
weight than the person's actual weight. Reset the
weights to a lower weight. An improperly connected
Steelyard Rod (the rod that runs inside the pillar) or a
disconnected rod which can occur if the scale is
transported may also be the cause. See Figure 2.
Out of Calibration
5 Scale
This can happen if an adjustment is jolted out of place
during transit or by wear in the notches in the beam
after a long period of use. Lifting the large poise over
the notches during movement will preserve the
accuracy of the scale and lengthen the life of the beam.
The accuracy should be determined with accurate test
weights or the scale should be compared to a scale
known to be accurate, such as a commercial scale with
a Weights & Measures sticker affixed. The scale can be
recalibrated by loosening the lock screw at the end of
the long lever in the bottom of the base with a 5/16"
hexagon socket wrench and moving it outward (longer)
in the elongated slot to decrease the indicated weight
or inward (shorter) to increase the indicated weight.
One sixteenth inch movement of the screw will change
the indicated weight by approximately 1/4 pound per
30 pounds.
5
Modelos Series 400/402
PESO INCORRECTO
La exactitud de estas básculas cuando se calibran en la
fábrica está dentro de mas o menos 115 gramos (1/4 de
libra). Esto significa que dos básculas bien calibradas pueden
variar 230 gramos (1/2 libra) entre si y aún así estar bien
calibradas. Para obtener el peso más exacto, coloque la
báscula en una superficie firme y nivelada y coloque a infante
en el centro de la plataforma con el peso distribuido lo mejor
posible. Si el error parece ser excesivo, revise lo siguiente:
del brazo basculante en ceros
1 Balance
à zéro du fléau
Este brazo basculante debe estar balaceado de tal forma
1 Remise
L'équilibrage du fléau doit assurer que l'aiguille repose
rest in the center of the trig-loop when both poises are
set at zero. Make certain that the large poise is firmly
seated in the notch and the small pose is firmly against
the shoulder of the beam. Adjust the balance by
turning the screw at the left end of the beam.
Does Not Move Freely
2 Beam
Check if the beam pointer is touching the side of the
Guía de Resolución de Problemas
l'œil limiteur lorsqu'elle se déplace dans sa plage de
fonctionnement. En cas de contact, téléphonez au
Service Technique à (800) 638-3722 ou (708) 598-9100
pour les instructions pour réaligner le fléau.
bascule excessivement ou entre
3 Laen Plateforme
contact avec le socle à l'un des coins.
Lorsque l'on appuie sur l'un des coins de la plateforme, il
ne devrait pas y avoir de basculement significatif. Si cela
n'est pas le cas, contactez notre Service Technique à
(800) 638-3722 ou 1(708) 598-9100 pour les instructions
pour remettre le plateforme à niveau.
fléau ne se déplace pas du tout pendant
4 Lela pesée
Cette difficulté peut se présenter lorsque les curseurs
sont réglés sur un poids supérieur au poids réel de
l'utilisateur. Remettre les curseurs sur un chiffre plus
bas. Un mauvais accrochage ou un désaccrochage de la
tige romaine (celle qui longe l'intérieur du support)
peut se produire pendant l'expédition. Consulter la
Figure 2.
5
La balance n'est pas convenablement
étalonnée.
Un mauvais étalonnage peut résulter d'un cahot en cours
d'expédition qui modifie le réglage ; ou il peut aussi être
causé par l'usure des crans du fléau avec l'usage. On peut
conserver la précision et prolonger la durée utile du fléau
en soulevant le gros curseur lorsque l'on le déplace pour
qu'il passe par-dessus des crans. La précision de la
balance se détermine à l'aide de poids légaux ou en
comparant l'appareil à une balance commerciale portant
l'étiquette d'attestation de précision « Poids et Mesures ».
On corrige l'étalonnage en desserrant à l'aide d'une clé à
douille à six pans de 8mm (5/16 po.) la vis de calage se
situant au bout du levier long en bas du socle. On fait
glisser la vis dans son encoche soit vers l'extérieur (la vis
devient plus longue) pour réduire le poids indiqué, soit
vers l'intérieur (vis plus courte) pour augmenter le poids
indiqué. Un déplacement de 1,5mm de la vis modifie le
poids indiqué d'à peu près 113g (0,25 livre) par 13 kg
(30 livres).
que la punta del brazo detenga su movimiento en el
centro del rectángulo limitante cuando ambos
contrapesos estén en ceros. Asegúrese de que el
contrapeso grande esté ajustado firmemente en la
muesca y que el contrapeso pequeño quede colocado
firmemente contra el hombro del brazo basculante. Si la
báscula no está balanceada, ajústela girando el tornillo
que está al extremo izquierdo del brazo basculante.
brazo basculante no se mueve libremente.
2 ElRevise
si la punta del brazo basculante toca el lado del
rectángulo limitante en algún punto de su recorrido.
Llame por teléfono por favor la Ayuda Técnica en
1(800) 638-3722 o 1(708) 598-9100 para las
instrucciones para alinear el brazo basculante.
plataforma se balancea de manera
3 Laexcesiva
o toca la base en alguna esquina.
Cuando presione hacia abajo cualquier esquina de la
plataforma, no debe sentir ningún balanceo
considerable. Si lo siente, llame por teléfono por favor
la Ayuda Técnica en 1(800) 638-3722 o 1(708 598-9100
para las instrucciones para nivelar la plataforma.
brazo basculante no se mueve en
4 Elabsoluto
durante todo el proceso de pesado.
Esto puede suceder si los contrapesos están colocados
en un peso más alto que el peso real de la persona que
se está pesando. Coloque los contrapesos en un peso
más bajo. Otra causa puede ser un cable de acero (el
cable que pasa por dentro del poste) conectado de
forma incorrecta o un cable desconectado. Esto puede
suceder cuando la báscula se cambia de lugar. Vea la
figura 2.
no está bien calibrada.
5 LaEstobáscula
puede suceder si la bascule se desajusta durante el
transporte o si la muescas se desgastan demasiado después
del uso prolongado. Para mantener la exactitud del brazo
basculante y prolongar su vida útil, mueva el contrapeso
grande levantándolo sin que toque las muescas. Debe
determinar la exactitud con pesas de prueba o comparar los
resultados con los de una báscula que dé resultados exactos,
tal como une báscula comercial que haya sido aprobada por
alguna institución oficial. La báscula se puede volver a
calibrar aflojando el tornillo de fijación en el extremo de la
palanca larga en la parte inferior de la base con une llave
Allen de 5/16, moviéndolo hacia fuera (alargando) en la
ranura alargada para disminuir el peso indicado, o hacia
adentro (acortando) par aumentar el peso indicado. Un
movimiento des tornillo de un dieciseisavo de pulgada
modifica el peso indicado aproximadamente 115g (1/4 de
libra) por cada 13 Kg. (30 libras) de peso.
LIMITED WARRANTY
GARANTÍA LIMITADA
GARANTIE LIMITÉE
What does the Warranty Cover?
¿Qué Cubre la Garantía?
Que couvre la garantie?
Pelstar LLC scales are warranted from date of purchase
against defects of materials or in workmanship for a
period of one (1) year. If scale fails to function properly,
return the product, freight prepaid and properly packed
to Pelstar. If manufacturer determines that a defect of
material or in workmanship exists, customers' sole
remedy will be repair or replacement of scale at no
charge. Replacement will be made with a new or
remanufactured product or component. If the product is
no longer available, replacement may be made with a
similar product of equal or greater value. All parts
including repaired and replaced parts are covered only
for the original warranty period.
Who is Covered?
The original purchaser of the product must have proof
of purchase to receive warranty service. Pelstar dealers
or retail stores selling Pelstar products do not have the
right to alter, or modify or any way change the terms
and conditions of this warranty.
What is Excluded?
Your warranty does not cover normal wear of parts or
damage resulting from any of the following: negligent
use or misuse of the product, use on improper voltage
or current, use contrary to the operating instruction,
abuse including tampering, damage in transit, or
unauthorized repair or alternations. Further, the
warranty does not cover Acts of God, such as fire,
flood, hurricanes and tornadoes. This warranty gives
you specific legal rights, and you may also have other
rights that vary from country to country, state to state,
province to province or jurisdiction to jurisdiction.
To get Warranty Service
Make sure you keep your sales receipt or
document showing proof of purchase.
Call 1 (800) 638-3722 or 1 (708) 598-9100 to receive a
return authorization number. Attach proof of purchase
to your defective product along with your name,
address, daytime telephone number and description of
the problem. Carefully package the product and send
with shipping and insurance prepaid to:
Pelstar LLC
Attention R/A#_____________
Repair Department
7400 W. 100th Place
Bridgeview, IL 60455
If your scale is not covered by warranty, or has been
damaged, an estimate of repair costs or replacement
costs will be provided to you for approval prior to
servicing or replacing.
Las balanzas de Pelstar LLC están garantizadas a partir
de la fecha de compra contra defectos de fabricación y
mano de obra por un periodo de un (1) año. Si el
funcionamiento del producto no fuese adecuado,
regrese el producto a Pelstar con fletes prepagados y
en unembalaje adecuado. Si el fabricante determinase
la existencia de un defecto de fabricación o mano de
obra, el remedio único será la reparación o remplazo
de la balanza sin cargo alguno para el cliente. El
remplazo se realizará con un equipo o componente
nuevo o remanufacturado. Si el producto se encontrase
fuera de producción se le remplazará con un producto
similar del mismo o mayor valor. Todas las partes,
incluyendo las partes separadas o remplazadas, están
cubiertas únicamente durante el periodo original de la
garantía.
¿Quién Está Cubierto?
El comprador original del producto debe poder
comprobar la compra para hacer válida la garantía. Los
distribuidores o minoristas de Pelstar no tienen
derechos para alterar, modificar, o cambiar de ninguna
manera los términos y condiciones deesta garantía.
¿Quién Está Excluido?
La garantía no cubre el desgaste normal de las partes o
daños como resultado de: Uso negligente o mal uso del
equipo, uso de voltajes o corrientes inapropiadas,
utilización contraria a las instrucciones de operación,
abuso incluyendo modificaciones, daños en transporte,
reparaciones o alteraciones no autorizadas. Más aún, la
garantía no cubre sucesos naturales como fuego,
inhundaciones, huracanes o tornados. Esta garantía le
dá a Ud. derechos legales específicos, puede tener
además otros derechos que varían de país a país,
estado a estado, provincia a provincia o jurisdicción a
jurisdicción.
Para obtener Servicio de Garantía
Asegúrese de conservar su recibo de venta o un
documento que demuestre prueba de la compra.
Llame 1 (800) 638-3722 o 1 (708) 598-9100 para recibir
un número de autorización para retorno. Adjunte prueba
de la compra al producto con defecto junto con su
nombre, dirección, número de teléfono de día y
descripción del problema. Empaquete el producto
cuidadosamente y envíelo con transporte y seguro
pagados por adelantado a:
A compter de la date d'achat, les pèse-personnes
Pelstar LLC sont garantis contre les défauts de matériel
ou de fabrication pour une période d'un (1) an.
Renvoyez à Pelstar, port payé et bien emballé, le
produit qui fonctionne mal. Si le fabricant constate un
défaut de matériel ou de fabrication, le pèse-personne
sera réparé ou changé sans aucun frais pour le client.
Le remplacement se fera avec un produit ou composant
neuf ou corrigé. Si le produit n'est plus disponible, le
remplacement se fera par un appareil similaire d'une
valeur égale ou supérieure. Les frais de toutes les
pièces réparées ou changées sont couvertes seulement
pour la période de garantie originale.
Qui est couvert par la garantie?
Le premier acheteur du produit doit avoir les pièces
justificatives de l'achat lui donnant droit au service de
garantie. Les concessionnaires ou les détaillants des
produits Pelstar n'ont pas le droit de modifier ou de
changer les termes et conditions de cette garantie.
Ce que la garantie ne couvre pas.
Votre garantie ne couvre pas une usure normale des
pièces ou un dommage résultant des éléments
suivants: négligence ou mauvais usage du produit,
branchement sur un courant ou un voltage non
approprié, usage non conforme au mode d'emploi,
abus comprenant le fait de trifouiller l'appareil, le
dommage occasionné pendant le transport, les
réparations alternance sans autorisation. De plus, la
garantie ne couvre pas les catastrophes naturelles
comme l'incendie, l'inondation, l'ouragan et la tornade.
Cette garantie vous donne des droits légitimes
spécifiques. Le client peut également bénéficier de
certains autres droits qui varient selon les pays, les
états, les provinces ou les juridictions.
Pour obtenir un service de garantie
Assurez-vous d'avoir conservé votre reçu ou tout
autre document prouvant votre achat.
Appelez le 1 (800) 638-3722 ou le 1 (708) 598 – 9100
pour recevoir un numéro d'autorisation de renvoi.
Joignez votre preuve d'achat au produit défectueux en
indiquant vos nom, adresse, numéro de téléphone dans
la journée, et en donnant une description du problème.
Emballez soigneusement le produit et envoyez-le avec
port et assurance payés d'avance à:
Pelstar LLC
Pelstar LLC
Attention R/A#_____________
Atención R/A#_____________
Repair Department
Departamento de Reparación
7400 W. 100th Place
7400 W. 100th Place
Bridgeview, IL 60455
Si su balanza no está cubierta por garantía, o ha sido
dañificada, un presupuesto de los costos de reparación
o reemplazo será proveído a usted para aprobación
antes del mantenimiento o reemplazo.
Bridgeview, IL 60455
Si votre pèse-bébé n'est pas couvert par la garantie, ou
a été endommagé, une estimation des frais de
réparation ou de remplacement sera soumise à votre
approbation avant l'exécution de la réparation ou du
remplacement.
6
7400 West 100th Place, Bridgeview IL 60455 • 1-800-815-6615
www.healthometermedical.com
Health o meter® is a registered trademark of Sunbeam Products Inc., Boca Raton, FL 33431
Health o meter® Professional products are manufactured, designed and owned by Pelstar LLC.