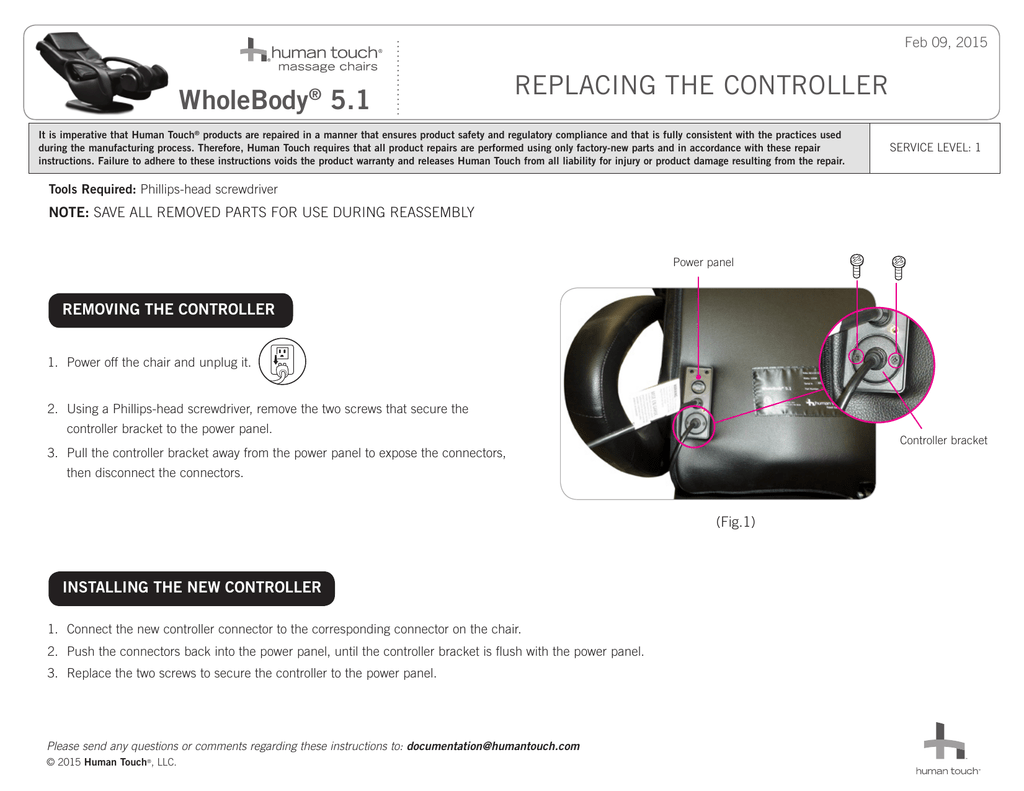 Feb 09, 2015
WholeBody® 5.1
REPLACING THE CONTROLLER
It is imperative that Human Touch® products are repaired in a manner that ensures product safety and regulatory compliance and that is fully consistent with the practices used
during the manufacturing process. Therefore, Human Touch requires that all product repairs are performed using only factory-new parts and in accordance with these repair
instructions. Failure to adhere to these instructions voids the product warranty and releases Human Touch from all liability for injury or product damage resulting from the repair.
SERVICE LEVEL: 1
Tools Required: Phillips-head screwdriver
NOTE: SAVE ALL REMOVED PARTS FOR USE DURING REASSEMBLY
Power panel
REMOVING THE CONTROLLER
1. Power off the chair and unplug it.
2. Using a Phillips-head screwdriver, remove the two screws that secure the
controller bracket to the power panel.
Controller bracket
3. Pull the controller bracket away from the power panel to expose the connectors,
then disconnect the connectors.
(Fig.1)
INSTALLING THE NEW CONTROLLER
1. Connect the new controller connector to the corresponding connector on the chair.
2. Push the connectors back into the power panel, until the controller bracket is flush with the power panel.
3. Replace the two screws to secure the controller to the power panel.
Please send any questions or comments regarding these instructions to: [email protected]
© 2015 Human Touch®, LLC.

* Your assessment is very important for improving the work of artificial intelligence, which forms the content of this project