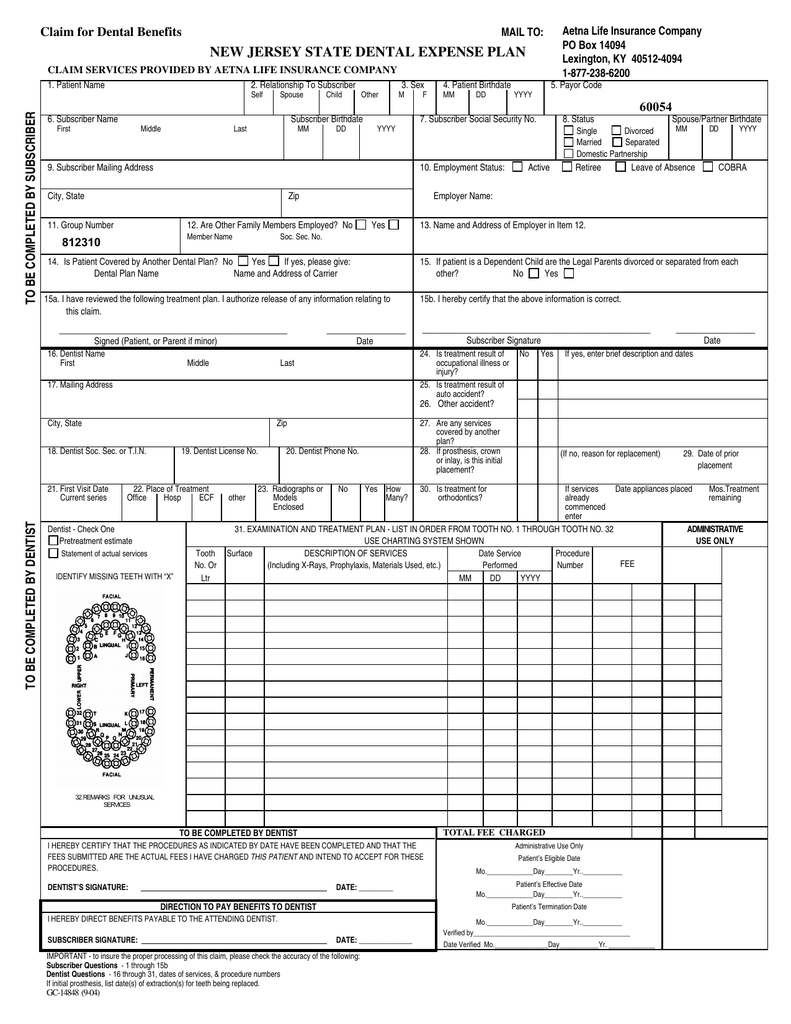 Claim for Dental Benefits
Aetna Life Insurance Company
PO Box 14094
Lexington, KY 40512-4094
1-877-238-6200
MAIL TO:
NEW JERSEY STATE DENTAL EXPENSE PLAN
CLAIM SERVICES PROVIDED BY AETNA LIFE INSURANCE COMPANY
1. Patient Name
2. Relationship To Subscriber
TO BE COMPLETED BY SUBSCRIBER
Self
Spouse
3. Sex
Child
Other
M
F
4. Patient Birthdate
MM
DD
5. Payor Code
YYYY
60054
6. Subscriber Name
Subscriber Birthdate
First
Middle
MM
Last
7. Subscriber Social Security No.
DD
YYYY
9. Subscriber Mailing Address
Zip
11. Group Number
Retiree
Leave of Absence
DD
YYYY
COBRA
Yes
13. Name and Address of Employer in Item 12.
Soc. Sec. No.
14. Is Patient Covered by Another Dental Plan? No
Yes
If yes, please give:
Dental Plan Name
Name and Address of Carrier
15. If patient is a Dependent Child are the Legal Parents divorced or separated from each
Yes
other?
No
15a. I have reviewed the following treatment plan. I authorize release of any information relating to
this claim.
_________________________________________________
_________________
Signed (Patient, or Parent if minor)
16. Dentist Name
First
Active
MM
Employer Name:
12. Are Other Family Members Employed? No
Member Name
812310
Spouse/Partner Birthdate
Single
Divorced
Married
Separated
Domestic Partnership
10. Employment Status:
City, State
8. Status
15b. I hereby certify that the above information is correct.
_________________________________________________
Middle
24. Is treatment result of
occupational illness or
injury?
25. Is treatment result of
auto accident?
Last
17. Mailing Address
_________________
Subscriber Signature
Date
No
Yes
Date
If yes, enter brief description and dates
26. Other accident?
City, State
Zip
18. Dentist Soc. Sec. or T.I.N.
TO BE COMPLETED BY DENTIST
21. First Visit Date
Current series
19. Dentist License No.
22. Place of Treatment
Office
Hosp
ECF
Dentist - Check One
Pretreatment estimate
Statement of actual services
IDENTIFY MISSING TEETH WITH "X"
Tooth
No. Or
Ltr
27. Are any services
covered by another
plan?
28. If prosthesis, crown
or inlay, is this initial
placement?
20. Dentist Phone No.
No
Yes How
Many?
30. Is treatment for
orthodontics?
MM
DD
YYYY
32. REMARKS FOR UNUSUAL
SERVICES
TOTAL FEE CHARGED
TO BE COMPLETED BY DENTIST
I HEREBY CERTIFY THAT THE PROCEDURES AS INDICATED BY DATE HAVE BEEN COMPLETED AND THAT THE
FEES SUBMITTED ARE THE ACTUAL FEES I HAVE CHARGED THIS PATIENT AND INTEND TO ACCEPT FOR THESE
PROCEDURES.
DENTIST'S SIGNATURE:
DATE: _________
DIRECTION TO PAY BENEFITS TO DENTIST
DATE: ______________
IMPORTANT - to insure the proper processing of this claim, please check the accuracy of the following:
Subscriber Questions - 1 through 15b
Dentist Questions - 16 through 31, dates of services, & procedure numbers
If initial prosthesis, list date(s) of extraction(s) for teeth being replaced.
GC-14848 (9-04)
Administrative Use Only
Patient's Eligible Date
Mo._____________Day________Yr..___________
Patient's Effective Date
Mo._____________Day________Yr..___________
Patient's Termination Date
I HEREBY DIRECT BENEFITS PAYABLE TO THE ATTENDING DENTIST.
SUBSCRIBER SIGNATURE:
29. Date of prior
placement
If services
Date appliances placed
Mos.Treatment
already
remaining
commenced
enter
ADMINISTRATIVE
31. EXAMINATION AND TREATMENT PLAN - LIST IN ORDER FROM TOOTH NO. 1 THROUGH TOOTH NO. 32
USE ONLY
USE CHARTING SYSTEM SHOWN
Surface
DESCRIPTION OF SERVICES
Date Service
Procedure
FEE
(Including X-Rays, Prophylaxis, Materials Used, etc.)
Performed
Number
other
23. Radiographs or
Models
Enclosed
(If no, reason for replacement)
Mo._____________Day________Yr..___________
Verified by____________________________________________
Date Verified Mo._______________Day___________Yr. _____________
NEW JERSEY STATE DENTAL EXPENSE PLAN
CLAIM INSTRUCTIONS
Warning: It is a crime to provide false or misleading information to an insurer for the purpose of defrauding the insurer or any
other person. Penalties include imprisonment and/or fines. In addition, an insurer may deny insurance benefits if false information
materially related to claim was provided by the applicant.
NOTE: INCOMPLETE CLAIM FORMS WILL BE RETURNED TO YOU FOR MISSING INFORMATION. THIS WILL DELAY PAYMENT
OF YOUR CLAIM.
TO THE SUBSCRIBER
1.
Complete items one (1) through fifteen (15) in full. Be certain to sign the authorization to release information block and the
certification block (15a and 15b).
2.
If you wish to have your benefits for this claim paid directly to your dentist, sign the "Direction to pay benefits to dentist" block
located below the dentist certification.
If total charges for the planned course of treatment are expected to exceed the minimum Predetermination dollar amount stated
in your dental plan booklet, it is suggested that you file for Predetermination of Benefits. Aetna will notify your dentist of the
benefits payable.
NOTE: YOUR DENTAL COVERAGE IS SUBJECT TO SPECIFIC LIMITATIONS AND EXCLUSIONS. PLEASE REFER TO YOUR
DENTAL BOOKLET FOR A DESCRIPTION OF COVERED EXPENSES, DEDUCTIBLES, COINSURANCE INFORMATION, AND
LIMITATIONS AND EXCLUSIONS.
TO THE DENTIST
1.
COMPLETED SERVICES ⎯ Check the box noted "STATEMENT OF ACTUAL SERVICES" and complete items 16 through 31.
When entering the treatment plan on the form, please indicate a separate fee for each individual service rendered. When the
work is finished, sign the form and mail to the address shown in the upper right hand corner of the reverse side of this form.
2.
PREDETERMINATION OF BENEFITS ⎯ If total charges for this claim are to exceed the minimum Predetermination dollar
amount indicated in the subscriber's Dental Plan Booklet (and treatment is not emergency in nature), Predetermination of
Benefits is suggested. Check the box marked "PRETREATMENT ESTIMATE", and complete items 16 through 31. Please be
sure to answer questions 28 and 29 if the claim includes metal restorations, crowns, bridgework or dentures.*
The completed form should be sent to the address shown in the upper right hand corner of the reverse side of this form. Aetna
will notify you of the benefits payable for this course of treatment.
When treatment has been completed, fill in the date each service was provided, sign the form and return to the address shown
in the upper right hand corner of the reverse side of this form for payment.
NOTE: PREDETERMINATION OF BENEFITS IS INTENDED TO AVOID MISUNDERSTANDINGS BETWEEN THE SUBSCRIBER,
DENTIST AND INSURANCE COMPANY CONCERNING BENEFITS PAYABLE. YOU AND YOUR PATIENT ARE, OF COURSE, FREE
TO PURSUE ANY TREATMENT PLAN YOU THINK BEST.
3.
If the subscriber indicates that benefits should be paid directly to the dentist, then these benefits will be sent directly to you with
an information copy of the transaction to the subscriber.
*X-rays taken for metal restorations and crowns should be submitted with treatment plan. They may also be requested for other
services. X-rays will be reviewed and returned promptly.

* Your assessment is very important for improving the work of artificial intelligence, which forms the content of this project