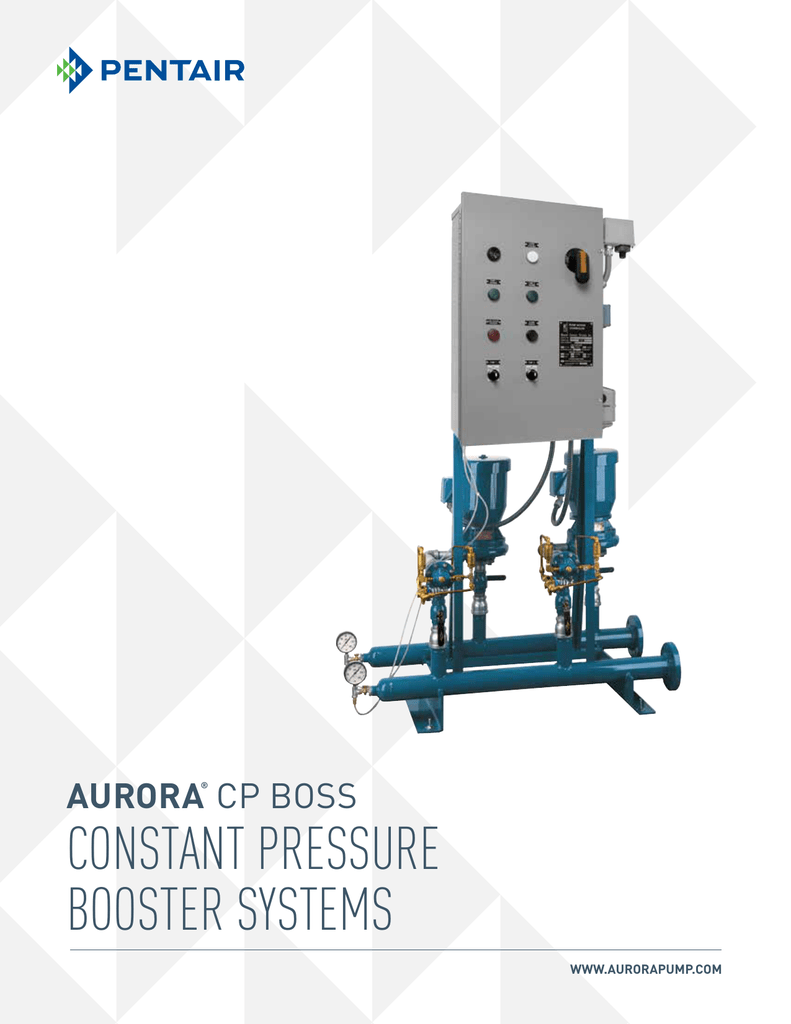 AURORA cp boss
®
CONSTANT PRESSURE
BOOSTER SYSTEMS
WWW.AURORAPUMP.COM
CONSTANT PRESSURE BOOSTER SYSTEMS
AURORA CP BOSS
®
Constant Pressure Booster Systems
Capacities to 1200 GPM (272.5 M3 /HR)
Pressures to 175 psi (123 M)
Potable Water Application
Constant Pressure Pumping Introduction
CP Boss, Aurora's packaged constant pressure booster systems are designed to meet the ever increasing demand of variable flows in high-rise,
commercial, municipal and industrial buildings. These PLC based systems are available in horizontal and vertical configurations. Easy to select
and install, pre-engineered duplex and triplex units are available for quick delivery. Each system is performance tested for trouble free operation
and ease of installation and start-up.
Feature Selector
Standard Features
Optional Features
•UL labeled pressure sensing
control panel
•ASME rated steel bladder tank
•PLC pump sequence controller
•Galvanized, copper or stainless
steel headers
•Duplex or triplex
•Vertical stackable pumps
•Vertical or horizontal configurations
•Special control panels
•Cast iron, bronze fitted
centrifugal pumps
•High efficiency motors
•Steel manifolds
•Complete factory test
•Pilot operated pressure
regulating valves
•Maximum pressure up to 175 psi,
maximum flows up to 1200 GPM
• Single source responsibility
2
Packaged Constant Pressure Booster Systems described in this bulletin
are used in offices and high rise buildings.
CONSTANT PRESSURE BOOSTER SYSTEMS
Pump Features
B
A
C
A.
Completely Assembled
and prewired for easy installation.
B.
Pressure Sensing Control Panel
D
H
The programmable controller incorporated into the UL listed NEMA 1 Control Panel
readily allows for the addition of optional control functions and alarm features.
E
C.Systems
D.
feature Aurora 340 Series centrifugal end-suction pumps in bronze-fitted
construction.
• Bronze shaft sleeve prevents shaft wear and extends the entire length of the
seal box. Sleeve and impeller screw are sealed by o-ring gaskets to eliminate
corrosion of the shaft by the liquid being pumped.
• Mechanical seal has carbon against a ceramic face for optimum water
performance. Long life is also assured with 303 stainless steel metal parts
and Buna-N elastomers.
• Back pull-out design simplifies disassembly. Suction and discharge piping is
not disturbed and /or misaligned when servicing pumps. Standard motor
approved by a joint NEMA and the Hydraulic Institute provides low noise level
pump operation. Carbon steel motor shaft is designed for minimum
deflection not to exceed .002" at seal faces when at maximum load. Bearings
are selected for a long service life under severe operating conditions.
• Dynamically balanced impeller is keyed to the shaft. Quality controlled
manufacturing process assures consistently high performance. Enclosed
design provides highest efficiency and is vacuum cast. A case wear ring
prevents wear on the pump casing and is easily and inexpensively replaced
as necessary.
F
E.
are located on suction and discharge manifold.
F.
Steel Manifolds
G.
WWW.AURORAPUMP.COM
G
Pressure Gauges
are painted Aurora blue for corrosion resistance and to meet various local codes.
Flanged connections provide easy installation. All piping is schedule 40.
Welded Groutable Steel Base
provides complete support while still allowing the unit to be readily maneuvered
for installation.
H.
Full-Port Ball Valves
I.
provided on each pump suction and discharge branch will allow individual pumps
to be serviced without interrupted operation.
Thermal Relief Valve
is installed in pump casing to prevent overheating and pump failure. The valve will
automatically sense the rise in temperature and discharge some of the hot fluid
causing the cooler fluid to enter the casing and the valve will then close.
J.
Hydropneumatic Pressure Tank
Pressure Reducing
valves automatically reduce higher inlet pressure to a constant downstream
pressure regardless of changing flow rate or inlet pressure. Pilot control settings
are readily accessable and are easy to adjust. Return flow is prevented through
built in check valves. For some applications where constant discharge pressure
is not critical or where suction pressure is relatively constant as with a reservoir,
silent check valves may be substituted for pressure reducing valves.
I
(not illustrated) can be optionally provided to maintain system pressure during
periods of low demand. Depending on specific application, the tank can be located
adjacent to the system in the equipment room, remotely located, or mounted with
the system on the common baseplate.
3
CONSTANT PRESSURE BOOSTER SYSTEMS
Pump and System Selection
All packaged booster systems have a desired discharge pressure and a given suction pressure from the city water system, or from a suction
tank. Individual pump boost pressure is usually the system boost plus the friction losses within the booster system pipe, fittings, and pressure
reducing valves. Individual pump flow is usually two equal sized pumps on a duplex system, and a percentage such as 20% + 40% + 40% =
100% for a triplex system. Determine the system flow and boost as well as individual pump flow and boost.
1) Total system flow in GPM______________
(See Chart Below)
Determine required flow per pump in GPM
C: Determine Flow Losses based on PRV Size__________Ft.
(Total system flow ÷ No. of pumps)
P1______________
P1______________
P1______________
2) Determine system manifold size
0 – 250 GPM
3"
0 – 450 GPM
4"
0 – 1200 GPM
6"
3) Determine pump head (TDH)
A: Desired pressure at system discharge manifold
_______psig
B: Minimum pump suction pressure________psig
(City supply or tank)
Determine PRV size(s)
4
PUMP
FLOW
50 GPM
70 GPM
110
GPM
150
GPM
275
GPM
400
GPM
PRV
SIZE
1-1/4"
1-1/2"
2"
2-1/2"
3"
4"
Calculate Required Pump TDH: [ A - B ] x 2.31 + C
[ (A)____psig -____(B) psig ] x 2.31 +____(C) ft. =____ft.
Indivdual Pump Duty Points:
P1 ____________GPM @____________ft. TDH
P2 ____________GPM @____________ft. TDH
P3 ____________GPM @____________ft. TDH
4) Select required pumps and motors using Aurora H2Optimize
or the current Aurora Pump catalog
CONSTANT PRESSURE BOOSTER SYSTEMS
Performance Data
WWW.AURORAPUMP.COM
5
CONSTANT PRESSURE BOOSTER SYSTEMS
Model Diagrams
VERTICAL DUPLEX
VERTICAL TRIPLEX
6
CONSTANT PRESSURE BOOSTER SYSTEMS
Model Diagrams
HORIZONTAL DUPLEX
HORIZONTAL TRIPLEX
WWW.AURORAPUMP.COM
7
Engineering Specifications
The contractor shall furnish and install an Aurora variable
flow (duplex or triplex) constant pressure booster system as
manufactured by Aurora Pump. The unit shall have a total system
capacity of___GPM at a discharge head of___feet when supplied
with a working suction head of___feet. Each pump shall be sized
as indicated for a % of the total flow.
Duplex System
PumpP1 =……..GPM……..%System
PumpP2 =……..GPM……..%System
Triplex System
PumpP1 =……..GPM……..%System
PumpP2 =……..GPM……..%System
PumpP3 =……..GPM……..%System
Piping and Valves
Each system shall be skid mounted, completely assembled and
wired on a groutable steel base ready for installation. All piping
shall be schedule 40 steel pipe. Each system shall include suction
and discharge ball valves for each pump suction and discharge,
combination pressure regulating /non-slam check valves for each
pump, flanged connections for easy installation and pipe supports
for the upper manifold. Suction and discharge pressure gauges
shall be provided. Gauges shall have 3-1/2" faces with large scale
numerals and individual air bleed type valves.
Pumps
The pumps shall be Aurora horizontal or vertical close-coupled
end suction centrifugal pumps with back pullout design. The
pump shall be constructed of cast iron casing, bronze dynamically
balanced impeller, bronze shaft sleeves, and bronze case wear
rings. Shaft sealing shall be accomplished by means of a stainless
steel mechanical seal.
Control Panel-Pressure Sensing
Each system shall have a mounted and wired UL Listed NEMA I
control panel with individual magnetic motor starters, ambient
compensated overload relays on each phase, individual motor
fuseblocks with fuses, main circuit disconnect switch with door
interlock, 110 volt control transformer with primary and secondary
fuses. The panel shall be suitable for the horsepower and voltage
of the motors. The control panel will incorporate a programmable
logic controller with pressure-sensing logic and have the
following features:
• On and off delays factory set to system operating characteristics
to prevent short cycling of pumps.
•Individual pump run lights and selector switches
•Failure logic and indicating light to activate second pump if
lead pump malfunctions.
•Automatic Lead/Lag pump alternation
•Low suction pressure shutdown with alarm light, horn and
reset button.
Testing
The entire system shall be tested at the factory to assure proper
sequencing to meet the design flows and pressure; and the system
components shall be adjusted at the factory.
Services
The pump manufacturer shall assume unit responsibility and shall
provide a factory trained engineer to supervise initial start-up to
insure proper operation and to instruct the operating personnel in
the operation and maintenance of the system.
Motors
UT
LIC
E
HY
IT
Because we are continuously improving our products and services, Pentair reserves the right to change specifications without prior notice.
A-02-1032 03/22/13 © 2013 Pentair Ltd. All Rights Reserved.
ISO 9001
ST
DR
AU
IN
19 17
800 AIRPORT ROAD, NORTH AURORA, ILLINOIS 60542 WWW.AURORAPUMP.COM
ST
EGI
ER E D Q U
TY SYSTEM
ALI
R
The motors shall be NEMA type JM, closed coupled, ___hp, 3
phase, 60 hertz, ___volt, ODP, high-efficiency. Motors shall be
selected so that they do not exceed their nameplate hp rating
through their entire range of operation.

* Your assessment is very important for improving the work of artificial intelligence, which forms the content of this project