Projectiondesign F3 XGA-6 User manual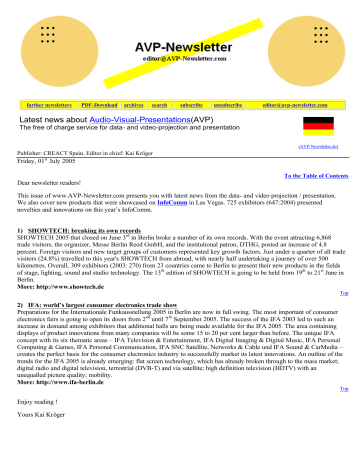 further newsletters
PDF-Download
archives
search
subscribe
unsubscribe
[email protected]
Latest news about Audio-Visual-Presentations(AVP)
The free of charge service for data- and video-projection and presentation
(AVP-Newsletter.de)
Publisher: CREACT Spain, Editor in chief: Kai Kröger
Friday, 01st July 2005
To the Table of Contents
Dear newsletter readers!
This issue of www.AVP-Newsletter.com presents you with latest news from the data- and video projection / presentation.
We also cover new products that were showcased on InfoComm in Las Vegas. 725 exhibitors (647:2004) presented
novelties and innovations on this year's InfoComm.
1) SHOWTECH: breaking its own records
SHOWTECH 2005 that closed on June 3rd in Berlin broke a number of its own records. With the event attracting 6,868
trade visitors, the organizer, Messe Berlin Reed GmbH, and the institutional patron, DTHG, posted an increase of 4.8
percent. Foreign visitors and new target groups of customers represented key growth factors. Just under a quarter of all trade
visitors (24.8%) travelled to this year's SHOWTECH from abroad, with nearly half undertaking a journey of over 500
kilometres. Overall, 309 exhibitors (2003: 270) from 23 countries came to Berlin to present their new products in the fields
of stage, lighting, sound and studio technology. The 13 th edition of SHOWTECH is going to be held from 19th to 21st June in
Berlin.
More: http://www.showtech.de
Top
2) IFA: world's largest consumer electronics trade show
Preparations for the Internationale Funkausstellung 2005 in Berlin are now in full swing. The most important of consumer
electronics fairs is going to open its doors from 2nd until 7 th September 2005. The success of the IFA 2003 led to such an
increase in demand among exhibitors that additional halls are being made available for the IFA 2005. The area containing
displays of product innovations from many companies will be some 15 to 20 per cent larger than before. The unique IFA
concept with its six thematic areas – IFA Television & Entertainment, IFA Digital Imaging & Digital Music, IFA Personal
Computing & Games, IFA Personal Communication, IFA SNC Satellite, Networks & Cable und IFA Sound & CarMedia –
creates the perfect basis for the consumer electronics industry to successfully market its latest innovations. An outline of the
trends for the IFA 2005 is already emerging: flat screen technology, which has already broken through to the mass market;
digital radio and digital television, terrestrial (DVB-T) and via satellite; high definition television (HDTV) with an
unequalled picture quality; mobility.
More: http://www.ifa-berlin.de
Top
Enjoy reading !
Yours Kai Kröger
Headlines
1) SHOWTECH: breaking its own records
2) IFA: world's largest consumer electronics trade show
3) Projectiondesign: F3 now featuring XGA
4) Christie: new DW30 DLP projector
5) Panasonic: micro portable PT-LB20VE projector
6) Toshiba: T40 XGA projector
7) EPSON: mobile EMP-760 and EMP-765 projectors
8) BenQ: PB8260 projector with wireless presenter
9) Canon LV-S4: ultra compact multimedia projector
10) HP: new digital projectors in the VP 6300 series
11) Optoma: New Optoma EP729 Projector
12) Kindermann KWD 120 H – a true 16:9 home cinema projector
13) TI: DLP™ technology splashes new colours into display world
14) Da-Lite: Sixteen Foot flexible Front and Rear Projection Fabrics
15) dnp: SuperNova Screen
16) Screen-Tech: front- and rear projection screens up to 100"
17) Projecta: New large projection screen and service concept
18) Media Vision: media event innovation "mobile Eventvision21"
19) sax3d.com: HOPS.® on InfoComm
20) Mauell GmbH: large screen rear projection
21) TAC: Airscreen in U.S.
22) LANG AG: investing in Hibino 3mm LED modules
23) CL-Group: 80 different plasma sizes in stock
24) ict: Seamless plasma displays on offer
25) NEC Display Solutions: NEC LCD4610 is now fully available
26) V7 Videoseven: three new models
27) NEC: DVB-T receiver and high resolution plasma displays
28) Toshiba: three LCD-TV news
29) cinemateq: The WXGA Plasma CT-50 HD
30) JVC: 60 inch Full HD resolution
31) Samsung: presenting professionally with the PPM42M5S
32) TLS: new MatrixSwitcher
33) HTS: new centralized control system set (MC-C1)
34) Analog Way: New range of Scalers
35) Bitlogix: New Software release of NetControl
36) Comm-Tec: Samsung Presenter UF-80ST
37) SMART: 17-inch Sympodium DT770
38) Sony: video conferencing systems support Cisco CallManager
39) Polycom: ReadiSeries - state-of-the-art IP infrastructure
40) Extron: All-New INTEGRATOR Speaker Series
41) Artcoustic: Bounce-One the Artcoustic in-ceiling speaker
42) ISE: Sony returns to ISE 2006 by signing up as platinum sponsor
43) InFocus: InFocus - TCL joint venture receives approval
44) SANYO: networking components
45) Alcatel and Polycom cooperate
46) Chief: New Europe office in Amsterdam
To the main menu
3) Projectiondesign: F3 now featuring XGA
Based on the high-quality F3 SXGA+ model
Projectiondesign now offers an inexpensive XGA (1024 x
768 pixels) model. The device was designed for both rental
staging markets and 24/7 fixed installations. These very
rugged, highly reliable Norwegian single chip DLP projectors
are characterized by the patented DuArch TM Dual
Architecture Illumination System featuring 2 lamps and 2
colour wheels, 5500 lumens brightness, 6 different optics,
network-enabled and 30dB operation noise level.
More: http://www.projectiondesign.com
Top
4) Christie: new DW30 DLP projector
At InfoComm in Las Vegas, Christie has introduced the
Christie DW30 DLP™ projector, a powerful new addition to
the widescreen projection market. Featuring the latest 720p
DLP technology and dual 300W lamps, the Christie DW30
offers performance and versatility for virtually all widescreen
applications, including houses of worship, boardrooms and
training rooms. The Christie DW30 delivers up to 3,000
lumens in dual lamp mode. A sharp 1280x720 resolution, up
to 5000:1 contrast ratio, and 10-bit image processing ensure
crisp images and perfect colour saturation. Built-in edge
blending and optional image warping allow images to be
displayed on screens and objects of almost any
shape. Featuring an on-board HDCP-compliant DVI
interface, optional input modules including HD15, HD-SDI,
and SDI, the Christie DW30 is compatible with virtually any
source, from VGA through QXGA and all current HDTV
formats including 720p and 1080i. A full suite of optional
lenses from short-throw to long-throw allow for projector
placement almost anywhere. The Christie DW30 is also fully
network-enabled, with integrated ChristieNET™ connectivity
that provides a higher level of monitoring and control from
anywhere in the world.
More: http://www.christiedigital.co.uk
alphabetical index of companies:
Analog Way (34), Artcoustic (41), BenQ( 8), Bitlogix (35), Canon (9),
Chief (46), Christie (4), cinemateq (29), CL-Group (23), Comm-Tec (36),
Da-Lite (14), dnp (15), EPSON (7), Extron (40), HP (10), HTS (33), ict
(24), Ifa-Berlin (2), InFocus (43), ISE (42), JVC (30), Kindermann (12),
Lang-AG (22), Mauell (20), Media Vision (18), NEC (27), NEC-DisplaySolutions (25), Optoma (11), Panasonic (5), Polycom (39) (45), Projecta
(17), Projectionesign (3), Samsung (31), SANYO (44), Sax3d.com (19),
Screen-Tech (16), Showtech (1), SMART (37), Sony (38), TAC (21), TI
(13), TLS (32), Toshiba (6) (28), Videoseven (26),
Top
5) Panasonic: micro portable PT-LB20VE projector
The PT-LB20VE is a new projector in the PT-LB20 series. This micro portable XGA projector is designed to be used
flexibly in both large and small rooms and under changing light conditions. The PT-LB20VE is characterized by a
brightness of 1600 lumens. It is equipped with daylight view technology allowing for optimum true colours both in bright
and dark environments. Daylight view allows for presentations that are given under daylight conditions. All projectors in
the PT-LB20 series are characterized by a 2 second quick start function and digital vertical keystone correction. Thanks to
their light weight and compact design in DIN A4 format these projectors represent the perfect mobile projection solution.
More: http://www.panasonic-europe.com
Top
6) Toshiba: T40 XGA projector
Toshiba Projection & Display Technology (PDT) has enhanced its product portfolio by
the T40, an inexpensive XGA business projector featuring a brightness of 1800 lumens.
High brightness guarantees optimum image quality even under adverse light conditions.
Thanks to DLP technology a contrast ratio of 2000:1 allows for pin sharp projections. The
T40 projects charts, graphics, photos and text documents with a resolution of 1024 x 768
directly onto the screen. Even higher resolutions do not cause any problems since the T40
business projector can process comprised SXGA or UXGA. Thanks to its 3.0 kg weight in
applications the projector is highly mobile. Flexibility is even more increased by different
image modes and various connection possibilities. A 33 dB operation noise level makes this projector an easy and quit
"player" at all times. Brightness can be increased by switching to the high brightness mode.
More: http://www.toshiba.de/projectors
Top
7) EPSON: mobile EMP-760 and EMP-765 projectors
The Epson EMP-760 and EMP-765 projectors offer maximum flexibility and mobility and are therefore ideally dedicated to
mobile applications. Weighing only 1.7kg resp. 1.8kg (Epson EMP-760/765) and supplied with a compact, stylish carrying
case these 3LCD projectors are the perfect travel companions. A laptop is redundant in presentations. Presentations can
easily be saved on a memory card. The card is then connected to the USB input. Powered by 3LCD technology, the Epson
projectors can project natural and clear images in the lightest room. Thanks to the innovative Epson E-TORL technology a
bright projection of 2500 ANSI lumens is provided. A projected image will also be perfect in any sized room. Even in a
small meeting room users will be able to project a 60" screen from a distance of only two meters. When users are on the
move, peace of mind is ensured because ease-of-use and Epson's high reliability are designed in to the EMP-760 and EMP765. All that is needed to set up the projectors is to plug them in, connect a source and within seconds users are ready to
present. The projected image is instantly aligned thanks to automatic keystone correction, and the projection level can be
easily adjusted using the single foot release lever.
More: http://www.epson-europe.com
Top
8) BenQ: PB8260 projector with wireless presenter
BenQ has enhanced its portfolio in the business segment by the BenQ PB8260 high performance projector. Thanks to a
wireless presenter function the projector can be controlled comfortably wireless and is thus highly applicable in large rooms
such as conference halls and education facilities. WLAN enabled wireless transmission of PowerPoint presentations with
IEEE 802.11b WLAN standard is possible. True XGA resolution and high brightness 3500 lumens make the PB8260 one of
the brightest single chip DLP projectors on the market. Therefore, it is perfectly suitable for professional multimedia
presentations. Thanks to a contrast ratio of 2000:1 images, charts and videos are presented pin sharp on the screen. In
supporting all common video signals as well as various connection possibilities the BenQ PB8260 guarantees high
flexibility. Users are always mobile during presentation and can move freely in the conference room thanks to a remote
control that controls the single functions.
More: http://www.benq-eu.com
Top
9) Canon LV-S4: ultra compact multimedia projector
Following the LV-S3, Canon presents the LV-S4, a new ultra compact entry-level
projector. With a weight of only approx. 2.3 kg and a stand that is smaller then A4 the
LV-S4 is as handy and mobile as a laptop. Thanks to the use of two aspherical lenses in
the 1.2 wide angle zoom lens the lens size could be reduced. This allows for both
excellent image quality and natural colours. Featuring 1500 lumens projections are even
possible in daylight. The SVGA resolution (800 x 600 pixels) offers projections that,
thanks to Progressive Scanning, are characterized by clear movements and text as well as stageless diagonal lines without
any flickering. Incoming signals in common interlaced scanning are easily converted to Progressive Scanning. This is to
optimize the image both moving images and photos. At a throwing distance of mere 3.2 m the LV-S4 projects a 2.5 m
image diagonal. Vertical keystone correction adjusts distortions that can occur when the projector needs to be positioned in
a tilted angle. The LV-S4 entry-level model is equipped with RGB output. The LV-S4 is characterized by comfortable and
easy handling. An easy to understand remote control controls the projector's functions. The clearly laid out menu is
available in twelve languages. Automatic Multi Scan System (AMSS) and Auto PC set up the LV-S4 automatically just as
the incoming signal requires. The LV-S4 will be available as from mid July.
More: http://www.canon-europe.com
Top
10) HP: new digital projectors in the VP 6300 series
The new HP VP 6300 digital projector series is a bright double. Both models in the new series, VP6311 and VP6321, offer
various application possibilities, compact design and professional performance. The inexpensive devices are designed for
applications in public facilities, companies and in the education sector and they are also suitable for sophisticated home
cinema enthusiasts. Thanks to their light 3.5 kg weight and the integrated handle both VP6311 and VP6321 are easily
portable and thus universally useable. The VP6321 presents crystal clear projections at a contrast ratio of 2500:1, brightness
levels of up to 2000 lumens and a XGA resolution of 1024 x 768. The VP 6311 offers a performance package featuring
SVGA resolution (800 x 600), 1600 lumens as well as a contrast ratio of 2000:1. The HP VP6300 digital projector series is
replacing the HP VP6200 series.
More: http://www.hp.com
Top
11) Optoma: New Optoma EP729 Projector
Optoma Europe announces the launch of the diminutive DLP™ EP729. Skilfully crafted into a tiny, stylish package that can
easily be stowed in a briefcase or handbag, this Projector is one of the brightest and sharpest in its class. The exceptionally
punchy picture quality is due to a light output of 1600 lumens, XGA resolution and 2200:1 contrast ratio. The high
resolution is particularly useful when presenting spreadsheets or other detailed information. Designed for people on the
move, the projector features automatic setup and a remote projector control with LASER pointer and remote mouse.
Complete control of the projector and PC is available from one simple handset. After the show, only ten seconds of fan
cooling is required, before the projector can be safely stowed in the stylish padded bag that comes as standard. Other
notable features are 4000 hours lamp life to keep cost of ownership to a minimum and a SCART/RGB adapter for pristine
video quality.
More: http://www.optomaeurope.com
Top
12) Kindermann KWD 120 H – a true 16:9 home cinema projector
Kindermann has presented the KWD 120 H, its first true home cinema projector in 16:9. In
combining latest DLP technology this projector is the ideal home cinema solution. It realizes
professional yet simple movie presentations at home and in small rooms. Thanks to a new
video processing processor the usual semi-images that appear with video- and DVD
representation on TV are converted to full images for maximum video resolution. High
brightness of 1200 lumens, a contrast ratio of 2000:1 as well as excellent colour depth allow
for excellent image quality. The fan noise is whisper silent in 30db eco mode so that even
quit movie scenes are not disturbed. The resolution is WVGA (854 x 480 pixels), however, the projector also supports
computer data in VGA, SVGA and XGA. Naturally, presentations from a PC source in 4:3 are also possible. The KWD 120
H has not only manual but also optical keystone correction. A component video- and VGA-input allows for connecting
DVD players with progressive scan output. With the help of the Kindermann ceiling mount K-Vario Home Cinema CT the
device can be mounted easily under the ceiling. The projector comes with a line cord, composite-, video-, S-video, audio
cable, bag and IR remote control.
More: http://www.kindermann.de
Top
13) TI: DLP™ technology splashes new colours into display world
Texas Instruments at InfoComm in Las Vegas introduced its BrilliantColor™ technology, a colour-processing enhancement
that builds upon DLP™ technology's existent rich colour offering by increasing colour depth in DLP projectors with up to
6-color processing. The move beyond 3-color processing is a step that enables DLP customers to deliver an even more
powerful image and video viewing experience. BrilliantColor™ for DLP technology utilizes a new colour-processing
algorithm and system level enhancements to enable higher picture brightness while providing truer, more vibrant colours.
Enabling a greater than 50% brightness increase in mid tone images, common in video and natural scenes, BrilliantColor™
will be available in both business and home entertainment projectors with SVGA, XGA, 720p, WXGA, and SXGA+
resolution. Through greater flexibility in colour processing, customers can expand beyond the red, green, and blue colour
palette and include yellow, magenta and cyan, which allow for more realistic and lifelike colour reproduction. In addition, at
InfoComm 2005 Texas Instruments presented a .65 WXGA, 1280x 768 resolution DLP™ chipset. This adds to the growing
number of chipset offerings available to DLP customers that allow increased differentiation in the market. Manufacturers
can design and market front projection products around SVGA, XGA, WXGA, SXGA+, 480p, 576p and 720p DLP
chipsets.
More: http://www.dlp.com
Top
14) Da-Lite: Sixteen Foot flexible Front and Rear Projection Fabrics
The Da-Lite Screen Company, Inc. announced at InfoComm the expansion of available
sizes for seamless flexible projection screen surfaces for both front and rear projection.
Da-Mat™ and Da-Tex™ are now available seamless in sizes up to sixteen feet, where
previously the maximum dimension was twelve feet. "Sixteen foot seamless fabric that is
foldable marks a quantum leap for our rental and staging and large venue customers,"
said Tim Henson, Executive Vice President of Da-Lite. The new sixteen foot seamless fabric can be folded for storage and
transport and does not require the fabric to be rolled. "Adding front and rear projection flexible fabrics in this size sends a
strong message to our dealers that we're responsive to the market and serious about adding products that meet the needs of
the large venue" added Matt Teevan, Marketing Manager. Da-Mat™ and Da-Tex™ are available immediately for Da-Lite's
Fast-Fold® portable screens and Series 200 Lace and Grommet screens.
More: http://www.da-lite.com
Top
15) dnp: SuperNova Screen
It was a world premiere at InfoComm 2005 in Las Vegas in June when dnp denmark has presented its new SuperNova
Screen – an optical front projection screen for brightly lit meeting rooms. It delivers an extraordinary ten times higher
contrast and two times brighter images than standard front screens. With the dnp SuperNova Screen, the manufacturer of
rear projection screens, dnp denmark, launches a revolutionary technology on the market for front projection screens that
accounts for more than 95 percent of all meeting room installations. The dnp SuperNova Screen combines the best of both
worlds, the superior image quality of optical rear projection with frond screens' minimal space requirements and ease of
installation. SuperNova Screen provides a typical contrast ratio of 20:1 – that is ten times higher than the typical front
screens contrast levels. The black coating on the contrast filter covers 60 percent of the screen surface, giving the screen a
sleek and extraordinary appearance in repose. With a peak gain of 2.0 the screen is twice as bright as a standard front
screen. The half gain values 20° horizontally and 15° vertically. The screen features an ultra-fine pitch of 0.065 mm, which
provides a vertical resolution of 20,000 lines – for a 100" screen in 4:3 format – and infinite horizontal resolution. The
SuperNova Screen is compatible with all standard projectors, and can be installed like a conventional front screen with the
projector mounted on the ceiling or placed on the table.
More: http://www.dnp.dk
Top
16) Screen-Tech: front- and rear projection screens up to 100"
Screen-Tech, over 20 years acrylic glass projection screens specialist, is now offering front- and rear projection screens up
to 100", optional with black matt finish aluminium frame. Viewable frame width front: 33 mm, thickness 18 mm, screwed
on rear. The screens come with two completed mounting eyes. The nicely shaped frame is very rugged, offers high quality
optic and is suitable for wall mounting. The overall weight including ST- front- or rear projection screen for example is only
6kg at 67".
More: http://www.screen-tech.de
Top
17) Projecta: New large projection screen and service concept
Both selection and installation of a large projection screen require considerable preparation. By
carefully considering the situation in which the large screen will be placed and used, one can avoid
unnecessary costs and unforeseen problems. Projecta supplies large projection screens from 3 to 20
metres wide and will gladly create a made-to-measure projection screen suited to meet special needs.
The four new large screens each have their own specific features and stand out for their superb
quality. The projection screen fabric ensures an entirely flat screen for optimum image quality and
the fabric satisfies the highest standards for fire safety (M1). Each screen is equipped with a sturdy
case and a strong motor. The screens can be wall-mounted or fixed to the ceiling using brackets
which allow for a flexible installation either on top or back of the case. A five-year guarantee on the motor and the CE
quality level is standard. The GiantScreen electrol is available in widths varying from 4.5 to 7 metres. One size up is the
GiantKing electrol, which ranges in widths from 7 to 10 metres. Larger yet is the JumboScreen electrol, available in widths
from 7 to 12 metres. The JumboKing electrol is the largest of the four new screens, ranging in size between 13 to 20 metres.
Large screens are designed to be used for a longer period. A thermal overload cut-out will be activated to prevent burnout
when the pause between rolling in and out is too brief. The projection screen is then put in a rest position of 15 minutes.
This feature comes standard with all these models. Both the JumboScreen electrol and the JumboKing electrol are equipped
with the polychinelle system, ensuring a perfectly taut fabric. Using this system, the projection screen fabric is rolled around
the slat bar. The slat bar is then rolled in and out with steel cables on both sides via a pulley system. The two screens are
also fitted with special safety brackets. An anti-fall blocking system prevents the metal roller from falling out of the case
during emergencies. Safety is guaranteed even in this exceptional situation.
More: http://projectascreens.com
Top
18) Media Vision: media event innovation "mobile Eventvision21"
On Marketing Services, MediaVision presented the Mobile LED-Wall which is set up and ready to use within just five
minutes by only one person. An particularly flicker-free technology allows for close viewing distances starting from five
metres. However, it is also suitable for applications in large arenas with larger viewing angles. A revolutionary flicker-free
technology featuring latest SMD technology – as in a 100 Hz TV – guarantees excellent image quality, even under direct
sunlight and in daylight conditions. The system comes with a show control system. MediaVision also offers up to 300sqm
large screens and its own 4x3m LED demo outdoor wall which represent the basic elements for successful event marketing
especially with regards to the football World Cup 2006. MediaVision is looking for distributors.
More: http://www.media-vision.de
Top
19) sax3d.com: HOPS.® on InfoComm
Sax3d.com GmbH based in Chemnitz, Germany, is manufacturer of HOPS.®, a holographic-optical projection surface. This
year, the sax3d.com GmbH introduced its company and products on InfoComm in Las Vegas. With regards to "rear
projection from a short distance" sax3d.com GmbH presented the further development of HOPS.® and thus the third 55°
projection angle variety. These projection surfaces were especially developed in combination with the NEC WT600
/WT610 projector. Inside the projector aspherical mirrors project the image in a short distance enlarged to the maximum.
The image is projected in an angle of approx. 55°. This unique combination of short distance projector and daylight suitable
HOPS.® rear projection surface allows for projections of brilliant and contrast-rich images on short distances without any
distorting grid. Due to its independence from the ambient light HOPS.® is also useable in daylight both in inside and
outside applications .
More: http://www.sax3d.com
Top
20) Mauell GmbH: large screen rear projection
The Helmut Mauell GmbH has introduced its third ME multiView generation onto the
market. The ME multiView is a complete, flexible large screen rear projection solution
based on Texas Instruments' DLP technology for various fields. High-quality split PCs,
connection cables, splitters, switching devices, converters, scalers and interfaces are the
key to optimum image results. The cube modules are available in the following sizes and
resolutions: 50" and 67" with XGA and SXGA+ in 4:3, 50", 67" and 70" with SXGA in
5:4 as well as 50" and 61" with HD2+ in 16:9. The cube modules include: multi inputs
such as DVI, RGBHV, HD15, S-video and composite, up to three picture-in-picture
possibilities including fading function, brightness sensor, optional automatic lamp changer and screens with high contrast
and brightness. Individual ME multiView split controller solutions cater to applications in the areas of energy, airport,
traffic, CCTV, industry, transport, network, boardroom, finance, logistics and consumer. The basic technologies and
standards for network capture, video over IP, RGB/DVI capture, S-video & composite, X11, X-Server, Proxy, RDP and all
common operation systems are supported.
More: http://www.mauell.com
Top
21) TAC: Airscreen in U.S.
The AIRSCREEN Company delivered America's largest mobile outdoor screen for the James Dean Festival to
Marion/Indiana. This AIRSCREEN measures 34m x 17m, realizing a fantastic viewing experience. Set up is simple and
finished within less than four hours. Ten thousands of fans watched the digitally re-mastered Dean classics. Two powerful
Christie projectors featuring 25,000 lumens each realized a perfect and pin sharp image.
More: http://www.airscreen.com
Top
22) LANG AG: investing in Hibino 3mm LED modules
The LANG AG closed a contract with the Japanese LED wall manufacturer Hibino arranging the
delivery of a 20sqm modular 3mm wall for the German company's rental park. The purchase
decision was particularly based on the product's excellent homogeneity at a very small pixel
distance. As early as in August, LANG AG clients will have access to the wall. Hence, the existing
portfolio including the BARCO Ilite6 XP module has been enhanced by a high resolution product.
LANG AG has extended the LED segment in its rental park.
More: http://www.lang-av.com
Top
23) CL-Group: 80 different plasma sizes in stock
This is greatness: the Panasonic 65'' TH-65PHD7EK plasma's image diagonal measures unbelievable 1.65 meters. The
giant is the new highlight in the portfolio of rental technology service provider CREATIVE LIGHTING media technology
GmbH & Co. KG. The company has more than 80 plasmas in various sizes in stock. Thanks to an integrated splitter several
devices can be combined easily. Without any additional devices image walls of up 16 (4 x 4) displays can be formed
working with analogue or high resolution signals. The realization of impressive visions follows one rule: A Panasonicplasma rarely comes alone. CREATIVE LIGHTING offers the devices in high numbers and as a neutral version for
DryHire. The Panasonic plasma offers superior image quality. The TH-65PHD7EK has a contrast ratio of 3.000:1 and a
brightness of 780 cd/qm that make images look perfect work in even in bright rooms.
More: http://www.cl-group.de
Top
24) ict: Seamless plasma displays on offer
ict AG offers seamless plasma displays which can be easily mounted parallel or on top of each
other making high resolution large displays – without any image distortion and without any
limitations in the display's dimension. Featuring bars of less than five millimeters between single
panels, ict AG is going to offer this world novelty on the plasma market for rent and sale in July
2005. Naturally, this new product is characterized by excellent picture quality – bright, rich-incontrast and flicker-free. Their ultra slim design makes these 42" displays absolutely flexible
devices that are the ideal medium for a prominent event. The display's application- and design possibilities are almost
unlimited: whether on trade shows, at POI and POS, at events or in fixed installations – Seamless plasma displays can be set
up in almost any environment and hence, represent the ideal solution for application areas like control rooms, conference
rooms, lobbies, exhibition halls, public buildings or TV studios. Set up as large video walls or information boards, Seamless
plasma displays maximize the effect of advertising messages and information by means of crystal clear images.
More: http://www.ict.de
Top
25) NEC Display Solutions: NEC LCD4610 is now fully available
NEC Display Solutions announced that the NEC LCD4610 is now fully available and can be shipped within a few days.
The public display has been designed for presentation and information purposes in public places such as airport, train
stations, shopping malls and POS. LCD technology guarantees brilliant, high-contrast images even in daylight conditions.
NEC Display Solutions also presents the NEC MultiSync LCD1970GX, an optimized monitor from the 70ies series that is
specifically dedicated to games, multimedia and graphic applications. The 19" LCD has been especially designed for the
consumer market. The "G" in the product name stands for "glossy" and refers to the glossy monitor surface guaranteeing
especially high-quality colour representation and thus relaxed viewing. The monitor has a reaction time of only 8 ms, a
brightness of 400 cd/qm and a contrast ratio of 700:1. The optimal resolution is 1280 x 1024 pixels at 60 Hz. Thanks to
ErgoDesign, the tilting and pivoting device is height adjustable up to 110 mm.
More: http://www.nec-display-solutions.com
Top
26) V7 Videoseven: three new models
Videoseven has extended its commitment in the home entertainment area. The V7 LCD-TV portfolio from 17" up to 32"
offers exactly the right device for any home cinema fan. Three new models show the company's commitment: the V7 LTV
20E, the V7 LTV 27C and the V7 LTV 30C. The latter has a recommended resolution of 1280 x 768 pixels and a brightness
of 550 cd/qm. A contrast ratio of 600:1 and a 16 ms reaction time allow for excellent image representation. Horizontal and
vertical viewing angles of 170° each guarantee superior image quality from every perspective. The LCD widescreen TV
features an image format of 15:9. The V7 LTV 30C offers great flexibility. It is equipped with numerous in- and outputs
and can be mounted onto the wall thanks to an optional wall mount. Moreover, it is HDTV enabled and consists of
Progressive Scan and PIP function.
More: http://www.videoseven.com
Top
27) NEC: DVB-T receiver and high resolution plasma displays
In many German areas digital TV is already available. NEC offers a DVB-T receiver for the new standard which translates
the digital signal for common TVs. The DVB-T receiver with a picture resolution of 720x576i and/or 720x480i has an svideo -, video -, audio-stereo and component output and can show the picture in 4:3 as well as 16:9 format. In addition NEC
sets on future-oriented and high resolution television. Since it is to be expected that HDTV will replace the past PAL
standard, NEC has already prepared its plasma TVs 61XR3, 50XR4 and 42XR3 to show HDTV on the screen. These
models were distinguished with the test seal "HD ready", which the European information and communication technology
manufacturers association (Eicta) for high resolution TV devices agreed upon.
More: http://www.de.nec.de/home.php/lang/ENG
Top
28) Toshiba: three LCD-TV news
Guaranteed future, stunning image quality and excellent handling – all these fantastic characteristics are offered with the
three new Toshiba LCD-TVs 37WL56P (image diagonal 94 cm, brightness 500 cd/qm and contrast 600:1), 32WL56P
(diagonal 82 cm, 500 cd/qm, 800:1) and 27WL56P (diagonal 69 cm, 500 cd/qm, 600:1). All three devices are distinguished
with the "HD ready" seal and thus optimally suitable for HDTV, the future television. Both the 37WL56P and the
32WL56P have a resolution of 1366 x 768 pixels. The 27WL56P has 1280 x 720 pixels. An HDMI interface is available as
digital connection. Furthermore, analogue YUV signals can be transmitted via the PC input. All devices support the HD
video formats 720p and 1080i. Toshiba's new developed high-end Pixel PROcessing III technology realizes stunning
picture quality. Through numerous innovative switches the LCD-TVs offer more image sharpness, improved colour- and
brightness separation as well as natural colours. In addition, the LCD-TVs are equipped with Crystalline image
enhancement technology which enables swift panel control and an extremely quick reaction time. "Real Digital Picture"
guarantees fully digital image processing and avoids quality reducing analogue/digital and digital/analogue conversion.
More: http://www.toshiba.de/consumer
Top
29) cinemateq: The WXGA Plasma CT-50 HD
The CT-50 HD comes with a screen size of 50" (127cm), a resolution of 1366x768, a contrast ratio of 3000:1 and is fully
optimized with cinemateq`s proprietary technology. The CT-50 HD is fully compatible with European 50Hz and 60Hz AC
line frequencies and developed for bandwidth input for HDTV 720p/1080p for future picture standards adding color
richness and picture depth. Both digital and analog interfaces allow for versatile possibilities of connections and excellent
picture functions as well as future upgrades which guarantee access into the high resolution picture-world. The concept of
the cinemateq flatscreen CT-50 HD is its modular design. The separate Plasma panel is addressed by cinemateq´s external
control box, the cinemateq picture optimizer plus II SDI. This concept connects via a single DVI-cable, which guarantees an
efficient high end solution without additional cables. One cable to the plasma means a clean installation. Only large and
high-resolution displays are HDTV future reliable. With 1366x768 pixels the CT-50 HD can easily display the HDTV
format 720p and the XXL screen size of 50" (127 centimetres) guarantees a tremendous cinema feeling at home with
breath-taking sharpness thanks to HDTV.
More: http://www.cinemateq.com
Top
30) JVC: 60 inch Full HD resolution
JVC has developed a large, freestanding, roll-around HD rear projection viewing solution, the TV-HDBOX60. A prototype
has been on display for the first time at the Broadcast Production Show. JVC has designed and constructed the solution for
professional users, giving them optimum viewing at a workstation. It incorporates a DLA-HD2K projector, which natively
displays progressively scanned full HDTV resolution 1920 x 1080 images at either 50 Hz or 60 Hz. The optical engine
comprises three of JVC's very latest dedicated 16:9 D-ILA chips measuring just 0.8" diagonally and delivers a contrast
ration of over 2000:1. This projector generates sharp, accurate and well-defined images. The roll-around unit itself
incorporates super high grade steel surfaced mirrors, adjustable in 3 axes. Internal storage space is provided for video source
equipment. The high contrast 16:9 screen is 60 " diagonal and made from Lumin. The JVC is aiming the TV-HDBOX60
mainly at the following applications and market sectors: film post-market and broadcast for color grading and proof
screening; design and prototyping – automotive and architectural industries; cartography – area development and research
by the military and petroleum industry; medical – X-ray screening for discussions and training.
More: http://www.jvcproeurope.com
Top
31) Samsung: presenting professionally with the PPM42M5S
The new Samsung PPM42M5S plasma display is characterized by excellent image quality which turns any presentation into
a fun event. Excellent image quality is achieved through DNIe technology, progressive scan and highest contrast of
10,000:1. The viewer will see natural and flicker-free images. The new 42" PPM42M5S plasma display has a native
resolution of 852 x 480, a pixel pitch of 1095 x 1110, 16:9 format, it and can represent 68.7 billion colours. The new
Samsung plasma display also offers numerous connection possibilities. Thanks to handy picture-in-picture and picture-bypicture functions users can view several applications simultaneously on the display. An integrated image enlargement
processor allows for video split for multi-monitor walls (2x2 or 3x3, 4x4, 5x1 and 1x5). Hence, several plasma displays can
be set up as a video wall with each display only showing a part of the entire image. Furthermore, the PPM42M5S is
equipped with three anti-burn technologies in order to avoid burn-in effects: auto pixel shift, signal pattern process and all
white.
More: http://www.samsung.de
Top
32) TLS: new MatrixSwitcher
German manufacturer TLS has enhanced its product portfolio by the new RGBHV MatrixSwitchers. Technical
specifications and standard features offer users many possibilities. With approx. 60 basic devices in 3, 6 and 9 HE,
MatrixSwitchers are offered from 4/4 up to a size of 32 x 32. Coming in a professional 19" metal housing, devices are
divided into the following models: 12/8, 16/16 and 32/32. Thanks to a modular set-up of the in- and outgoing signal
connections all models can be configured in four steps according to customer demands. All models are set up similarly with
regards to design, built up and functions. The MatrixSwitcher have a video band width of ± 3 dB 450 MHz. Optionally
available Audio switchers bring about an especially clear sound. Already in the smallest 12/8 model the new TLS
MatrixSwitcher is set up in signal optimized horizontal channel build up. Over- and under control of RGBHV signals can be
avoided. The MatrixSwitcher can be integrated to LAN or internet via a TCP/IP port. Service work, set-up and
programming can thus be done over the web browser or within a LAN from any authorized computer.
More: http://www.tls-gmbh.com
Top
33) HTS: new centralized control system set (MC-C1)
Nuremberg HIGH TECH SERVICE will extend their portfolio by a new centralized control system set (MC-C1set). The
MC-C1 set is factory programmed and therefore does not need any complex or cost-intensive programming. Furthermore,
the control system can be easily enhanced by room-, audio-, EIB- "Plug and Play" (HTSNET) extension. The MC-C1 set
consists of a control centre (MC-C1), a system power supply unit (FBI-NT) and a control panel (FBI-BF). The control panel
has integrated key switches which switch the system on/ off gently. The source control button selects various input sources
(e.g. PC, video configuration) consecutively. The loudspeaker buttons +/- can control the projector sound or the audio
device (with optional audio mixer FBI-MIX41). An individual adjustment to the various applications profiles can be easily
set up via a password secured technical menu. The night and weekend shut off function helps reducing the projector's
operation costs.
More: http://www.hts-fbi.de
Top
34) Analog Way: New range of Scalers
A leading designer and manufacturer of innovative image converters, Analog Way, has introduced a new range of Scalers at
InfoComm 2005. The V-Scale and V-Scale Plus the company had demonstrated at its booth. V-Scale is a cost-effective
video scaler dedicated to the integration industry. It accepts video sources (Composite & S. Video) to be displayed on highresolution LCD, DLP, plasma or video projectors. V-Scale significantly improves the quality of any video signal, providing
enhanced brightness and sharpness. V-Scale offers multiple display output resolutions up to 1400 x 1050 and Frame Rate
Conversion. It features a PC RGB input in order to easily switch video and PC sources. V-Scale offers convenient features
in the installation environment such a full frame memory (still store) to be automatically displayed in case of loss of input
sync, auto switch to a user defined source when current input signal is lost and complete remote control through
RS232connection. The V-Scale Plus combines the function of a V-Scale, and features BNC's RGB and YUV component
input and a DVI output. The V-Scale Plus provides a perfect signal to a LCD screen, a video projector or a plasma display.
Additionally, the V-Scale Plus can drive up to 3 displays simultaneously. Important as well, the product also features a full
frame memory. Based on Analog Way proprietary technology with state of the art processing algorythms, the company is
now also able to propose a new program named "Scalers-on-demand". This program offers the possiblity to propose scalers
customized to match any specific requirements such as number and type of input, casing, PCB only, etc.
More: http://www.analogway.com
Top
35) Bitlogix: New Software release of NetControl
Texas Software company Bitlogix Software LLC announced the immediate availability of Bitlogix® NetControl®
Advanced 1.8, the latest version of the innovative audiovisual control software for LAN/WAN environments. NetControl
includes driver support for the latest network projectors from Eiki, Epson, Hitachi and Sharp and dramatically increases
asset management and monitoring capabilities, allowing customers to control projectors and LCD monitors with a real
software-based control solution. The key features of NetControl® Advanced 1.8 are the tight integration of two new
Lantronix network interfaces, UDS-10 and UDS100, into the automated search function of NetControl and the new driver
support of various network projectors. Bitlogix added support for over 130 new projector models. NetControl now supports
over 380 different projectors. NetControl offers a powerful theft control engine that allows customers to monitor connected
audiovisual devices. The software sends out e-mail alert messages to digital cell phones, security systems or other first
response systems when an alarm is triggered. NetControl also offers an event management system for scheduling
management tasks such as a remaining projector lamp time summary. Reports are automatically generated and can be
delivered by e-mail. The Control Manager of NetControl gives the user the power to directly control one projector or as
many as he wants simultaneously over the network connection.
More: http://www.bitlogix.com
Top
36) Comm-Tec: Samsung Presenter UF-80ST
Comm-Tec now offers the Samsung Presenter UF-80ST, "little brother" of the current UF-80DX top
model. With the UF-80ST SAMSUNG Techwin rounds off its current model series. The new Presenter
generation is characterized by excellent optical features and modern design. The new UF-80ST has
been reduced by some digital functions. In contrast to the top model, the ST version cannot save eight
images in the Presenter. Screen split in order to compare the live image with the saved images and
image rotation by 90, 180 or 270 degrees is also reserved to the DX version. All other specifications as
for example VGA and DVI output, 14times optical and 3times digital zoom, 20 images per second or a
USB 2.0 connection are identical.
More: http://www.comm-tec.de
Top
37) SMART: 17-inch Sympodium DT770
SMART Technologies introduces the Sympodium DT770 interactive pen display. The DT770 uses new dual-touch DViT
technology (Digital Vision Touch) that allows users to touch the screen with their finger to navigate room-control menus,
and automatically switch to using a battery-free, tethered pen to control desktop applications and write note in digital ink.
Simply by connecting the DT770 directly to a computer and a projector, presenters can simultaneously display computer
images or multimedia sources on a larger presentation screen for the audience to see. The DT770 offers a cost-effective way
to combine interactive presentation tools in room-control environments through a single touch interface. The DT770 detects
when the pen is lifted from its holder and automatically toggles between its two input modes. It features a 17" (43,2 cm)
screen with SXGA resolution and a new version of SMART's DViT technology that uses digital cameras to detect both pen
and finger inputs. Dual-touch DViT technology its the first camera-based touch technology to be applied to a small display
and demonstrates its scalability. The DT770 is the only dual-touch system that operates with just one technology,
simplifying electronics, improving usability, and minimizing cost. Also included with the DT770 is the SMART Board
software, which allows users to write over applications in digital ink and then edit, save, print or post their notes to a
website for future reference.
More: http://www.smarttech.com
Top
38) Sony: video conferencing systems support Cisco CallManager
Professional Solutions Europe of Sony Deutschland GmbH, announced that two of its most popular video conferencing
product lines, PCS-1P and PCS-TL50P, will integrate tightly with the Cisco CallManager system to enable businesses of all
sizes to receive and transmit crisp, clear video and voice signals with hassle-free set-up. The PCS-TL50 and PCS-1
terminals operating with Cisco CallManager 4.0 enable users to simply dial the phone number of the video conference call
without needing to input IP addresses. Thanks to Cisco CallManager 4.0 users can make video calls the same way they dial
a telephone call. Cisco CallManager is the software-based call-processing component of the Cisco enterprise IP telephony
solution. The software extends enterprise telephony features and capabilities to packet telephony network devices such as IP
phones, media processing devices, Voice over Internet Protocol (VoIP) gateways, and multimedia applications. The
CallManager solution will be integrated with Sony's popular PCS-1 camera, microphone and speaker combination for group
videoconferencing, as well as for the PCS-TL50 desktop unit. The Sony PCS-TL50 is an all-in-one video conference
terminal with a 20-inch LCD screen, camera, microphone and speaker, ideal for an executive's office or where meeting
space is at a premium.
More: http://www.sonybiz.net
Top
39) Polycom: ReadiSeries - state-of-the-art IP infrastructure
Polycom, the world's leading provider of unified collaborative communications solutions, has presented the Polycom
ReadiSeries platform of conferencing and collaboration infrastructure products. The only integrated suite of solutions for
mission critical rich media networks, ReadiSeries enables organizations to easily deploy, manage, and scale rich media
conferencing and collaboration services over IP-based networks. The Polycom ReadiSeries includes the ReadiConvene™
multipoint conference bridge, ReadiManager™ SE200 conference scheduling and management system, and
ReadiRecorder™, an audio conference recording and playback solution. The uniqueness of ReadiSeries is its integration of
core conferencing components. ReadiConvene integrates industry-leading Polycom MGC features, such as on-demand or
scheduled conferences, automatic transcoding, security, reliability and redundancy, with ReadiManager scheduling and
management applications onto a single platform; simplifying conference network set-up and usage. ReadiRecorder uses the
MGC configuration manager to set up session recordings. Powerful, scalable and easy to deploy, manage, and use,
ReadiSeries products help lower the cost and complexity of conferencing and collaboration for the enterprise customer.
More: http://www.polycom.com
Top
40) Extron: All-New INTEGRATOR Speaker Series
Extron Electronics has announced the System INTEGRATOR speaker series, a family of seven speakers designed
specifically for A/V system integrators and professional applications. System Integrator "SI" speakers are optimized for
smooth, accurate reproduction of music and voice for both low and high power delivery applications. EXTRON SI Series
speakers were designed to address the most popular speaker applications, and include ceiling speakers with or without
plenum-rated back cans, in-wall speakers with open-back, infinite baffle designs, and surface mount speakers with durable,
all-weather enclosures. The SI speaker design placed special emphasis on the crossover, from bass through midrange to the
high frequencies. Particular attention was given to the midrange and tweeter for a smooth, flat response with minimized
phase shift. The System INTEGRATOR SI 26 and SI 28 all weather, two-way surface mount speakers feature ferrofluidcooled, titanium-coated dome drivers a 6.5" long-throw woofer and a 1" tweeter, and the SI 28 features an 8" long-throw
woofer and also a 1" tweeter. Both models have nominal impedance of 8 ohms with durable, high-impact housings in a
black or white finish, and include Extron's exclusive Patent Pending V-Lock mounting hardware that facilitates easy, secure
installations. The System INTEGRATOR SI 26X, SI 26CT LP, and SI 26CT are two-way ceiling speakers featuring a
coaxial design. Long-throw woofers coupled to pivoting ferrofluid-cooled, titanium-coated dome tweeters deliver accurate
voice and music reproduction, as well as wide-angle sound distribution.
More: http://www.extron.com
Top
41) Artcoustic: Bounce-One the Artcoustic in-ceiling speaker
This in ceiling loudspeaker does not act or look like any other in-ceiling product. The Artcoustic in-house designed BounceOne technology uniquely utilizes existing walls to project sound into the room giving an outstanding dispersion pattern and
same high-end studio monitor quality sound as Artcoustic's existing loudspeaker range. Bounce-One solves the problem of
acoustical "hot-spots". The Bounce-One is a perfect choice for the most demanding of applications. Partner it with the
Diablo Tech+1 Subwoofer or any of the other high performance Artcoustic Subwoofers for a truly full range, dynamic
performance. The Bounce-One is a highly sensitive speaker and is therefore capable of reproducing very high sound
pressure levels from modest (20Watt+) amplifiers. Bounce-One's unique design allows the installer or drywall finisher to
continue the ceiling's finish over the Bounce-One to create a stealth installation.
More: http://www.artcoustic.com
Top
42) ISE: Sony returns to ISE 2006 by signing up as platinum sponsor
Sony Professional Solutions Europe has confirmed that it will be a Platinum Sponsor at ISE 2006, where it will showcase its
market leading audiovisual (AV) professional solutions for easy integration into networked environments. Following its
successful debut at ISE 2005 in Amsterdam, Sony will demonstrate its latest array of innovative products that provide new
ways to interact with multimedia information in the office and on the move. "Sony is unique in being able to offer a
complete, end-to-end, integrated AV solution and we felt that ISE was an excellent forum for us to showcase our range of
display screens and projectors, network video monitoring and videoconferencing solutions and visual communications
applications." said Ian Collis, Vice-President of Marketing for Sony Europe. "Sony is looking at the major shows to
enhance its visibility in this emerging market and ISE is the perfect platform to achieve this." Collis added. "We were
pleased with the positive response, feedback and general enthusiasm generated by the 2005 show in Amsterdam and are
delighted to hear that ISE 2006 is already 40% bigger that the previous show. We see ISE as a pivotal event that has gained
an important foothold on the Integrated AV systems market and we want Sony Europe to play a key role in building on its
success." ISE 2006 continues to grow rapidly. With over 7 months to go, the confirmed bookings by exhibitors mean that
the show is already 40% bigger than ISE 2005 and more names are being added all the time. Along with Sony Europe, these
include Barco, Panasonic Marketing, Phillips, Thomson Grass Valley and Hitachi Europe. ISE is looking at an ambitious,
but realistic target, to increase the show size by least 60% for 2006.
More: http://www.iseurope.org
Top
43) InFocus: InFocus - TCL joint venture receives approval
InFocus® Corporation announced that South Mountain Technologies (SMT), its 50-50 joint venture with China's TCL
Corporation, received approval from the Chinese authorities for its import/export of rear projection television engines. This
important milestone clears the way for production of both standard-depth and ultra-thin micro display television engines by
SMT. Additionally, now that all critical government approvals have been obtained, both parents now will move forward
with contributing an additional $5 million each in capital to fund SMT. SMT was formed in December 2004 to integrate the
low-cost, high-quality manufacturing capabilities of TCL with the innovative leadership of InFocus in digital projection
product design. SMT leverages InFocus' extensive experience with imaging devices utilizing multiple technologies for front
projection and rear projection engines to provide the best price performance projection and display solutions to customers
around the world.
More: http://www.infocus.com
Top
44) SANYO: networking components
SANYO business projectors that are connected to a network save time and money. Almost all SANYO projectors in the
business, education and professional segments can be configured, controlled and maintained over the network. In order to
do so, SANYO offers several network components which turn a stand alone beamer into a network-able video projector.
Networked projectors are treated like all other networked components. SANYO LCD projectors can be connected directly
to a PC or notebook via Ethernet cable or wireless through wireless LAN. And in case of a cable connection, it does not
matter if users use a crossover- or a common Ethernet cable. SANYO LCD projectors can be connected wireless or with
cable – also over the internet.
More: http://www.sanyo.de
Top
45) Alcatel and Polycom cooperate
Alcatel and Polycom®, Inc. announced a strategic partner agreement to deliver converged collaboration solutions to
enterprises. Bringing together Polycom's leading video conferencing systems with Alcatel's award-winning unified
communications offering, the multi-year partnership will focus on delivering enterprise users integrated collaboration
solutions that span voice, video and Web conferencing. Leveraging presence and real-time control across the PC desktop
and telephone, the joint solution enables enterprise users to instantly connect with people and workgroups through an instant
messaging client or via the telephone to launch rich media collaboration sessions that include video. Users will be able to
escalate from one form of communication to another with just one touch, adding video to an Alcatel phone call or audio and
video to an instant message.
More: http://www.polycom.com and http://www.alcatel.com
Top
46) Chief: New Europe office in Amsterdam
Chief Manufacturing Inc., a company dedicated to innovation and service in audio visual mounting solutions, has expanded
their international operations by opening a new office in Amsterdam, The Netherlands. Providing increased customer
service hours for Chief's European customers and partners. The new office will be open from 9:00 am to 5:00 pm CET
(Central European Time). Customers in Europe can now choose from a variety of universal mounts including Universal
Large Flat Panel Mounts, Universal Small Flat Panel Mounts or Universal Projector Mounts. These mounting solutions are
made readily available through the new product warehouse in Amsterdam, reducing shipping time and costs for Chief's
European customers.
More: http://www.chiefmfg.com
Top
Good bye, see you next month
Yours AVP-Newsletter editorial team
You receive the AVP-Newsletter.com on a regular basis per email for free. The next edition will be published in the midst of next month. You
can always cancel your Newsletter subscription by writing an email.
Would you like to have a look at the newsletters that have already been published? AVP-Newsletter-Archive
Would you like to inform yourself about upcoming Newsletters? creact.com
Do you have an interesting AVP-press release or suggestions? [email protected]
Would you like to subscribe to the AVP newsletter? [email protected]
Would you like to cancel the AVP newsletter? [email protected]
© by AVP-Newsletter.com, CREACT Spain - Reprint and / or use of the entire Newsletter or parts of it does need the written agreement of the publisher. All news and
publications in the AVP-Newsletter.com are done without recognition of existing patents, trademarks are used without any guaranteed free usage. All rights reserved.

* Your assessment is very important for improving the work of artificial intelligence, which forms the content of this project