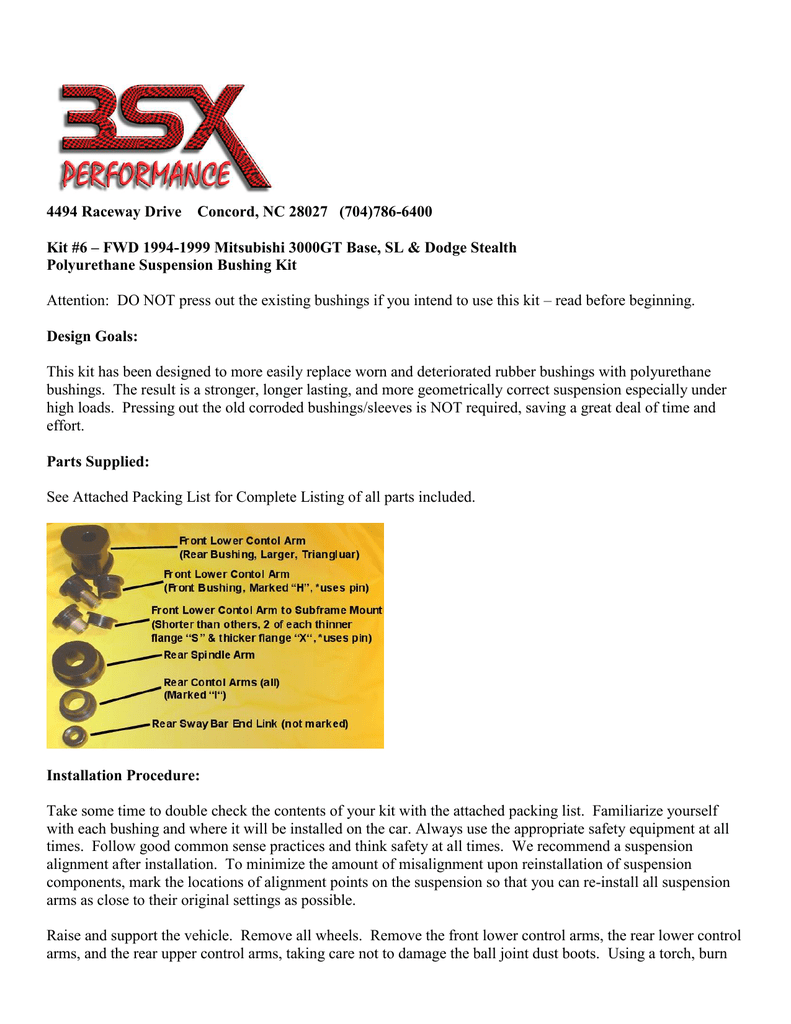 4494 Raceway Drive
Concord, NC 28027 (704)786-6400
Kit #6 – FWD 1994-1999 Mitsubishi 3000GT Base, SL & Dodge Stealth
Polyurethane Suspension Bushing Kit
Attention: DO NOT press out the existing bushings if you intend to use this kit – read before beginning.
Design Goals:
This kit has been designed to more easily replace worn and deteriorated rubber bushings with polyurethane
bushings. The result is a stronger, longer lasting, and more geometrically correct suspension especially under
high loads. Pressing out the old corroded bushings/sleeves is NOT required, saving a great deal of time and
effort.
Parts Supplied:
See Attached Packing List for Complete Listing of all parts included.
Installation Procedure:
Take some time to double check the contents of your kit with the attached packing list. Familiarize yourself
with each bushing and where it will be installed on the car. Always use the appropriate safety equipment at all
times. Follow good common sense practices and think safety at all times. We recommend a suspension
alignment after installation. To minimize the amount of misalignment upon reinstallation of suspension
components, mark the locations of alignment points on the suspension so that you can re-install all suspension
arms as close to their original settings as possible.
Raise and support the vehicle. Remove all wheels. Remove the front lower control arms, the rear lower control
arms, and the rear upper control arms, taking care not to damage the ball joint dust boots. Using a torch, burn
the rubber out of the old bushings on the front and rear control arms. An oxyacetylene torch works best. Be
careful to not melt the metal portions of the bushings or the arms. The rubber will burn and turn into ash which
can easily be removed. Clean all of the metal bushing sleeves, and bushing bores where the new bushings will
be installed. The cleaner, the better. A Fine wire wheel works best. Install the new bushings, while applying
the supplied grease evenly over all mating surfaces. Be sure to double-check each bushing to verify that it is
being installed in the correct place on the car. ** Some bushings are very similar in size, and can be
accidentally installed in the wrong location, causing poor bushing performance. Take your time. ** Re-install
the suspension arms, wheels, etc. and torque to factory specifications.
When going for an alignment, we recommend sticking as close to the factory suspension alignment settings as
possible.
Rear sway bar end link
Kit # 6 - 94-99 SL Suspension Bushing Packing List
#
1
2
3
4
5
6
7
8
Description
Poly Bushing – front control arm (rearward)
Poly Bushing – front control arm (forward)
Poly Bushing – front control arm (frame mount - upper)
Poly Bushing – front control arm (frame mount - lower)
Poly Bushing – rear trailing arm (spindle arm)
Poly Bushing – rear upper, lower, trailing control arms
Poly Bushing – rear sway bar end link (small)
Pin / Steel Sleeve - front control arm (forward)
9
Pin / Steel Sleeve - front control arm frame mount
10
Steel Washer - front control arm frame mount
11
Steel Washer - rear sway bar end link
12
13
Grease Packet
Instruction Sheet
Tag
B
H
X
S
T
I
G
P3
Qty
2
4
2
2
4
12
4
2
Part
1
2
3
3A
8
6
-2
P1
2
-3
2
-3
4
-6
1
1
-
W4
W1
-
Measurements
Tri-Lobe
1.075" high, 1.8" od
.8" high, 1.78" od
.813" high, 1.78" od
1.35" high, 2.65" od
.98" high, 1.85" od
.580" high, 1.15" od
7/8"od, .50"id,
.188"w, 2.15"L
7/8"od, .56"id,
.156"w, 1.5"L
1.75" od, .50" id, .10"
thick
1" od, .40" id, .05"
thick
-
*Should you require more grease than is supplied with this kit, we recommend a grey general purpose Moly
grease, available at most hardware stores.

* Your assessment is very important for improving the work of artificial intelligence, which forms the content of this project