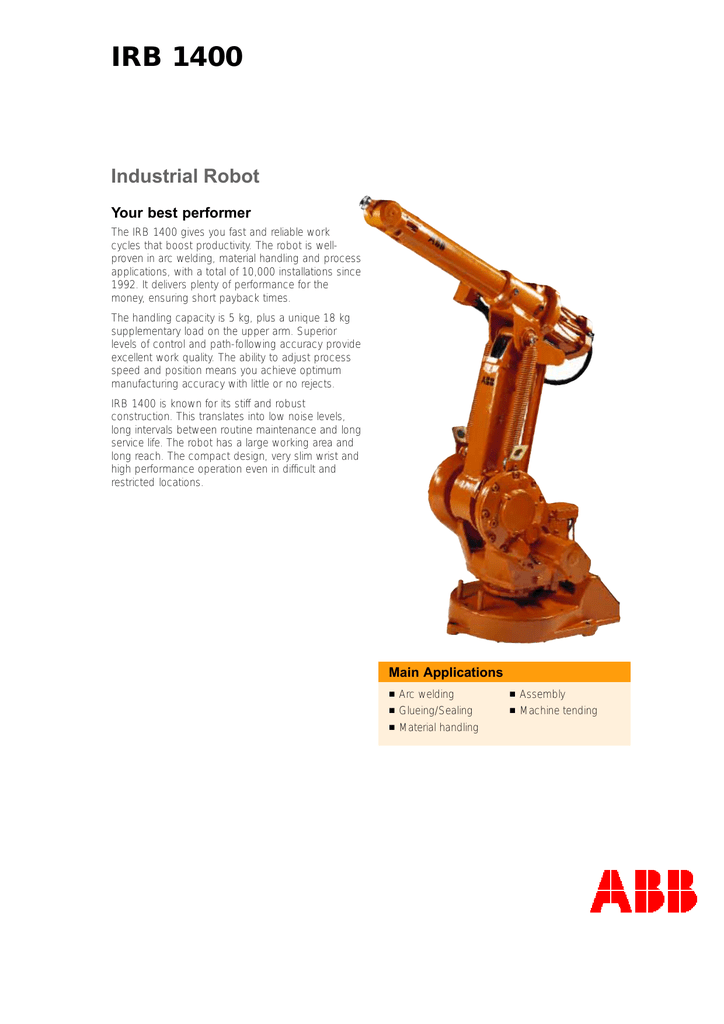 IRB 1400
Industrial Robot
Your best performer
The IRB 1400 gives you fast and reliable work
cycles that boost productivity. The robot is wellproven in arc welding, material handling and process
applications, with a total of 10,000 installations since
1992. It delivers plenty of performance for the
money, ensuring short payback times.
The handling capacity is 5 kg, plus a unique 18 kg
supplementary load on the upper arm. Superior
levels of control and path-following accuracy provide
excellent work quality. The ability to adjust process
speed and position means you achieve optimum
manufacturing accuracy with little or no rejects.
IRB 1400 is known for its stiff and robust
construction. This translates into low noise levels,
long intervals between routine maintenance and long
service life. The robot has a large working area and
long reach. The compact design, very slim wrist and
high performance operation even in difficult and
restricted locations.
Main Applications
n
Arc welding
n
Assembly
n
Glueing/Sealing
n
Machine tending
n
Material handling
IRB 1400 Industrial Robot
Technical Data
Physical
Specification
Robot
Handling
capacity
5 kg
Reach of
5th axis
1.44 m
Supplementary load
on axis 3
on axis 1
18 kg
19 kg
Floor
Dimensions
Robot base
620 x 450 mm
Weight
Robot 225 kg
Environment
Number of axes
Ambient temperature
Robot unit
5 – 45°C
12 signals on upper arm
Max. 8 bar on upper arm
Relative humidity
Max. 95%
Degree of protection
Class D (dry) for welding,
machining etc.
0.05 mm (average result from ISO test)
Noise level
Max. 70 dB (A)
Emmission
EMC/EMI-shielded
Robot manipulator
External devices
Integrated signal supply
Integrated air supply
Robot mounting
6
6
Performance
Position repeatability
Movements
IRB 1400
Max. TCP velocity
2.1 m/s
Continuous rotation of axis 6
Electrical Connections
Supply voltage
200–600 V, 50/60 Hz
Rated power,
Transformer rating
4 kVA/7.8 kVA with external axes
Working range and load diagram
ABB Limited
Plot Nos. 5 & 6, II Phase, Peenya Industrial Area
Bangalore 560 058
Tel: +91-80-2294 9507 – 08
Fax: +91-80-2839 6537
www.abb.co.in
Data and dimensions may be changed without notice.

* Your assessment is very important for improving the work of artificial intelligence, which forms the content of this project