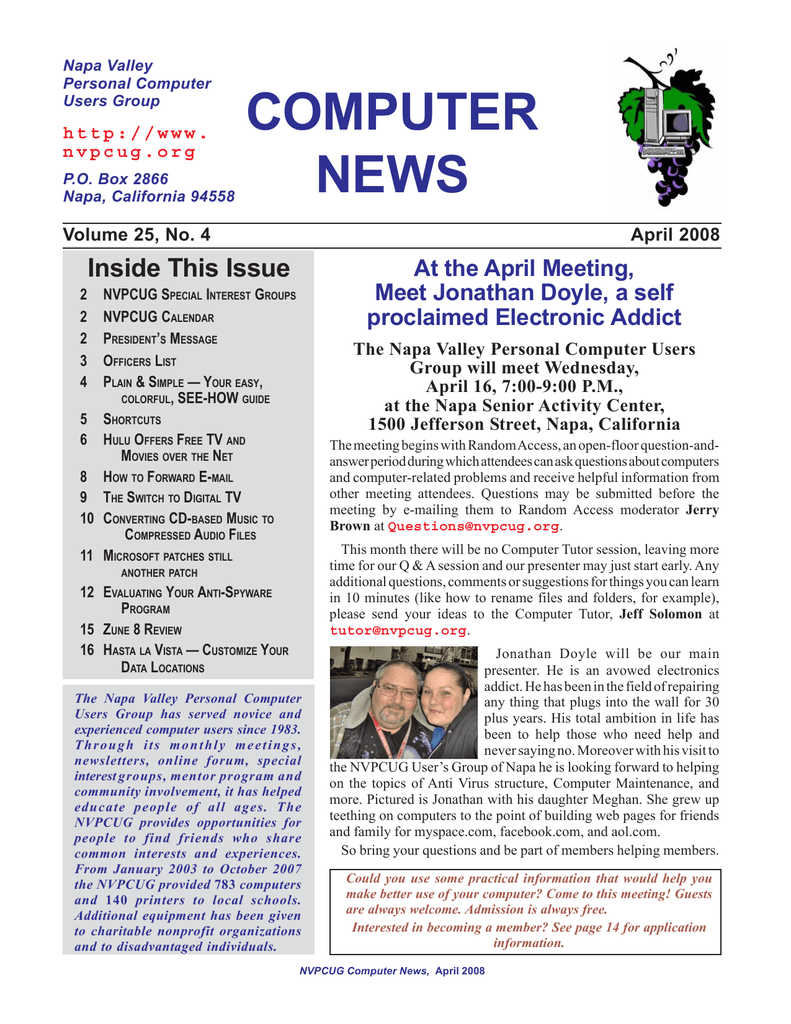 Napa Valley
Personal Computer
Users Group
http://www.
nvpcug.org
P.O. Box 2866
Napa, California 94558
COMPUTER
NEWS
Volume 25, No. 4
April 2008
Inside This Issue
At the April Meeting,
Meet Jonathan Doyle, a self
proclaimed Electronic Addict
2
2
2
3
4
NVPCUG SPECIAL INTEREST GROUPS
NVPCUG CALENDAR
PRESIDENT'S MESSAGE
OFFICERS LIST
PLAIN & SIMPLE — YOUR EASY,
COLORFUL, SEE-HOW GUIDE
5 SHORTCUTS
6 HULU OFFERS FREE TV AND
MOVIES OVER THE NET
8 HOW TO FORWARD E-MAIL
9 THE SWITCH TO DIGITAL TV
10 CONVERTING CD-BASED MUSIC TO
COMPRESSED AUDIO FILES
11 MICROSOFT PATCHES STILL
The Napa Valley Personal Computer Users
Group will meet Wednesday,
April 16, 7:00-9:00 P.M.,
at the Napa Senior Activity Center,
1500 Jefferson Street, Napa, California
The meeting begins with Random Access, an open-floor question-andanswer period during which attendees can ask questions about computers
and computer-related problems and receive helpful information from
other meeting attendees. Questions may be submitted before the
meeting by e-mailing them to Random Access moderator Jerry
Brown at [email protected]
This month there will be no Computer Tutor session, leaving more
time for our Q & A session and our presenter may just start early. Any
additional questions, comments or suggestions for things you can learn
in 10 minutes (like how to rename files and folders, for example),
please send your ideas to the Computer Tutor, Jeff Solomon at
[email protected]
ANOTHER PATCH
12 EVALUATING YOUR ANTI-SPYWARE
PROGRAM
15 ZUNE 8 REVIEW
16 HASTA LA VISTA — CUSTOMIZE YOUR
DATA LOCATIONS
The Napa Valley Personal Computer
Users Group has served novice and
experienced computer users since 1983.
Through its monthly meetings,
newsletters, online forum, special
interest groups, mentor program and
community involvement, it has helped
educate people of all ages. The
NVPCUG provides opportunities for
people to find friends who share
common interests and experiences.
From January 2003 to October 2007
the NVPCUG provided 783 computers
and 140 printers to local schools.
Additional equipment has been given
to charitable nonprofit organizations
and to disadvantaged individuals.
Jonathan Doyle will be our main
presenter. He is an avowed electronics
addict. He has been in the field of repairing
any thing that plugs into the wall for 30
plus years. His total ambition in life has
been to help those who need help and
never saying no. Moreover with his visit to
the NVPCUG User's Group of Napa he is looking forward to helping
on the topics of Anti Virus structure, Computer Maintenance, and
more. Pictured is Jonathan with his daughter Meghan. She grew up
teething on computers to the point of building web pages for friends
and family for myspace.com, facebook.com, and aol.com.
So bring your questions and be part of members helping members.
Could you use some practical information that would help you
make better use of your computer? Come to this meeting! Guests
are always welcome. Admission is always free.
Interested in becoming a member? See page 14 for application
information.
NVPCUG Computer News, April 2008
NVPCUG
Special
Interest
Groups
President's Message
In SIG meetings you can learn about
a subject in greater detail than is
feasible at NVPCUG general
meetings. SIG meetings are open to
everyone. M e e t i n g t i m e s a n d
locations occasionally change, so
for current meeting information, see
our Web site, www.nvpcug.org, or
contact the SIG leaders.
Investors SIG
Meets: Monthly, second Monday
5:30 to 7:30 p.m
Jerry Brown's home,
23 Skipping Rock Way, Napa
Leader: Jerry Brown
(707) 254-9607
[email protected]
Digital Photography SIG
Meets: Monthly, second Wednesday
7:00 to 8:30 p.m
Piner's Nursing Home,
Conference Room
1800 Pueblo Ave., Napa
Leader: Susy Ball
(707) 337-3998
[email protected]
Macintosh SIG
Meets: Monthly, second Thursday
6:30 - 8:30 p.m.
Napa Senior Activity Center
1500 Jefferson St., Napa
Leader: Ron Rogers
(707) 226-5352
ronrogersnapamug
@gmail.com
By Ron Dack, president, http://www.nvpcug.org/,
[email protected]
April is here and it is tax time again. The NVPCUG tax form will be a lot easier
this year because our 2006 total income, including donations, will fall far
below the $25,000 minimum requiring a full Form 990 to file and we have no
single person or company that has donated over the cutoff point. So a Form
990-EZ with a couple check boxes marked should handle our filing requirements.
The tax filing part of a lack of income is a blessing but the down side is we have
much less to work with. As I have reported in previous President's Messages
our expenses were exceeding our income. Thankfully, many of you have opted
for the online version of the "Computer News" and that has helped. I am asking
each of you who have not done so to opt for this version now. You can do this
by sending an e-mail to [email protected] and putting "Opt for
online Computer News" in the subject and your name in the body.
At the April 2, 2008 Board of Directors meeting the board voted to change
to an online newsletter as of January 2009 with an option for a member to
receive a printed copy for an additional $1000a year. Even though it costs
NVPCUG over $2400 a year to print and mail each member a paper version we
could not bring ourselves to charge a member an additional $2400 a year to
receive a printed copy.
Some members have questioned what we spend their dues on if not the
newsletter? That answer is both simple and complicated so I will try to
clarify some of this information.
Out of the current $3000 dues: If you receive a printed copy of the
"Computer News": Approximately $2400 goes to the cost of printing,
folding, stapling, labeling, and mailing the newsletter.
The remaining $600 goes for your share of: (many of the listed costs are
subject to change)
•
ITT Hartford Corporate insurance coverage: $35000
•
Napa Senior Activity Center rental: $19800
•
California State Corporation S-100 fees: $2000 (biennially)
•
California State Attorney General RRF-1 fees: $2500
•
California Department of Justice NPR-1 fees: $2000
•
Association of Personal Computer User Groups dues: $5000
•
U.S. Post Office (Mailbox): $7200
President's Message continued on page 4
NVPCUG General Meetings
Held the third Wednesday of each month, 7:00 to 9:00 p.m.
Napa Senior Activity Center, 1500 Jefferson Street, Napa
NVPCUG Calendar
Apr 16
May 7
May 8
May 12
May 14
May 21
Mar 19
Jun 4
Jun 9
Jun 11
Jun 12
7:00-9:00 p.m.
7:00-9:00 p.m.
6:30-8:30 p.m.
5:30-7:30 p.m.
7:00-8:30 p.m.
7:00-9:00 p.m.
7:00-9:00 p.m.
7:00-9:00 p.m.
5:30-7:30 p.m.
7:00-8:30 p.m.
6:30-8:30 p.m.
NVPCUG General Meeting, Napa Senior Activity Center, 1500 Jefferson Street, Napa
Board of Directors meeting, Piner's Nursing Home, 1800 Pueblo Ave., Napa
Macintosh SIG meeting, Napa Senior Activity Center, 1500 Jefferson St., Napa
Investors SIG meeting, Jerry Brown's home, 23 Skipping Rock Way, Napa
Digital Photography SIG meeting, Piner's Nursing Home, 1800 Pueblo Ave., Napa
NVPCUG General Meeting, Napa Senior Activity Center, 1500 Jefferson Street, Napa
NVPCUG General Meeting, Napa Senior Activity Center, 1500 Jefferson Street, Napa
Board of Directors meeting, Piner's Nursing Home, 1800 Pueblo Ave., Napa
Investors SIG meeting, Jerry Brown's home, 23 Skipping Rock Way, Napa
Digital Photography SIG meeting, Piner's Nursing Home, 1800 Pueblo Ave., Napa
Macintosh SIG meeting, Napa Senior Activity Center, 1500 Jefferson St., Napa
NVPCUG Computer News, April 2008, Page 2
Napa Valley Personal Computer
Users Group Contact Information
Officers for 2008
Board of Directors
President
Vice President
Secretary
Treasurer
Other Directors:
Director
Ron Dack
unlisted
[email protected]
Dick Peterson
738-1812
[email protected]
Marcia Waddell 252-2060
[email protected]
Roy Wagner
253-2721
[email protected]
Susy Ball, Ron Dack, Jim Gray, Dick Peterson, Bob Simmerman,
Kathy Slavens, Dean Unruh, Marcia Waddell, and Roy Wagner.
Jim Gray
255-6789
[email protected]
Appointed Officers
Computer Tutor Coordinator
Jeff Solomon
553-2114
[email protected]
Facility Arrangements Coordinator
Dianne Prior
252-1506
[email protected]
Greeter Coordinator
Kathy Slavens
251-9193
[email protected]
Greeter Coordinator
Bob Simmerman 259-6113
[email protected]
Librarian
Dean Unruh
226-9164
[email protected]
Membership Director
Bob Simmerman 259-6113
[email protected]
Newsletter Circulator
Jim Hearn
224-2540
[email protected]
Newsletter Editor
Susy Ball
337-3998
[email protected]
Product Review CoCoordinator
Susy Ball
337-3998
[email protected]
Product Review CoCoordinator
Marcia Waddell
252-2060
[email protected]
Programs Director
Susy Ball
337-3998
[email protected]
Publicity Director
Ron Dack
unlisted
[email protected]
Random Access Moderator
Jerry Brown
254-9607
[email protected]
Special Projects Director
VOLUNTEER NEEDED
[email protected]
Webmaster
Ron Dack
unlisted
Sales Coordinator
VOLUNTEER NEEDED
[email protected]
[email protected]
• All telephone numbers are in Area Code 707.
NVPCUG Computer News, April 2008, Page 3
NVPCUG
Computer News
Computer News (ISS
0897-5744) is
published monthly by
the Napa Valley
Personal Computer
Users Group, Inc.
(NVPCUG), P.O. Box
2866, Napa, CA
94558-0286.
Subscriptions: $30 for
one year (12 issues).
Editor: Susy Ball,
[email protected]
The material in
Computer News is
intended for
noncommercial
purposes and may not
be reproduced without
prior written permission,
except that permission
for reproducing articles,
with authors properly
credited, is granted to
other computer user
groups for their internal,
nonprofit use only. The
information in this
newsletter is believed
to be correct. However,
the NVPCUG can
assume neither
responsibility for errors
or omissions nor liability
for any damages
resulting from the use
or misuse of any
information.
The NVPCUG is an IRC
501(c)(3) tax-exempt
nonprofit educational
organization (EIN 680069663) and is a
member of the
Association of Personal
Computer User Groups
(APCUG), an
international
organization. Donations
to the NVPCUG are
tax-deductible as
charitable contributions
to the extent allowed by
law. Copyright © 2007
by NVPCUG.
Plain & Simple — Your easy, colorful, SEE-HOW guide
Microsoft Windows Vista
Review by Marcia Waddell, Napa Valley Personal Computer Users Group, www.nvpcug.org,
[email protected].com
Book by Jerry Joyce and Marianne Moon
Have you found that you needed some system
information and discovered that you don't remember
where to find it? Have you typed
in a short cut and discovered that
in Vista it doesn't work? Do you
want to synchronize your contact
list with your phone or PDA? This
book provides you with simple
procedures to get the job done
without long-winded discussions
or explanations.
This three hundred forty nine
page book is a real gem. Like a
rough diamond, it doesn't look
like much from it's cover. This
book is simple in its layout, color coded in chapter
groups, and easy to follow. Most of all, it has little or no
"geek speak" and has easily understandable illustrations.
I forget passwords and procedures between my laptop
running XP and my new Dell running Vista. This book
is a must have for people like me.
One page shows you how to create a password rescue
disk with a simple wizard. You always have access from
a USB thumb drive or a CD to log in. You won't lose
your settings or certificates as you would if you reset
from scratch. Vista provides other
settings and tips that this book
points out. You would likely
never find them otherwise. Plain
& Simple wasn't meant to be
read cover to cover, but to act as
a quick reference guide. It does
the job for which it was designed
simply and elegantly.
I recommend this book for any
level of Vista user. For those of
you who wish to purchase the
book, the recommend price is
$2199 and the ISBN is 9780735622685.Vista loves
passwords, permissions, and procedures. This book
gets my work done faster and makes my day shorter.
The only drawback I can find is the binding. If
publishers put plastic spiral rings on these reference
books, they would lie flat on a desk. Otherwise, the glue
weakens and pages fall out.
"
President's Message continued from page 2
•
•
•
•
•
•
97
Domain Name fees: $74 (triennially)
Recognition Award (member of the year): up to $7000
Misc. postage and supplies: $5000
Postage to mail reports and payments to required agencies, flyers for advertising the group, etc.
Holiday Party: up to $10000
Picnic: up to $10000
Total of listed items
$107000/year
We have other expenses but I am not going to list them all. If you want to look at some of our past Treasury
Reports that can be arranged. As you should have noticed your dues, when receiving the printed newsletter,
doesn't come close to covering the group's expenses.
Without the expense of the printed newsletter we "might" be able to replace the projector in a couple years,
and hopefully before it dies. We may also be able to buy a decent laptop for our presentations someday so we
don't have to borrow Jeff's or some other's laptop.
If you have any suggestions or ideas about this or any issue feel free to e-mail them to me
[email protected] or any board member. I look forward to seeing each of you at the April 16th
meeting.
Take care,
Ron
NVPCUG Computer News, April 2008, Page 4
Shortcuts
By Mike Moore, Editor, Bowling Green Area Microcomputer User Group, Kentucky,
Obtained from APCUG with the author's permission for
publication by APCUG member groups.
Why do some icons on your desktop have a
little white arrow embedded in the picture?
These are shortcuts (sometimes called links). They are small
files that represent and "point to" the
real thing. When you double -left-click
on a shortcut icon, Windows reads the
location of the file to open from within
the shortcut file, then opens the target
file. Shortcuts are, in the lingo of
computer programmers, symbolic links
to actual files. They don't contain any of
the file's information—they just point to
it. In real terms: if Peoria, Illinois was a
file, then its shortcut would be the map
telling you how to get there.
Why do we use shortcuts? Why not just put the real, actual
file on your desktop? There are several reasons. First, since a
shortcut does not contain any of the target file's information,
it can be deleted without damaging the file it points to.
Therefore, placing shortcuts on the desktop (or in any directory)
is safer. Accidental deletion of these links will not affect
anything other than you may lose track of where your file was!
The other reason is that you can have many shortcuts and
place them anywhere you might need quick access to your
file. For example, when we give away computers, we
organize the software links in various folders on the desktop.
There's a folder for Educational software and Game software
www.bgamug.org, [email protected]
links, and for the software that is both Educational and Fun,
we put links to the same program in both the Educational
and Game folders. You can rename shortcuts to anything
you want, and it won't affect the real name of the file they
point to.
Shortcuts are also portable! If I know
for sure that a program will be in a
certain place on nearly every PC, I can
e-mail a link to someone and tell them to
place it on their desktop. Doubleclicking on it should open that file on
my recipient's PC! E-mailing a link is
much more of a sure bet than e-mailing
an executable file—because most email servers just won't allow executables
(files ending in .EXE) to be sent!
How does one create a link? The best way is to find the
file you want the link to refer to, then do a single rightclick on it. This brings up a context menu where you can
create the shortcut. Once the shortcut is created you can
move it to any directory or to the desktop.
For creating desktop links, Windows provides a shortcut
wizard that allows you to create a shortcut for any file type
including a web page or another folder. From anywhere on
the desktop, right click and select 'New' and then 'Shortcut'
to activate this wizard.
"
This article has been provided to APCUG by the author solely
for publication by APCUG member groups. All other uses
require the permission of the author (see e-mail address above).
Important
Board Decision
It was moved that the newsletter be electronic
only, beginning January 01, 2009, unless a
member orders a printed copy for an additional
annual charge of $1000 to help cover postage
and printing costs.
NVPCUG Computer News, April 2008, Page 5
Hulu Offers Free TV and Movies over
the ByNet
Ira Wilsker, APCUG Director; Columnist, The Examiner, Beaumont, TX; Radio and TV
Show Host, [email protected]
Obtained from APCUG with the author's permission for
publication by APCUG member groups.
WEBSITES:
http://www.hulu.com
http://www.hulu.com/browse/
alphabetical/tv - TV Shows
Alphabetically
http://www.hulu.com/browse/genre/tv
- TV shows by Genre
http://www.hulu.com/hd - HD Videos
http://www.hulu.com/browse/network/
movies - Movies by Studio
http://www.hulu.com/browse/genre/
movies - Movies by Genre
http://www.adobe.com - Adobe Flash
Player (Free)
One of my readers recently
emailed me about an offer
he received via email
(probably a spam email)
about a $50 program that
will allow him to view what
was described as satellite TV
over the internet, without
paying a monthly fee.
According to the email, with
this program, he could
discontinue his cable or
satellite service, and watch
over 3000 channels on his
computer. I researched the
product he referenced and
found that it was a multilevel
marketed program that was,
in my opinion, deceptive in
that it did not offer real
satellite TV, but instead only
offered a software utility that
could receive the thousands
of streaming videos already
available for anyone to view for free, and that often
required no special software to view. I strongly
recommended to the reader that he not purchase the
product, and instead just search for streaming video, and
to keep his current TV provider.
In researching this service I came upon a recently
released and legitimate way to view thousands of TV
programs and movies over the internet, for free, and only
using any of the common internet browsers. This free
service (registration required) is the Hulu service available
online at www.hulu.com. Hulu was founded in March
of 2007, and is a joint venture owned by NBC Universal,
and News Corp, and financed by $100 million of venture
capital. As I type this, Hulu is offering advertising supported
content from over 50 sources, such as Fox TV, NBC,
MGM, Sony Pictures, Warner Brothers, Lionsgate, 20th
Century Fox, and other providers. The content available
for viewing includes TV shows, full length feature films,
and clips. Several full length, prime time shows are
available on Hulu the morning after they air, and include
such popular shows as The Simpsons, and The Office.
There are also dozens of classical TV shows, available as
full length episodes, including such favorites as Miami
Vice and Buffy the Vampire Slayer. If users are willing to
put up with unobtrusive ads, often in the lower right corner
of the image, or standard TV type commercials, they can
watch for free such full length feature films as Ice Age,
Three Amigos!, and many others. Hulu is headquartered in
Los Angeles, with research and development being done
in China.
NVPCUG Computer News, April 2008, Page 6
Hulu will play on almost all current browsers as they are
currently configured, and require no special software or
add-ons to utilize the service, and requires a broadband
connection to view the videos. Almost all computers
already have Adobe's Flash Player installed, but if not,
Flash Player is a free download from Adobe at
www.adobe.com.
Once registered at hulu.com (free registration), a broad
selection of videos becomes available for viewing at will.
As I type this, there are about 11,200 full length TV
episodes and feature clips available, with more being
added daily. Currently available for viewing are almost all
of the episodes of The Simpsons, 30 Rock, The Office,
Knight Rider, House, Medium, Bionic Woman, American
Dad!, Buffy the Vampire Slayer, 24, Prison Break, Heroes,
about 160 full length children's cartoons (Woody
Woodpecker, Spiderman, Astro Boy, and many others),
and other TV shows of all genres. For those partial to
Saturday Night Live skits, there are about nearly 500
available, including such contemporary issues as
presidential politics. TV wrestling fans would appreciate
the over 300 matches available for viewing, while NBA
fans can view over 140 clips from professional basketball
games. A collection of recent (2008) full length college
football games, including many of the bowl games are
available for viewing, including the 2007 and 2008 Sugar
Bowl, Cotton Bowl, Fiesta Bowl, and others, enough to
satiate any college football fans, and keep them glued to
the computer screen for days on end. Soap opera addicts
will appreciate the well over 100 clips from Days of Our
Lives. In total, Hulu lists 25 different TV genres for every
taste, making something available for everyone. The large
assortment of TV shows (and movies as well) can be
displayed by clicking on "Type" (TV or Movie), and then
"Genre"; this will display only those selections that meet
both criteria. Simply clicking on the image of the selection
will play that selection. All of the TV shows can be
displayed in one window alphabetically at
www.hulu.com/browse/alphabetical/tv, and
can be run by clicking on their titles. All of the TV shows
can also be displayed in one window, sorted by genre at
www.hulu.com/browse/genre/tv.
Hulu is not just about TV, but also full length feature
films, clips, and trailers. As I type this, there are 760
movies available, of which 80 are full length feature films,
the remainder being shorts, clips and trailers. According
to Hulu, the most popular full length films viewed by
members are Ice Age, Master and Commander: The
Far Side of the World, The Girl Next Door, The Jerk,
Usual Suspects, Planet of the Apes, Weekend at Bernie's,
Dragon – The Bruce Lee Story, Voyage to the Bottom
of the Sea, Three Amigos!, All Dogs Go to Heaven, and
dozens more. Movies are divided into 10 genres, including
action and adventure, animation, comedy, crime and
mystery, documentary and biography, drama, family and
kids, horror and thriller, music, and sci-fi and fantasy.
Movies can be selected by genre, or by studio. Opening
www.hulu.com/browse/network/movies will
display movies alphabetically by studio, with full length
features being clearly indicated. Each of the movies shown
is hyperlinked (click on the title) directly to the movie.
Similarly, all of the movies can be sorted by genre, and
displayed in one window at www.hulu.com/browse/
genre/movies.
Hulu is about to roll out "HD" (High Definition)
videos, and currently has 20 HD movie trailers available
to demonstrate the service at www.hulu.com/hd.
Since HD video caries more data then conventional
video, the system requirements are higher to view HD. In
order to view the HD videos, the computer must have a
minimum of Flash Player 9.0.115.0 (a free download
from Adobe, available for most operating systems), a
2.5Mbs or faster broadband connection (many of the
basic broadband services are incapable of operating at
this speed, and a premium or upgraded broadband may
be required to view HD), a fast processor (3Ghz minimum
for Windows or Linux, or a 1.83Ghz Intel Core Duo for
Mac). Almost all modern computers of recent
manufacturer meet the minimum RAM and video
requirements to view HD videos.
While not a substitute for cable or satellite TV, Hulu can
provide countless hours of entertainment for free. Since
new content is frequently added, and additional providers
are being solicited, Hulu has the potential for becoming a
major entertainment resource.
"
This article has been provided to APCUG by the author solely
for publication by APCUG member groups. All other uses
require the permission of the author (see e-mail address
above).
Editors Note: This is one of the programs that
Jeff Solomon, our Computer Tutor, discussed
two months ago when he talked about viewing TV
programs over the Internet.
Balance Power & Features
The coolest CE devices always seem to run on batteries.
Unfortunately, battery life plummets when you turn
on features such as Wi-Fi and Bluetooth. Also, the
faster the processor in a device such as a notebook PC,
the shorter the battery life. If you need a long charge
time to get you through frequent airline flights, for
instance, opt for a lighter feature list and powersaving capabilities. If you need something more
powerful, say to replace your desktop PC, you're
talking about a heavier device that will keep you
looking for a wall outlet.
Reprinted with permission from Smart Computing. Visit
www.SmartComputing.com/Groups to learn what
Smart Computing can do for you and your user group!
NVPCUG Computer News, April 2008, Page 7
How
to Forward E-mail
By Vinny La Bash, a member of the Sarasota Personal Computer Users Group, Inc., Florida,
www.spcug.org, [email protected]
Obtained from APCUG with the author's permission for
publication by APCUG member groups.
Let's examine a typical email scenario. After opening your
email, you find a message that you simply must share with all
your friends. You press the "Forward" button and one way or
another get all their email addresses in the "To:" box. Feeling
quite satisfied after pressing the "Send" button, you sit back and
take satisfaction in the joy you are sending to others.
You should be ashamed of yourself.
You have just exposed everyone on your
mailing list plus any people who received
the email ahead of you to unending
streams of spam, spyware, viruses, and
other assorted electronic junk and mischief that hackers are
prone to these days. What you have done is prove conclusively
that you don't have a clue about the proper way to forward
email.Your license to compute should be revoked immediately.
As messages get forwarded in this way they move along the
internet, and the list of email addresses embedded in the note
gets longer and longer. All it takes is for just one of these folks
to get a virus or some other kind of malware, and everyone who
has their email address in that list can be infected.
Anyone can take those email addresses, sell them or
send out their own junk mail. Assuming you are a mature
responsible adult, you most likely would not want to harm
anyone, even inadvertently. What does a conscientious
person do to stop or better yet, prevent damage?
When you click the "Forward" button you enter the edit
mode of your email client. Before you do anything else
DELETE all the other email addresses appearing at the top
of the message. Let me repeat. DELETE them by
highlighting them and THEN pressing the Delete button
on your keyboard. It doesn't take long. When you've
finished, delete any other junk that isn't actually part of the
message, such as information about the original sender.
Delete anything that is not part of what you want to send.
If you're sending the message to more than one person,
do not use the To: or Cc: fields for adding email addresses.
Always, always use the BCC: (blind carbon copy) field for
listing the email addresses. The people receiving the
message will see only their own address.
Some email clients don't automatically show the blind
carbon copy option. If that's the case, click on where it says To:
and your address list will appear. Highlight the email address
and choose the BCC: option. It's not much effort, and it
eliminates the possibility of someone using the email addresses
inappropriately. When you send using the blind carbon copy,
everyone receiving the message will see "Undisclosed
Recipients" in the heading information.
If your email client requires that something be in the To: field,
send the message to yourself and use the BCC: field for
everyone else.
Remove any FW in the subject line. Better yet, clean up the
subject line completely by fixing any spelling or grammatical
mistakes. Why let someone else's errors appear as your own?
Sometimes you will receive an email that is a petition. It
states a position and directs you to add your name, address, and
sometimes other information. Then you're supposed to send it
to as many people as possible. If enough people do this, an
email can contain hundreds if not thousands of names and
addresses.
The longer the list gets the more valuable
it becomes to a spammer or hacker because
the names and email addresses are valid.
If you really want to support the idea
behind the petition, a personal letter to the eventual recipient
carries a lot more weight than a piece of paper with a long list
of names. When you think about it, lists like these can be
generated from telephone books. Do you really think that a
member of congress is going to pay attention to something that
could be so easily faked?
Sometimes these petitions come with statements or
warnings that the emails are being traced. Don't believe
it. While technology is constantly improving, there is
still no way to trace emails through the internet.
One kind of really annoying email is the one that
promises that something wonderful is going to happen,
but only if I forward the message to at least ten people in
the next ten minutes. However, if I fail to do so, some
unspeakable evil will surely befall me. I always fail to do
so, and nothing bad has happened yet, but I wonder if this
could be the reason I haven't won the lottery.
Before forwarding some version of an Amber Alert,
take a little time to check out the story behind the
message. Most of these messages have been circulating
around the internet for years. Some of them have been
around for a decade. Almost all of them are much less
than they seem.
Some sites that will help:
www.hoaxbusters.com
http://urbanlegends.about.com/od/
internet/a/current_netlore.htm
http://ciac.llnl.gov/ciac/bulletins/
h-05.shtml
http://www.snopes.com/snopes.asp
http://www.vmyths.com/
You may not be able to stop this stuff on your own, but
you can stop contributing to it.
"
This article has been provided to APCUG by the author
solely for publication by APCUG member groups. All
other uses require the permission of the author (see
e-mail address above).
NVPCUG Computer News, April 2008, Page 8
The Switch
to Digital TV
By Sandy Berger, CompuKISS, www.compukiss.com, [email protected]
Obtained from APCUG with the author's permission for
publication by APCUG member groups.
The switch to digital is on the way. On February 17,
2009, U. S. broadcast stations, who are currently
broadcasting in both analog and digital, will turn off their
analog signals and will transmit only in digital. What's
this mean to you?
Most consumers who get their
television from a cable or satellite
provider won't notice a difference.
Cable and satellite companies are not
required to make the transition, so
they can continue to broadcast in both
analog and digital. Eventually,
though, if your cable company moves
to all digital, you will not be able to
get the cable straight from the wall,
but will need a box from your cable
company. Most cable customers
already have a cable television box,
anyway. Don't worry about that now,
your cable company will notify you,
if and when that happens. And it may
be years down the road.
The people who will be most affected by the transition
to digital are those who get their television "over the air"
with rabbit ears or an antenna in the attic or on the roof.
Older analog televisions will not be able to pick up the
digital signal. You don't, however, have to go out and buy
a new TV. You simply will need to add a digital-to-analog
converter box to your television. These boxes are already
available in stores like Wal-Mark, Best Buy, Circuit City,
RadioShack, and Target. They will be priced between
$40 and $70.
Luckily for those with rabbit ears and old televisions,
the government has created a $1.5 billion coupon program
to subsidize the cost of the converter boxes. This program
is being overseen by the National Telecommunication
and Information Administration agency. Each household,
regardless of how they receive their television, is eligible
to receive two $40 coupons. The coupons are available
now. As I write this, over 5 million coupons have already
been requested.
To g e t a c o u p o n y o u c a n a p p l y o n l i n e a t
www.dtv2009.gov or call the 24-hour hot line,
888-DTV-2009 (888-388-2009). You can also mail a
coupon application to P.O. Box 2000, Portland, OR
97208-2000. The program itself expires on March 31,
2009. The government is trying to get everyone ready as
quickly as possible, so be aware that the coupons expire
three months after they are mailed to you. Since many
television stations are already broadcasting in digital,
you can use the converter box immediately.
If you are still asking why we are doing this, the official
government explanation is that switching to digital TV
will free up parts of the valuable broadcast spectrum for
public safety communications such as police, fire
departments, and rescue squads. The bigger reason,
though, is that some of the spectrum
will be auctioned to companies for
advanced wireless services. This, of
course, will be very lucrative for the
US Government.
It may also be a good thing for
consumers, as well. With the digital
converter box, even your old analog
television may give you a better
picture. You will also be able to see
more channels as some broadcasters
will choose to multicast programs.
Multicasting means that a broadcaster
can split up its signal into several
channels, each with a different set of
programs. This type of programming
is only available with digital broadcasting.
One thing to remember is that digital television is not
high-definition television. Although high-def TVs will
display digital television, you do not need a high-def TV
just because of this transition. Digital broadcast television
includes both Standard Definition (SD) and High
Definition (HD) formats. You can watch both standard
definition and high definition programming on an analog
TV hooked to a digital-to-analog converter box, but the
high definition won't give you the full high definition
quality that you would receive on a high ZIf you have a
newer TV that you purchased in the last few years, it my
already support digital. Look at the markings on the
television to find out if it has a digital tuner built-in.
Words like "Digital Tuner or Receiver", "DTV", or
"HDTV" indicate that it will display the digital
programming. However, if your television says "HDTV
Monitor", "Digital Ready" or "HDTV Ready", you may
still need a converter box.
If you need more information on the move to digital
television, check out the Federal Communication
Commission's DTV Web site at www.dtv.gov. They
have done a good job explaining everything you need to
know.
"
This article has been provided to APCUG by the author
solely for publication by APCUG member groups. All
other uses require the permission of the author (see
e-mail address above).
NVPCUG Computer News, April 2008, Page 9
Converting CD-based Music to
Compressed
Audio Files
By Mike Moore, Editor, Bowling Green Area Microcomputer User Group, Kentucky,
Obtained from APCUG with the author's permission for
publication by APCUG member groups.
I spent the equivalent of two or three days in January,
working a few minutes at a time, converting all of our CDs
to MP3 format. I had been dreading this project, thinking
that it would take too much time, but it really was not that
bad and the results are going to be worth it.
A few years ago I purchased a 400-CD
jukebox type CD player. This device
does has the capability of
displaying a short line
containing the album's
title, using a standard
PC keyboard, but the
process is complicated
with problems. It's easy
to get CDs in the wrong slot
and of course, you can only play
them in the room where you've
physically situated the jukebox unit.
In the past few years, we've been getting away from the
album and becoming more focused on individual songs.
This lamentable trend has been fueled by the 99 cent price
point associated with downloading music by the song.
Artists and producers alike have vilified this process,
claiming that the artistic sum worth of songs on an album
is greater than the tunes taken as individual songs.
I can buy into this sadness, to a point. I remember the
smell of vinyl LPs, unwrapping the cellophane outer wrap,
and the incredible detail the producers went into in packing
artistic value into the finished product, right down to the
order the songs appear on the album. These days, you just
Google the album or artist title and download the Jpeg,
that's about it. For a fee, a program called iTunes will do
this for you automatically.
So why would a guy spend the time to rip (compress) the
tracks of a CD or other ancient audio product to MP3 files?
There are a few good reasons to do this.
For one thing, the devices that play music have become
decentralized. What I mean by that is if you can imagine
your computer as the "record player," then it's not much
of a stretch to think of playing music anywhere in the
house, car or workplace.
Doing this in the past meant locating the song you want
(which may or may not be an easy task), finding the CD (or
tape, or LP) it's recorded on, and hoping that it's not
damaged.
Then once you've got it, you carry it to where ever you
www.bgamug.org, [email protected]
want to hear it. For me, this was often the car, and a car is
a great place to scratch or otherwise ruin a CD, and I've
also known friends whose entire CD collections have been
stolen from vehicles. Physically moving music and other
files from player to player is sometimes humorously
referred to as "Sneaker Net"
But once you begin to think of your songs and other
media in terms of compressed MP3 files, they become
at once more searchable, more replaceable,
and more portable.
Compressed audio
files, though the wonder
of a shared internet
database
called
Gracenote (formerly
CDDB), contain
informational tidbits that
can searched. On the other hand,
ordinary music tracks on a Compact Disc
have no information associated with them at all, not
even the name of the song. By converting CD-ROM
music to MP3 files, your database can pull up a playlist
for you using information encoded in the MP3 file. Most
ripping software (such as C-Dex, available at http://
cdexos.sourceforge.net/) will query the CDDB so that
you won't have to manually type in the names of the
songs or the name of the CD.
Compressed audio files can be stored on any hard drive
in the house and can be made available on inexpensive
MP3 players, iPods, and Multimedia computers that attach
directly to your sound system. There is usually no special
hardware to buy - you can just feed the stereo output from
your computer's sound card to the audio input on your TV
or stereo amplifier.
Most of the MP3 player devices out there do not require
a lot in the way of software — you generally plug them into
a computer, they assign themselves a drive letter, and you
can just copy your songs to the devices as if they were
another hard drive. There are even self-contained wireless
hard drives (see: http://www.apple.com/
airportexpress) that will broadcast your music
wirelessly to any networked computer in the house!
Compressed audio files cannot get scratched like CDs
do, and if your iPod or MP3 player is stolen or accidentally
formatted (happens all the time!), or even if your entire CD
collection is stolen, it's no longer the end of the world. You
just re-copy the files back to another device and you're
good to go.
NVPCUG Computer News, April 2008, Page 10
Though not exactly small, compressed audio files do
lend themselves much better to e-mail. A typical MP3
music file is around 3 to 6 megabytes, which is just under
the threshold of being too large to send to someone using
dial-up internet. If both ends of the connection have highspeed, it's no problem at all, as this amount of data can be
transmitted by most DSL and cable internet services in
about 10 or 20 seconds. The MP3 compressed format is
"lossy" in the sense that some of the music data is lost
during compression, compared to the original recording,
however I've never been able to tell the difference between
a compressed song and a non-compressed track on a CD.
The data you lose is not data that manifests as part of the
music.
By the way, the songs as recorded on CDs you buy are
very large — 50 to 80 megabytes would not be
uncommon. For those of you audiophiles who need
compression but don't want any data loss, consider
using the FLAC mode of compression (See http://
flac.sourceforge.net for information). FLAC
stands for "Free Lossless Audio Codec"
So, there are a host of reasons why we would want
to compress our audio
collection, but what is
the downside? The only
problem I can think of
is that most automotive
and older CD
players cannot recognize the MP3 or any computer
generated music format. Some of the newer CD players
can, but it's not something that people generally know. So,
for example, when I transferred an audio book selection to
CD for my wife, she found that the CD player in her car
refused to play the media, even though her car is not that
old. My car, a Chevy Monte Carlo, played the disk without
a problem even though it's an older car than hers. So in this
situation you may want to take advantage of software that
does the reverse of ripping - it would take MP3 files and
lay them down on the CD as if they were ordinary Audio
CD tracks. iTunes and many CD-writing utilities such as
Nero will do this for you.
Now does anyone wanna buy a used 400-CD
jukebox player?
"
This article has been provided to APCUG
by the author solely for publication by
APCUG member groups. All other uses
require the permission of the author (see
e-mail address above).
Microsoft patches still another patch
By Bob de Violini, a member of the Channel Islands PCUG, CA,
www.cipcug.org, [email protected]
Obtained from APCUG with the author's permission for
publication by APCUG member groups.
From the once is not enough department, Microsoft has,
again, patched a patch. This time, it involves patch
number MS07-069, which is a cumulative security
update for Internet Explorer 6 installed on Windows XP
Service Pack 2 only. Apparently the initial patch released
on December's patch Tuesday caused computers to
experience an unexpected crash or hang upon launching
Internet Explorer. If you, like I, have updating set to
notify but not download and install, or if you visit the
Windows Update site on your own once a month instead
of using Auto Update, then by all means please go to the
Windows Update site and grab the fix as soon as you
can. The fix doesn't require a reboot; it just makes a
minor registry entry to prevent IE6 from crashing
again.
Internet Explorer and G-mail
Rolling right along, there was some debate during December
with regards to a "vulnerability" that exists when visiting
Google's web-based e-mail site, Gmail, with Internet
Explorer. When the "bug" was pointed out to the computer
industry media, both Microsoft and Google denied the root
of the problem was with theirs. Apparently, an investigator
has claimed that IE improperly stores files in its cache and
that the scripting of Gmail allows this to be exploited, which
would allow someone to steal any user names and passwords
for Gmail that have been entered since the last time the IE
cache was purged. The simple way around this is to use a
browser besides IE when you visit Gmail or, if you must use
IE for checking your mail with Gmail, first purge the cache
and all cookies and then log in to the site. To purge IE's
NVPCUG Computer News, April 2008, Page 11
Microsoft continued on page 12
Microsoft patches continued from page 11
cache, inside IE go to the Tools drop down menu and select
Internet Options. Now, in the middle of the Internet Options
box, click the Delete Cookies button and click OK in the box
that pops up. Next, click the Delete Files button and click OK
in the box that pops up. Now click the OK button at the bottom
of the Internet Options box, and you're all set. There has been
no other news about this issue, so using another browser or
purging IE's cache is the only solution for now. By the way,
the biggest risk for this behavior appears to be if you're
sharing computer access such as that which is available at a
public library or a shopping mall where you pay for a few
minutes of high-speed Internet access.
Critical Updates for QuickTime
For those of you who are fond of using Apple's QuickTime
media player, there have been a couple of updates released in
December to fix a few critical security vulnerabilities. If you
only updated QuickTime once during that timeframe, you
might want to visit Apple's site to get the latest update. The
most recent version of the player (without the I Tunes add-on)
is 7.3.1.70. While you're at the Apple site, you might want to
download and install the Apple Software updater, which
makes it very easy to keep QuickTime updated. Just click on
it and watch it do its thing.
HP computer vulnerabilities
For those of you who have Hewlett Packard laptops and
desktops, there is a vulnerability in HP's Software Update
software. This vulnerability can allow an attacker to turn
your computer into a useless collection of metal and
plastic that's completely unbootable. HP rushed out a fix
in around four days, and it's now available for your
download. Computer security experts suggest installing it
even if you don't use the HP Software Update function at
all, as just having the software on your computer makes it
vulnerable. One catch — you have to run the vulnerable
software to get the update to fix it. HP has had no comment
about it at all, and there's no mention of it on its Web site.
Please keep in mind that the HP Software Update software
is completely separate from, and unrelated to, any other
updating software that is installed on the computer like
Windows Update or Microsoft Update.
Windows Vista change
Shifting gears toward Vista, Microsoft has announced that,
effective with Service Pack 1 for Vista due out in the first
quarter of this year, those with cracked or counterfeit copies
of Vista will no longer have their machines made to run in
reduced functionality mode by the Windows Genuine
Advantage validation tool. Instead, they'll just get nagged
about once an hour to get a legal copy of Vista on their
machines. Microsoft has said that this new stance is in
response to customer and partner requests. Time will tell just
how well this new policy goes over.
Adobe Flash patch coming
This next item pertains to a good number of folks reading this
and deals with an application that runs within the vast majority
of the Internet browsers in use that's called Flash. This application
enables you to see animated ads and other "mini movies"
within your browser. There have been a couple of very widely
publicized bugs in it, one of which has been patched. The other
one is under investigation by Adobe, which has pledged a fix
early this year. The way I read the security bulletin, it will
probably be out by the end of January, and may already be out
by the time you're reading this at home.
As of this writing, the latest version of the Adobe Flash
player is 9.0.115.0. This version number will, no doubt,
change as soon as the second bug is patched. The Adobe
security bulletin about the second patch can be found at http:/
/tinyurl.com/2kktqs. When you get there, you'll find it on the
technical side of things, but there's a section titled "Preventative
Measures for End-Users" which spells things out in plain
English for the rest of us.
"
This article has been provided to APCUG by the author solely
for publication by APCUG member groups. All other uses
require the permission of the author (see e-mail address above).
Evaluating Your Anti-Spyware Program
By Vinny La Bash, Member of the Sarasota Personal Computer Users Group, Inc.,
www.spcug.org, [email protected]
Obtained from APCUG with the author's permission for The developers of spyware didn't want to damage your
publication by APCUG member groups
computer. They wanted only to sell you something. That
For many years the most acute danger to your computer may be annoying, but there is nothing criminal about it.
was some kind of destructive virus. Today the danger has
A Trojan Horse is a program that pretends to be something
shifted from software that is programmed to destroy files, other than what it really is. For example, a screensaver could
corrupt programs, and disable systems to something more be designed to install a program that will take over your
insidious, and perhaps even more treacherous. This threat system to forward spam to other machines. Trojan Horses
comes in two broad categories known as Spyware and have been used to initiate denial of service attacks, where
Trojan Horses.
the target such as a bank, credit card service or other high
Spyware started out as a stealth program surreptitiously profile web site becomes so saturated with external
installed on your system to track your web surfing habits. requests that it cannot respond to legitimate traffic.
Î
NVPCUG Computer News, April 2008, Page 12
When selecting an anti-spyware program, start out by
selecting one with a comprehensive signatures database.
The best anti-spyware programs have databases that can
recognize more than 750,000 different kinds of spyware
and Trojan Horse programs. Read the documentation or
call the company. This is important.
The best signatures database won't do you any good if it
isn't updated frequently. The bad guys never seem to rest.
They release new poison daily. Don't buy any solutions
that require manual updates. You have better things to do.
Insist on automatic updates.
Another important capability is active monitoring of
your system. Wouldn't you rather prevent a malicious
program from installing rather than removing it after
the damage has been done? Avoid any program that
removes infections found only after conducting a manual
scan. This probably means avoiding some otherwise
adequate free programs. There's an old saying about
getting what you pay for. The best anti-spyware programs
prevent spyware and Trojan Horses from ever being
installed on your system.
Go for a program that allows you to customize your
scans. We don't all use our computers in the same way.
Some people require more comprehensive scans than
others. If you are constantly browsing the internet, you
are likely to benefit from a daily scan that checks
active memory, system folders, the registry, and all
hard drives. If you rarely use the internet or find
yourself visiting the same six sites over and over, a
weekly scan may be all you need.
You should be able to schedule unattended updates
and scans. Your machine should be yours to use as you
wish. Any decent anti-spyware program should be able
to run in the background unattended, and not require
interrupting your activities. The program should work
according to your preferences, not the other way around.
Choose a program that permits unattended maintenance
and administration.
It's also important that an unattended scan can quarantine
infections without requiring intervention from you. Why
do some anti-spyware programs ask if you want to remove
infections? Of course you do! Of all the features in antispyware programs, that is the dumbest.
There are innumerable derivations and iterations of
spyware being created. This makes it difficult for even the
best anti-spyware programs to catch and destroy them. If
you open the Processes tab in Windows Task Manager, you
will observe the Process Manager in action. You will see a
list of objects running on your system. Some of them are
applications like word processors. Others are mysterious
entities that don't provide a clue as so what they do, but you
can't run Windows effectively without them. Among them
would be Windows Explorer, Internet Explorer, Media
Center, Windows Mobile Control Center, and many others.
Beyond shutting down a process or resetting its priority,
there isn't much a non-specialist can do with this feature.
Clever programmers can create spyware that won't show
up in the Process Manager. Any decent anti-spyware
program has to have its own built-in process manager that
will recognize, track down, and eliminate malevolent
software that may not even be in the signatures database.
Anti-spyware programs should be able to monitor
programs that load when Windows starts up. There are
many very sophisticated spyware programs that to not
show up in the Process Monitor or in Control Panel's Add/
Remove section. If your anti-spyware program lacks this
capability, find another one.
Assuming your anti-spyware program has the capabilities
mentioned above, it is an excellent choice for individuals.
However, businesses or organizations with multiple
computers will require even more. Whoever is in charge of
PCs will not have time to manually monitor or administrate
individual machines. It is simply impractical in a large
organization for support staff to visit every workstation,
apply updates, schedule scans, and ensure that infestations
are removed. If this applies to you, look for a program with
a centralized administration console. This capability has
the unfortunate drawback of being quite expensive, but
the time saved generally justifies the cost.
"
This article has been provided to APCUG by the author solely
for publication by APCUG member groups. All other uses
require the permission of the author (see e-mail address above).
Requirements For Web Radio
You will need a player, a software application capable
of playing back Internet radio streams. Popular players
include Microsoft Windows Media Player 9, RealNetworks RealPlayer10, Apple iTunes, and many
MP3 music players. We will focus on using Windows
Media Player 9. You'll also need an Internet connection.
A dial-up connection is sufficient for reproducing
audio with AM radio quality. Many Internet radio
stations offer streams designed for dial-up users. If
you have a broadband connection, you have a wider
choice of playback quality. Some radio stations offer
near CD-quality streams, although often only as part
of an added cost subscription package. Depending on
the format, even lower bit rate broadcasts can sound
remarkably good. With a broadband connection, you
have your choice of any of the available stream bit
rates. Finally, your computer system needs a way to
play the streams. This can be as simple as a sound card
and desktop speakers or headphones or as complicated
as using a high-quality sound card to connect to your
stereo system.
Reprinted with permission from Smart Computing. Visit
www.SmartComputing.com/Groups to learn what
Smart Computing can do for you and your user group!
NVPCUG Computer News, April 2008, Page 13
Fr om Copies t o Full Co l or Printing
we 're your
sou r ce for all your printed needs .
Also come see us for your Pr omo tional Items !
947 Lincoln Avenue
Napa, CA 94559-5066
3148 Jefferson Street • Napa, California 94558
707/257-6260 • fax 707/257-8741
[email protected]
http://napa.minutemanpress.com
(707) 299-1000
www.napanet.net • [email protected]
Napa Valley Personal Computer Users Group
Offering Financial Services
throughout the Napa Valley;
with offices in American
Canyon, Calistoga,
Napa, St. Helena
and Yountville
800-869-3557
www.wellsfargo.com
Thank
You !
The Napa Valley Personal
Computer Users Group is
grateful for the support
provided by the afore
mentioned companies
Receive your
newsletter
online and save
the NVPCUG the
expense of mailing
your newsletter.
Contact Dianne Prior at
[email protected] and
request to receive your
newsletter online.
(Each persons newsletter that
is printed costs the group over
$24 annually.)
For more information about the
NVPCUG, visit our Web site:
http://www.nvpcug.org
Membership Application/Renewal *
‡ New
‡ Renewal
‡ Information Update
Please Print
Full Name: _________________ Nickname: _______________________
Street/PO Box: ________________________________________________
City: __________________ State: ______ ZIP Code: ________ - ______
Phone (check preferred):‡ Home: ( ______ ) _______ - _______________
‡ Work: ( ______ ) _______ - _______________
E-mail (check preferred):‡ Home: __________________________________
‡ Work: __________________________________
Ocupation/Profession ____________________________ Retired? ______
Do you want to be added to the following NVPCUG e-mail lists?
News and announcements:
‡Yes ‡ No
General discussion of computer-related topics:‡Yes
‡
No
If you do not want your preferred phone number and/or e-mail address
published in the NVPCUG Directory, which is for the exclusive use of
NVPCUG members, check the appropriate box(es):
‡ Do not list phone number
‡ Do not list e-mail address
Family members whom you want to sponsor as Associate Members:
(Associate Members have the same membership rights as their sponsors,
except for receiving newsletters)
Full Name
E-mail Address
__________________________
______________________________
__________________________
______________________________
Annual Dues:
‡ $30
Regular Member - an individual who is not a full-time student
‡ $20
Student Member - a full-time student who is not eligible for Associate
membership.
‡ $10
Associate Member - a family member of a Regular or Student
member. Associate memberships run concurrently with sponsors'
memberships.
Make check payable to:
Napa Valley Personal Computer Users Group
Mail application/renewal to:
Napa Valley Personal Computer Users Group
Attn.: Membership Director, P.O. Box 2866
Napa, CA 94558-0286.
The NVPCUG is an accredited IRC 501(c)(3) nonprofit organization. Your dues
payment may be tax-deductible as a charitable contribution.
* To request a Corporate Membership Application / Renewal form, e-mail:
[email protected]
Revised 4-23-07
NVPCUG Computer News, April 2008, Page 14
Zune By8AshReview
Nallawalla, APCUG Director and member of the Melbourne PCUG, Australia,
www.melbpc.org.au/, [email protected]
Obtained from APCUG with the author's permission for close-ups of performers but it would not be fun to watch
publication by APCUG member groups.
a full-length movie on this model. During music playback,
Thanks to good friends in the Microsoft Windows the backlight disappears and helps to conserve battery
group in Redmond, I received a shiny new, red 8 GB life.
Zune during CES. It has a beautifully engraved
The USB cable acts as the media conduit to and from
"www.zuneusergroup.com" (my site) on the back. the PC and also charges the battery. There is a small,
Here is my assessment.
recessed set of holes to take a wrist strap, which is not
supplied.
Packaging
The compact packaging of the 4/8 GB Zune does not
contain a software CD like the original Zune. You get a
manual, a USB cable and a set of earphones. The box
comes in a soft pouch and could be mistaken for a
perfume box.
FM Radio
Setting Up
Sound Quality
You first set up the Zune software on the PC by going to
www.zune.net/setup. You get to choose between the "full
Zune experience" and simply downloading the software.
I already had the latest software on account of my old
Zune 30, so I explored the Zune.net site.
There you set up a Zune account, if you don't have one.
This enables you to give your Zune a name and buy
music from the Zune Marketplace, an online music store.
You can customize your Zune at zuneoriginals.net.
The Zune 8 refuses to work until you have installed the
Zune software on the PC and connected the player at least
once. When you connect the device to the PC, it proceeds
to update the firmware. This was painless.
The sound quality is fine too, just like the original Zune
30. There is a good selection of pre-loaded media. The
supplied earphones do a basic job, but as with all players,
you need to buy high-quality headphones to get optimum
sound. There isn't an equalizer (EQ) control or preset, so
you cannot customize the sound to your liking. This
option is present on the old Zune 30, so its omission
seems to be a deliberate decision. Why hobble sound
quality?
Software
The Zune software is easy to use and is intuitive. It was
able to find all my music, video and images and sync
them to the player. I can also sync my podcast
subscriptions automatically. Unless it was a coincidence,
the software showed both my Zunes in their correct
colours - a nice touch.
Controls
The main input on the player is the Zune Pad, a rounded
rectangular touch-sensitive button. You change the
volume and select options by rubbing your thumb from
top to bottom or left to right. The default touch sensitivity
was fine for me, unlike the over-sensitive controls of the
original Creative Zen, which tended to overshoot the
desired selection.
Display
The tiny 4.5 cm (1.8-inch) scratch-resistant, glass-covered
screen is watchable for short music videos that have
The FM radio displays RBDS data, so you can see the
name of the radio station and the song being played. You
cannot record a radio program, as you can on some
Creative units. The tuner picked up all my local stations.
Sharing
The latest 2.3 (1145) firmware is common to all models
and renames "Community" to "Social". You can share a
song by sending it to a nearby Zune (that is turned on and
has wireless enabled). The other Zune has to accept it and
will get three plays (the three days limitation has been
removed).
Other Zune models
There is a new 80 GB model (only black) that works just
like the 4/8 GB versions except that it contains a hard
drive, not Flash memory and has a larger screen. The 4/
8 GB models come in pink, red, green and black.
Conclusion
The Zune 8 is light, easy-to-use, has a good battery life,
feature set, and great sound quality. The software is a
testimonial to Microsoft as a leading software company.
In conclusion, the 8 GB Zune is a fine multimedia player
and you will not regret buying it (about $185 online).
Well done, Microsoft.
"
This article has been provided to APCUG by the author solely
for publication by APCUG member groups. All other uses
require the permission of the author (see e-mail address above).
NVPCUG Computer News, April 2008, Page 15
Hasta
la
Vista
—
Customize Your Data Locations
By Lee Reynolds, a member of the Broward Personal Computer Association, Florida,
www.bpca.com, [email protected]
Obtained from APCUG with the author's permission for
publication by APCUG member groups.
I'm told the literal meaning of "hasta la vista" in Spanish
is "until the seeing." Or maybe a more adequate translation
is "see you later". But in this column, I'm using that phrase
to invite you to take a look at Microsoft's latest version of
Windows: Vista.
If you take a look at the new Vista Start Menu, one
change from Windows XP you will see is that there is a link
at the top of it which is your account name. If you click on
that, you will open up a Windows Explorer window, which
shows all your user folders, such as:
• Favorites
• Documents
• Pictures
• Etc..
• Music
• Desktop
In Details view, this is handy since one column shows the
Folder path for each of these.
Most of the folders will be on your boot drive (normally,
C:) in this path:
C:\Users\<AccountName>, where <AccountName>,
of course, is your account name.
There are several entries in this list which have the little
"shortcut" arrow in their icons, for example:
• Application Data • My Documents • Start Menu
• Recent
• Cookies
• Templates
• Local Settings • Send To
If you click on any of these shortcuts, except Recent, you
will immediately be presented with an error message:
"<folder path> is not accessible Access is denied", then
you have to click the OK button to dismiss the message.
All of those shortcuts are there for compatibility reasons,
in order for the system to be able to access certain locations
that were used in Windows XP. The actual path of each of
those locations has changed in Windows Vista. For example,
the folder that was accessed in this way in Windows XP
C:\Documents and Settings\<AccountName>\My
Documents is now here in Vista:
C:\Users\<AccountName>\Documents.
Napa Valley Personal Computer Users Group
P.O. Box 2866
Napa, California 94558-0286
Address Services Requested
Backup and Partitioning
I like to backup my entire system periodically with a
drive image program from Acronis called True Image.
However, I also like to try and keep most of my data
separate from the program files and windows system
files making up the boot drive.
I took advantage of the built-in drive partitioning
software of Vista (more about this in another article), in
order to create several other partitions on my C: drive,
and one of these is reserved for storing the contents of
such folders as Documents, Favorites, Music, and
Pictures. (I did something similar for an old computer
using Windows XP.)
This not only reduces the size of the backup image of
my boot drive, it also makes it much easier to backup
my rapidly changing data to CD-RWs or DVD-RWs.
In Windows XP, in order to move the data locations to
another partition, I was forced, in some cases, to edit the
registry. In Windows Vista, this is no longer necessary.
There is a Windows user interface to change folder
locations of your user account profile. Just right click
on your Documents folder, for example: Select
Properties from the context menu, and then you will see
a new tab in the folder properties windows called
Location.
Click on that tab, and you will now see this message:
You can change where files in this folder are stored to
another place on this hard drive, another drive, or even
another computer on your network.
All you have to do is type in the new location, and
click OK. You will then be presented with a message,
asking if you want to move all of the files from the old
location to the new location, and recommending that
you do so, or else you will see two of the designated
folders in your profile.
"
This article has been provided to APCUG by the author solely
for publication by APCUG member groups. All other uses
require the permission of the author (see e-mail address above).