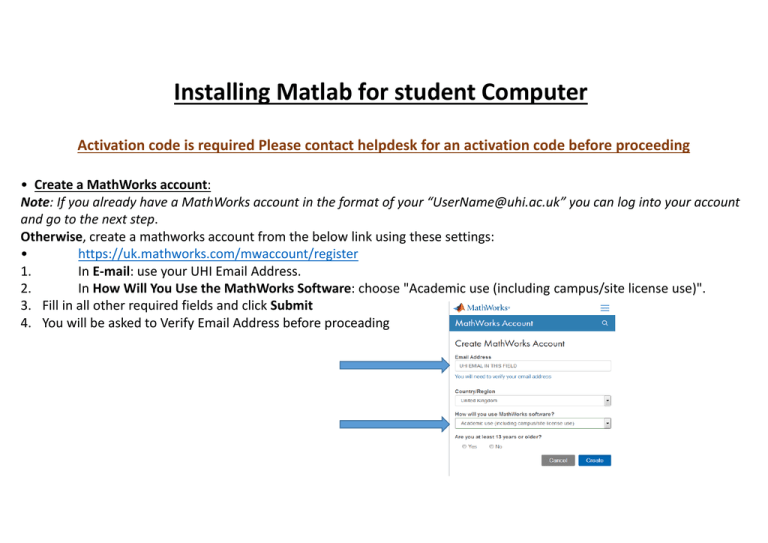 Installing Matlab for student Computer
Activation code is required Please contact helpdesk for an activation code before proceeding • Create a MathWorks account: Note: If you already have a MathWorks account in the format of your "[email protected]" you can log into your account and go to the next step.
Otherwise, create a mathworks account from the below link using these settings:
•
https://uk.mathworks.com/mwaccount/register
1.
In E‐mail: use your UHI Email Address.
2.
In How Will You Use the MathWorks Software: choose "Academic use (including campus/site license use)".
3. Fill in all other required fields and click Submit
4. You will be asked to Verify Email Address before proceading
• Associate to the campus‐wide license using the Activation Key: 1. Choose My Account; 2. Then under My Licenses, choose Manage Licenses.
3. Click Add License.
4. Enter the Activation Key and click Continue. (Licence key given from UHI helpdesk)
• Download, install and activate MATLAB software: 1. Choose My Account (as above image); then under My Downloads, choose Get Licensed Products and Updates.
2. Select the appropriate installation guide for Windows, UNIX or Mac OS, follow the instructions for download and installation. 
* Your assessment is very important for improving the work of artificial intelligence, which forms the content of this project