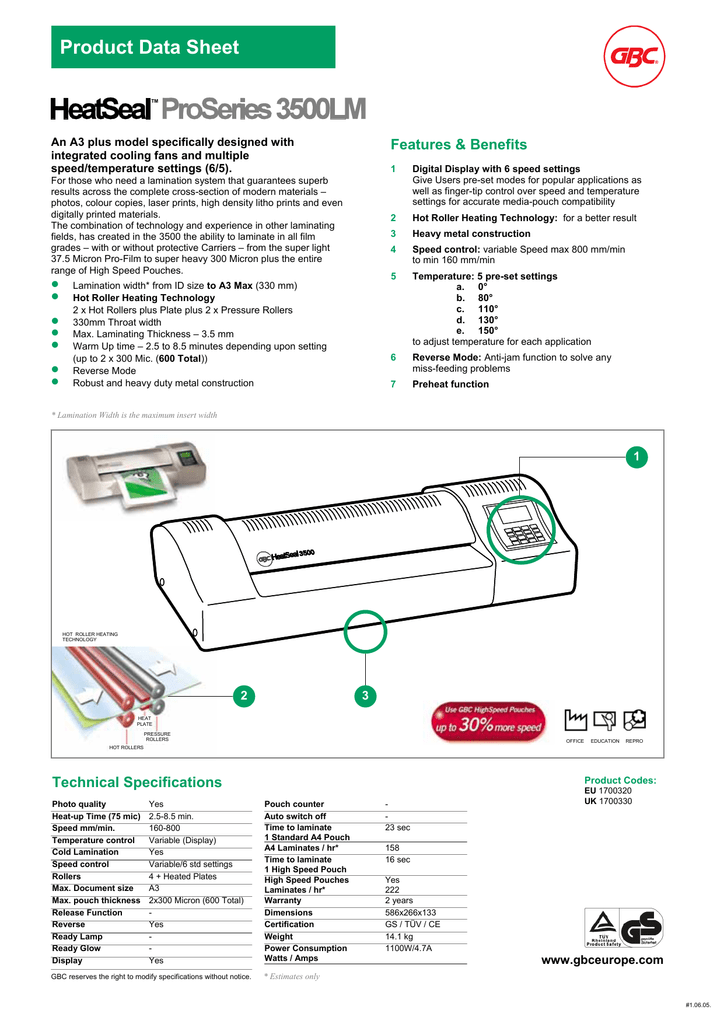 Product Data Sheet
TM
An A3 plus model specifically designed with
integrated cooling fans and multiple
speed/temperature settings (6/5).
Features & Benefits
1
For those who need a lamination system that guarantees superb
results across the complete cross-section of modern materials –
photos, colour copies, laser prints, high density litho prints and even
digitally printed materials.
The combination of technology and experience in other laminating
fields, has created in the 3500 the ability to laminate in all film
grades – with or without protective Carriers – from the super light
37.5 Micron Pro-Film to super heavy 300 Micron plus the entire
range of High Speed Pouches.
•
•
•
•
•
•
•
Lamination width* from ID size to A3 Max (330 mm)
Hot Roller Heating Technology
2 x Hot Rollers plus Plate plus 2 x Pressure Rollers
330mm Throat width
Max. Laminating Thickness – 3.5 mm
Warm Up time – 2.5 to 8.5 minutes depending upon setting
(up to 2 x 300 Mic. (600 Total))
Reverse Mode
Robust and heavy duty metal construction
Digital Display with 6 speed settings
Give Users pre-set modes for popular applications as
well as finger-tip control over speed and temperature
settings for accurate media-pouch compatibility
2
Hot Roller Heating Technology: for a better result
3
Heavy metal construction
4
Speed control: variable Speed max 800 mm/min
to min 160 mm/min
5
Temperature: 5 pre-set settings
a. 0°
b. 80°
c. 110°
d. 130°
e. 150°
to adjust temperature for each application
6
Reverse Mode: Anti-jam function to solve any
miss-feeding problems
7
Preheat function
* Lamination Width is the maximum insert width
1
HOT ROLLER HEATING
TECHNOLOGY
2
3
HEAT
PLATE
PRESSURE
ROLLERS
OFFICE
EDUCATION
REPRO
HOT ROLLERS
Product Codes:
Technical Specifications
Photo quality
Heat-up Time (75 mic)
Speed mm/min.
Temperature control
Cold Lamination
Speed control
Rollers
Max. Document size
Max. pouch thickness
Release Function
Reverse
Ready Lamp
Ready Glow
Display
Yes
2.5-8.5 min.
160-800
Variable (Display)
Yes
Variable/6 std settings
4 + Heated Plates
A3
2x300 Micron (600 Total)
Yes
Yes
GBC reserves the right to modify specifications without notice.
Pouch counter
Auto switch off
Time to laminate
1 Standard A4 Pouch
A4 Laminates / hr*
Time to laminate
1 High Speed Pouch
High Speed Pouches
Laminates / hr*
Warranty
Dimensions
Certification
Weight
Power Consumption
Watts / Amps
23 sec
EU 1700320
UK 1700330
158
16 sec
Yes
222
2 years
586x266x133
GS / TÜV / CE
14.1 kg
1100W/4.7A
www.gbceurope.com
* Estimates only
#1.06.05.

* Your assessment is very important for improving the work of artificial intelligence, which forms the content of this project