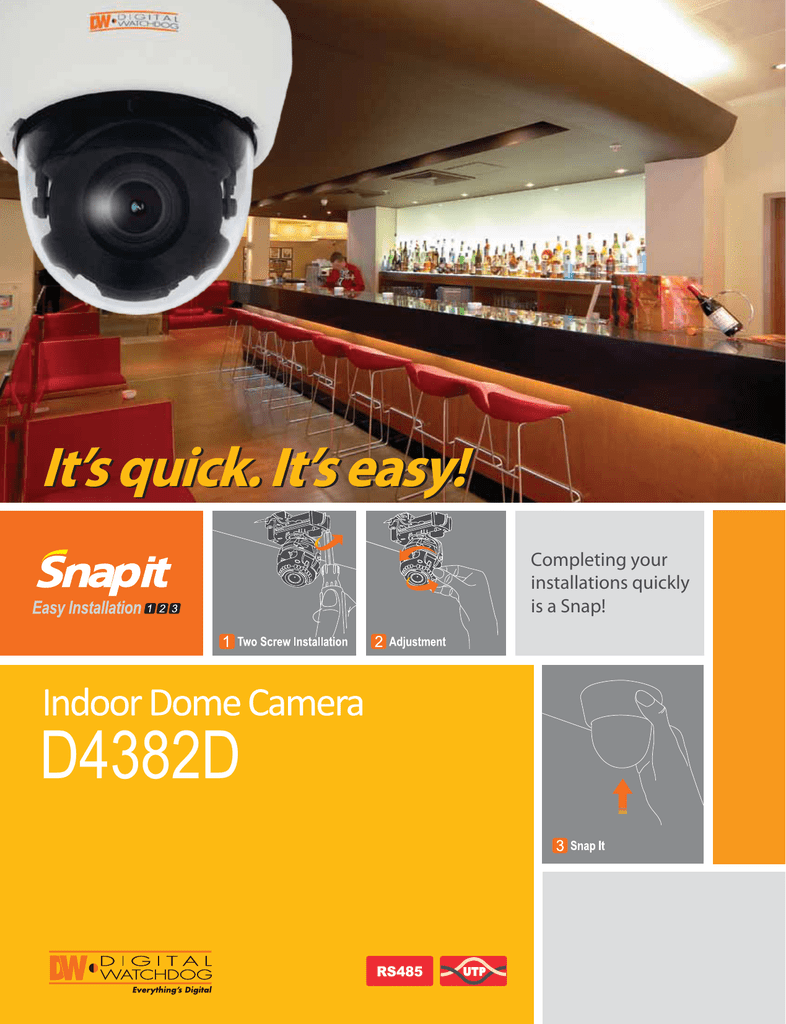 Completing your
installations quickly
is a Snap!
D4382D
RS485
OMNI Focus Lens
Crisp, clear, always in focus. Utilizes three
lenses to view fore-, mid-, and background as
one. Each camera provides 20/20 precision in
all your surveillance applications.
Intelligent Motion Detection
IR Remote Programming
When motion is detected in a viewing area,
the lens optically zooms in up to 3X for a
programmable period of time and then returns
to its normal condition
OMNI Focus Series Cameras can be programmed
and customized for each application with our
complimentary IR Remote. Programming is
o
achieved from line of sight to 90 from the camera.
x3
Smart IR
EWDR (Electronic Wide Dynamic Range)
HME (Highlight Masking Exposure)
The breakdown of the video image into ve
zones allows for an even distribution of the IR,
which prevents excessive illumination.
Enables the camera to capture perfect images
in both bright and dark environments
simultaneously.
Masks overly exposed light to produce a true
video image of any environment.
DSS (Digital Slow Shutter)
Programmable Privacy Zone
3D-DNR (Digital Noise Reduction)
Along with 3D-DNR, Digital Slow Shutter
Technology is the primary technology we
employ in our Star-Light functioning cameras.
When privacy is a concern, monitoring can
be masked in certain zones within the scene.
The user can
e up to 6 rectangular
exclusions.
Produces less noise and more color at night.
An excellent choice.
DIS (Digital Image Stabilizer)
RS485 Set-Up and Programming
New ICON Driven OSD Menu
Removes the jitters caused by movement or
vibrations and reduces the amount of HDD
space needed to store recorded data.
For quick installation and programming, up to
256 units can be daisy chained together from
most of the standard PTZ control keyboards.
ICON Type Menu will easily guide you
through programming options.
Simple and fast programming.
- See what is really happening at night.
Indoor Dome D4382D
Always in Focus, All the Time
Dimensions
Summary
Our new simple to install housing series combined with our
reliable camera technology series gives you a high quality
camera in just a few minutes. All Snapit housings include both a
built-in UTP and RS-485.
Our Snapit Indoor Dome D4382D is powered by our In nity
OMNI-Plus technology. The technology simp es
of view
adjustment by o ering an OMNI-Focus lens which utilizes three
lenses to view fore-, mid-, and background as one.
Features
•
•
•
•
•
•
•
•
•
•
•
•
•
•
•
•
•
•
•
•
•
•
•
1/3" Sony Super II HAD CCD
580 TV Lines
OMNI-Focus 2.9~8.5mm 3X Motorized Zoom, Auto Iris
Electronic Day and Night
Star-Light (Super Low Light Technology)
EWDR (Electronic Wide Dynamic Range)
3D-DNR (3D Digital Noise Reduction)
DIS (Digital Image Stabilizer)
HME (Highlight Masking Exposure)
SLC (Side Light Compensation)
AGC (Auto Gain Control)
BLC (Back Light Compensation)
AWB (Auto White Balance)
Negative Imaging
Mirror Image Control
Negative Imaging
Mirror Image Control
UTP / RS485 Built-in
Programmable Privacy Zone (6) & Motion Detection
Easy Icon Driven OSD Menu with Built-in Joystick
Auto-Sensing 24 VAC/12 VDC with Line Lock
Secondary Video-BNC Output
CE, FCC, RoHS Certified
Toll Free : 866 446 3595 / FAX : 813 888 9262 www.digital-watchdog.com
Speci cations
Model
DWC-D4382D
Image Sensor
1/3" Super II HAD CCD
Pixels-Total
811 (H) x 508 (V)
Pixels-E ective
768 (H) x 494 (V)
Minimum Illumination
Horizontal Resolution
0.14Lux (F1.2, 30IRE-COLOR)
0.0 Lux (LED ON)
580 TV Lines (COLOR)
600 TV Lines (BW)
Power Requirement
Power Consumption
DC12V / AC24V
DC12V: 2.1W, 175mA / AC24V: 2.2W, 91.7mA
Shutter Speed
1/60s ~ 1/100000s
S/N Ratio
50dB
Gamma
0.45
Sync System
Internal / Line Lock
Operation Temperature
-10 C ~ +55 C (14 F ~ 131 F)
Storage Temperature
-20 C ~ +70 C (-4 F ~ 158 F)
Operation Humidity
o
o
o
o
o
o
o
o
Under 90% (Non-Condensing)
Specification is subject to change without prior notice.

* Your assessment is very important for improving the work of artificial intelligence, which forms the content of this project