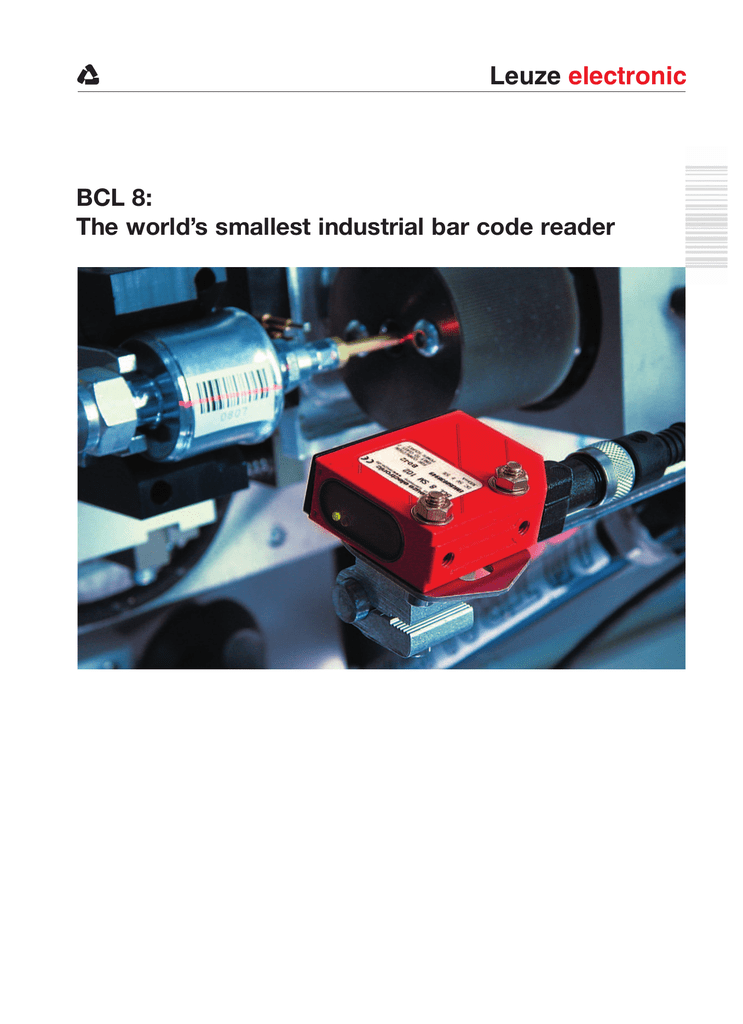 Leuze electronic
BCL 8:
The world's smallest industrial bar code reader
Leuze electronic
Small...
Dimensions
WIth its compact dimensions
of just 48 x 38 x 15 mm,
the BCL 8 is a true "world
champion space-saver",
allowing optimum ease of
installation even where
space is at a premium.
Connection facility
The BCL 8 allows you to
opt either for M12 technology
(plug connector) or cable
connection.
Fixture
• Through fastening holes
and M 4 screw thread
• Dovetail fixture
Variants
The BCL 8 is available
in two different optical
versions.
One comes with a
deflecting mirror
which allows it to
"see round corners",
in the other the beam
emerges at the front.
The new BCL 8
When it comes to bar code
readers, this has got to be the
most economical and
innovative solution there is.
called for, another time a
lower output may be sufficient
while size, protection rating or
price become the priority
issues.
Because one reading assignment is hardly ever like the
next, the demands made on
bar code readers vary
enormously.
For one job, a high-resolution,
high-speed bar code reader is
Offering different device
types and a wide range of
equipment and performance
features, Leuze's smallest bar
code reader, the BCL 8, is
among the biggest names in
the business.
Protection rating
Aggressive fluids or dust
leave the BCL 8 unscathed.
With its IP 67 protection
rating, the interior is
effectively protected from the
ingress of dust or moisture.
A price to match the size
The BCL 8 weighs in at the
lower end of the scale when it
comes to price, too. Without
compromising on either
performance or operating
simplicity.
Convenient operation and
special functions such as
autoConfig mean that no
knowledge of codes is
required.
Leuze electronic
Powerful...
Automatic recognition of
all customary code types is
even possible on poor quality
labels. Parameters are stored
in a failsafe memory.
Additional parameters can
be easily and conveniently
set using a configuration
program.
Big in terms of optical
output
The scanning rate of 600
scans/s caters to a wide
range of applications.
Laborious precision adjustment is a thing of the past
thanks an outstanding depth
of focus.
Typical BCL 8 applications:
• Machine engineering
• Packaging machinery
• Automatic handling
devices and robot
systems
• Archiving of data
tapes
• Automatic test equipment
• Semi-automatic work
stations
• Letter sorting devices
• Voucher and form readers
• Labellers
• Access control
• Blood analysis
• Laboratory automation
LASER LIGHT
DO NOT STARE INTO BEAM
Maximum Output:
Pulse duration:
Wavelength:
1,3 mW
210 µs
650 nm
CLASS 2 LASER PRODUCT
Complies with 21 CFR 1040.10
Reading field
BCL 8 with 600 Scans/s
Height of reading field in mm
Lateral beam
outlet
module in mm
Frontal beam
outlet
Distance in mm
Specifications:
Light source
Scanning rate
Resolution
Beam outlet
Laser diode 650 nm
600 scans/s
m = 0.150 mm - 0.5 mm / 6 mil - 20 mil
Frontal, alternatively with lateral deflection
mirror (105°)
Laser protection class
Class 2 as per EN 60825-1
Code types
2/5 Interleaved, Code 39, Code 128, EAN 128,
EAN/UPC, EAN Adendum, Codabar, Pharmacode,
Code 93,
Software characteristics Optional output format, autoConfig,
Reference code comparison, multiple reading,
real time decoding, adjustment mode, control of
the switching input or alternatively output, etc.
(Service) interface
RS 232 with fixed data format, 9600 Bd,
8 data bits, no parity, 1 stop bit
STX "data", CR, LF
Baud rate
4800 - 57600 Bd
Data formats
Data bit: 7, 8
Parity: None, Even, Odd
Stop bit: 1, 2
Protocols
Frame protocol with / without acknowledgement
Software handshake X ON / X OFF
Ports
1 switching input 5 V
or 1 switching output 5 ... 30 V, 20 mA
LEDs
1 device status
1 reading gateway status
Operating voltage
4.9 – 5.4 V DC, extra-low voltage to IEC 742
Current consumption
max. 250 mA (recom. power supply unit 2 W)
Protection rating
IP 67
Connection mode
M12 round connector, 5-pin, rotatable or fixed
cable, 2 m long, 5 x 0.25 mm2
Dimensions
Frontal beam outlet: 48 x 40.3 x 15 mm
Lateral beam outlet: 48 x 58 x 17.4 mm
Housing
Metal (die-cast zinc)
Operating temperature 0°C - +40°C
Humidity
max. 90% relative humidity, non-condensing
Vibration
IEC 60068-2-6, Test FC
Shock
IEC 60068-2-27, Test Ea
EMC
EN 61326-1, IEC 6100-4-2, -3, -4 and –6
Certificates
CE, EN 55022, FCC Class B
Leuze electronic
Leuze electronic GmbH + Co KG
P.B. 1111 · D-73277 Owen/Teck
Tel. +49 (0) 7021/573-0
Fax +49 (0) 7021/573-199
E-mail: [email protected] · www.leuze.de
GB 177/00-03/03 50040647
...Versatile.