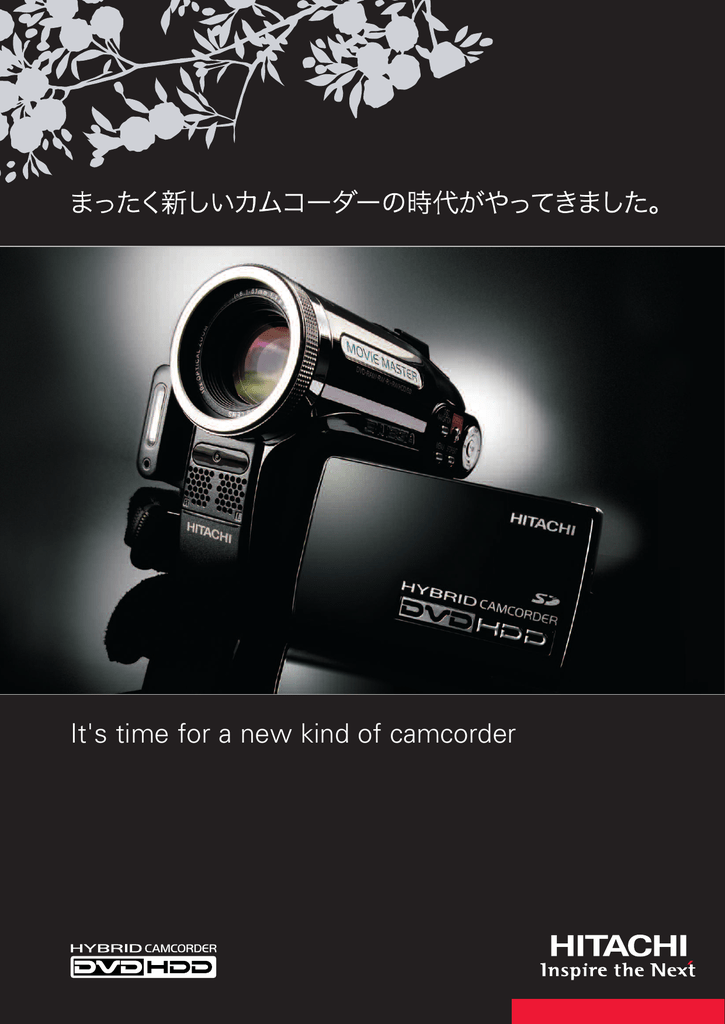 It's time for a new kind of camcorder
Shoot for hours. Edit in minutes. Share in seconds.
The original inventor and champion pioneer of the DVD camcorder, Hitachi is now the first to launch two
Hybrid DVD/HDD Camcorders - an entirely new category of camcorder device that allows users to shoot longer
and share faster.
Combining the convenience of the DVD format - for easy sharing and archiving - with the capacity of an 8 GB
(gigabyte) Hard Disk Drive (HDD), the revolutionary design simplifies and speeds up the home movie making
process. Users can now shoot more footage, select required scenes stored on the HDD and burn DVDs to share
with friends and family all from the camcorder - without any additional DVD burning hardware or PC connection.
Integrated 8 GB HDD
Our Hybrid Camcorders use
Hitachi's own 8 GB hard disk
drives to deliver outstanding
recording times and unbeatable
reliability. As one of the leaders in hard drive
technology, Hitachi has squeezed all this
into a drive just one inch across. Simply,
this means you get the capacity you need
without the bulk you don't.
Easy dubbing
Hybrid DVD/HDD Camcorder
DZ-HS303E
Hybrid Camcorders make
creating the DVDs you want
simple. Our one touch easy
dubbing feature means you can quickly burn
entire movies saved on the HDD to DVD.
Just press the button and the camcorder
will do the rest. Alternatively you can
create your own director's cut by selecting
scenes with the thumbnail interface. It's as
easy as that.
Multiformat+ compatibility
Hybrid DVD/HDD Camcorder
DZ-HS301E
Whatever the DVD format, the Hybrid
Camcorders probably burn it. The
Multiformat+ drive will burn DVD-R, DVDRAM, DVD-RW and DVD+RW. So not only
will DVDs play on your home DVD player,
they are also compatible with your friends'
and family's players too.
Photo capture from DVD
Why do people always blink in
photographs? Fortunately that's now history
with our Hybrid Camcorders. You can now
select any frame from your movies and turn
it into a still digital photograph. Simply save
the photo to an SD card and then print or
share by email.
True 16:9 widescreen
Not only do Hybrid Camcorders record in
true 16:9 widescreen, their own on-board
2.7" widescreen LCD screen is true 16:9
too. It means that what you see is exactly
what you'll get, no cropping, no
compromise.
Advanced drop-proofing
Accidents happen. That's why hybrid
camcorders have their own (ESP) extra
sensory protection drop proofing system to
protect the HDD. Their Zero G sensors
automatically detect falls of 10 cm or more,
suspending read-write activity and
cushioning the hard drive for impact. The
result is data loss reduced by up to 50%.
More features
Other features you'll find as standard on our
innovative new Hybrid Camcorders and range
of DVD CAMs:

MOVIE MASTER ensures pictures always
look well defined and sounds are crystal clear
by minimising distracting audio and
background visual clutter.

USB 2.0 connection enables you to connect
to your PC with high speed data transfer and
produce professional movies at home with
supplied editing software.

The SD card reader slot allows you to save
photos straight onto an SD memory card for
easy processing.

Electronic Image Stabilisation (EIS) is an
advanced feature that will ensure recording
results are smooth and steady.
1-Second quick start
Life doesn't wait to be filmed. That's why
our Hybrid Camcorders feature 1-Second
Quick Start from standby – the fastest
start-up time on the market. It means you
need never worry about missing the
moment again.
The world's only DVD and HDD camcorders.
Convenience and capacity combined.
Shoot longer
Whatever you're filming, chances are that the disc will run out at
just the wrong moment. But with the Hybrid Camcorders' built-in 8
GB hard disk drives, you can now record up to 6 hours without
stopping and without changing discs.
Hitachi Hybrid DVD/HDD Camcorder
- convenience and capacity combined
• Shoot for hours – Hard Disk Drive for
over 6 hours recording time
• Edit in minutes – simple on-board editing
• Share in seconds – burn multiple DVD's
with just the camera, no need for a PC
DVD Camcorder - convenience
• Playback in home DVD players
• Easy & reliable archiving
• Easy to share
HDD Camcorder - capacity
• No removable media
• Long recording time
Share faster
Hard disk camcorders are perfect for filming almost any event.
Their huge capacity means you can shoot and shoot and shoot.
But memories are meant to be shared.
So with our Hybrid Camcorders you can quickly and easily burn the
highlights to DVD. You can also make as many copies as you have
discs. Right on the spot and right when you need to and without a
PC or external DVD burning hardware.
DZ-HS303E
DZ-HS301E
Technical Specifications
MODEL
GENERAL
CCD
Lens
LCD
EVF
Camera
Recording Media
Movie Formats/Recording Times
Audio Format
Dubbing function
HDD dubbing to DVD media
One touch dubbing button
Picture size
DCF
Photo capture from DVD frame to JPEG
Start-up time
1-Second Quick Start
Start-up **
Connectivity
AV/S output
AV input
USB (with USB cable)
Finalise button
Hitachi Quick Menu (Easy Menu System)
Memory card
Display language text
Fade setting
PC software
Battery life*** (w/o LCD)
Power consumption (w/o LCD)
The specification above and photography is for reference only and may be subject to change.
HITACHI DIGITAL MEDIA, Hitachi Europe Ltd, Whitebrook Park, Lower Cookham Road,
Maidenhead, Berkshire SL6 8YA UNITED KINGDOM
Tel: +44 (0)1628 585 000 Fax:+44 (0)1628 585 500 www.hitachidigitalmedia.com
Still Image
Design
Pixels
Effective pixels (Movie)
Effective pixels (Still)
Size
Lens type
Optical/Digital zoom
Lens F No.
Filter diameter
Pixels
Size
Pixels (viewfinder)
Video light
Built-in flash
Accessory shoe
Image stabilisation
Minimum illumination
Focus
White balance
Iris
Recording scene modes
HDD
DVD
Maximum recording time (HDD)
Maximum recording time (DVD dual sided)
08/06
Supplied battery
Dimensions (W x H x D)
Weight (w/o battery)
Key Features
Accessories
Battery pack
AC adaptor
PC cable
PC software
Shoulder strap
AC power cord
DC power cord
AV cable
Lens cap
Instruction manual
Quick manual
Battery for remote
Remote controller
DZ-HS301E
DZ-HS303E
Gun metal
1.3 Megapixel
690K
1.1M
1/5
Black metal
3.31 Megapixel
2.2M
3.1M
1/3
High quality multi coated video lens
15x/800x
F1.2 – 2.8
30.5mm
10x/500x
F1.8 – 3.0
37.0mm
123K
2.7" (16:9 Widescreen)
Colour (200k)
Yes (LCD)
–
Cold
Yes
Hot
EIS (Electronic Image Stabilisation)
0.3 Lux w/Low light mode
Auto/Manual
Auto/Set/Outdoor/Indoor
Auto/Manual
Auto/Sport/Portrait/Spotlight/Sand & Snow/Low Light
8GB Built in Hitachi HDD
DVD-RAM/-RW/-R/+RW
XTRA: 110min./FINE: 180min./STD: 360min.
XTRA: 36min./FINE: 60min./STD: 120min.
2ch Stereo Dolby Digital
DVD-RAM/-RW/-R/+RW
Yes
JPEG 1280 x 960
JPEG 2016 x 1512
Yes
Yes
1 sec*
3 sec
4 sec
Yes/Yes (multi connector)
No
Yes out only (USB 2.0)
Yes
Yes
SD
English/French/Spanish/Italy/German
White/Wipe/Mono
Windows/Mac
85min (HDD)
120min (HDD)
70min (DVD)
105min (DVD)
3.3W (HDD)
4.6W (HDD)
3.8W (DVD)
5.1W (DVD)
DZ-BP07P
DZ-BP14S
59 x 87 x 125mm
66 x 92 x 136mm
435g
485g
• DVD+HDD Hybrid-CAM
• DVD+HDD Hybrid-CAM
• Easy editing and DVD burning without a
• Easy editing and DVD burning without a
PC or other external hardware
PC or other external hardware
• DVD-RAM/-RW/-R/+RW & SD Card
• DVD-RAM/-RW/-R/+RW & SD Card
• 1-Second Quick Start
• 1-Second Quick Start
• 1.3 Megapixel CCD
• 3.31 Megapixel CCD
• Photo capture from DVD frame to JPEG
• Photo capture from DVD frame to JPEG
Li-ion 680mAh (1hr)
Li-ion 1360mAh (2hr)
AC adaptor/charger
Yes
CD-ROM for Win/Mac
Yes
Yes
Yes
Multi connector w/S terminal
Yes
Yes
Yes
Lithium button battery
Yes
*Using restart mode **Turn on after initialised ***FINE mode recording
Windows® 98, ME, 2000, XP is a trademark of Microsoft Corporation. Pentium®. Celeron® is a trademark of Intel Corporation.
The USB - IF Logos are Trademarks of Universal Serial Bus Implementers Forum, Inc.
SD logo is a trademark.
All other company and product names are trademarks of their respective Corporations.

* Your assessment is very important for improving the work of artificial intelligence, which forms the content of this project