No category
TSI Suppliers- Purchase Order Terms and Conditions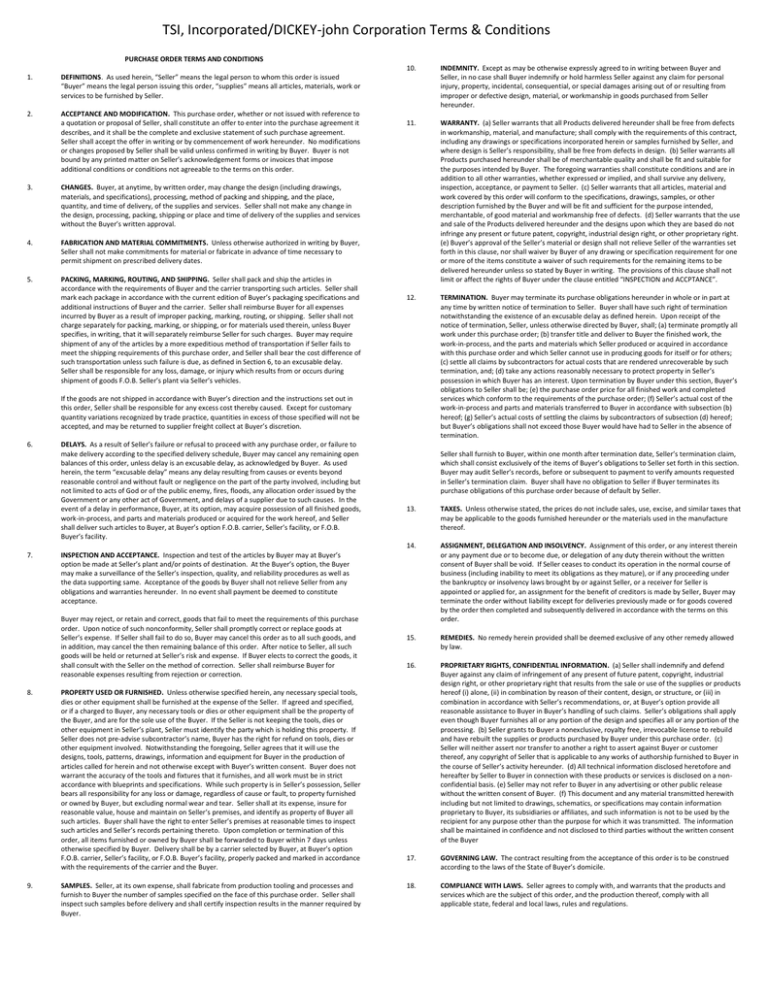 TSI, Incorporated/DICKEY-john Corporation Terms & Conditions
PURCHASE ORDER TERMS AND CONDITIONS
1.
DEFINITIONS. As used herein, "Seller" means the legal person to whom this order is issued
"Buyer" means the legal person issuing this order, "supplies" means all articles, materials, work or
services to be furnished by Seller.
2.
ACCEPTANCE AND MODIFICATION. This purchase order, whether or not issued with reference to
a quotation or proposal of Seller, shall constitute an offer to enter into the purchase agreement it
describes, and it shall be the complete and exclusive statement of such purchase agreement.
Seller shall accept the offer in writing or by commencement of work hereunder. No modifications
or changes proposed by Seller shall be valid unless confirmed in writing by Buyer. Buyer is not
bound by any printed matter on Seller's acknowledgement forms or invoices that impose
additional conditions or conditions not agreeable to the terms on this order.
3.
CHANGES. Buyer, at anytime, by written order, may change the design (including drawings,
materials, and specifications), processing, method of packing and shipping, and the place,
quantity, and time of delivery, of the supplies and services. Seller shall not make any change in
the design, processing, packing, shipping or place and time of delivery of the supplies and services
without the Buyer's written approval.
4.
FABRICATION AND MATERIAL COMMITMENTS. Unless otherwise authorized in writing by Buyer,
Seller shall not make commitments for material or fabricate in advance of time necessary to
permit shipment on prescribed delivery dates.
5.
PACKING, MARKING, ROUTING, AND SHIPPING. Seller shall pack and ship the articles in
accordance with the requirements of Buyer and the carrier transporting such articles. Seller shall
mark each package in accordance with the current edition of Buyer's packaging specifications and
additional instructions of Buyer and the carrier. Seller shall reimburse Buyer for all expenses
incurred by Buyer as a result of improper packing, marking, routing, or shipping. Seller shall not
charge separately for packing, marking, or shipping, or for materials used therein, unless Buyer
specifies, in writing, that it will separately reimburse Seller for such charges. Buyer may require
shipment of any of the articles by a more expeditious method of transportation if Seller fails to
meet the shipping requirements of this purchase order, and Seller shall bear the cost difference of
such transportation unless such failure is due, as defined in Section 6, to an excusable delay.
Seller shall be responsible for any loss, damage, or injury which results from or occurs during
shipment of goods F.O.B. Seller's plant via Seller's vehicles.
10.
INDEMNITY. Except as may be otherwise expressly agreed to in writing between Buyer and
Seller, in no case shall Buyer indemnify or hold harmless Seller against any claim for personal
injury, property, incidental, consequential, or special damages arising out of or resulting from
improper or defective design, material, or workmanship in goods purchased from Seller
hereunder.
11.
WARRANTY. (a) Seller warrants that all Products delivered hereunder shall be free from defects
in workmanship, material, and manufacture; shall comply with the requirements of this contract,
including any drawings or specifications incorporated herein or samples furnished by Seller, and
where design is Seller's responsibility, shall be free from defects in design. (b) Seller warrants all
Products purchased hereunder shall be of merchantable quality and shall be fit and suitable for
the purposes intended by Buyer. The foregoing warranties shall constitute conditions and are in
addition to all other warranties, whether expressed or implied, and shall survive any delivery,
inspection, acceptance, or payment to Seller. (c) Seller warrants that all articles, material and
work covered by this order will conform to the specifications, drawings, samples, or other
description furnished by the Buyer and will be fit and sufficient for the purpose intended,
merchantable, of good material and workmanship free of defects. (d) Seller warrants that the use
and sale of the Products delivered hereunder and the designs upon which they are based do not
infringe any present or future patent, copyright, industrial design right, or other proprietary right.
(e) Buyer's approval of the Seller's material or design shall not relieve Seller of the warranties set
forth in this clause, nor shall waiver by Buyer of any drawing or specification requirement for one
or more of the items constitute a waiver of such requirements for the remaining items to be
delivered hereunder unless so stated by Buyer in writing. The provisions of this clause shall not
limit or affect the rights of Buyer under the clause entitled "INSPECTION and ACCPTANCE".
12.
TERMINATION. Buyer may terminate its purchase obligations hereunder in whole or in part at
any time by written notice of termination to Seller. Buyer shall have such right of termination
notwithstanding the existence of an excusable delay as defined herein. Upon receipt of the
notice of termination, Seller, unless otherwise directed by Buyer, shall; (a) terminate promptly all
work under this purchase order; (b) transfer title and deliver to Buyer the finished work, the
work-in-process, and the parts and materials which Seller produced or acquired in accordance
with this purchase order and which Seller cannot use in producing goods for itself or for others;
(c) settle all claims by subcontractors for actual costs that are rendered unrecoverable by such
termination, and; (d) take any actions reasonably necessary to protect property in Seller's
possession in which Buyer has an interest. Upon termination by Buyer under this section, Buyer's
obligations to Seller shall be; (e) the purchase order price for all finished work and completed
services which conform to the requirements of the purchase order; (f) Seller's actual cost of the
work-in-process and parts and materials transferred to Buyer in accordance with subsection (b)
hereof; (g) Seller's actual costs of settling the claims by subcontractors of subsection (d) hereof;
but Buyer's obligations shall not exceed those Buyer would have had to Seller in the absence of
termination.
If the goods are not shipped in accordance with Buyer's direction and the instructions set out in
this order, Seller shall be responsible for any excess cost thereby caused. Except for customary
quantity variations recognized by trade practice, quantities in excess of those specified will not be
accepted, and may be returned to supplier freight collect at Buyer's discretion.
6.
7.
DELAYS. As a result of Seller's failure or refusal to proceed with any purchase order, or failure to
make delivery according to the specified delivery schedule, Buyer may cancel any remaining open
balances of this order, unless delay is an excusable delay, as acknowledged by Buyer. As used
herein, the term "excusable delay" means any delay resulting from causes or events beyond
reasonable control and without fault or negligence on the part of the party involved, including but
not limited to acts of God or of the public enemy, fires, floods, any allocation order issued by the
Government or any other act of Government, and delays of a supplier due to such causes. In the
event of a delay in performance, Buyer, at its option, may acquire possession of all finished goods,
work-in-process, and parts and materials produced or acquired for the work hereof, and Seller
shall deliver such articles to Buyer, at Buyer's option F.O.B. carrier, Seller's facility, or F.O.B.
Buyer's facility.
9.
13.
TAXES. Unless otherwise stated, the prices do not include sales, use, excise, and similar taxes that
may be applicable to the goods furnished hereunder or the materials used in the manufacture
thereof.
14.
ASSIGNMENT, DELEGATION AND INSOLVENCY. Assignment of this order, or any interest therein
or any payment due or to become due, or delegation of any duty therein without the written
consent of Buyer shall be void. If Seller ceases to conduct its operation in the normal course of
business (including inability to meet its obligations as they mature), or if any proceeding under
the bankruptcy or insolvency laws brought by or against Seller, or a receiver for Seller is
appointed or applied for, an assignment for the benefit of creditors is made by Seller, Buyer may
terminate the order without liability except for deliveries previously made or for goods covered
by the order then completed and subsequently delivered in accordance with the terms on this
order.
15.
REMEDIES. No remedy herein provided shall be deemed exclusive of any other remedy allowed
by law.
16.
PROPRIETARY RIGHTS, CONFIDENTIAL INFORMATION. (a) Seller shall indemnify and defend
Buyer against any claim of infringement of any present of future patent, copyright, industrial
design right, or other proprietary right that results from the sale or use of the supplies or products
hereof (i) alone, (ii) in combination by reason of their content, design, or structure, or (iii) in
combination in accordance with Seller's recommendations, or, at Buyer's option provide all
reasonable assistance to Buyer in Buyer's handling of such claims. Seller's obligations shall apply
even though Buyer furnishes all or any portion of the design and specifies all or any portion of the
processing. (b) Seller grants to Buyer a nonexclusive, royalty free, irrevocable license to rebuild
and have rebuilt the supplies or products purchased by Buyer under this purchase order. (c)
Seller will neither assert nor transfer to another a right to assert against Buyer or customer
thereof, any copyright of Seller that is applicable to any works of authorship furnished to Buyer in
the course of Seller's activity hereunder. (d) All technical information disclosed heretofore and
hereafter by Seller to Buyer in connection with these products or services is disclosed on a nonconfidential basis. (e) Seller may not refer to Buyer in any advertising or other public release
without the written consent of Buyer. (f) This document and any material transmitted herewith
including but not limited to drawings, schematics, or specifications may contain information
proprietary to Buyer, its subsidiaries or affiliates, and such information is not to be used by the
recipient for any purpose other than the purpose for which it was transmitted. The information
shall be maintained in confidence and not disclosed to third parties without the written consent
of the Buyer
17.
GOVERNING LAW. The contract resulting from the acceptance of this order is to be construed
according to the laws of the State of Buyer's domicile.
18.
COMPLIANCE WITH LAWS. Seller agrees to comply with, and warrants that the products and
services which are the subject of this order, and the production thereof, comply with all
applicable state, federal and local laws, rules and regulations.
INSPECTION AND ACCEPTANCE. Inspection and test of the articles by Buyer may at Buyer's
option be made at Seller's plant and/or points of destination. At the Buyer's option, the Buyer
may make a surveillance of the Seller's inspection, quality, and reliability procedures as well as
the data supporting same. Acceptance of the goods by Buyer shall not relieve Seller from any
obligations and warranties hereunder. In no event shall payment be deemed to constitute
acceptance.
Buyer may reject, or retain and correct, goods that fail to meet the requirements of this purchase
order. Upon notice of such nonconformity, Seller shall promptly correct or replace goods at
Seller's expense. If Seller shall fail to do so, Buyer may cancel this order as to all such goods, and
in addition, may cancel the then remaining balance of this order. After notice to Seller, all such
goods will be held or returned at Seller's risk and expense. If Buyer elects to correct the goods, it
shall consult with the Seller on the method of correction. Seller shall reimburse Buyer for
reasonable expenses resulting from rejection or correction.
8.
Seller shall furnish to Buyer, within one month after termination date, Seller's termination claim,
which shall consist exclusively of the items of Buyer's obligations to Seller set forth in this section.
Buyer may audit Seller's records, before or subsequent to payment to verify amounts requested
in Seller's termination claim. Buyer shall have no obligation to Seller if Buyer terminates its
purchase obligations of this purchase order because of default by Seller.
PROPERTY USED OR FURNISHED. Unless otherwise specified herein, any necessary special tools,
dies or other equipment shall be furnished at the expense of the Seller. If agreed and specified,
or if a charged to Buyer, any necessary tools or dies or other equipment shall be the property of
the Buyer, and are for the sole use of the Buyer. If the Seller is not keeping the tools, dies or
other equipment in Seller's plant, Seller must identify the party which is holding this property. If
Seller does not pre-advise subcontractor's name, Buyer has the right for refund on tools, dies or
other equipment involved. Notwithstanding the foregoing, Seller agrees that it will use the
designs, tools, patterns, drawings, information and equipment for Buyer in the production of
articles called for herein and not otherwise except with Buyer's written consent. Buyer does not
warrant the accuracy of the tools and fixtures that it furnishes, and all work must be in strict
accordance with blueprints and specifications. While such property is in Seller's possession, Seller
bears all responsibility for any loss or damage, regardless of cause or fault, to property furnished
or owned by Buyer, but excluding normal wear and tear. Seller shall at its expense, insure for
reasonable value, house and maintain on Seller's premises, and identify as property of Buyer all
such articles. Buyer shall have the right to enter Seller's premises at reasonable times to inspect
such articles and Seller's records pertaining thereto. Upon completion or termination of this
order, all items furnished or owned by Buyer shall be forwarded to Buyer within 7 days unless
otherwise specified by Buyer. Delivery shall be by a carrier selected by Buyer, at Buyer's option
F.O.B. carrier, Seller's facility, or F.O.B. Buyer's facility, properly packed and marked in accordance
with the requirements of the carrier and the Buyer.
SAMPLES. Seller, at its own expense, shall fabricate from production tooling and processes and
furnish to Buyer the number of samples specified on the face of this purchase order. Seller shall
inspect such samples before delivery and shall certify inspection results in the manner required by
Buyer.

* Your assessment is very important for improving the work of artificial intelligence, which forms the content of this project