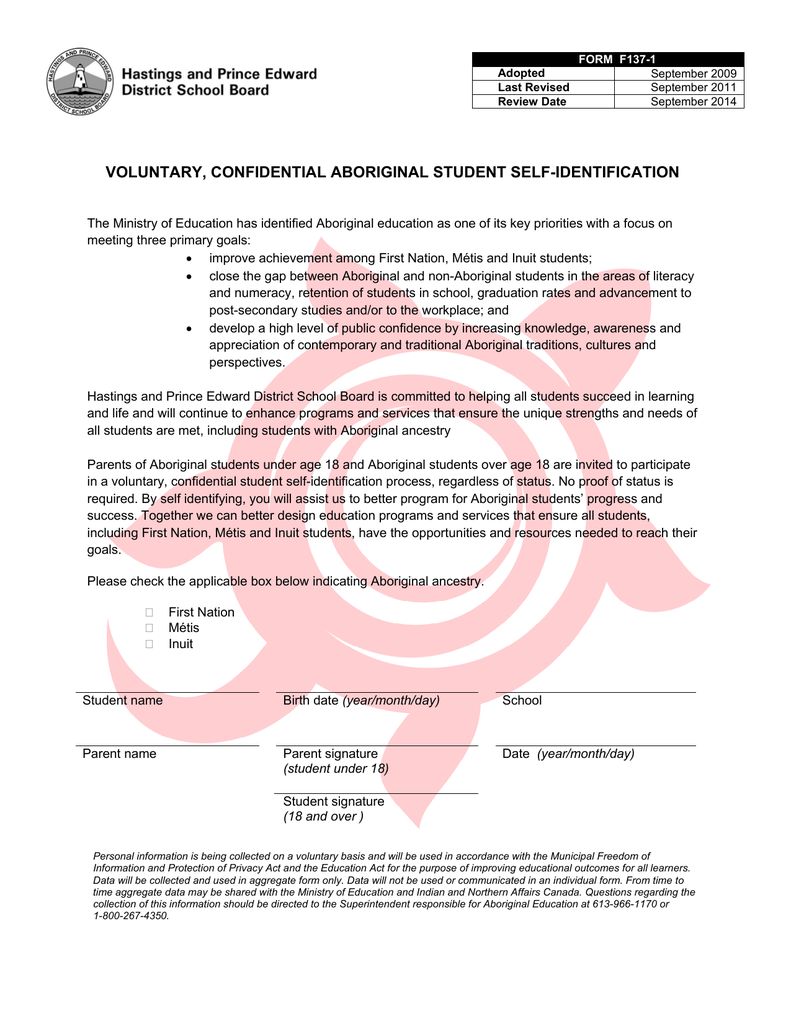 137‐ Adopted
Last Revised
Review Date
FORM F137-1
September 2009
September 2011
September 2014
VOLUNTARY, CONFIDENTIAL ABORIGINAL STUDENT SELF-IDENTIFICATION
The Ministry of Education has identified Aboriginal education as one of its key priorities with a focus on
meeting three primary goals:
 improve achievement among First Nation, Métis and Inuit students;
 close the gap between Aboriginal and non-Aboriginal students in the areas of literacy
and numeracy, retention of students in school, graduation rates and advancement to
post-secondary studies and/or to the workplace; and
 develop a high level of public confidence by increasing knowledge, awareness and
appreciation of contemporary and traditional Aboriginal traditions, cultures and
perspectives.
Hastings and Prince Edward District School Board is committed to helping all students succeed in learning
and life and will continue to enhance programs and services that ensure the unique strengths and needs of
all students are met, including students with Aboriginal ancestry
Parents of Aboriginal students under age 18 and Aboriginal students over age 18 are invited to participate
in a voluntary, confidential student self-identification process, regardless of status. No proof of status is
required. By self identifying, you will assist us to better program for Aboriginal students' progress and
success. Together we can better design education programs and services that ensure all students,
including First Nation, Métis and Inuit students, have the opportunities and resources needed to reach their
goals.
Please check the applicable box below indicating Aboriginal ancestry.
First Nation
Métis
Inuit
Student name
Birth date (year/month/day)
School
Parent name
Parent signature
(student under 18)
Date (year/month/day)
Student signature
(18 and over )
Personal information is being collected on a voluntary basis and will be used in accordance with the Municipal Freedom of
Information and Protection of Privacy Act and the Education Act for the purpose of improving educational outcomes for all learners.
Data will be collected and used in aggregate form only. Data will not be used or communicated in an individual form. From time to
time aggregate data may be shared with the Ministry of Education and Indian and Northern Affairs Canada. Questions regarding the
collection of this information should be directed to the Superintendent responsible for Aboriginal Education at 613-966-1170 or
1-800-267-4350. 
* Your assessment is very important for improving the work of artificial intelligence, which forms the content of this project