No category
Signs on Darby Rd.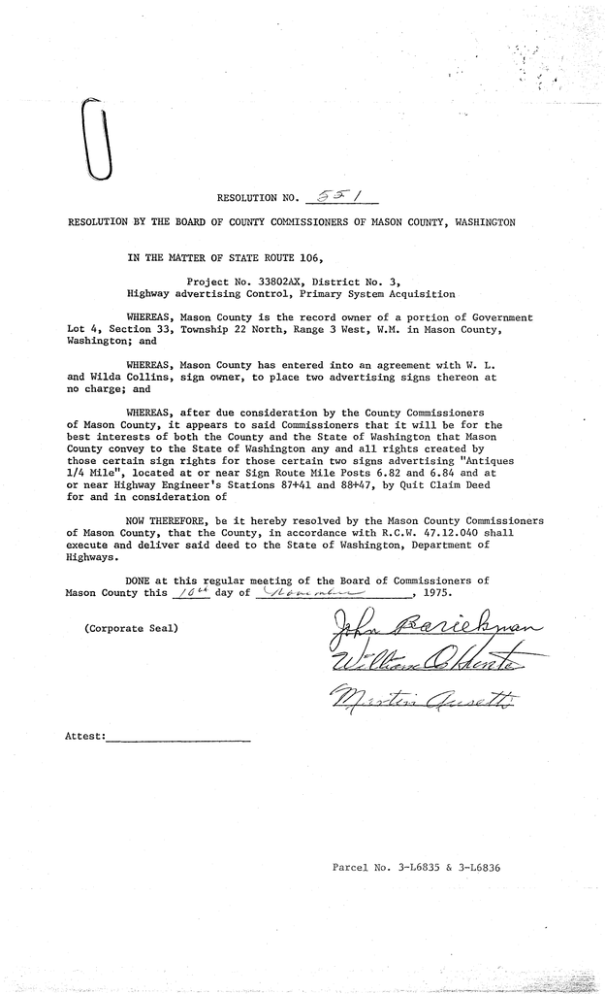 .
'·
..:-~
'·
.;
.·
}
RESOLUTION NO.
RESOLUTION BY THE BOARD OF COUNTY COM}IISSIONERS OF MASON COUNTY, WASHINGTON
IN THE MATTER OF STATE ROUTE 106,
Project No. 33802AX, District No. 3,
Highway advertising Control, Primary System Acquisition
WHEREAS, Mason County is the record owner of a portion of Government
Lot 4, Section 33, Township 22 North, Range 3 West, W.M. in Mason County,
Washington; and
WHEREAS, Mason County has entered into an agreement with W. L.
and Wilda Collins, sign owner, to place two advertising signs thereon at
no charge; and
WHEREAS, after due consideration by the County Commissioners
of Mason County, it appears to said Commissioners that it will be for the
best interests of both the County and the State of Washington that Mason
County convey to the State of Washington any and all rights created by
those certain sign rights for those certain two signs advertising "Antiques
1/4 Mile", located at or near Sign Route Mile Posts 6.82 and 6.84 and at
or near Highway Engineer's Stations 87+41 and 88+47, by Quit Claim Deed
for and in consideration of
NOW THEREFORE, be it hereby resolved by the Mason County Commissioners
of Mason County, that the County, in accordance with R.C.W. 47.12.040 shall
execute and deliver said deed to the State of Washington, Department of
Highways.
DONE at this regular
meeting
of the Board of Commissioners of
,
I
Mason County this /6 (.Jt day of '-·/Lt>-P-·~· r"-"C-·~-e..-'
, 1975.
(Corporate Seal)
Attest:
--------------------------
Parcel No. 3-16835 & 3-16836
..

* Your assessment is very important for improving the work of artificial intelligence, which forms the content of this project