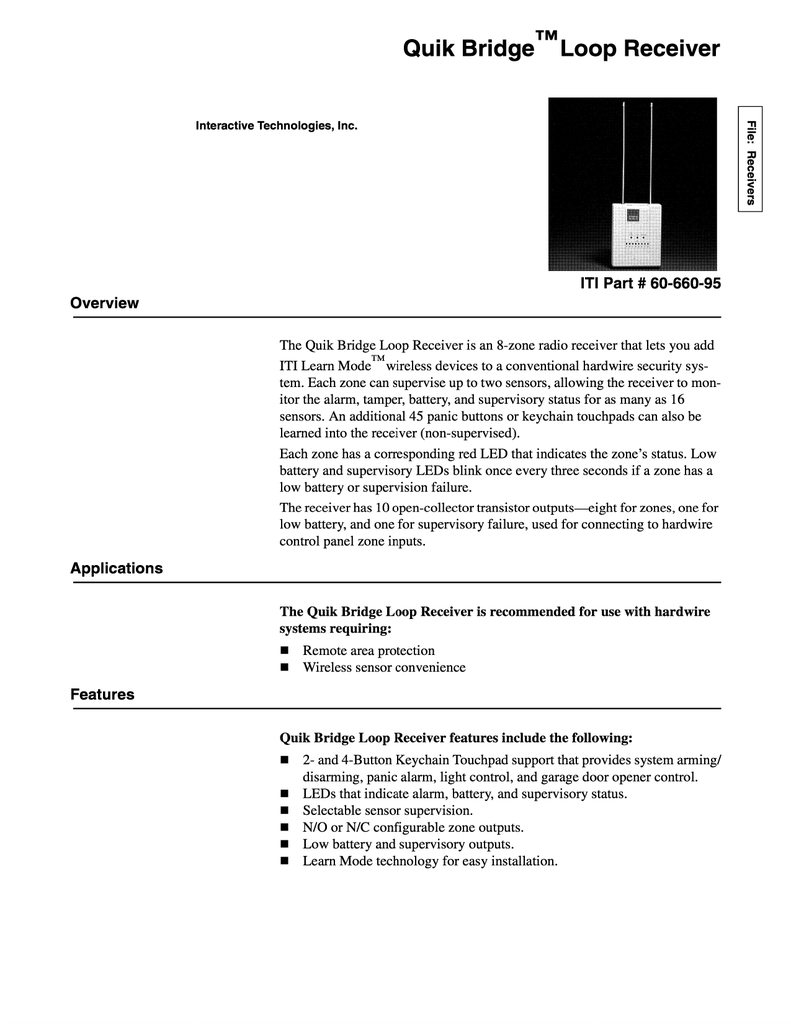 Overview
Quik Bridge * Loop Receiver
Interactive Technologies, Inc.
ITI Part # 60-660-95
Applications
The Quik Bridge Loop Receiver is an 8-zone radio receiver that lets you add
ITI Learn Mode wireless devices to a conventional hardwire security sys-
tem. Each zone can supervise up to two sensors, allowing the receiver to mon-
itor the alarm, tamper, battery, and supervisory status for as many as 16
sensors. An additional 45 panic buttons or keychain touchpads can also be
learned into the receiver (non-supervised).
Each zone has a corresponding red LED that indicates the zone's status. Low
battery and supervisory LEDs blink once every three seconds if a zone has a
low battery or supervision failure.
The receiver has 10 open-collector transistor outputs—eight for zones, one for
low battery, and one for supervisory failure, used for connecting to hardwire
control panel zone inputs.
Features
The Quik Bridge Loop Receiver is recommended for use with hardwire
systems requiring:
E Remote area protection
m Wireless sensor convenience
Quik Bridge Loop Receiver features include the following:
m 2- and 4-Button Keychain Touchpad support that provides system arming/
disarming, panic alarm, light control, and garage door opener control.
LEDs that indicate alarm, battery, and supervisory status.
Selectable sensor supervision.
N/O or N/C configurable zone outputs.
Low battery and supervisory outputs.
Learn Mode technology for easy installation.
SI9A1999Y :9|i4
Quik Bridge Loop Receiver
Specifications
Power Supply
Required Power
Current Draw
Radio Receiver
Type
Frequency
Bandwidth
Sensitivity
Operating Temperature
Zones/Outputs
RF Zones
Transmitters per Zone (max.)
10.0-14.0 VDC (typically provided by hardwire control panel)
75 mA maximum (excluding external relays)
Superheterodyne
319.508 MHz
350 kHz
-105 dBm nominal
40°F to 120°F
8
2 (plus 45 additional panic buttons or Keychain Touchpads)
Outputs 10 open collector transistor—eight zones, one low battery, one supervisory
Physical Description
Color Belgian Gray
Dimensions 4.125" (10.48 cm) length x 5.25" (13.34 cm) width x 1.0" (2.54 cm) height + two
9.25" (23.5 cm) antennas
Weight 5.6 oz.
Enclosure | ABS Plastic, Cycolac KIW
Cover Snap-on
Installation
Mounting Mount with three screws (included). Mounting slots are pre-manufactured for
Method of Operation
UL-Listed Installations
Interactive Technologies, Inc.
2266 Second Street North
North Saint Paul, MN 55109
1-800-777-5484
Fax: 1-612-779-4890
Specifications are subject to change without notice.
easy leveling.
The control panel responds to changes in loop receiver zones. For example, an
armed security system responds with an alarm condition when a wireless sensor is
tripped, which changes the state of a loop receiver zone.
Use a UL-listed AC power supply and backup battery for UL-listed installations.
Ordering Information
ITI Part # 60-660-95
ITI Document # 466-1113 (Rev. A)
(Spec Sheets available in quantities of fifty)
ITl is a registered trademark of Interactive Technologies, Inc. Quik Bridge and Learn Mode
are trademarks of Interactive Technologies, Inc.

* Your assessment is very important for improving the work of artificial intelligence, which forms the content of this project