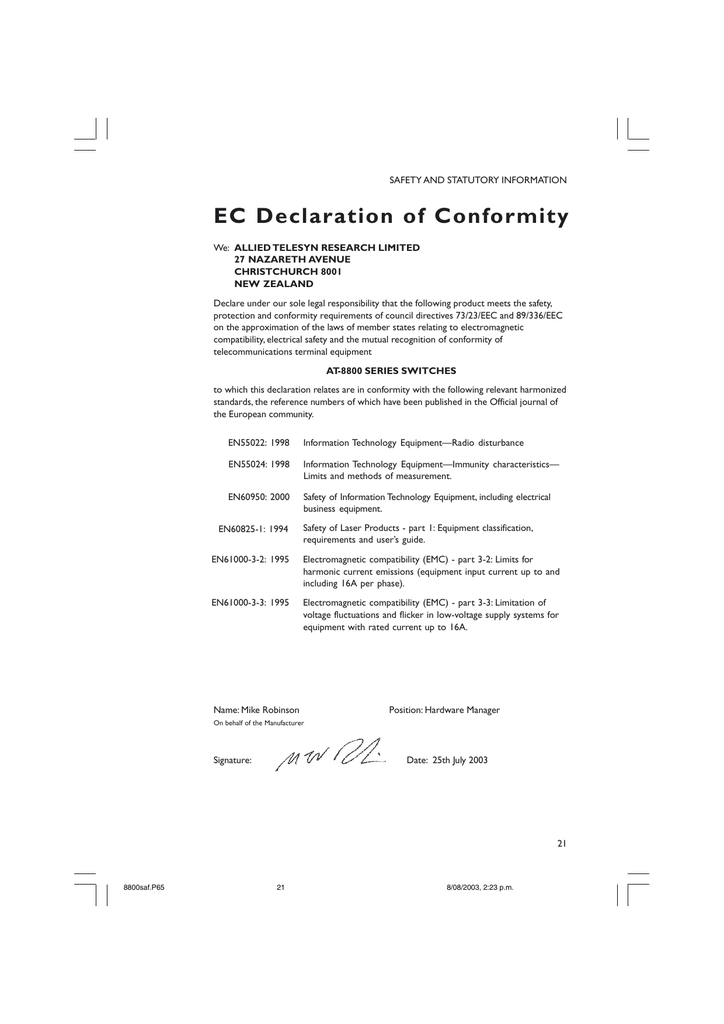 SAFETY AND STATUTORY INFORMATION
EC Declaration of Conformity
We: ALLIED TELESYN RESEARCH LIMITED
27 NAZARETH AVENUE
CHRISTCHURCH 8001
NEW ZEALAND
Declare under our sole legal responsibility that the following product meets the safety,
protection and conformity requirements of council directives 73/23/EEC and 89/336/EEC
on the approximation of the laws of member states relating to electromagnetic
compatibility, electrical safety and the mutual recognition of conformity of
telecommunications terminal equipment
AT-8800 SERIES SWITCHES
to which this declaration relates are in conformity with the following relevant harmonized
standards, the reference numbers of which have been published in the Official journal of
the European community.
EN55022: 1998
Information Technology Equipment—Radio disturbance
EN55024: 1998
Information Technology Equipment—Immunity characteristics—
Limits and methods of measurement.
EN60950: 2000
Safety of Information Technology Equipment, including electrical
business equipment.
EN60825-1: 1994
Safety of Laser Products - part 1: Equipment classification,
requirements and user's guide.
EN61000-3-2: 1995
Electromagnetic compatibility (EMC) - part 3-2: Limits for
harmonic current emissions (equipment input current up to and
including 16A per phase).
EN61000-3-3: 1995
Electromagnetic compatibility (EMC) - part 3-3: Limitation of
voltage fluctuations and flicker in low-voltage supply systems for
equipment with rated current up to 16A.
Name: Mike Robinson
Position: Hardware Manager
On behalf of the Manufacturer
Signature:
Date: 25th July 2003
21
8800saf.P65
21
8/08/2003, 2:23 p.m.

* Your assessment is very important for improving the work of artificial intelligence, which forms the content of this project