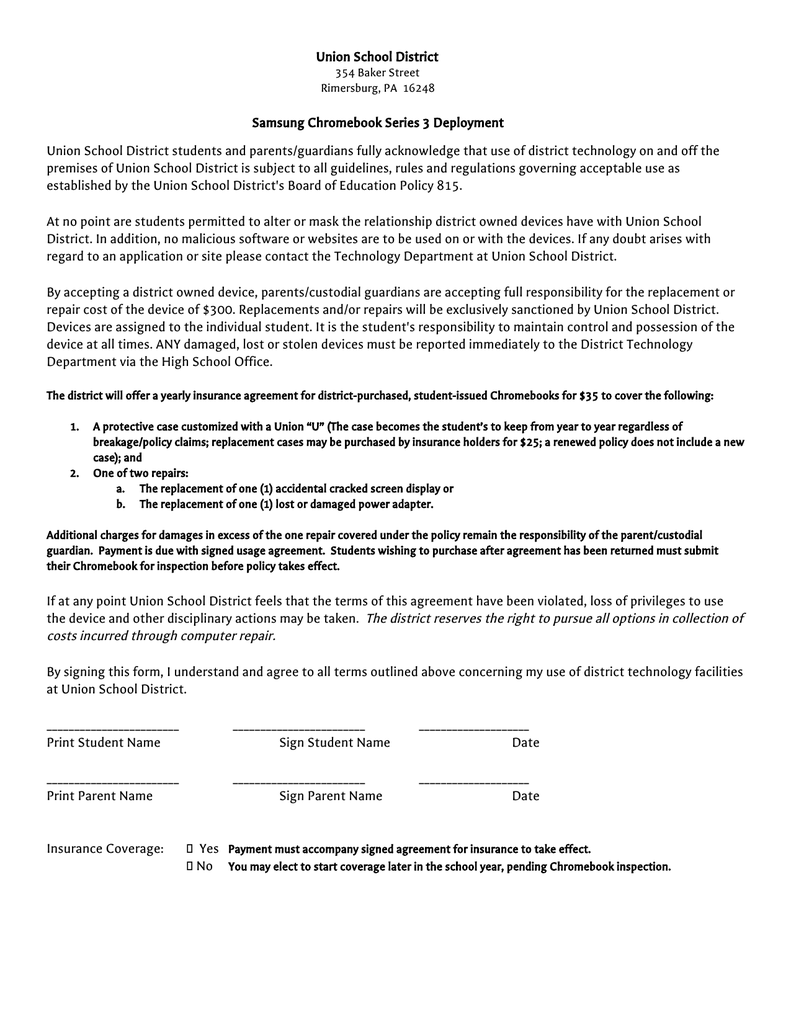 Union School District
354 Baker Street
Rimersburg, PA 16248
Samsung Chromebook Series 3 Deployment
Union School District students and parents/guardians fully acknowledge that use of district technology on and off the
premises of Union School District is subject to all guidelines, rules and regulations governing acceptable use as
established by the Union School District's Board of Education Policy 815.
At no point are students permitted to alter or mask the relationship district owned devices have with Union School
District. In addition, no malicious software or websites are to be used on or with the devices. If any doubt arises with
regard to an application or site please contact the Technology Department at Union School District.
By accepting a district owned device, parents/custodial guardians are accepting full responsibility for the replacement or
repair cost of the device of $300. Replacements and/or repairs will be exclusively sanctioned by Union School District.
Devices are assigned to the individual student. It is the student's responsibility to maintain control and possession of the
device at all times. ANY damaged, lost or stolen devices must be reported immediately to the District Technology
Department via the High School Office.
The district will offer a yearly insurance agreement for district-purchased, student-issued Chromebooks for $35 to cover the following:
1.
2.
A protective case customized with a Union "U" (The case becomes the student's to keep from year to year regardless of
breakage/policy claims; replacement cases may be purchased by insurance holders for $25; a renewed policy does not include a new
case); and
One of two repairs:
a. The replacement of one (1) accidental cracked screen display or
b. The replacement of one (1) lost or damaged power adapter.
Additional charges for damages in excess of the one repair covered under the policy remain the responsibility of the parent/custodial
guardian. Payment is due with signed usage agreement. Students wishing to purchase after agreement has been returned must submit
their Chromebook for inspection before policy takes effect.
If at any point Union School District feels that the terms of this agreement have been violated, loss of privileges to use
the device and other disciplinary actions may be taken. ​
The district reserves the right to pursue all options in collection of
costs incurred through computer repair.
By signing this form, I understand and agree to all terms outlined above concerning my use of district technology facilities
at Union School District.
________________________
Print Student Name
________________________
Sign Student Name
____________________
Date
________________________
Print Parent Name
________________________
Sign Parent Name
____________________
Date
Insurance Coverage:
​
Yes P​
ayment must accompany signed agreement for insurance to take effect.
​
No ​
You may elect to start coverage later in the school year, pending Chromebook inspection.

* Your assessment is very important for improving the work of artificial intelligence, which forms the content of this project