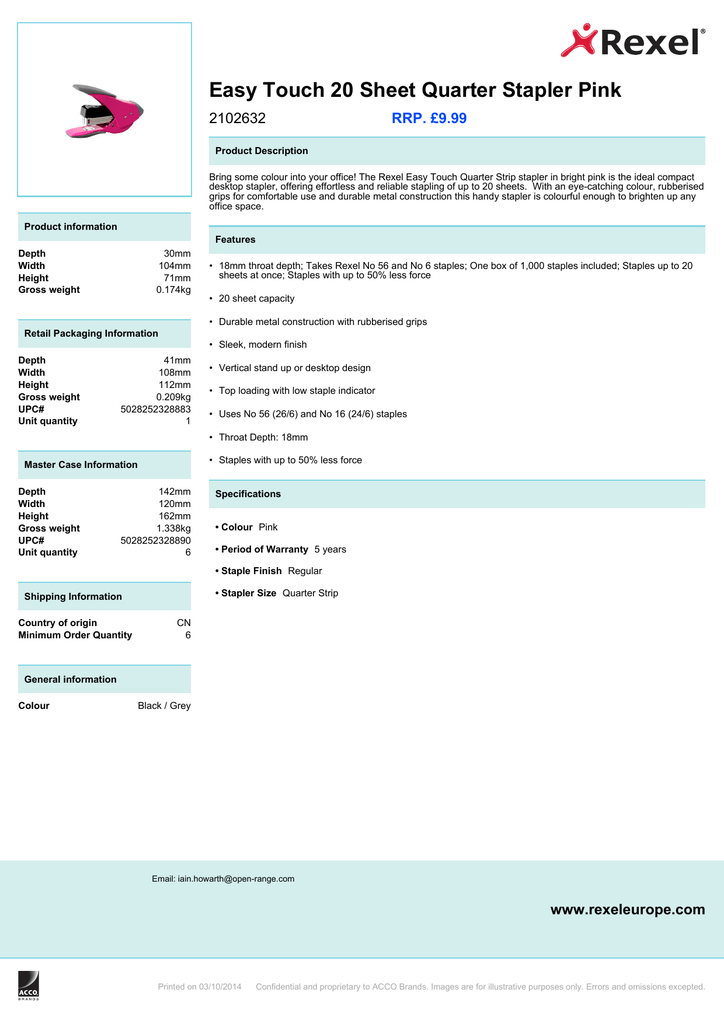 Easy Touch 20 Sheet Quarter Stapler Pink
2102632
RRP. £9.99
Product Description
Bring some colour into your office! The Rexel Easy Touch Quarter Strip stapler in bright pink is the ideal compact
desktop stapler, offering effortless and reliable stapling of up to 20 sheets. With an eye-catching colour, rubberised
grips for comfortable use and durable metal construction this handy stapler is colourful enough to brighten up any
office space.
Product information
Features
Depth
Width
Height
Gross weight
30mm
104mm
71mm
0.174kg
• 18mm throat depth; Takes Rexel No 56 and No 6 staples; One box of 1,000 staples included; Staples up to 20
sheets at once; Staples with up to 50% less force
• 20 sheet capacity
• Durable metal construction with rubberised grips
Retail Packaging Information
• Sleek, modern finish
Depth
Width
Height
Gross weight
UPC#
Unit quantity
41mm
108mm
112mm
0.209kg
5028252328883
1
• Vertical stand up or desktop design
• Top loading with low staple indicator
• Uses No 56 (26/6) and No 16 (24/6) staples
• Throat Depth: 18mm
• Staples with up to 50% less force
Master Case Information
Depth
Width
Height
Gross weight
UPC#
Unit quantity
142mm
120mm
162mm
1.338kg
5028252328890
6
Specifications
• Colour Pink
• Period of Warranty 5 years
• Staple Finish Regular
• Stapler Size Quarter Strip
Shipping Information
Country of origin
Minimum Order Quantity
CN
6
General information
Colour
Black / Grey
Email: [email protected]
www.rexeleurope.com
Printed on 03/10/2014
Confidential and proprietary to ACCO Brands. Images are for illustrative purposes only. Errors and omissions excepted.

* Your assessment is very important for improving the work of artificial intelligence, which forms the content of this project