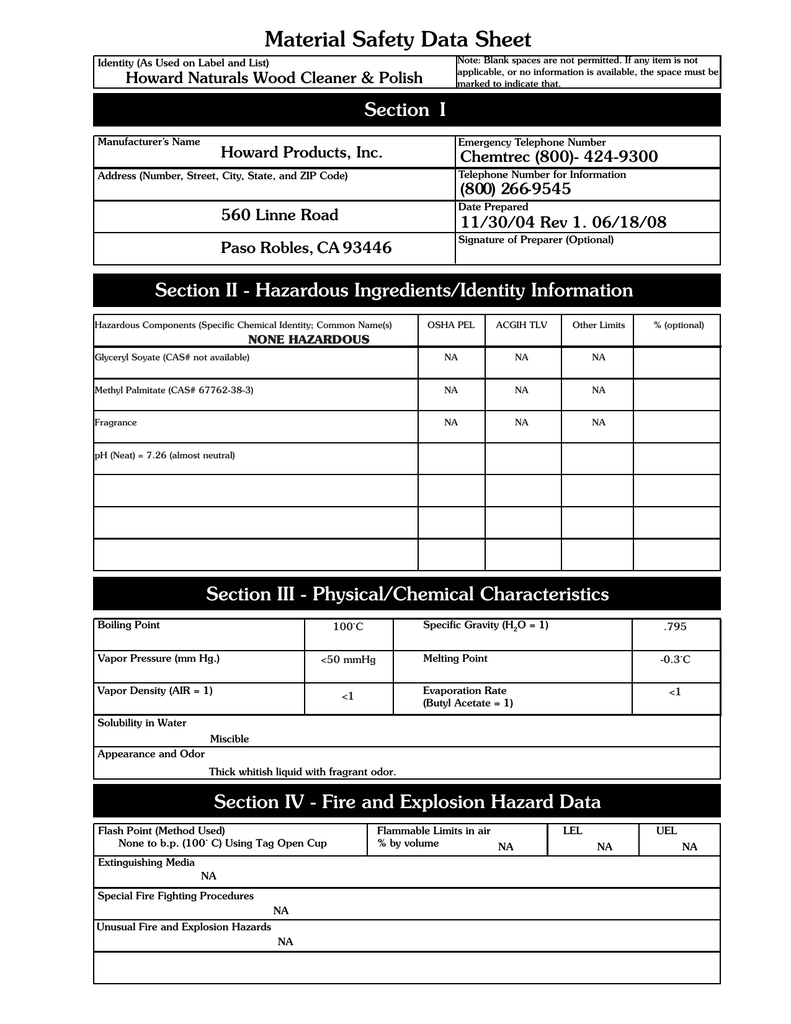 Material Safety Data Sheet
Note: Blank spaces are not permitted. If any item is not
applicable, or no information is available, the space must be
marked to indicate that.
Identity (As Used on Label and List)
Howard Naturals Wood Cleaner & Polish
Section I
Manufacturer's Name
Emergency Telephone Number
Howard Products, Inc.
Chemtrec (800)- 424-9300
Telephone Number for Information
Address (Number, Street, City, State, and ZIP Code)
(800) 266-9545
560 Linne Road
Date Prepared
Paso Robles, CA 93446
Signature of Preparer (Optional)
11/30/04 Rev 1. 06/18/08
Section II - Hazardous Ingredients/Identity Information
Hazardous Components (Specific Chemical Identity; Common Name(s)
OSHA PEL
ACGIH TLV
Other Limits
Glyceryl Soyate (CAS# not available)
NA
NA
NA
Methyl Palmitate (CAS# 67762-38-3)
NA
NA
NA
Fragrance
NA
NA
NA
% (optional)
NONE HAZARDOUS
pH (Neat) = 7.26 (almost neutral)
Section III - Physical/Chemical Characteristics
Boiling Point
Specific Gravity (H2O = 1)
100˙C
Vapor Pressure (mm Hg.)
Melting Point
<50 mmHg
Vapor Density (AIR = 1)
.795
-0.3˙C
Evaporation Rate
(Butyl Acetate = 1)
<1
<1
Solubility in Water
Miscible
Appearance and Odor
Thick whitish liquid with fragrant odor.
Section IV - Fire and Explosion Hazard Data
Flash Point (Method Used)
None to b.p. (100˙ C) Using Tag Open Cup
Extinguishing Media
NA
Special Fire Fighting Procedures
NA
Unusual Fire and Explosion Hazards
NA
Flammable Limits in air
% by volume
NA
LEL
UEL
NA
NA
Material Safety Data Sheet
HNWC
Section V - Reactivity Data
Stability
Unstable
Conditions to Avoid
Incompatibility (Materials to Avoid)
NA
Hazardous Decomposition or By-products
Hazardous
Polymerization
NA
√
Stable
NA
May Occur
Conditions to Avoid
Boiling to dryness
√
Will Not Occur
Section VI - Health Hazard Data
Route(s) of Entry:
Health Hazards
Inhalation?
Yes
Acute
Skin?
Ingestion?
Yes
Yes
Exposure may cause skin, eye, and respiratory irritation. Ingestion will produce gastric upset.
Chronic
Not known
Carcinogenicity:
NTP?
Signs and Symptoms of Exposure:
IARC Monographs?
No
OSHA Regulated?
No
No
Not Listed
NA
Skin, eye and respiratory irritation
Medical conditions generally aggravated by exposure: Respiratory problems.
Emergency and First Aid Procedures:
Eye Contact: Flush with large quantities of water
Skin Contact: Wash thoroughly with soap and water
Inhalation: Remove to fresh air
Ingestion: Drink large quantities of water, induce vomiting.
Section VII - Precautions for Safe Handling and Use/Leak Procedures
Steps to Be Taken in Case Material is Released or Spilled:
Soak up with absorbent material and dispose of in accordance with federal, state and local regulations.
Waste Disposal Method:
Dispose of in accordance with federal, state and local regulations.
Precautions to Be Taken in Handling and Storing:
Other Precautions:
HMIS Rating:
Store in a cool area.
NA
Health:
1
Flammability:
0
Reactivity:
0
Personal Protection: 0
Section VIII - Control Measures
Respiratory Protection (Specify Type)
Ventilation:
For large quantities, use self-contained air breathing equipment
Local Exhaust:
Recommended
Special:
None
Mechanical (General):
Other:
AC recommended
None
Ordinary AC or exhaust fans
Protective Gloves:
Eye Protection: Generally recommended.
Use rubber or neoprene
Other Protective Clothing or Equipment:
Generally not required
Work/Hygienic Practices: Normal care and cleanliness.

* Your assessment is very important for improving the work of artificial intelligence, which forms the content of this project