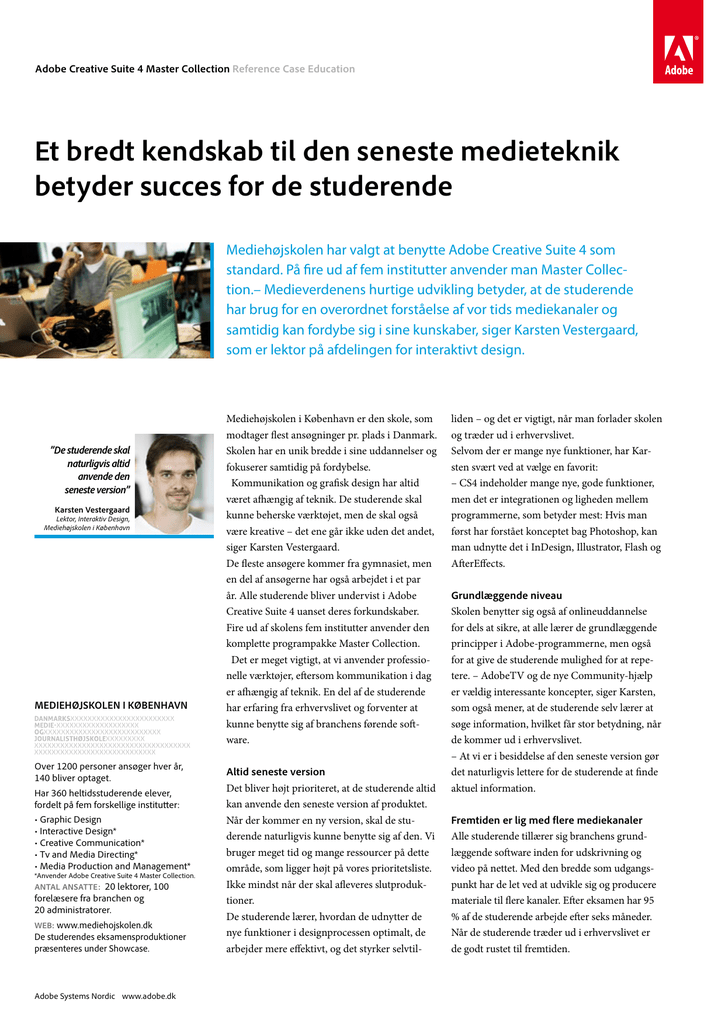 Adobe Creative Suite 4 Master Collection Reference Case Education
Et bredt kendskab til den seneste medieteknik
betyder succes for de studerende
Mediehøjskolen har valgt at benytte Adobe Creative Suite 4 som
standard. På fire ud af fem institutter anvender man Master Collection.– Medieverdenens hurtige udvikling betyder, at de studerende
har brug for en overordnet forståelse af vor tids mediekanaler og
samtidig kan fordybe sig i sine kunskaber, siger Karsten Vestergaard,
som er lektor på afdelingen for interaktivt design.
"De studerende skal
naturligvis altid
anvende den
seneste version"
Karsten Vestergaard
Lektor, Interaktiv Design,
Mediehøjskolen i København
MEDIEHØJSKOLEN I KØBENHAVN
Over 1200 personer ansøger hver år,
140 bliver optaget.
Har 360 heltidsstuderende elever,
fordelt på fem forskellige institutter:
• Graphic Design
• Interactive Design*
• Creative Communication*
• Tv and Media Directing*
• Media Production and Management*
*Anvender Adobe Creative Suite 4 Master Collection.
ANTAL ANSATTE: 20 lektorer, 100
forelæsere fra branchen og
20 administratorer.
Web: www.mediehojskolen.dk
De studerendes eksamensproduktioner
præsenteres under Showcase.
Adobe Systems Nordic www.adobe.dk
Mediehøjskolen i København er den skole, som
modtager flest ansøgninger pr. plads i Danmark.
Skolen har en unik bredde i sine uddannelser og
fokuserer samtidig på fordybelse.
Kommunikation og grafisk design har altid
været afhængig af teknik. De studerende skal
kunne beherske værktøjet, men de skal også
være kreative – det ene går ikke uden det andet,
siger Karsten Vestergaard.
De fleste ansøgere kommer fra gymnasiet, men
en del af ansøgerne har også arbejdet i et par
år. Alle studerende bliver undervist i Adobe
Creative Suite 4 uanset deres forkundskaber.
Fire ud af skolens fem institutter anvender den
komplette programpakke Master Collection.
Det er meget vigtigt, at vi anvender professionelle værktøjer, eftersom kommunikation i dag
er afhængig af teknik. En del af de studerende
har erfaring fra erhvervslivet og forventer at
kunne benytte sig af branchens førende software.
Altid seneste version
Det bliver højt prioriteret, at de studerende altid
kan anvende den seneste version af produktet.
Når der kommer en ny version, skal de studerende naturligvis kunne benytte sig af den. Vi
bruger meget tid og mange ressourcer på dette
område, som ligger højt på vores prioritetsliste.
Ikke mindst når der skal afleveres slutproduktioner.
De studerende lærer, hvordan de udnytter de
nye funktioner i designprocessen optimalt, de
arbejder mere effektivt, og det styrker selvtil-
liden – og det er vigtigt, når man forlader skolen
og træder ud i erhvervslivet.
Selvom der er mange nye funktioner, har Karsten svært ved at vælge en favorit:
– CS4 indeholder mange nye, gode funktioner,
men det er integrationen og ligheden mellem
programmerne, som betyder mest: Hvis man
først har forstået konceptet bag Photoshop, kan
man udnytte det i InDesign, Illustrator, Flash og
AfterEffects.
Grundlæggende niveau
Skolen benytter sig også af onlineuddannelse
for dels at sikre, at alle lærer de grundlæggende
principper i Adobe-programmerne, men også
for at give de studerende mulighed for at repetere. – AdobeTV og de nye Community-hjælp
er vældig interessante koncepter, siger Karsten,
som også mener, at de studerende selv lærer at
søge information, hvilket får stor betydning, når
de kommer ud i erhvervslivet.
– At vi er i besiddelse af den seneste version gør
det naturligvis lettere for de studerende at finde
aktuel information.
Fremtiden er lig med flere mediekanaler
Alle studerende tillærer sig branchens grundlæggende software inden for udskrivning og
video på nettet. Med den bredde som udgangspunkt har de let ved at udvikle sig og producere
materiale til flere kanaler. Efter eksamen har 95
% af de studerende arbejde efter seks måneder.
Når de studerende træder ud i erhvervslivet er
de godt rustet til fremtiden.

* Your assessment is very important for improving the work of artificial intelligence, which forms the content of this project